Sweet Paratha is a paratha variation that is made with sugar as a stuffing in a layered flat bread made with unleavened whole wheat dough. This paratha is actually known as 'Chini ka Paratha' (where chini means sugar in Hindi) and is generally made for kids when they refuse to eat anything else. Kids usually have sweet tooth and they easily agree to eat a sweet paratha !!!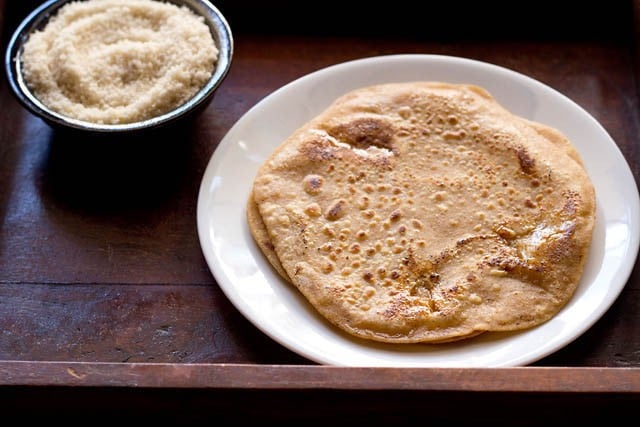 About Sweet Paratha
As the name suggests these are sweet tasting parathas. They are also known as 'Meetha Paratha'. The word "meetha" in Hindi translates to sweet or sweetened. Paratha is a layered flat bread.
I knew about sugar puri which my mother used to make for us when we were kids. But I never heard of sugar paratha until I met my mother-in-law who is a fabulous cook and makes awesome Punjabi food.
I learnt to make this sweet tasting paratha variant from my mom-in-law where the flatbreads are stuffed with sugar. I have learned many types of stuffed paratha variants from her like Aloo Paratha, Gobi Paratha, Mooli Paratha and Paneer Paratha.
Of course the sweetener in these meetha paratha is sugar, but you can also use jaggery powder or grated jaggery.
The sugar melts and caramelizes in the process of roasting these parathas. So you have a caramelized sugary taste in the paratha and this what makes these parathas unique.
While making this sugar paratha, you have to use fine sugar because if you use sugar with larger granules then they will come out of the paratha and will spoil your tawa or frying pan by getting caramelized or burnt and sticking on it.
The raw sugar which I use has very fine sugar granules and they don't come out of the paratha and thus don't make mess on the tawa or skillet.
If you have larger sized granulated sugar then you can powder them in your dry grinder or blender or spice grinder. As an alternative you can also make this paratha with fine jaggery powder. It is better to use organic jaggery powder as there are no impurities in it.
Like this sugar paratha, another common recipe in Punjab for kids is 'Churi'. In this dish, the roti is mashed along with sugar and some ghee and it becomes very soft, yummy and sweet and is served in a bowl. We have fond memories of eating these sweet paratha as well as 'churi' in his childhood days.
Few Points To Keep In Mind
You have to eat this sweet paratha hot or serve it hot. Better to serve as soon as they are cooked. Because once they become cold or dry, they become hard and you won't enjoy the taste and they become cold quickly.

So maximum within 1 to 2 minutes you should start eating them. The sugar solidifies in the paratha once they get cooled and you might feel like you are eating a chewy, brittle sugar candy which is hard to bite.
If you plan to make regular roti or chapati along with sugar parathas then make the roti/chapati first and in the end make the sugar paratha because once you make the sugar paratha then it leaves the traces of browned or charred sugar on the tava and then it becomes difficult to make roti on it unless you wash the tava again.
I repeat again, use fine granule sugar or powdered sugar or fine organic jaggery powder.
When you are making this sweet paratha then your kitchen and probably your house will be filled with the aroma of caramelized sugar. Don't miss to enjoy this fragrance !!!
How to make Sweet Paratha
1. First knead a smooth and soft dough with 2 cups of whole wheat flour, about ⅓ to ½ cup water or as required, 1 to 2 teaspoons oil or ghee and with ¼ teaspoon salt or as needed. Cover the dough in a bowl and rest it for 20 to 30 minutes.
Later portion and roll the dough into medium sized balls. Cover and set aside.
Now dust a rolling board with some whole wheat flour. Place one medium sized dough ball on the dusted rolling board.
Roll this into a circle of about 3 or 3.5 inches with a rolling pin. Sprinkle 2 to 3 tablespoons fine or superfine sugar or more all over the rolled dough, except the edges.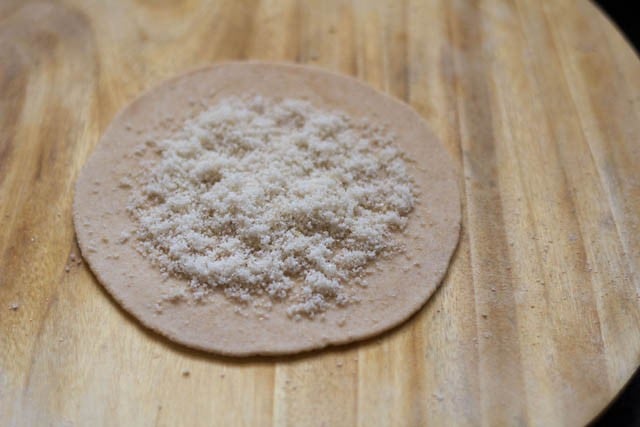 2. Bring the edges together and press them in the center, like we do for stuffed parathas.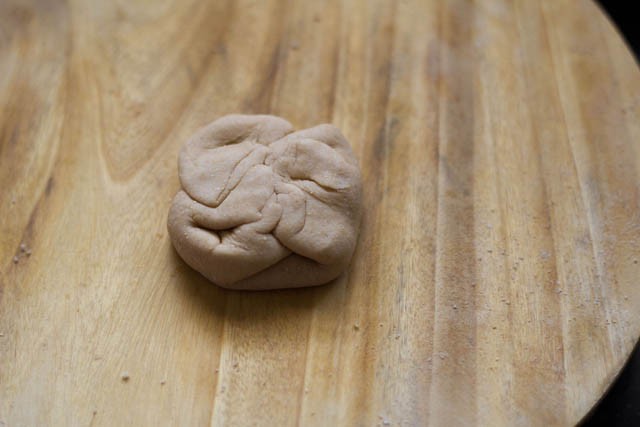 3. Roll the stuffed dough again evenly on a dusted board or work surface.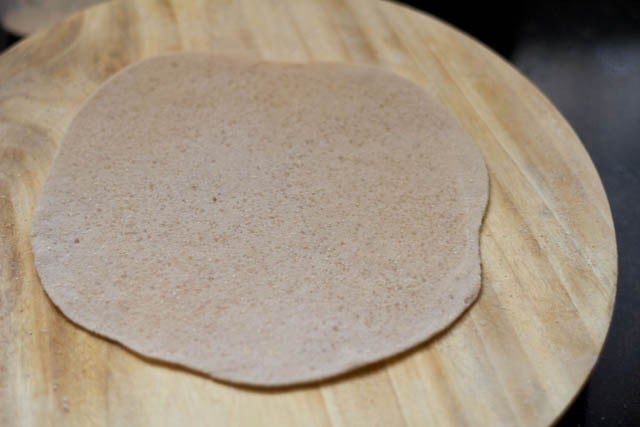 4. On a hot tawa or skillet or frying pan, fry the paratha till ¼ done on one side. Flip and apply oil or ghee on this partly cooked side.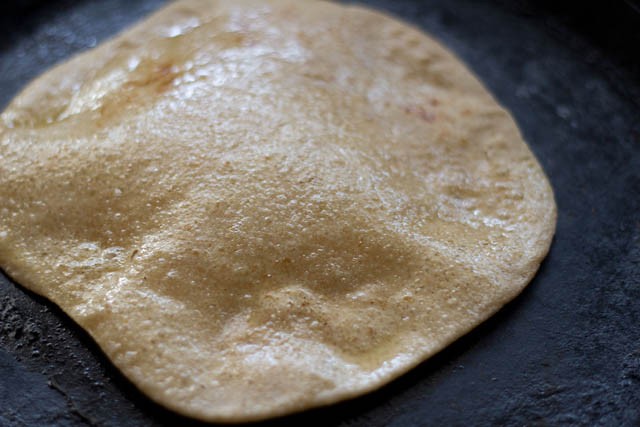 5. Roast the other side till ½ cooked. Flip and apply ghee on this side now. Flip a couple of times more till the parathas are browned from both sides. They should be cooked well.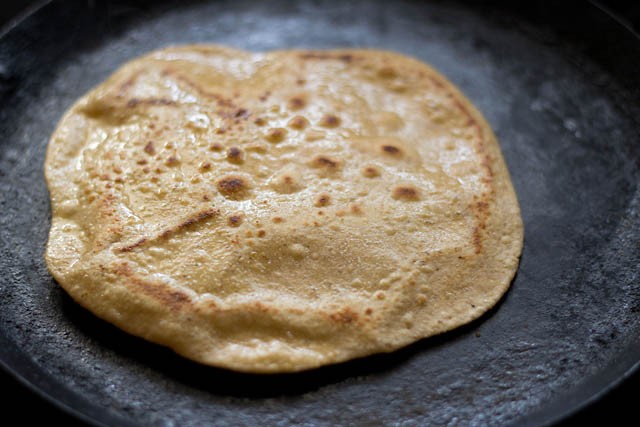 6: As you can see in the below photo, the paratha has many brown spots. Usually the sugar paratha has more brown spots. How much the paratha will become brown also depends upon the type of sugar.
I have made these parathas with different varieties of sugar. If we make it with jaggery powder then it is slightly more brown in color than when we make it with sugar.
Serve them hot as they are prepared. Do not let them rest or cool as the sugar will become chewy or harden after cooling. Make all parathas this way and serve hot for best taste and flavor.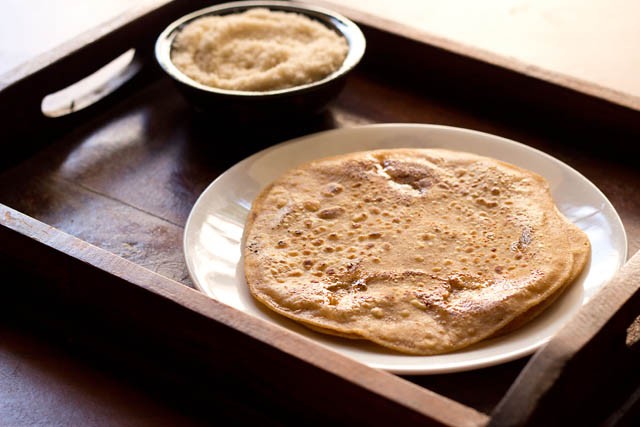 If you are looking for more Paratha recipes then do check:
Please be sure to rate the recipe in the recipe card or leave a comment below if you have made it. For more vegetarian inspirations, Sign Up for my emails or follow me on Instagram, Youtube, Facebook, Pinterest or Twitter.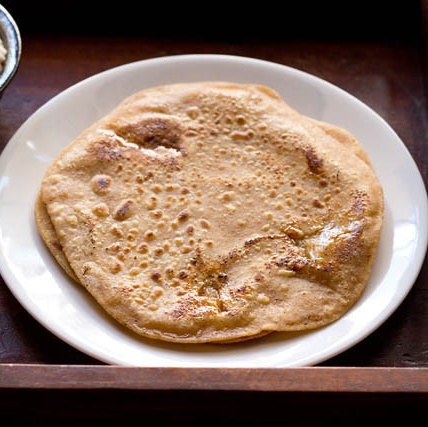 Sweet Paratha (Chini Ka Paratha)
Sweet Paratha is a unique Indian whole wheat flatbread made with sugar as a stuffing. This paratha is also called as 'Chini ka Paratha' (where chini means sugar in Hindi language).
Servings
10
Sweet Paratha
Ingredients
For paratha dough
2

cups

whole wheat flour

⅓ to ½

cup

water

or add as required

1 or 2

teaspoon

oil

or ghee

¼

teaspoon

salt

or as required
For sugar paratha
1.25

cups

raw sugar

or as needed. can use powdered organic jaggery or as required

oil

or ghee as required
Instructions
Kneading dough
Mix the salt with the flour. Add the oil/ghee and water.

Knead into a smooth dough. Add some more water if required.

Keep the dough covered for 20 to 30 minutes.

Take a medium sized ball from the dough.
Making sugar paratha
On a dusted board or surface, roll the ball to a small disc of about 3 or 3.5 inches in diameter.

Sprinkle 2 to 3 tablespoon sugar or as required all over the rolled dough.

Bring together the edges.

Join the edges and press them in the center.

Roll again on a dusted flour to approx 5 to 6 inches in diameter circle.

Heat the tawa or skillet until medium hot. When the tawa becomes hot then place the rolled paratha on it. Keep the heat to medium to medium-high.

When the paratha becomes ¼ cooked then flip it. Spread oil or ghee as required on this side.

When the second side is ½ cooked then flip again using a spatula or tongs. Now spread oil or ghee on this side also and continue to roast.

Flip a couple of times to evenly roast the paratha until they are crisp and golden with brown spots.

Once done, then remove and serve these sweet paratha immediately.

Make all parathas this way and serve them hot.
Notes
The approximate nutrition info is for one paratha roasted with sunflower oil.
Nutrition Info (Approximate Values)
Nutrition Facts
Sweet Paratha (Chini Ka Paratha)
Amount Per Serving
Calories 217
Calories from Fat 45
% Daily Value*
Fat 5g8%
Sodium 60mg3%
Potassium 94mg3%
Carbohydrates 42g14%
Protein 3g6%
Vitamin A 2IU0%
Vitamin B1 (Thiamine) 1mg67%
Vitamin B2 (Riboflavin) 1mg59%
Vitamin B3 (Niacin) 1mg5%
Vitamin B6 1mg50%
Vitamin E 2mg13%
Vitamin K 1µg1%
Calcium 11mg1%
Vitamin B9 (Folate) 11µg3%
Iron 1mg6%
Magnesium 33mg8%
Phosphorus 86mg9%
Zinc 1mg7%
* Percent Daily Values are based on a 2000 calorie diet.
This Sugar Paratha Post from the blog archives first published in April 2013 has been republished and updated on 22 July 2021.