Palak saag recipe with step by step photos. This palak saag recipe is exactly the same way I make Sarson ka Saag with fresh mustard leaves. I do not get mustard leaves in Goa, so I have made the Saag with fresh spinach and white radish. A healthy and comforting meal when paired with roti or paratha.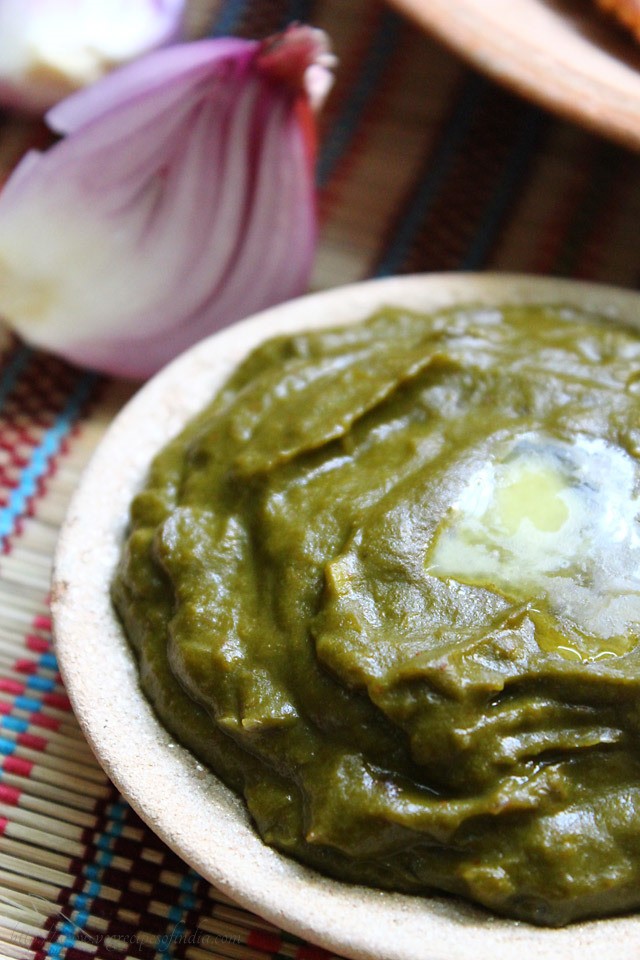 About Palak Saag
One Punjabi delicacy combination we love in the winters is Sarson da saag (Mustard greens) and Makki ki Roti (maize flour/cornmeal flat bread).
Whilst our stay in Delhi in the winters, we used to make both Sarson ka Saag and Makki ki Roti almost once a week at home. And it would be awesome, with white butter on top of both the roti and the saag.
The recipe is not difficult and all you need are tender spinach, radish and the usual pantry staples – onions, tomatoes, ginger, garlic and green chilli peppers.
The word "saag" means greens in Hindi. It can refer to a dish made with various greens or the green leafy vegetable itself. I also make a variant with fresh chickpea leaves and it is called Chane ka Saag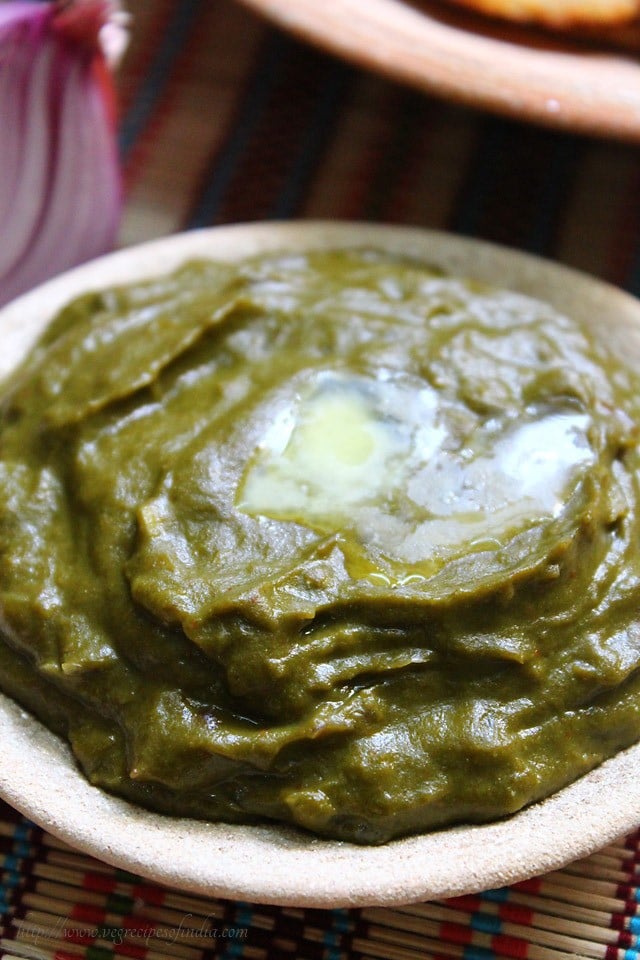 You can make this spinach saag with any greens of your choice. A combination of spinach and fenugreek leaves (Methi) is also good.
If you can get mustard leaves, then make the same recipe with mustard leaves, spinach and bathua leaves (also known as chenopodium/goosefoot/fat hen in english).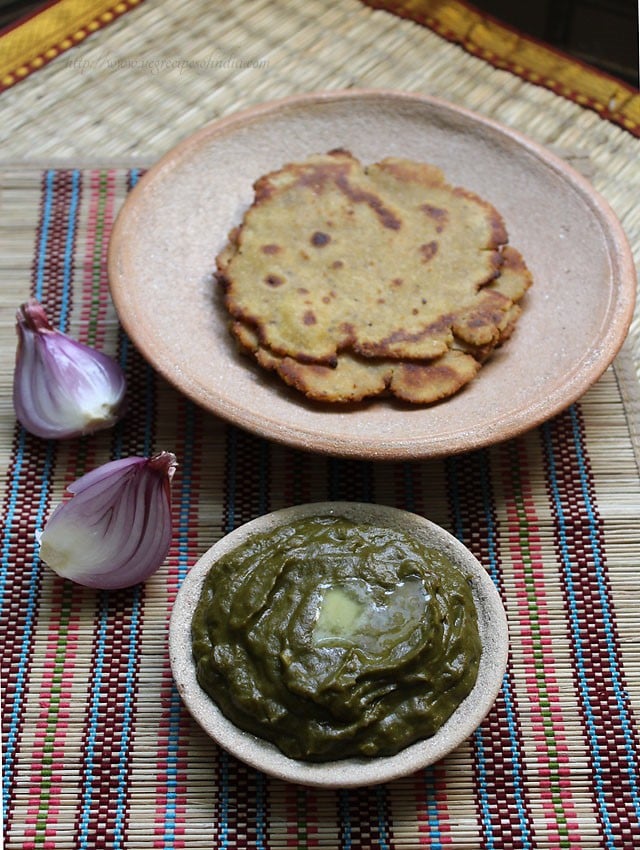 I have also made the saag in microwave as we ran out of cooking gas. In the step by step post I have mentioned the microwave method as well as the stovetop cooking. In the notes section below I have also listed the stovetop cooking method for palak saag.
Also remember to use fresh and tender spinach. You don't want the saag to be fibrous. If you do not eat onions and garlic, you can skip the garlic and onions entirely. For the tempering, fry some ginger with the ghee and then add the prepared saag to it.
We usually make saag at home and then keep it for 3 to 4 days in the refrigerator. Before serving, we temper the saag and then serve it with the roti. In fact the saag always tastes better the next day.
How to make Palak Saag
Cook Spinach, Radish and More Ingredients
1. First rinse 2 bunches of spinach leaves in water using a colander or strainer. Drain all the water very well. Then roughly chop the spinach leaves and set aside.
If the spinach stems are tender, then only add them.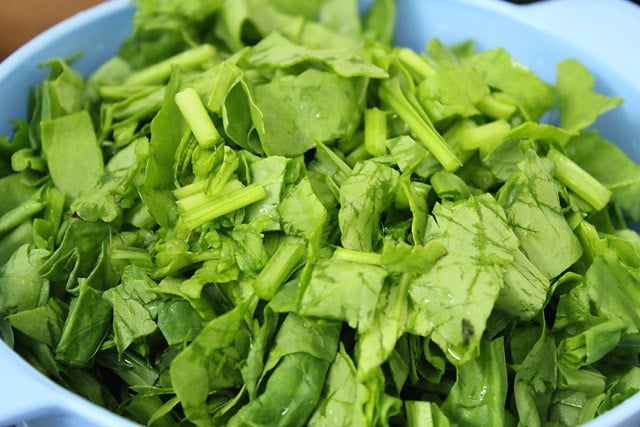 2. Do the same with 2 to 3 radish with the leaves and stems. Use fresh and tender radish greens. Also peel the radish roots, chop them and add to the spinach.
If you do not have radish greens, but only radish, then use the radish roots only.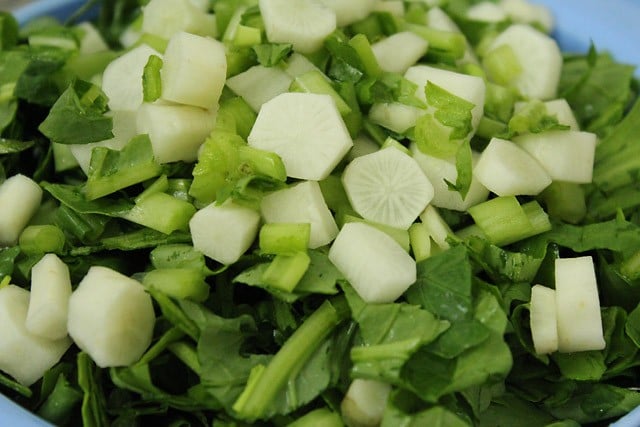 3. Now add the following ingredients:
¾ to 1 cup chopped onions
1.5 cups chopped tomatoes
1 teaspoon chopped ginger
1 teaspoon chopped garlic
1 teaspoon chopped green chillies
½ cup water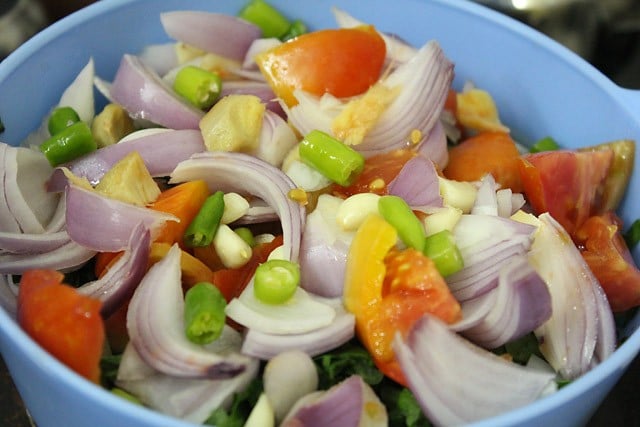 4. And microwave for 7 to 8 minutes on full power. After this add 1 tablespoon of maize flour or cornmeal, 1 teaspoon red chilli powder, 2 to 3 tablespoons butter and salt as needed.
Note that these ingredients can also be added later on to the pureed mixture. Mix well.
Also if you are out of maize flour (makki ka atta) or cornmeal, then omit adding it.
To cook on a stovetop, add all these ingredients in a pan with 1 cup water. Cover and simmer on low to medium-low heat until the veggies are softened.
The spinach leaves and radish should also soften. If the mixture looks dry while cooking, add some more water.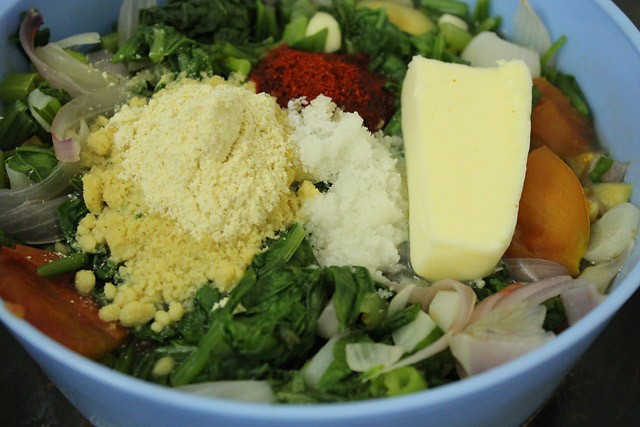 5. Again microwave for 5 minutes more.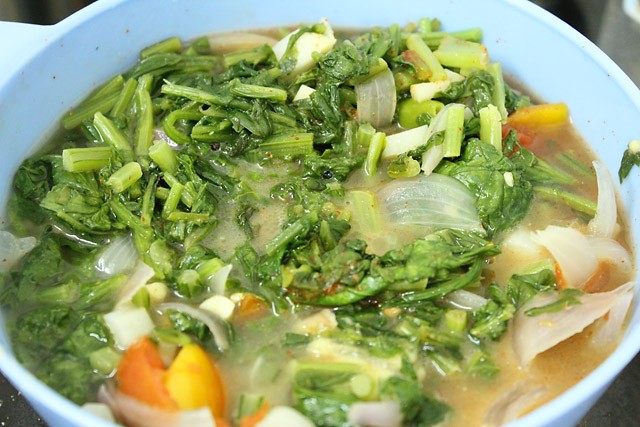 6. I felt the need to microwave more, so again I microwaved the greens on medium power for 5 minutes.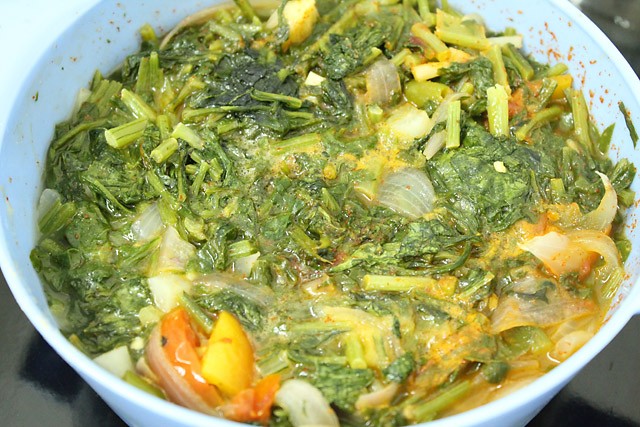 7. And yet still I felt I have to microwave more. You will see how much liquids the greens and other veggies have released.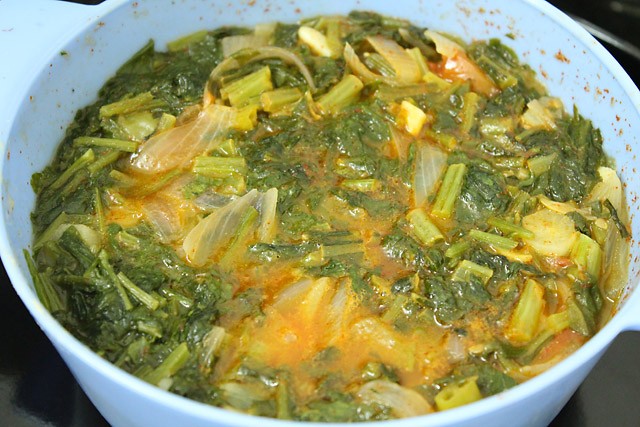 Make Palak Saag
8. Let the whole mixture be cooled, and then blend everything in a mixer or blender either coarsely or smoothly, without adding any water. You could blend using an immersion blender also.
Wait for the heat to reduce and then blend the cooked saag ingredients.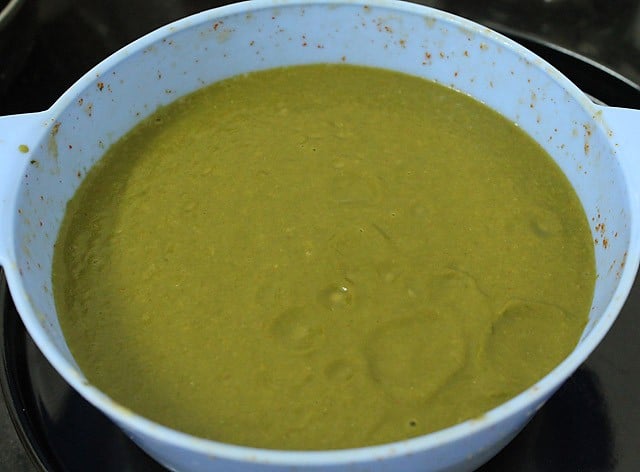 9. Now microwave again for 4 to 5 minutes. See the difference below. The saag has thickened.
If using a stovetop, add the blended puree to the same pan and simmer until the saag has thickened. Set aside.
Saag has a medium-thick to thick consistency and is not thin like a curry. Once you get the desired consistency, switch off the heat and set the spinach saag aside.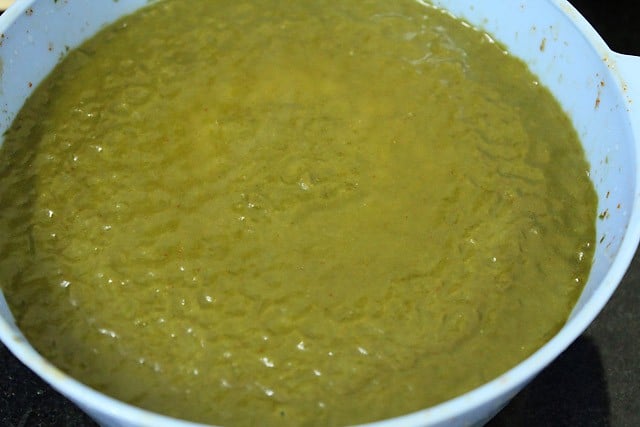 10. For the tempering melt 1 to 2 tablespoons of ghee in a microwave safe bowl on full power for 1 minute. Add the ⅓ cup finely chopped onions.
For cooking on stovetop, sauté ⅓ cup finely chopped onions in ghee until light golden. Then add the prepared saag. Mix and simmer for a few minutes.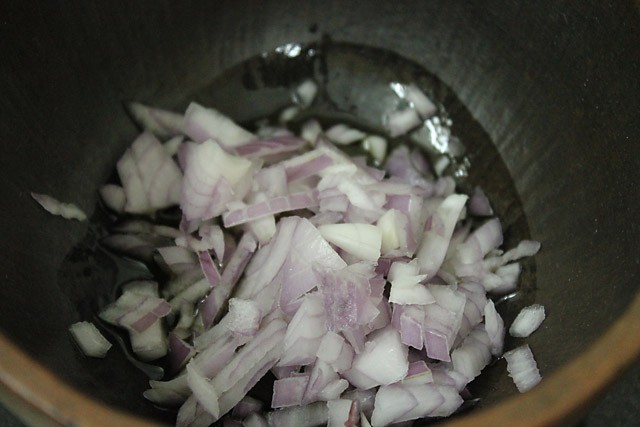 11. Microwave for 7 to 8 minutes till the onions turn a light brown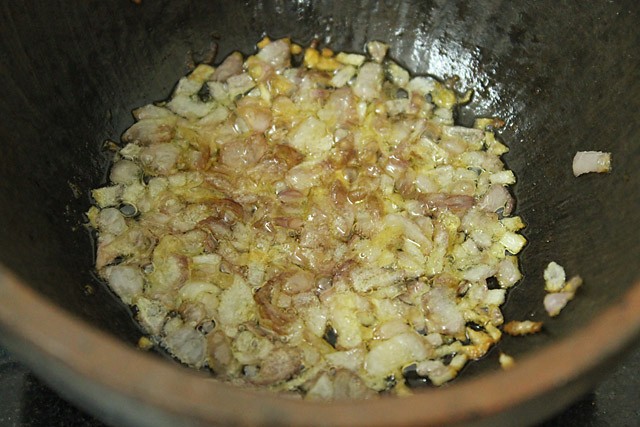 12. Add the 2 to 3 cups of saag (use a measuring cup) that will make up for 2 to 3 servings. Microwave for 2 or 3 minutes more.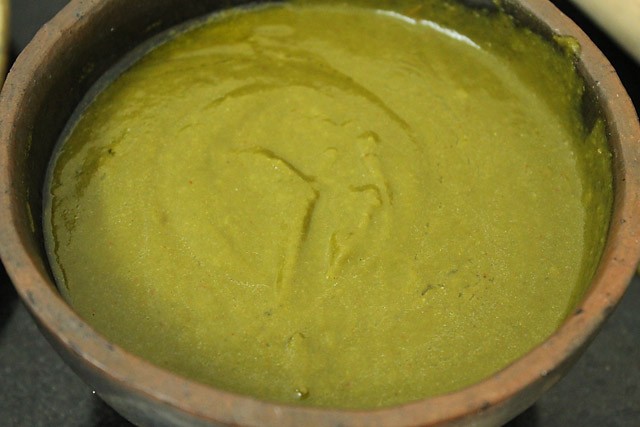 Top up the serving bowls of Spinach Saag with some homemade White Butter. Serve Palak Saag with any Indian flat bread of your choice with a side of some sliced onions and green chilies.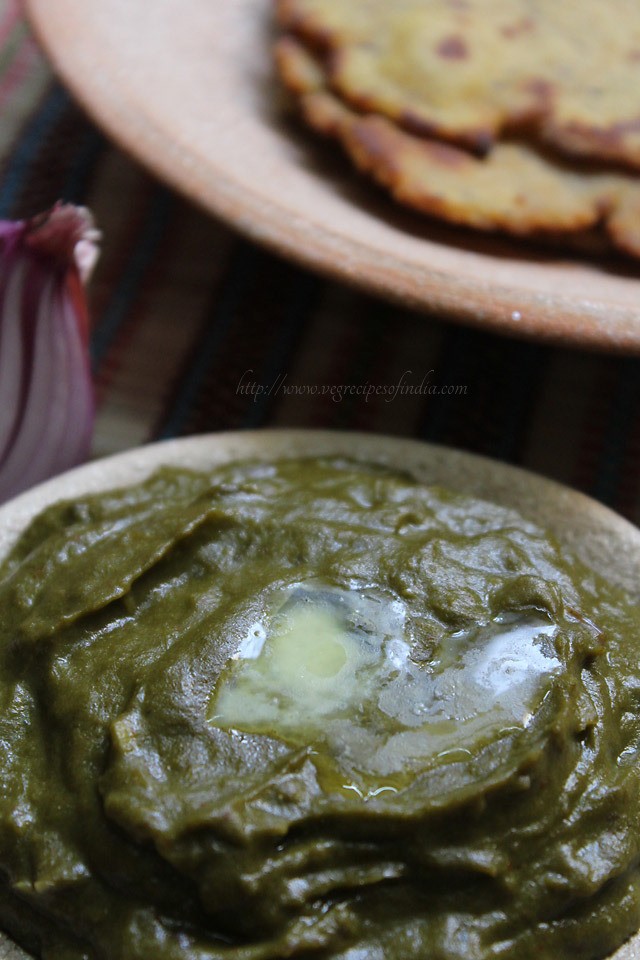 More Indian Spinach Recipes To Try!
Methi Recipes (Fenugreek)
Please be sure to rate the recipe in the recipe card or leave a comment below if you have made it. For more vegetarian inspirations, Sign Up for my emails or follow me on Instagram, Youtube, Facebook, Pinterest or Twitter.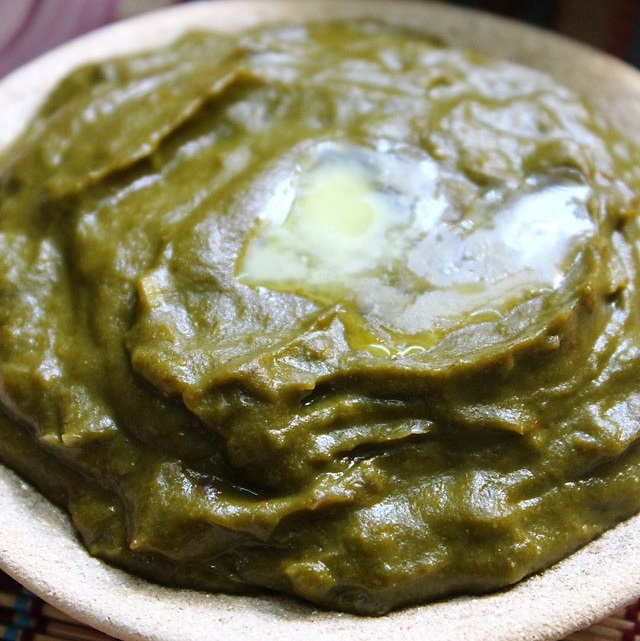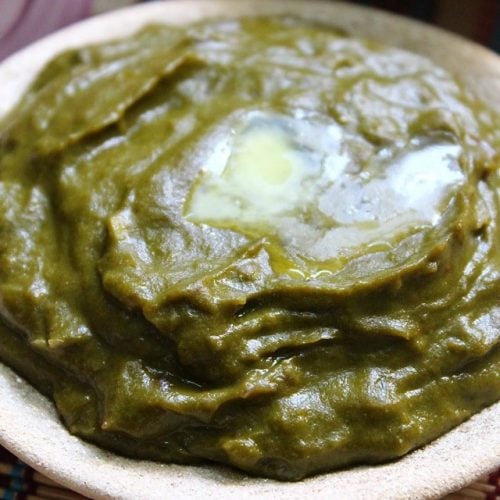 Palak Saag | Spinach Saag
This is an authentic, tasty and easy recipe of Punjabi style Palak Saag that can be made in microwave oven and also on the stovetop. Serve Spinach Saag with any Indian flat bread of your choice for a comforting and hearty meal.
For the saag
2

bunches

spinach

(palak), chopped

2 to 3

radish

– small to medium sized with tender leaves (mooli), chopped

¾ to 1

cup

onions

– chopped or 1 large onion

1.5

cups

tomatoes

– chopped or 2 to 3 medium-sized tomatoes

1

teaspoon

green chili

– chopped or 1 green chilli

1

teaspoon

ginger

– chopped or 1 inch peeled ginger

1

teaspoon

garlic

– chopped or 5 to 6 small to medium garlic cloves

1

teaspoon

red chili powder

or paprika

2 to 3

tablespoons

Butter

1

tablespoon

maize flour

(makki ka atta) or cornmeal

½

cup

water

for microwave and 1 cup water for cooking on stovetop, can add water as needed

salt

as required
For tempering the saag for 2 to 3 servings
⅓

cup

onion

– finely chopped or 1 medium-sized onion

½

teaspoon

green chillies

chopped, or 1 small green chilli, optional

1

teaspoon

chopped ginger

– optional

1 to 2

tablespoons

Ghee

(clarified butter)
Instructions
Preparing the Saag
Combine all the greens, onions, tomatoes, ginger, garlic, chillies with water in a microwave safe bowl and microwave for 7 to 8 minutes on high power.

Add the butter, maize flour, salt and chilli powder.

Microwave again on medium power for 12 to 15 minutes. Set aside to cool.

When cooled, blend the whole mixture coarsely or smoothly, depending on what you prefer.

Microwave the pureed mixture for 4 to 5 minutes on medium power.
Preparing the Tempering for 2 to 3 servings
In another microwave safe bowl, take some ghee and microwave on full power for 1 minute or until the ghee is lightly hot.

Add the onions and microwave for 7 to 8 minutes till they get light browned.

Add the 2 to 3 cups of saag (use a measuring cup) to the lightly browned onions and microwave for further for 2 to 3 minutes.

Top the Palak Saag with homemade butter and serve with any flat bread of your choice.

Keep the remaining saag in the refrigerator for 2 to 3 days. You can also freeze the spinach saag for about a week.
Notes
For cooking palak saag on stovetop, follow this method
Add all the greens, onions, tomatoes, ginger, garlic, green chilies with salt and water in a deep pan or a pressure cooker. Also add maize flour and butter. Add around 1 cup water to the veggies.
Cook the whole lot in the pan for 7 to 10 minutes or in a pressure cooker for 3 to 4 minutes. 
Once cooled blend into a smooth or coarse paste. Add the saag in another pan and simmer for 7 to 10 minutes till it thickens a little bit.
For the tempering
Lightly brown the onions in ghee and then add the saag to it.
Simmer for 3 to 4 minutes.
For a saag serving 2 to 3 people, 1 medium sized onion is enough with 2 tablespoons ghee for the tempering. The remaining saag you can refrigerate and use as when required.
Nutrition Info (Approximate Values)
Nutrition Facts
Palak Saag | Spinach Saag
Amount Per Serving
Calories 157
Calories from Fat 90
% Daily Value*
Fat 10g15%
Cholesterol 25mg8%
Sodium 743mg32%
Potassium 1128mg32%
Carbohydrates 14g5%
Protein 6g12%
Vitamin A 16576IU332%
Vitamin B1 (Thiamine) 0.2mg13%
Vitamin B2 (Riboflavin) 0.4mg24%
Vitamin B3 (Niacin) 2mg10%
Vitamin B6 0.4mg20%
Vitamin B12 0.01µg0%
Vitamin C 57mg69%
Vitamin D 0.1µg1%
Vitamin E 4mg27%
Vitamin K 825µg786%
Calcium 191mg19%
Vitamin B9 (Folate) 345µg86%
Iron 5mg28%
Magnesium 146mg37%
Phosphorus 114mg11%
Zinc 1mg7%
* Percent Daily Values are based on a 2000 calorie diet.
This Palak Saag recipe from the blog archives first published in January 2012 has been updated and republished on December 2022.