collection of 37 delicious dosa varieties including popular dosa recipes like masala dosa, rava dosa, neer dosa, set dosa.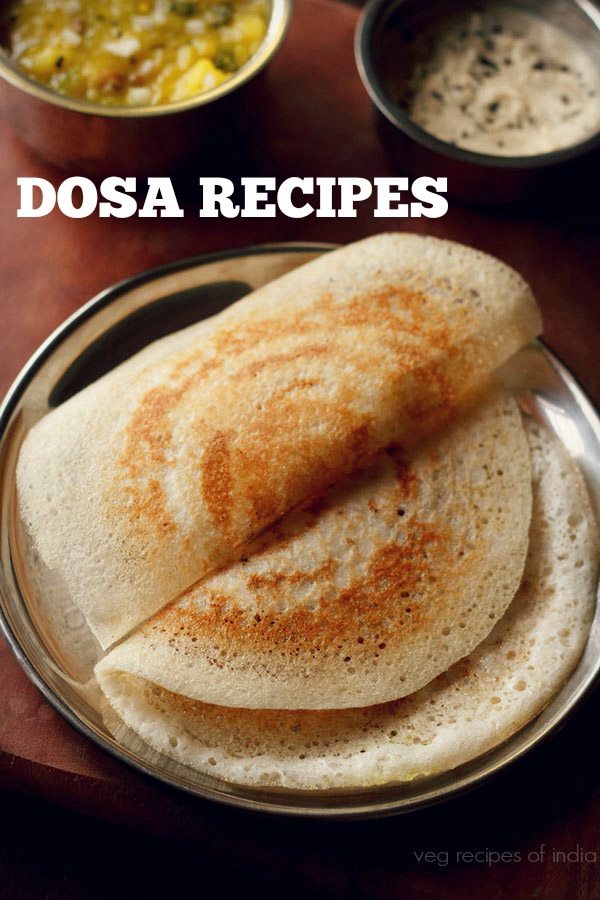 dosa is one of the popular south indian breakfast recipe along with idli and sambar. there are many dosa varieties made in india. in hyderabad, panjagutta area one restaurant named '99 dosas' specializes in 99 varieties of dosa.
in mumbai, there are many dosa varieties that one gets which are not heard anywhere else like hakka noodles dosa, schezwan dosa, veg manchurian dosa, schezwan masala dosa, mumbai mysore masala dosa and pav bhaji dosa. every dosa variety has its own flavors, style and group of admirers.
here, in this post i am sharing dosa varieties posted on my blog at one place so that it is easier for you to select your favorite dosa recipe. the post also covers few masala dosa varieties as well as some instant dosa varieties. i hope you will find this post helpful.
you can also check these useful breakfast recipes collections
collection of 37 dosa varieties
1. dosa recipe – this plain dosa recipe gives crisp as well as soft textured dosa. the dosa batter recipe shared in this post, can be used to make idlis, uttapam and paniyaram. the best part of this dosa batter is that you can make the dosa thin, crisp as well as thick. its up to you. i make both. this is a fool proof tried and tested dosa recipe.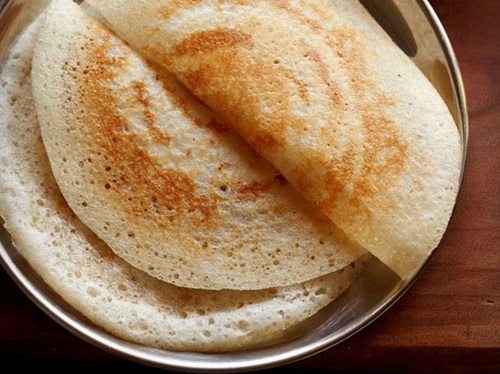 2. masala dosa recipe – a delicious recipe of restaurant or hotel style masala dosa, where the dosa is crisp and served with a delicious potato masala. recipe post shares both the method of preparing dosa batter as well as the potato masala.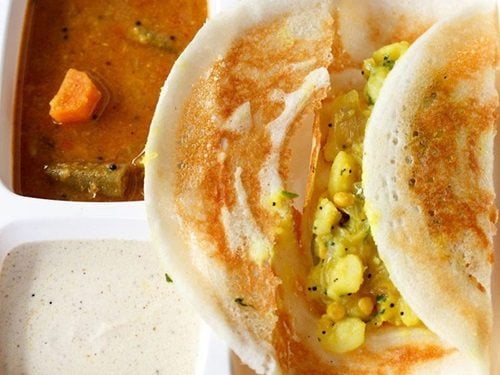 3. rava dosa recipe – easy crisp dosa made with semolina (sooji), rice flour and all purpose flour (maida). the best part of making instant rava dosa is that it does not require any fermentation and is very easy to make. rava dosa can be served with potato sabzi, sambar and coconut chutney.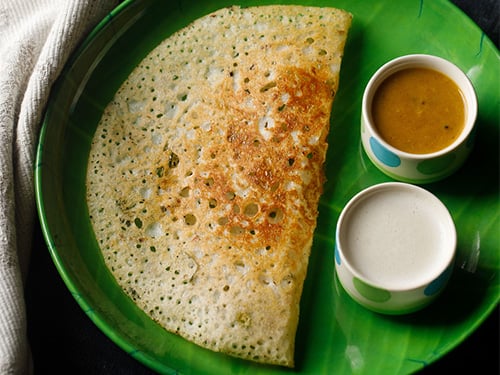 4. set dosa recipe – very soft, light and spongy dosa. these soft dosas are called as set dosa as they are served in a set of 3 dosa per serving. set dosa also make for an excellent tiffin snack as they remain soft even after cooling down and remain soft even after 4 to 5 hours. you can even pack these for a picnic snack with a dosa podi or a dry peanut or sesame chutney. serve set dosa with your favorite coconut chutney, veg sagu or potato sagu or sambar.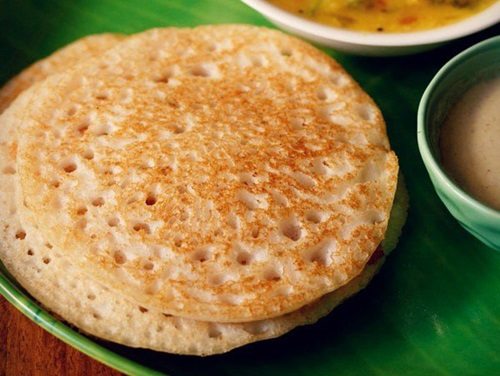 5. neer dosa recipe – soft, thin, light and lacy dosas made with rice batter. neer dosas are easy to prepare as fermentation is not required. you just need to soak the rice for about 4 to 5 hours and then grind it. once the batter is ready, you can start making the dosas. apart from coconut chutney, neer dosa can also be served with veg sagu or veg kurma or potato korma.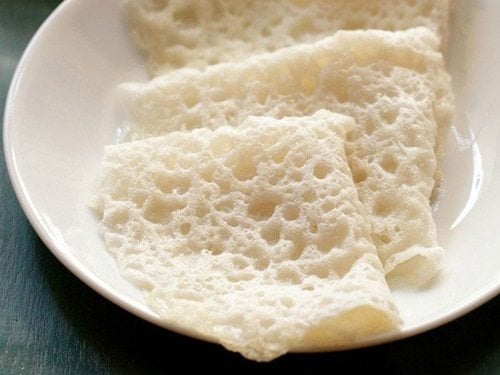 6. benne dosa recipe – crisp, soft and buttery dosas from the davangere city in central karnataka. these davangere dosas are not like the regular dosas. the taste as well as the texture is different. they are crisp and yet have a soft, light texture. davangere benne dosa is usually served with a potato filling (called as potato palya) and a spicy coconut chutney.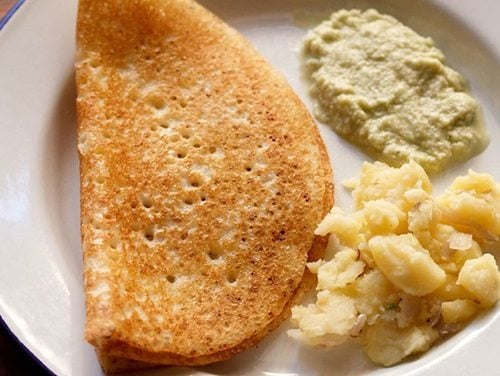 7. moong dal dosa recipe – pesarattu dosa or moong dal dosa is a popular breakfast recipe of andhra pradesh. pesarattu are a healthy & nutritious dosa variety. vegan as well as gluten free. these dosas can be made with whole moong beans or spilt moong lentils (green gram). i usually make the pesarattu dosa with both the versions of moong dal. pesarattu dosa is served with upma. the dosa can be served with coconut chutney. they also taste good with a simple coriander chutney also.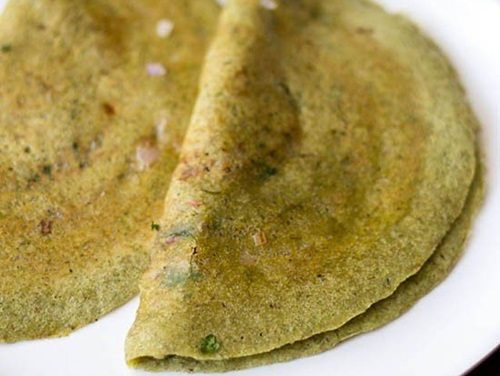 8. oats dosa recipe – crisp, lacy and healthy instant dosa made with oats. this is also a quick and instant oats dosa recipe with no fermentation required. this is one more delicious oats recipe that has become a part of our menu now. simple and easy to prepare and makes for a nutritious breakfast or snack. few more oats recipes on the blog are: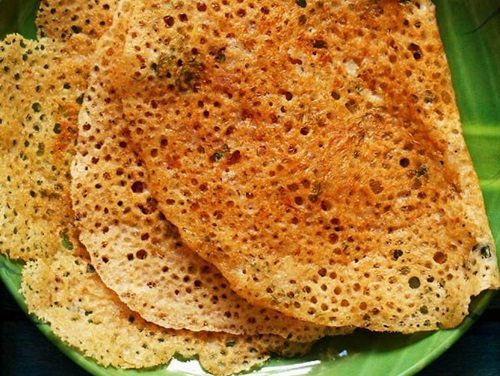 9. instant dosa recipe – quick and instant recipe of preparing crisp dosas. no fermentation required. the recipe works very well and within some minutes you will have hot and crisp dosas ready. all you need is the instant dosa mix. so you can prepare the dosa mix and keep it stored at room temperature. the dosa mix stays good for months.  you can also have a look at these other instant recipes: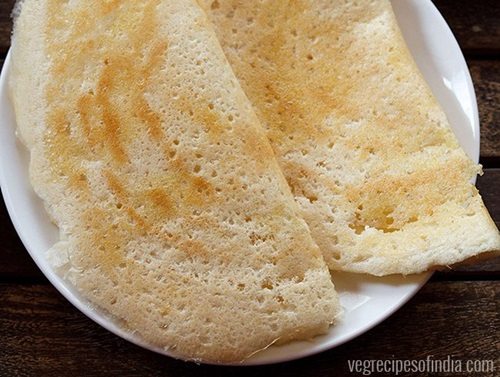 10. poha dosa recipe – this is one dosa which is amazingly soft, spongy, porous and stays so even after some hours. excellent for tiffin boxes with some dry chutney or podi. this poha dosa recipe is an andhra speciality and also known as atukula dosa. apart from this dosa, i make a lot of recipes with poha for breakfast or evening snacks like: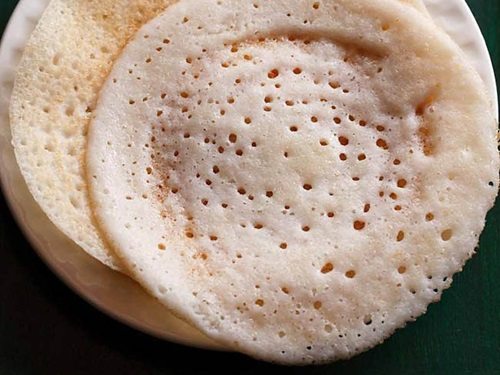 11. ragi dosa recipe – this healthy recipe of ragi dosa is a fermented one and made like the regular fermented dosas. the ragi dosas were both crisp and soft and the idlis were also soft and fluffy. so you can make both idlis and dosa with this batter.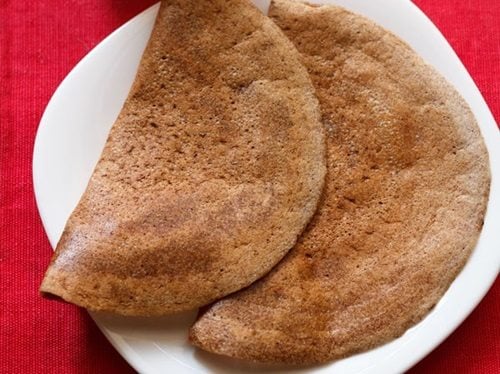 12. wheat dosa recipe – an instant dosa recipe made with whole wheat flour (atta), onion, herbs and spices. its very easy to prepare. you just need to mix all the ingredients and allow the batter to sit for 30 minutes. later you can make the dosas. always add the herbs and spices in the batter. this way the dosa taste better than the plain ones. these dosas have to be served hot.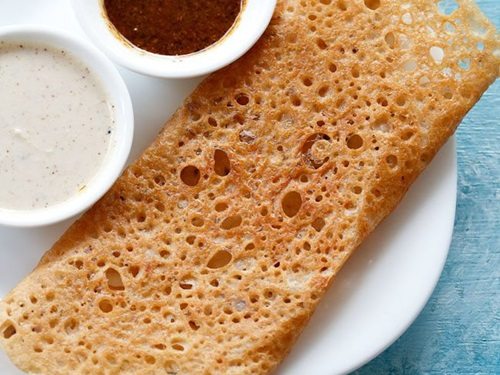 13. mumbai style masala dosa recipe – crisp dosas served with potato bhaji or potato masala in a mix of onions, coriander leaves, garam masala powder and butter. being born and growing up in mumbai, its street food has always been my favourite. few more popular mumbai street food recipes you can check are: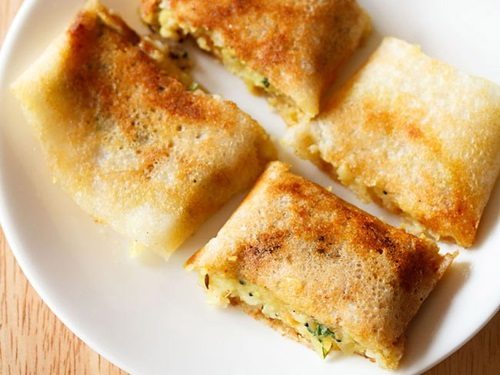 14. onion rava dosa recipe – this is a variation of the popular rava dosa recipe with onions. to make this dosa – just mix all the ingredients and allow the batter to sit for 15 to 20 minutes and then you are ready to make the dosas. a quick breakfast option. for more delicious rava recipes you can check this collection of 27 rava recipes.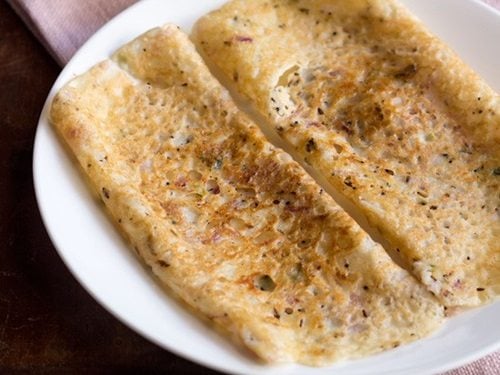 15. curd dosa recipe – a delicious soft dosa recipe made with curd, rice and lentils. these curd dosas are a version of set dosa or sponge dosa and give nicely soft textured dosas. these are called as curd dosa as more curd is added in the recipe. addition of curd gives a nice sour taste in these dosas. since curd dosa stays soft even after a few hours, you can pack them in kids tiffin box too. serve these soft set dosa with coconut chutney, potato sagu or veg sagu or veg korma or idli podi.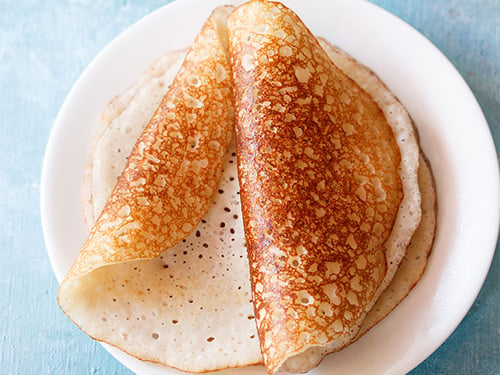 16.  sada dosa recipe – crispy and tasty plain dosa recipe where the dosa batter has been made in a mixer-grinder. sada dosa means plain dosa and can be served with coconut chutney, sambar or idli-podi. sada dosa is also one of the mumbai street foods.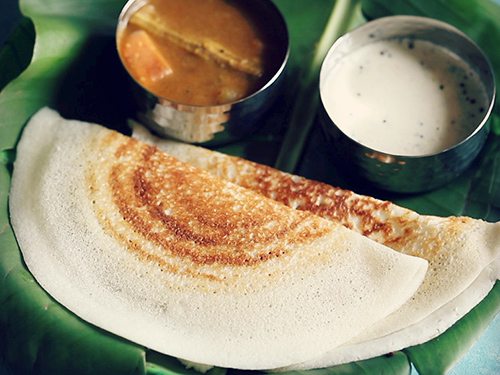 17. schezwan dosa recipe – crispy and spicy schezwan dosa recipe. schezwan dosa is one of the fusion street food offered by the street vendors in mumbai. its basically a fusion of the south indian and indo chinese cuisine. this dosa variety is also known as schezwan sada dosa. few more schezwan recipes on blog are: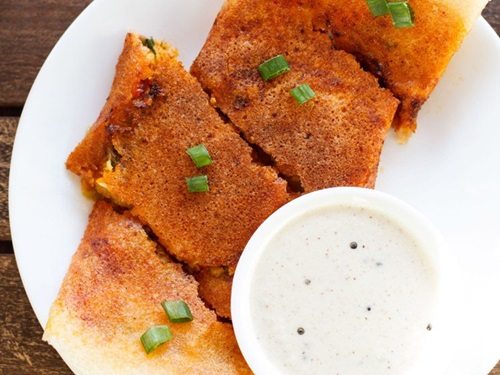 18. schezwan masala dosa recipe – crispy, spicy and tasty schezwan masala dosa recipe. in mumbai there are many dosa varieties that is offered by the vendors and schezwan dosa is one of them. these dosas are healthy as well as filling as lot of veggies are added. when you make them at home then you can add less butter or oil as added by the street food vendors. the taste of these dosas largely depends on the schezwan sauce you are using. best to use homemade schezwan sauce. or use a good quality and tasty sauce.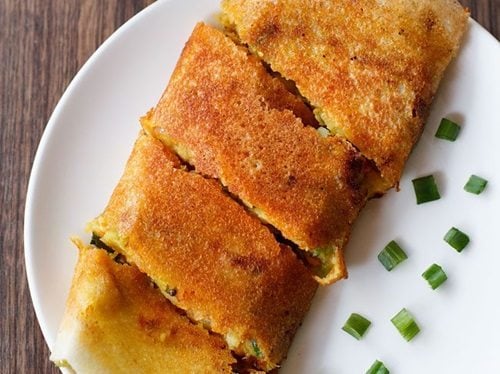 19. instant bread dosa recipe – quick and instant recipe of preparing bread dosa. the taste of bread dosa is similar to wheat dosa if you use whole wheat bread. if you use white bread, the taste is similar to maida dosa. for this post, i have used whole wheat bread. i have added tempering in the dosa batter which adds lot of flavor to the dosa.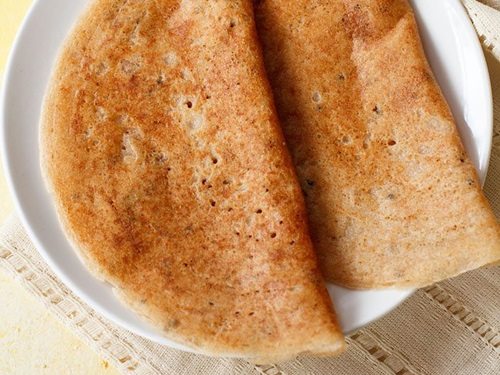 20. cheese dosa recipe – easy dosa variety made with leftover dosa batter. this cheese dosa recipe works very well as an after school snack for kids or as a morning breakfast. all you need is some dosa batter and cheese. the toppings on the dosa like veggies, herbs can be of your choice. for cheese, you can use processed cheese or mozzarella cheese. few more recipes you can make with leftover dosa batter are: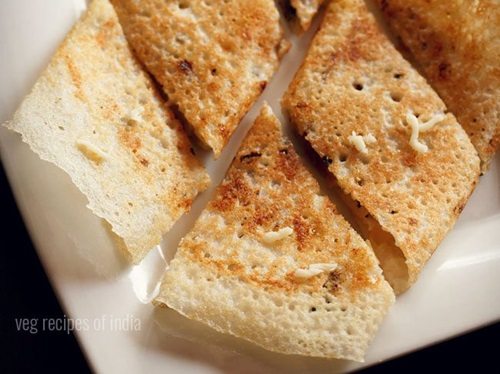 21. instant nachni dosa – this is a quick and healthy dosa variety. the recipe here is a no grind ragi dosa recipe and very easy. it does not require you to grind anything. you just have to mix everything. and then start making the dosas. ragi also known as finger millet or red millet or nachni. ragi is rich in calcium and extremely good for vegans and vegetarians. ragi is the best source of calcium. few more ragi flour recipes you can make are: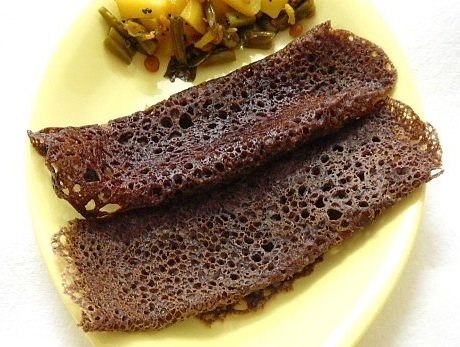 22. mumbai mysore masala dosa recipe – crisp dosa stuffed with spicy & juicy potato-veggie filling. a delicious dosa variety from mumbai street food.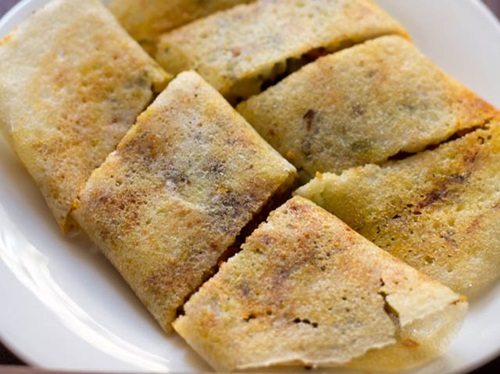 23. butter rava dosa – a delicious variation of the popular rava dosa made with butter. butter rava dosa is also served in many restaurants. in this recipe, butter is used instead of oil. you can use both salted butter or unsalted butter. but salted butter tastes better. the flavor of the butter makes a lot of difference to these crisp dosas. you can also use ghee instead of butter.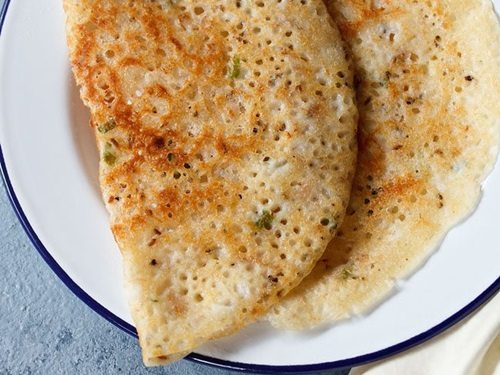 24. sabudana dosa recipe – soft dosa made from sabudana or tapioca pearls, idli rice and urad dal. the recipe of sabudana dosa gives nice soft dosas with a mild sweet taste coming from the sabudana pearls. the method of making these dosas is the traditional method, where everything is soaked, ground and then fermented. do use sabudana pearls, which we use for making sabudana khichdi or sabudana vada and not the large variety of sabudana, which is used for making sabudana chiwda.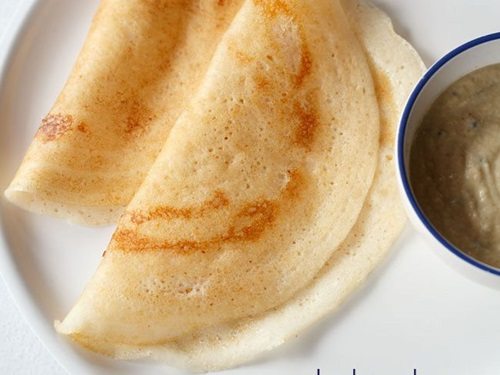 25. easy mix dal dosa recipe – easy and no ferment dosa made with mix lentils or dals. this mixed dal dosa recipe is very easy and does not require you to ferment the batter. but you do need to soak the lentils overnight. overnight soaked lentils ground well and give a better taste. however, if you are short of time, you can soak the lentils in hot water for an hour or two. mixed dal dosa is a protein packed dosa, with good amount of proteins coming from the lentils. serve the dosa plain with coconut chutney or sambar.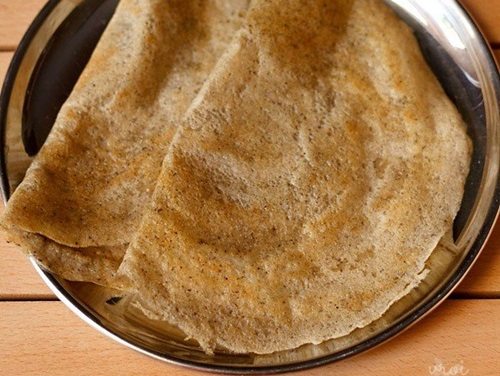 26. urad dal dosa recipe – this dosa recipe is simple, easy and requires no fermentation. this healthy dosa can be made for a breakfast or a quick snack. but make sure to serve the urad dal dosas hot as they may become a little dry once they cool down.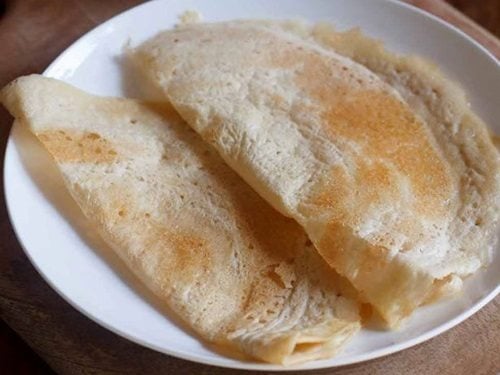 27. easy dosa recipe – this is an easy and fuss free version of making dosa. just mix the rice flour, urad dal flour with water. allow to ferment the batter and you are ready to make crisp dosa at home. no soaking and grinding issues. these dosas taste more like the crisp dosa which one gets in udipi restaurants. after making dosa this way, my feeling is that this is how they make dosa in restaurants. you will really not complain about these dosas, as they do not take the extra effort that is usually required in making a regular dosa.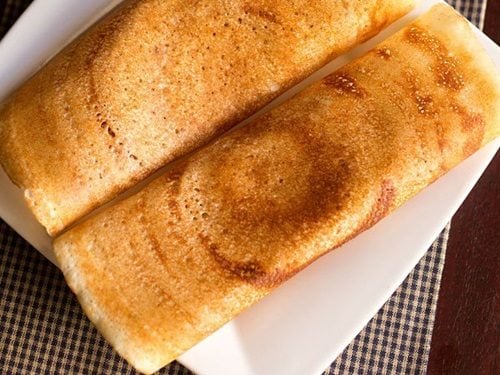 28. ghee roast dosa recipe – hotel style crisp ghee roast dosa. ghee roast dosa is one of the popular dosa recipe liked by many folks. i use my restaurant style masala dosa batter recipe to make ghee roast. though you can even use regular idli or dosa batter recipe to make ghee roast.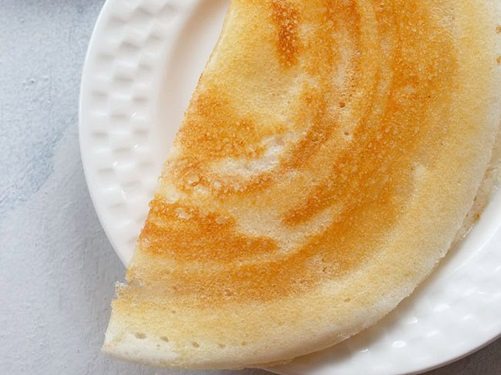 29. mysore masala dosa recipe – the recipe is like the mysore masala dosa served in the bangalore and mysore restaurants. the mysore masala dosa is spread with a spicy red chili-garlic red chutney and the potato palya stir fry and served with coconut chutney and sambar. few more popular recipes from the mysore cuisine which you can make are: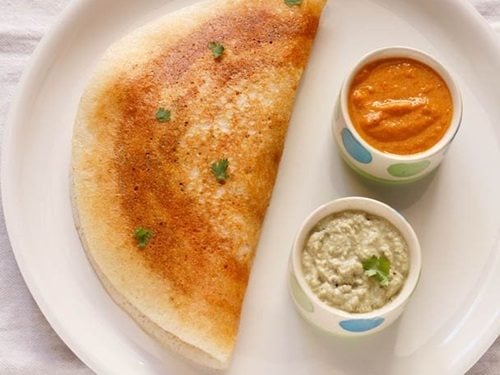 30. paper dosa recipe – crisp and tasty paper dosa served with coconut chutney and potato masala is a foodie's delight. this recipe gives you light, crisp papery dosa similar to the one we get in restaurants. addition of chana dal, rava (sooji) helps in giving a crisp texture to the dosa.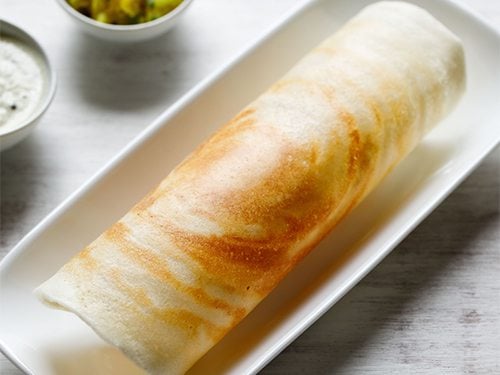 31. mumbai pav bhaji dosa – pav bhaji dosa is another popular dosa variety from mumbai. it is worth trying for dosa as well as pav bhaji lovers. basically, if you have left over pav bhaji or left over idli-dosa batter then you can make this dosa recipe and you will get to taste pav bhaji as well as dosa.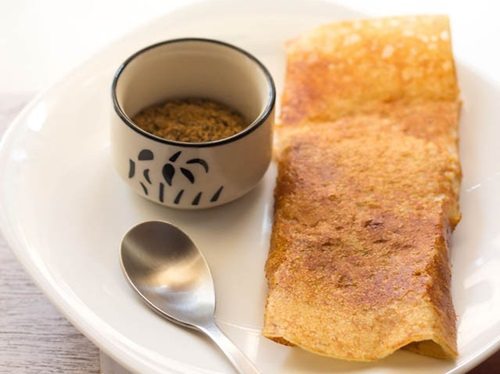 32. south indian masala dosa recipe – this is a detailed post to make both the dosa batter and potato masala filling. this masala dosa recipe is for a crisp, golden brown masala dosa but one which is still soft.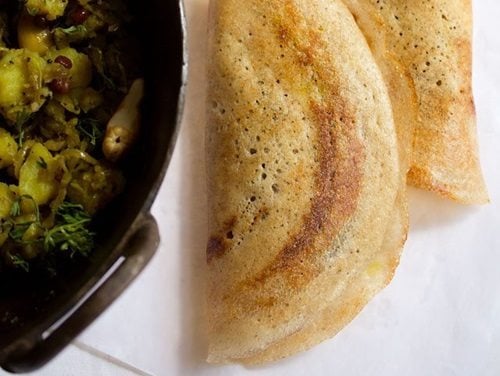 33. vendhaya dosa recipe (methi dosa) – light and soft dosas made with fermented dosa batter. the batter is made from idli rice or parboiled rice, lentils and fenugreek seeds. fenugreek seeds are also known as 'vendhaya/vendhayam' in tamil language and 'methi dana' in hindi language. chutney that should be served with vendhaya dosa should be a spicy chutney like kara chutney, tomato chutney or onion chutney. these spicy chutneys do compliment and pair well with the faint bitterness coming from the dosas.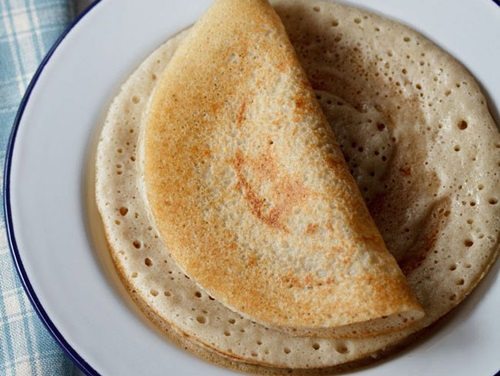 34. soybean dosa recipe – this is one healthy dosa recipe that I make with soybeans and flaxseed. you could also call it soybean pancakes, but unlike the traditional pancakes, this one is made without eggs and white flour. flaxseed is also beneficial for vegetarians who do not consume fish but want to partake the Omega 3 Fatty acids.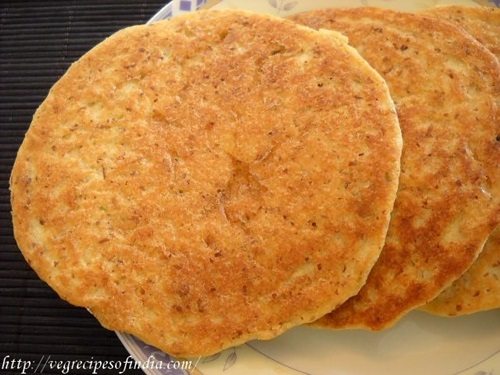 35. instant cooked rice dosa recipe – these crisp rice dosa are made with leftover rice. making dosa from leftover rice is quick as no fermentation is required. this dosa recipe yields crisp dosa and tastes good.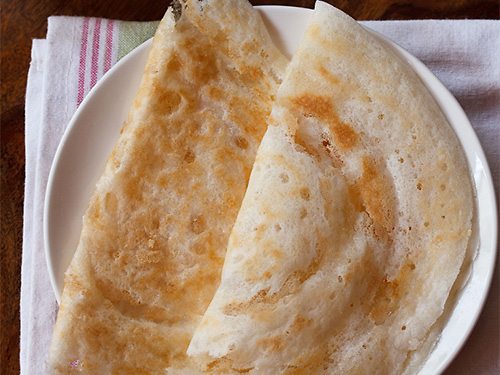 36. paper masala dosa recipe – one of the delicious varieties of masala dosa that is popular in south indian restaurants and hotels is paper masala dosa. as the name suggests paper dosa is crisp as well as thin dosa like paper.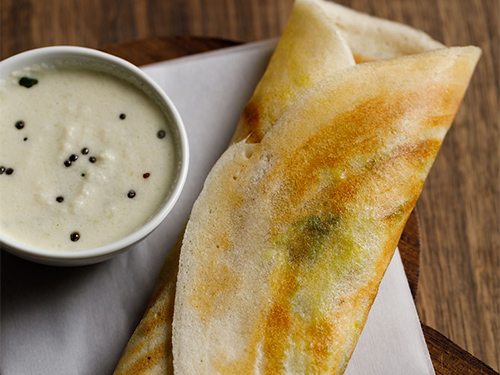 37. jini dosa recipe – a yummy, crispy, cheesy dosa with spicy, sour, sweet taste along with the crunchiness of the veggies. jini dosa is popular and delicious dosa variety from the mumbai street food scene.