Making your own chocolate covered strawberries is so simple, it is a wonder that people will spend so much to buy them! Try this simple dessert recipe before the season ends and wow your loved ones without breaking a sweat. I share this easy recipe with a video and step-by-step photos.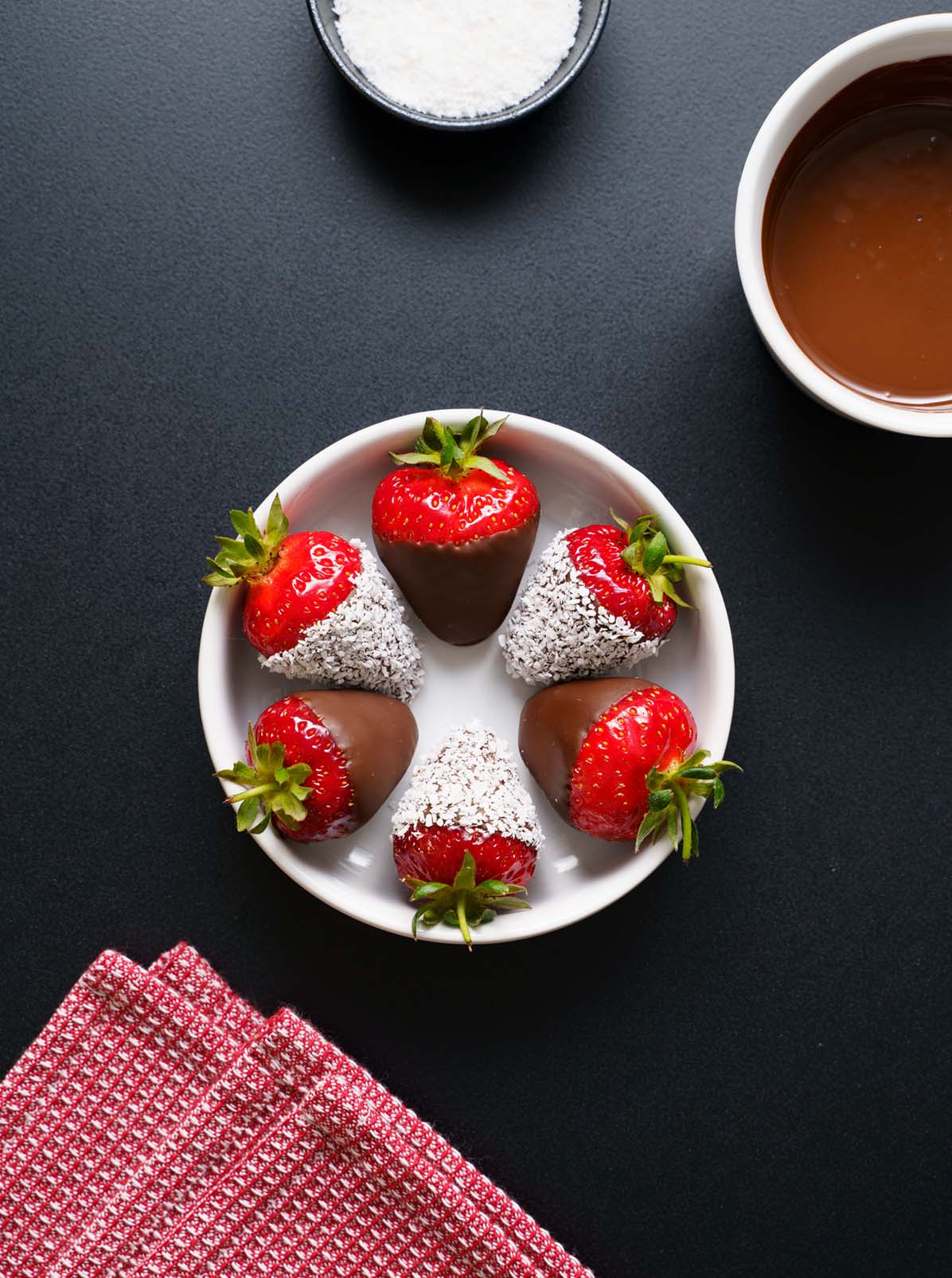 About Chocolate Covered Strawberries
If you are someone who believes everything tastes better with chocolate, you're going to love this easy, fruity dessert. My recipe for making chocolate covered strawberries requires just three simple ingredients and can be made in just 15 minutes!
If you have little ones who are curious about the kitchen, this is an excellent recipe to get them started. They can easily help to dip the strawberries in chocolate and roll them in the coconut, all without fear of them getting hurt.
If strawberries aren't in season, or if you want to make your own edible bouquet for a loved one, feel free to use whatever fruits you have on hand.
Sliced apples, sapota or pears; quartered bananas; wedges of pineapple; sections of oranges; or even dried fruits like apricots, dates or figs all make for wonderful treats when dipped in chocolate.
You can also have fun with the type of chocolate you use. I used semi-sweet chocolate here because I love the flavor, but you can also use white or milk chocolate, or even dark chocolate for added health benefits.
Heck, you can even layer the types of chocolate as a way of decorating the berries. Dip in dark chocolate and drizzle with some white or milk chocolate to add some pizzaz, or use colored chocolate melts for more intricate designs.
As an added bonus, when you DIY your own chocolate dipped fruit, you get to choose your toppings!
Set up an array of different yummy nibbles and bits to coat your berries for a truly spectacular looking dessert board. And feel free to get creative – there's no wrong way to dip a berry in chocolate, if you ask me.
So follow along with me as I work my way through this chocolate covered strawberries recipe. It'll be like you are right there in the kitchen with me with my step-by-step photos and video!
Tips & Tricks
While this recipe for making chocolate dipped strawberries is very straightforward, there are a few things to keep in mind that will ensure your success:
Use ripe, fresh and sweet strawberries. This is not something you can make with frozen fruit.
Ensure that the skin is not soft. The berries should be vibrant and the skin should be unblemished.
You can keep the leaves if you want, or remove them.
Long stemmed strawberries not only make for a beautiful presentation, but will also replace the need for wooden skewers.
Make sure the berries are completely dry before dipping them. Any moisture will keep the chocolate from adhering to the skin.
Keep them in a cool, dry environment until you are ready to serve. It goes without saying, but chocolate will melt. Don't leave these out in the sun!
Chocolate dipped strawberries are best enjoyed the day you make them. They will keep for a couple of hours at room temperature, but longer stints should be avoided as the fruit will begin to sweat.
How to make Chocolate Dipped Strawberries
Prep Strawberries
1. Gently rinse 250 grams of strawberries in a strainer or colander with water. Drain all the water.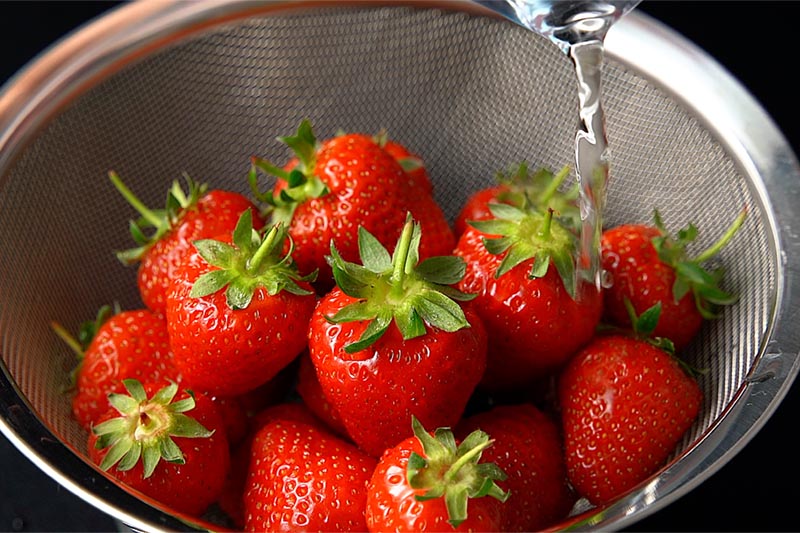 2. Place them on a cotton kitchen towel and then pat dry them with another clean kitchen towel. There should be no trace of water on the berries as any water will seize the melted chocolate and ruin it.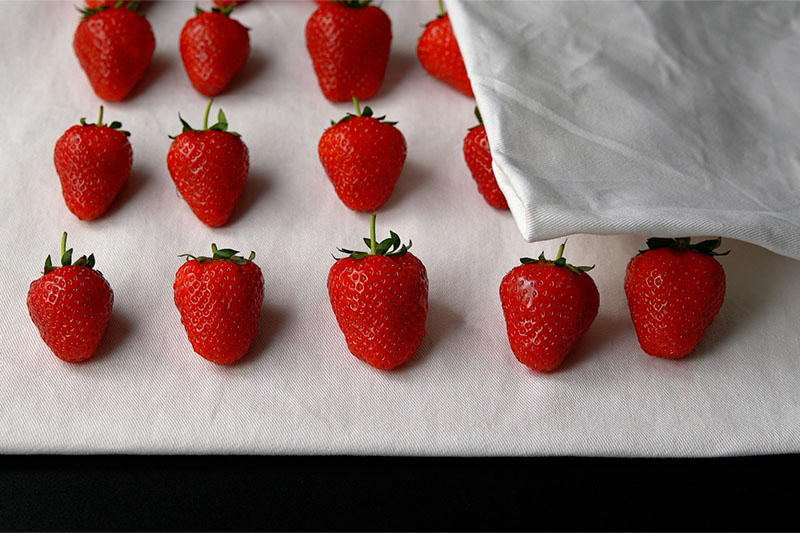 Melt Chocolate
3. First chop 175 grams of semi-sweet chocolate in small cubes or pieces. Take the chocolate in a bowl along with ½ tablespoon neutral oil or softened butter.
You can either microwave the chocolate or melt them in a double boiler. I prefer to melt them using the traditional double boiler method to prevent the chocolate from scorching. I have mentioned the details in the recipe card below.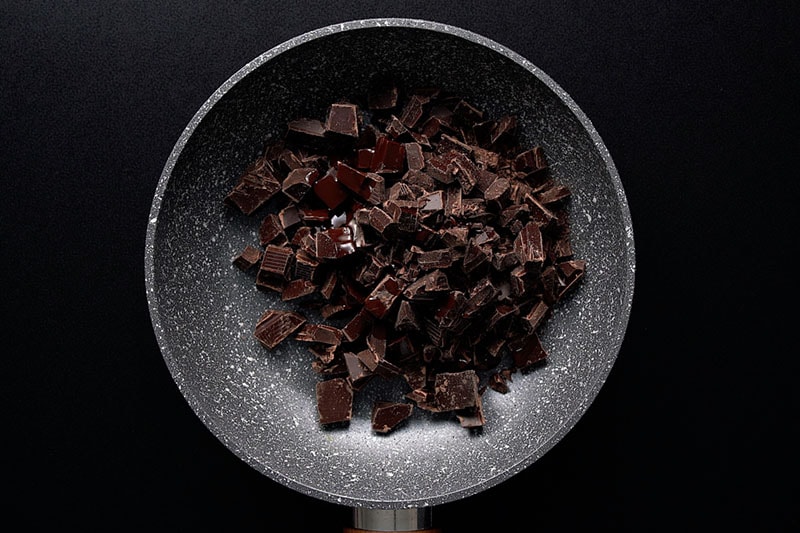 4. Heat 1 to 1.5 cups water in a saucepan until it comes to a gentle boil or simmer on medium heat. Reduce the heat.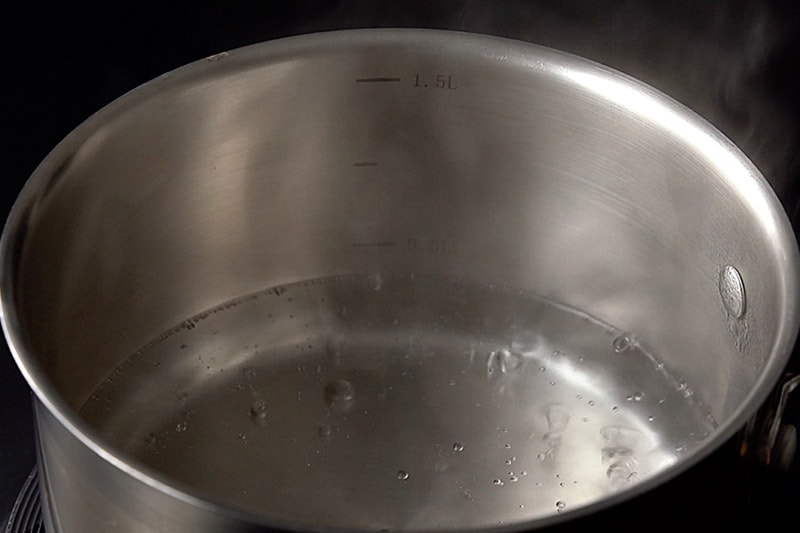 5. Keeping the heat to a low, place pan or bowl with the chocolate and oil or butter ensuring that the bottom of the bowl or pan does not touch the hot water.
With the steam coming from the pan, the chocolate will begin to melt. Stir with a spatula to facilitate the melting of the chocolate. Stir the mixture non-stop while the chocolate is melting.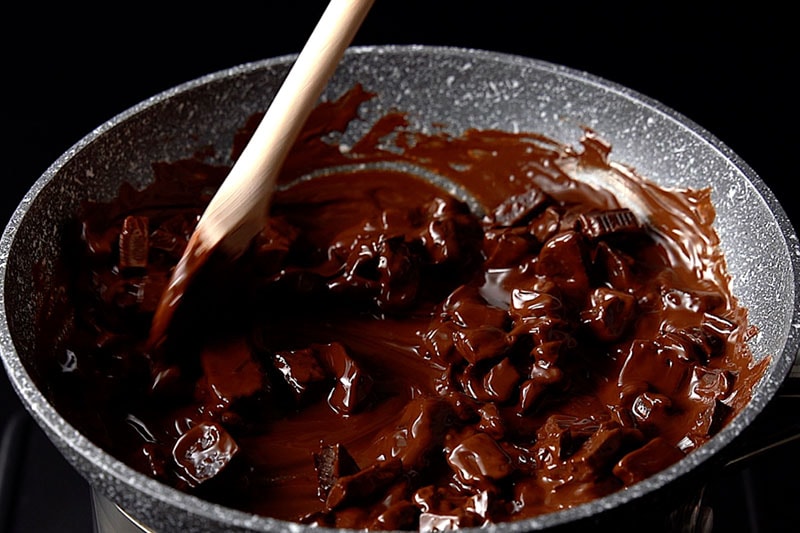 6. Let the chocolate melt completely. When all the chocolate is melted, switch off the heat. Remove the pan from the double boiler and place it on the countertop.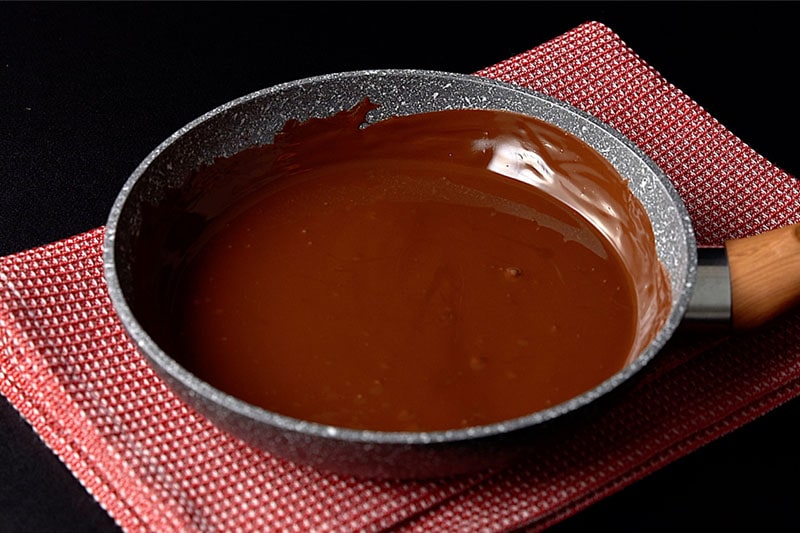 Make Chocolate Covered Strawberries
7. Pick the strawberry with its stem and dip it in the chocolate. The chocolate can be lightly hot or warm when you dip the strawberries in it.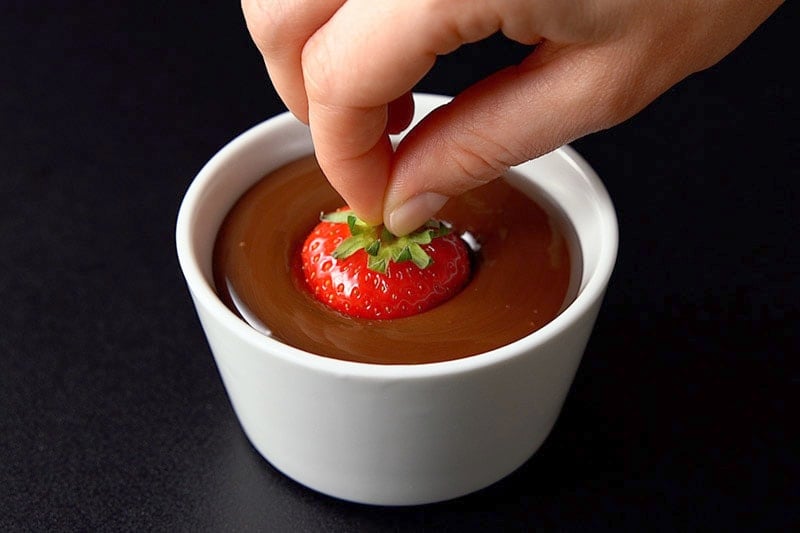 8. Cover ¾ or more, dripping extra chocolate in the bowl. If there is no stem, then insert a toothpick or wooden skewer in the strawberries as a handle.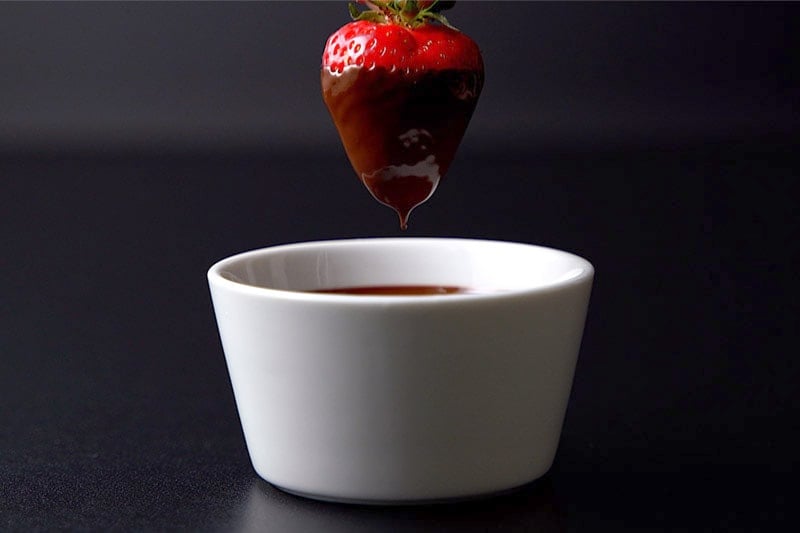 9. While the chocolate is still soft, roll the berry to coat in a topping of choice. I recommend spreading the topping on a small plate to keep it contained.
Note that coating in a topping of choice is an optional step. Here I have used unsweetened desiccated coconut to coat the chocolate.
TIP: If the chocolate is too flowing or liquid to coat in the coconut, then set them aside on the parchment paper for some minutes and let the chocolate set a bit. Then roll the strawberry dipped chocolate on the desiccated coconut.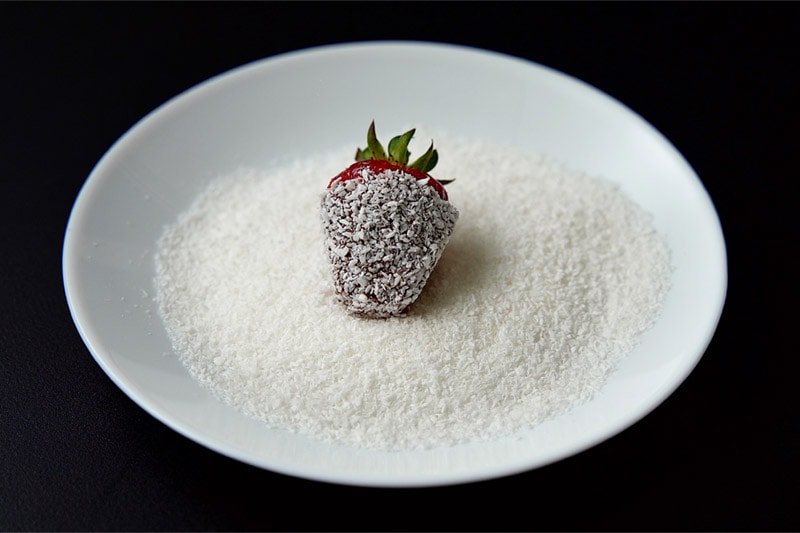 10. Place the dipped strawberries on a parchment-lined tray and let them cool for 10 minutes.
Place them in the fridge for 10 to 15 minutes so that they set completely.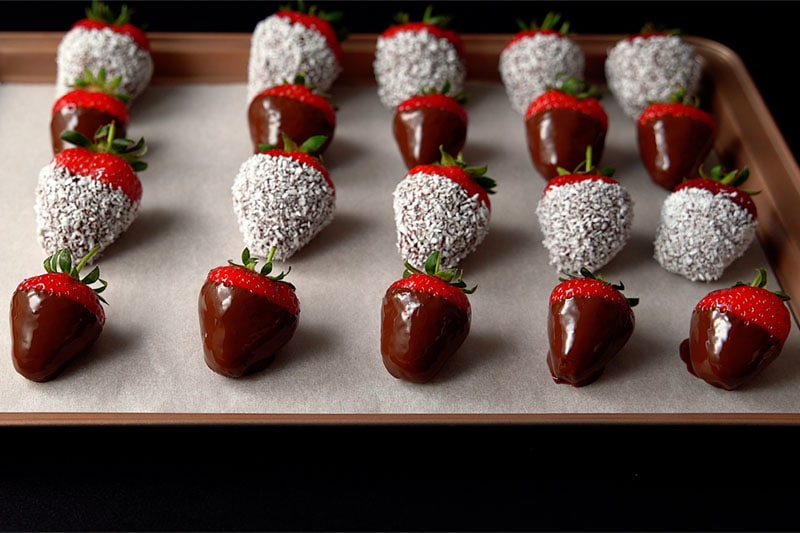 11. Serve chocolate covered strawberries plain or as a topping on cakes, puddings or mousse. Enjoy!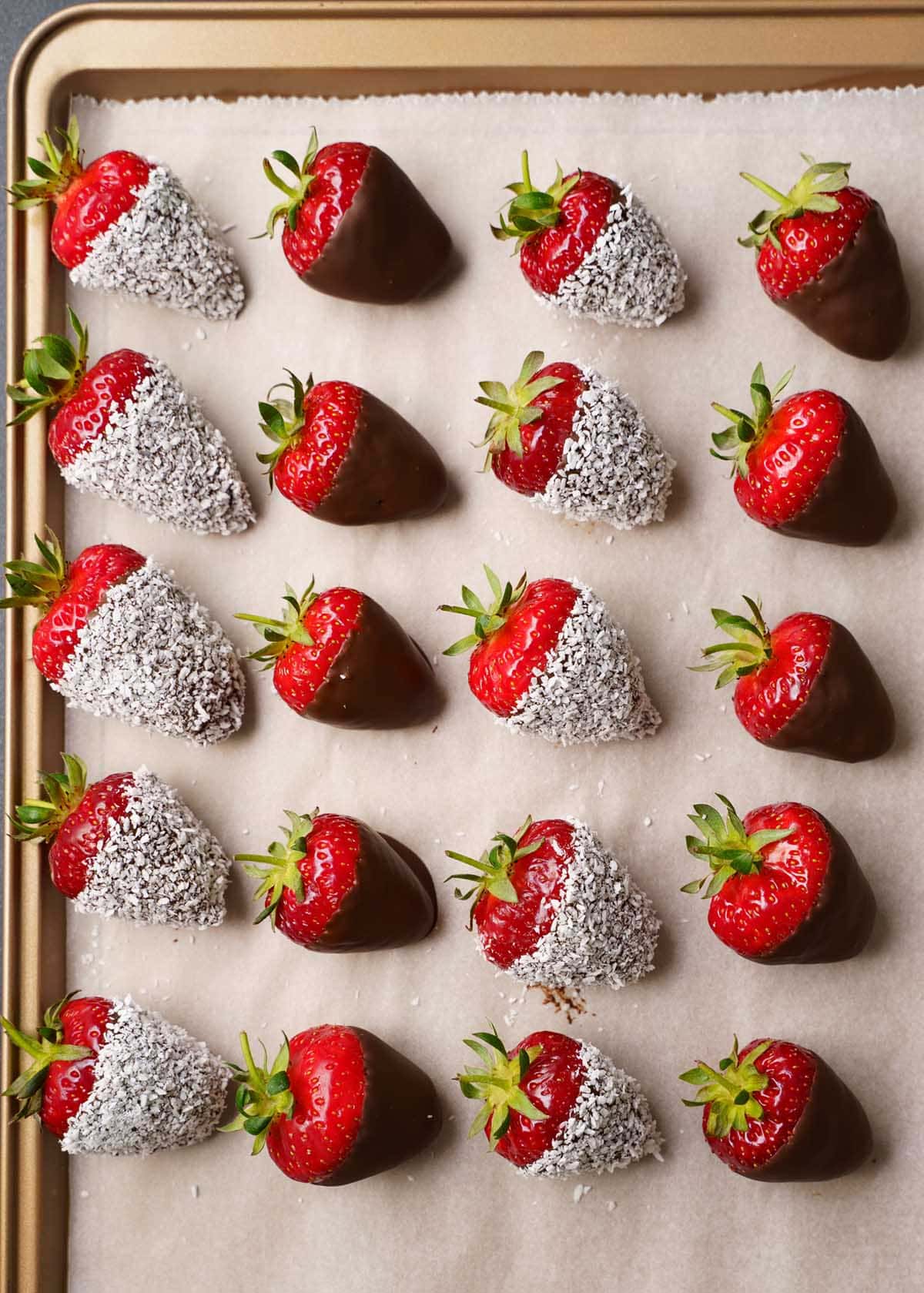 Optional Topping Ideas
While I opted to stay quite simple when decorating my chocolate dipped strawberries, there is a whole world of possibilities out there. Feel free to choose your toppings based on your flavor preferences, or even based on a color theme.
Here are some ideas to get your creative juices flowing:
Chopped Nuts – toasted chopped nuts are a classic topping. Try peanuts, macadamias, pistachios, pecans, cashews, almonds or walnuts.
Shredded Coconut – make it fine like the desiccated coconut I used, or opt for shreds or even shards. Toast for a golden hue, or keep raw for pure white.
Mini Chocolate Chips – chocolate on chocolate is one of my favorite things. Mini chocolate chips also make for excellent polka dots or tuxedo buttons.
Cookie Crumbs – great for using up leftovers, and also quite delicious. Graham crackers, digestive biscuits or oreos all work.
Granola – excellent for adding texture. Just be sure to break it up into small pieces for best adherence.
Sprinkles or Nonpareils – an easy way to add color and flair to any affair!
Edible Glitter or Edible Gold Leaf or Edible Silver Foil – this level of fancy will really knock their socks off.
Candy Melts – great for adding color contrast to your berries.
Homemade Magic Shell – magic shell isn't just for chocolate anymore. Make a drizzle out of tahini, peanut butter or your favorite nut butter, and it'll harden right up in the fridge like magic!
Remember that even plain dipped strawberries are a lovely treat in and of themselves. They also make for a beautiful decoration on other desserts. Use them to garnish cakes, cupcakes, pudding or mousse!
FAQs
Can these be made ahead?
I would not recommend making chocolate covered strawberries more than 48 hours ahead of when you plan to serve them, as they will begin to sweat.

For best results, serve within a few hours of dipping. Otherwise, keep them in the refrigerator for up to 1 day.
Why isn't the chocolate sticking to my berries?
Sounds like your berries are still damp. Be sure that they are completely dry before dipping them into the chocolate.

Also, make sure that the chocolate hasn't gotten too firm – you may need to re-melt it as you work, depending on the temperature of the room.
How do I keep the dipped strawberries from sticking to the plate?
Be sure to line the surface of your refrigerating plate with parchment. I recommend using a flat cookie tray for best results.
More Recipes With Strawberries!
Please be sure to rate the recipe in the recipe card or leave a comment below if you have made it. For more vegetarian inspirations, Sign Up for my emails or follow me on Instagram, Youtube, Facebook, Pinterest or Twitter.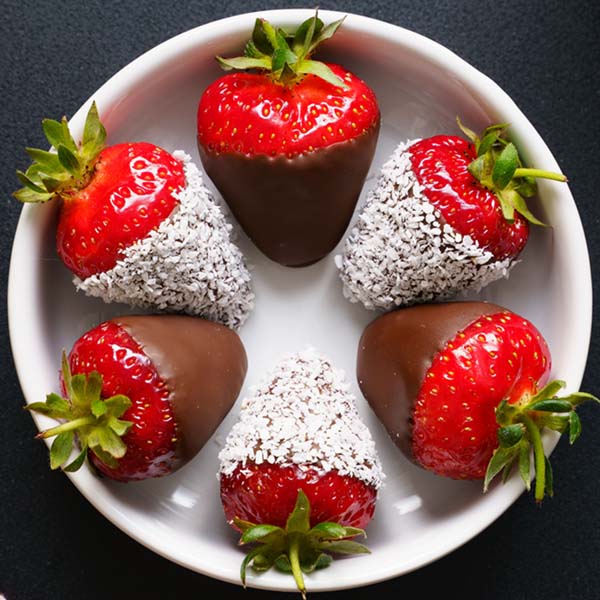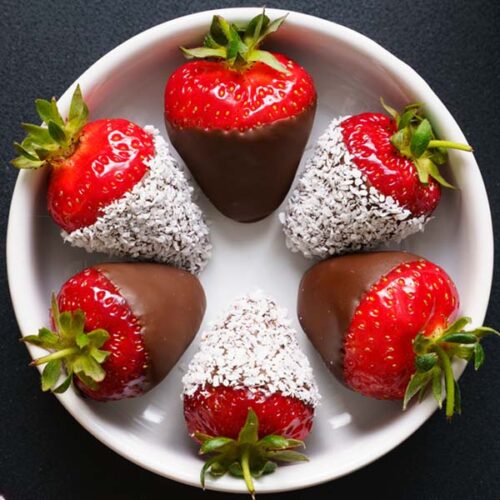 Chocolate Covered Strawberries
Yum chocolate strawberries where juicy strawberries are coated in melted chocolate. My recipe for making chocolate covered strawberries requires just three simple ingredients and can be made in just 15 minutes!
Servings
20
strawberries covered chocolate
Ingredients
250

grams

strawberries

or 18 to 20 medium-sized

175

grams

semi sweet chocolate

or milk chocolate

3 to 4

tablespoons

desiccated coconut

– unsweetened or coarsely ground nuts like almonds, cashews, pistachios – optional

½

tablespoon

oil

(any neutral oil) or butter at room temperature
Instructions
Prepping Strawberries
Rinse the strawberries well with water in a strainer or colander. Drain all the water.

Place the strawberries on a tray or plate. Pat dry them with a kitchen towel. Set aside. Make sure that the strawberries do not have any water on them before you coat them with the chocolate.
Melting Chocolate in Double Boiler
Chop the chocolate first in small cubes. Take the chopped chocolate and oil in a heat-proof bowl or small frying pan or skillet.

Heat 1 to 1.5 cups water in a saucepan. On a medium heat boil or gently simmer the water.

Lower the heat and place the bowl containing the chocolate and oil on top of the pan. Make sure that the bowl does not touch the bubbling hot water.

Stir with a wooden spoon or spatula non-stop so that all of the chocolate melts.

When all of the chocolate is melted, remove the bowl from the pan and set aside.
Melting Chocolate in Microwave
Take the chopped chocolate and oil in a microwave safe bowl.

On a microwave 80 power, melt the chocolate for a total of 2 to 3 minutes.

Microwave in bursts of one minute. First microwave for a minute. Remove bowl and give a good stir. Microwave the second time for a minute. Remove and again mix and stir with a wooden spoon until the chocolate is melted.

Even after removing the bowl, the chocolate will continue to melt, so be careful as you don't want the chocolate to seize.

If some cubes or chunks are not melted, then continue to microwave for about 30 seconds or upto a minute.
Making Chocolate Covered Strawberries
Place an aluminium foil or butter paper or parchment paper on a tray or plate.

If using desiccated coconut then spread some coconut on another small plate.

Dip each strawberry in the chocolate and cover it ¾ or fully. The melted chocolate can be lightly hot or warm when you dip the strawberries in it.

This is an optional step. Now roll the strawberry in the desiccated coconut. Place it on the parchment paper or aluminium foil. Don't move or disturb them.

If the chocolate is too flowing to coat in the coconut, then set the chocolate coated strawberries aside on the parchment paper for some minutes and let the chocolate set a bit. Then roll them on the desiccated coconut.

Use up the remaining strawberries by coating them with chocolate.

Let the chocolate cool at room temperature. Keep this tray in the fridge for 10 to 15 minutes and refrigerate till the chocolate sets.

Serve chocolate covered strawberries plain or use them as a topping for cakes, cupcakes, custards, puddings or mousse.
Storage Suggestions
Enjoy them as a sweet treat within a couple of hours if you keep them at room temperature. When refrigerated, then use them up within one day.
Notes
The approximate nutrition data is for 1 chocolate covered strawberry coated with semi-sweet chocolate and unsweetened desiccated coconut.
Nutrition Info (Approximate Values)
Nutrition Facts
Chocolate Covered Strawberries
Amount Per Serving
Calories 63
Calories from Fat 36
% Daily Value*
Fat 4g6%
Cholesterol 1mg0%
Sodium 1mg0%
Potassium 73mg2%
Carbohydrates 6g2%
Protein 1g2%
Vitamin A 6IU0%
Vitamin B1 (Thiamine) 1mg67%
Vitamin B2 (Riboflavin) 1mg59%
Vitamin B3 (Niacin) 1mg5%
Vitamin B6 1mg50%
Vitamin B12 1µg17%
Vitamin C 7mg8%
Vitamin E 1mg7%
Vitamin K 1µg1%
Calcium 8mg1%
Vitamin B9 (Folate) 3µg1%
Iron 1mg6%
Magnesium 18mg5%
Phosphorus 27mg3%
Zinc 1mg7%
* Percent Daily Values are based on a 2000 calorie diet.
This Chocolate Covered Strawberries recipe from the blog archives first published in March 2013 has been updated and republished on August 2021.