bharwa baingan recipe with step by step photos – one easy and tasty recipe of bharwa baingan or stuffed brinjals with potatoes.
this punjabi bharwa baingan is a family recipe. here the baingan is stuffed with a spice powder mix and not any veggies. its the spice blend which gives the dish its taste and flavor. the recipe is also made without onions and garlic. so its just the spices, brinjals and potatoes. simple but flavorful.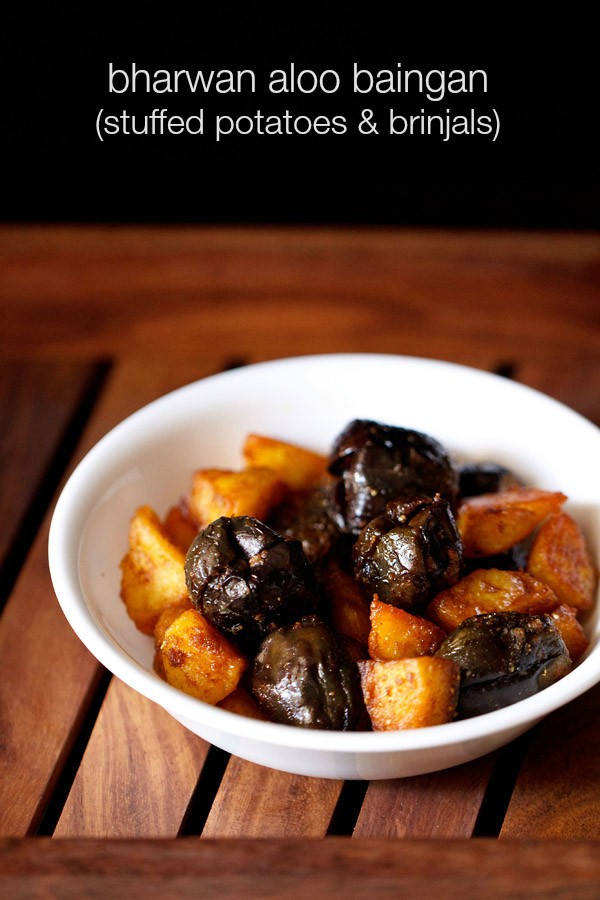 eggplant also known as brinjal in india and baingan in hindi is a favorite veggie at home. we like it in all forms fried, stuffed, mashed. there is a very popular recipe in india of mashed spiced eggplant known as baingan bharta. there are many variations of this popular dish and i have already shared punjabi baingan bharta and maharashtrian vangyache bharit.
there are different varieties of baingan/eggplant that we get. you can use the small baingan or the medium ones. i have used small purple baingan for this recipe. you could use the green or white ones too.  i have added normal potatoes but you can add baby potatoes too.
addition of potatoes in this dish is optional. but i would suggest to add the potatoes as they taste good and add lot of flavors. even if someone in your family don't like the brinjal then they can at least have the potatoes. at my home we always add potatoes in this recipe.
you can serve the bharwa baingan with chapatis or phulkas or bread or plain paratha.
if you are looking for more brinjal recipes then do check:
stuffed or bharwa baingan recipe below: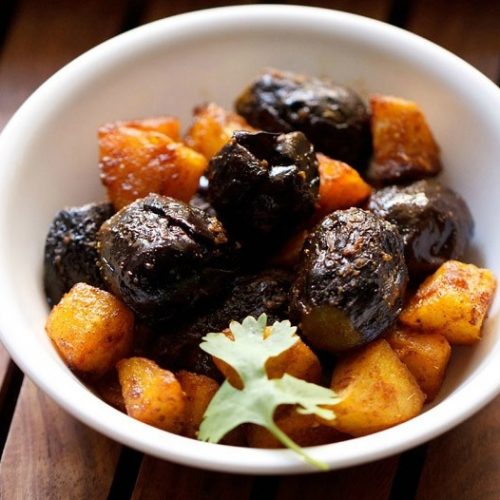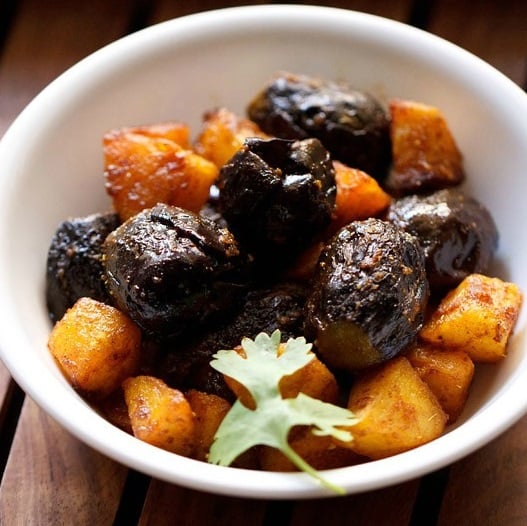 bharwa baingan recipe | stuffed brinjal recipe
stuffed baingan recipe - small brinjals stuffed with a spice mix and sauteed with potatoes.
ingredients (1 cup = 250 ml)
250

grams

small brinjals

(baingan or eggplants), about medium green baingan/eggplants or 18 to 20 small brinjals

250

grams

regular potatoes

or baby potatoes, about 2 to 3 medium potatoes or 15 to 18 baby potatoes - optional

½

tsp

turmeric

(haldi)

1

tsp

garam masala powder

1

tsp

chilli powder

(lal mirch powder)

1

tsp

dried mango powder

(amchur)

1

tsp

coriander powder

(dhania powder)

1

tsp

cumin powder

(jeera powder)

1

tsp

salt or add as required

2

tbsp

oil
how to make recipe
preparation for bharwa baingan recipe:
firstly, mix all the six spice powders along with salt – garam masala powder, chilli powder, turmeric powder, coriander powder, cumin powder and amchur (dried mango) powder and salt. keep aside.

rinse the baingan or brinjals and dry them with the kitchen towel. slice off the stem from the brinjals.

slit each baingan into 4 parts taking care that you don't cut the entire baingan. stuff the baingan with the spice powder mixture evenly. keep all the stuffed baingan aside.

peel and dice the potatoes. if using baby potatoes then chop if they are medium sized. If they are small, then just keep them whole with or with the peel.
making bharwa baingan recipe:
in a wok or kadai or heavy bottomed pan. add the oil.

then add the chopped potatoes. saute the potatoes till they change colour and get lightly browned from the edges.

add the stuffed brinjal, stir and saute the brinjal for a minute. then cover the pan and cook the baingan on a low flame.

check a couple of times and stir the veggies. cover and then continue to cook.

once the brinjals are cooked and softened, add the remaining spice powder mix.

stir well and saute for a minute. check the taste and add more salt if required.

serve bharwa baingan hot with phulkas or plain paratha.
how to make bharwa baingan or stuffed brinjal recipe:
1. first take all the spice powders in a small plate or bowl – ½ tsp turmeric powder, 1 tsp garam masala powder, 1 tsp red chili powder, 1 tsp coriander powder, 1 tsp cumin powder,1 tsp dry mango powder and 1 tsp salt.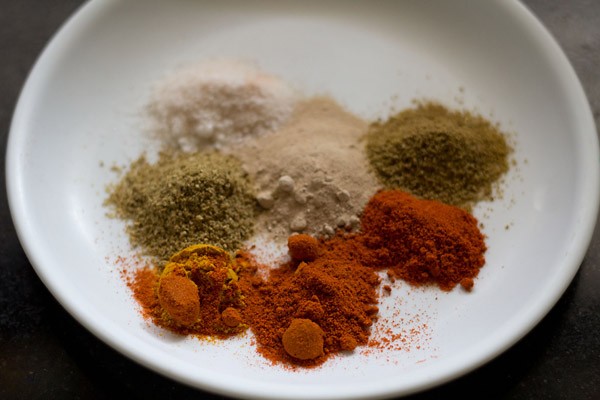 2. mix the spice powders & salt very well with a spoon. keep aside.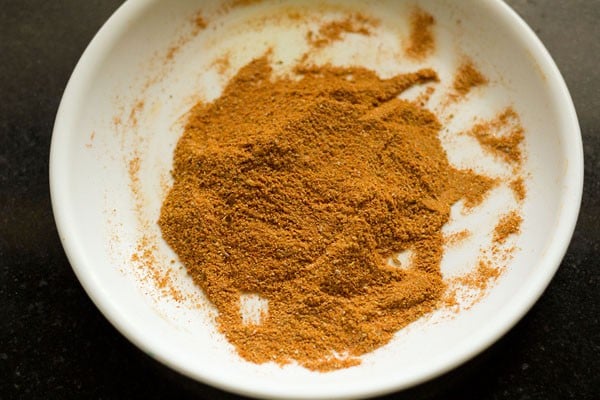 3. rinse and wipe dry the brinjals.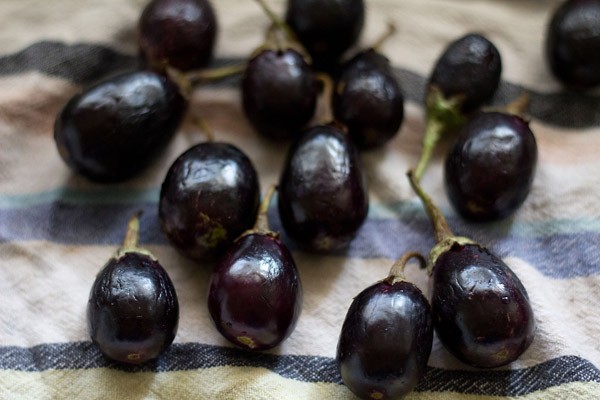 4. slit each brinjals four ways, from the base or top keeping a few centimeters gap. so that the brinjals stay whole and are not completely chopped through.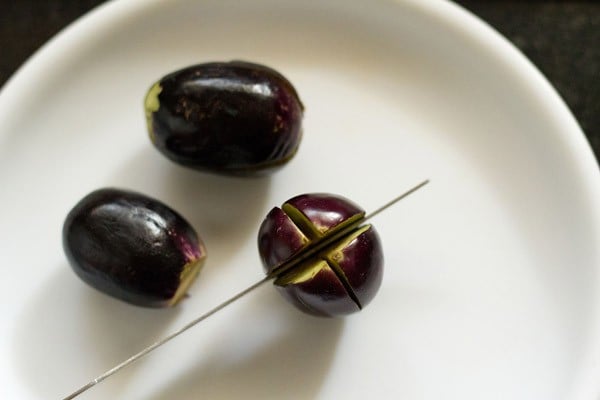 5. now stuff the mixed spice powder or masala in the brinjal very well. some of the masala powder will remain and we will add it right at the end in the dish.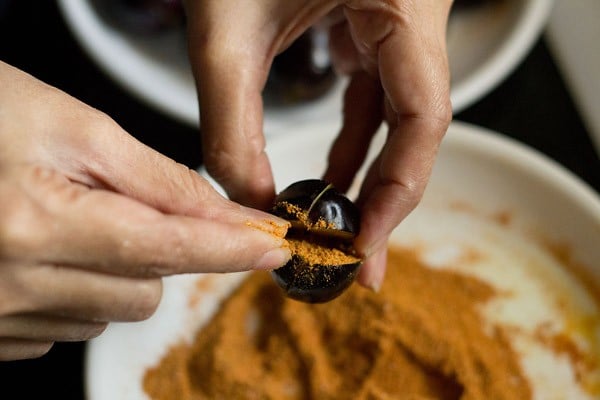 6. stuff all the brinjals this way. keep aside.
7. in a kadai or pan, heat 2 tbsp oil. add diced potatoes.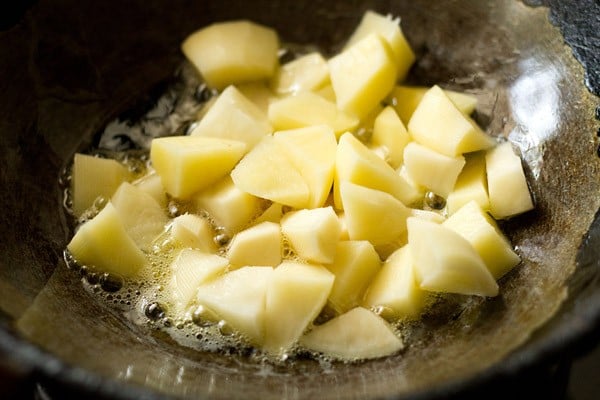 8. on a low to medium flame, saute the potatoes, stirring occasionally.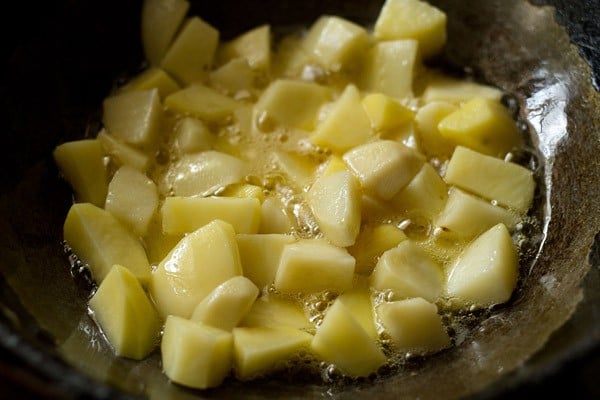 9. saute till the potatoes have lightly browned from the edges.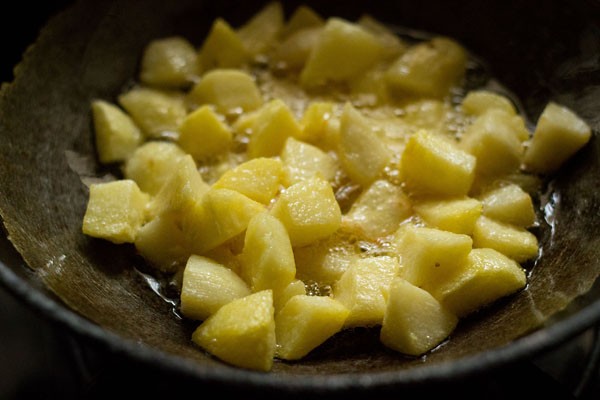 10. now add the stuffed brinjals.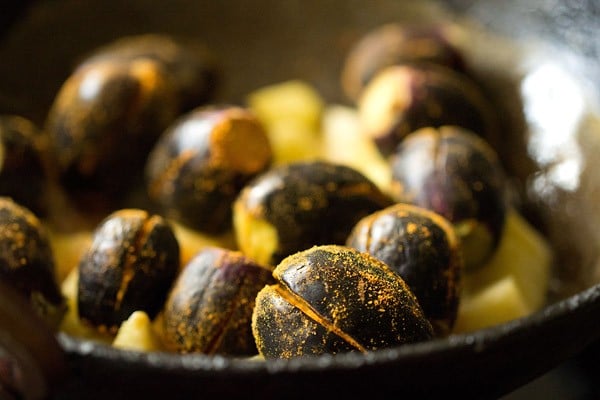 11. stir well and saute the brinjals for a minute. then cover the pan and allow the brinjals too cook on a low flame. no need to add water while cooking the brinjals.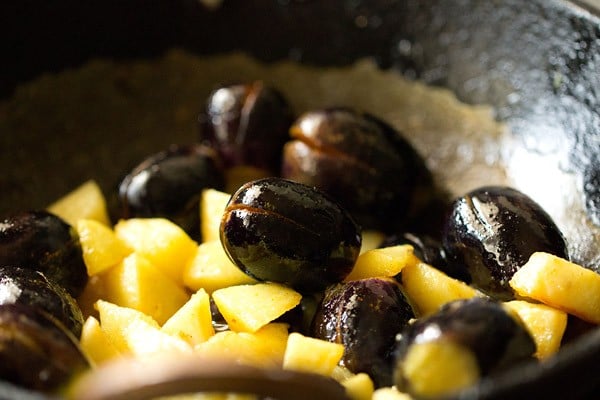 12. after 4 to 5 minutes, remove the lid and stir the veggies again. cover and allow to cook again. you will have to check once or twice to see if the stuffed brinjals have softened or not.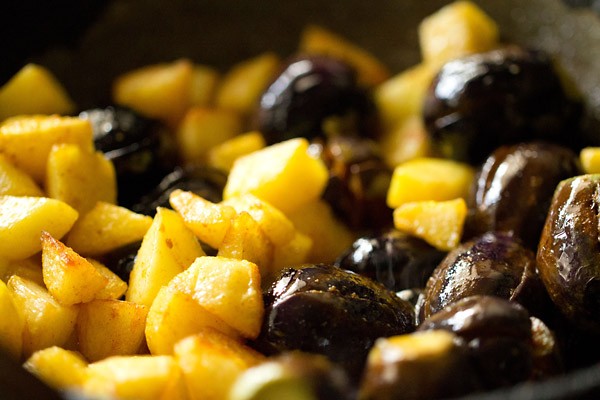 13. once the stuffed brinjals are softened, add the remaining leftover spice powder mix on top. stir and saute for two minutes. here you can also add more salt as per your taste.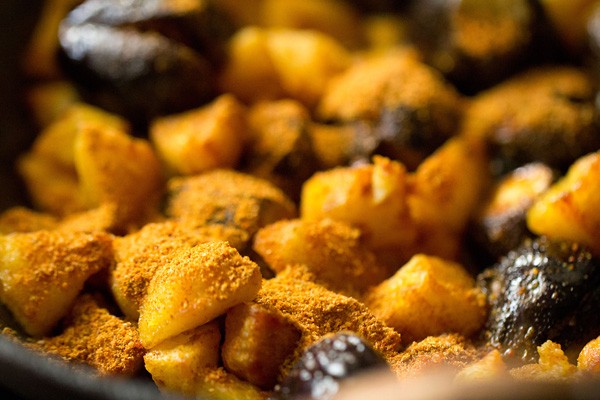 14. serve the bharwa baingan with chapatis or phulkas. the sabzi also tastes good with bread. you can also garnish these stuffed baingan with coriander leaves.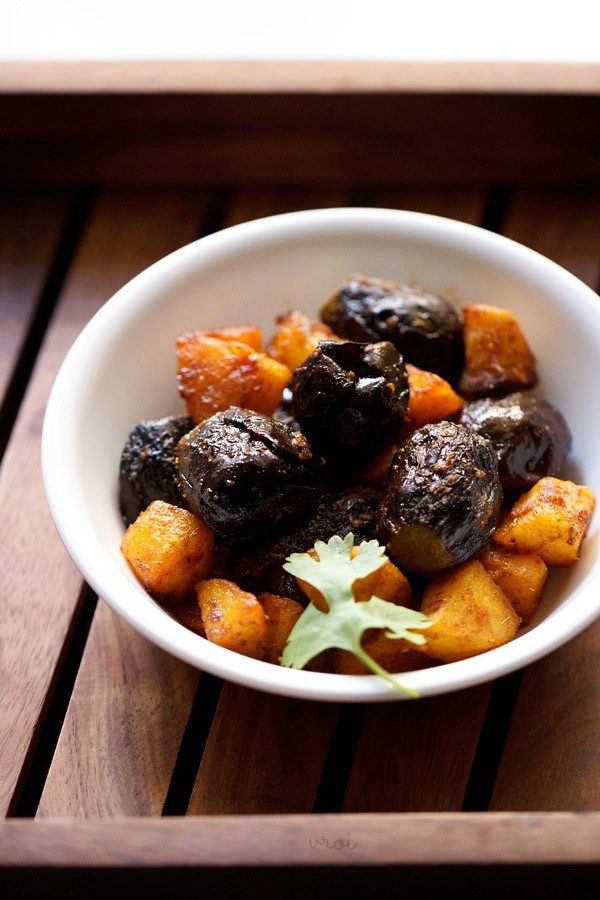 About
i started vegrecipesofindia.com in feb 2009. it is a pure vegetarian blog and shares recipes with step by step photos.

i am passionate about cooking from childhood and learnt cooking from my elders. a home science degree course further enhanced my cooking and baking skills professionally along with an internship in a five star hotel. i am trained both in mainstream indian as well as international cuisines.

all the 1800 recipes posted on blog are tried and tested and made healthy wherever possible. the recipes are detailed and with step by step pictures that will easily help you to make delicious and tasty vegetarian food.