My classic Bharwa Baingan recipe is simple to prepare in just 30 minutes as a comforting weeknight meal. This stuffed eggplant dish is loaded with a flavorful blend of spices, and features baby eggplants and tender diced potatoes quickly sautéed on the stovetop. Follow our step-by-step instructions with photos to make an easy and satisfying vegan dinner tonight!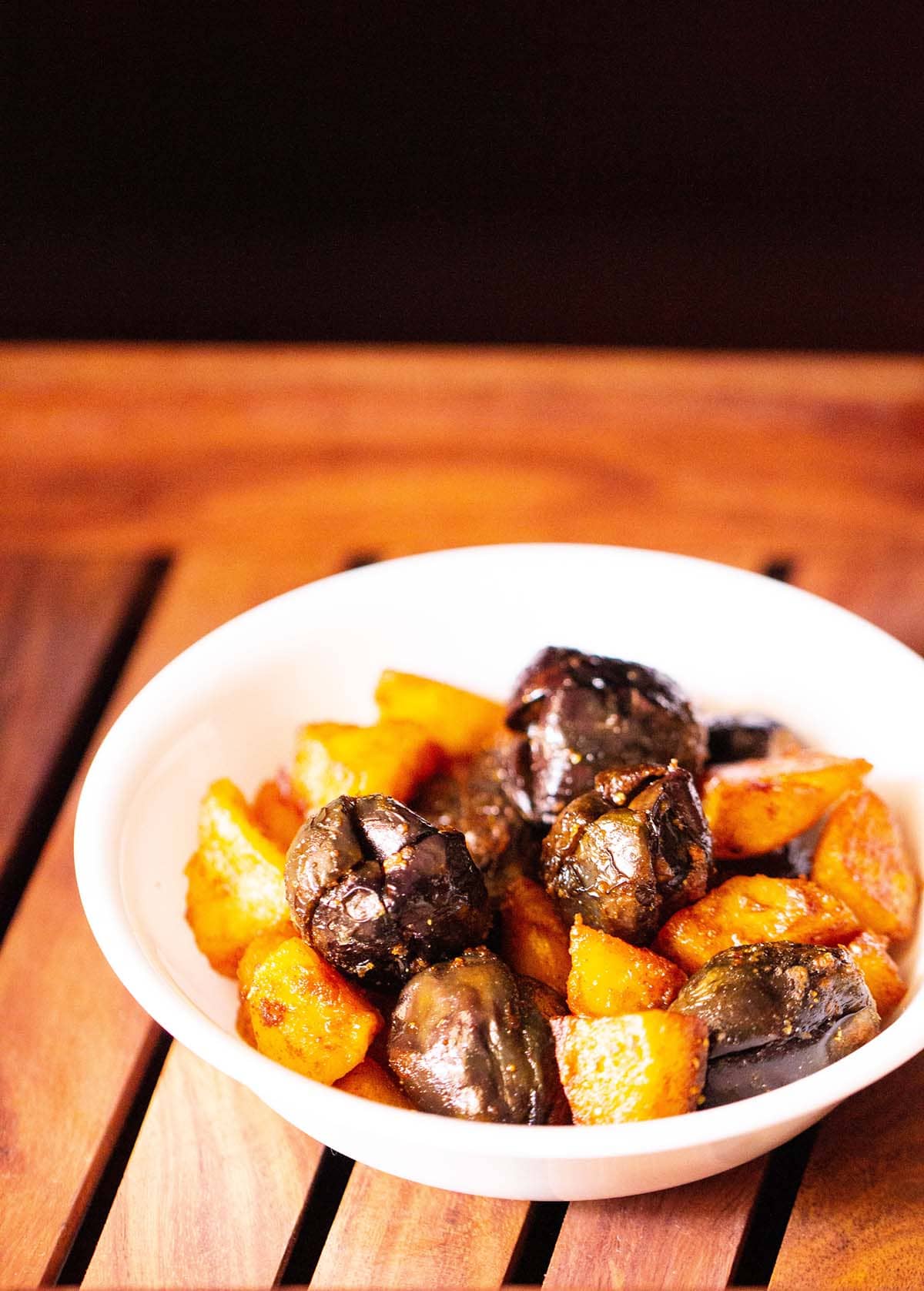 About Bharwa Baingan
Bharwa Baingan is a traditional Indian recipe that translates to "stuffed eggplant." There are many different variations of the dish – some use onions and garlic in the stuffing mixture, and it can be prepared dry or as a saucy curry.
For example, Bharli Vangi is a popular stuffed eggplant recipe made with coconut, peanuts, and sesame spiced paste from the Maharashtrian cuisine. Likewise, this Ennegayi Recipe from Karnataka cuisine makes a delicious stuffed eggplant curry with a rich sauce.
Today I'm sharing with you my family version of bharwa baingan from Punjabi cuisine. This recipe includes stuffing small purple eggplants, also called brinjals, with just a simple blend of spices and sautéing with diced potatoes.
No need to chop additional aromatics like garlic or onion or even tomatoes! This simple recipe creates a rustic and incredibly flavorful dish that lets the seasonings really shine.
There are a few ways to customize this basic recipe, such as using medium-sized eggplants or skipping the potatoes for a lighter dish. However you choose to prepare, you'll love the deep, rich flavors and delicious tender eggplants as a filling meal with a side of flatbread.
How to make Bharwa Baingan
Make the Spice Mix
1. First add all of the spice powders in a small plate or bowl:
turmeric powder – ½ teaspoon
garam masala powder – 1 teaspoon
red chili powder – 1 teaspoon
coriander powder – 1 teaspoon
cumin powder – 1 teaspoon
dry mango powder – 1 teaspoon
salt – 1 teaspoon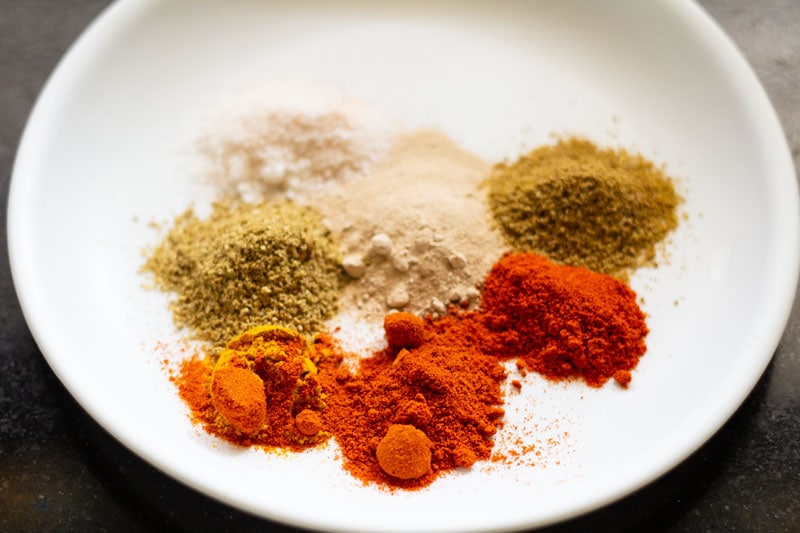 2. Mix the seasonings very well with a spoon. Set aside.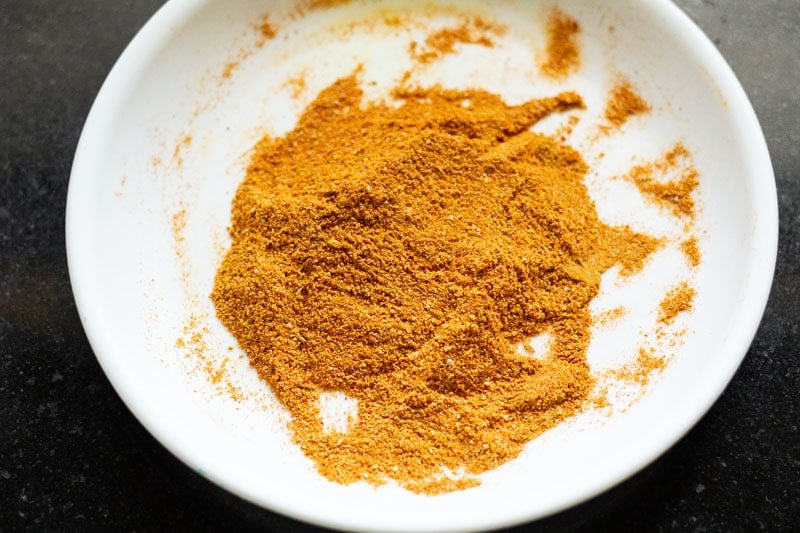 Prep Eggplants
3. Next, rinse and gently dry 250 grams of baby eggplants (about 18 to 20) with a kitchen towel. I recommend using baby brinjals or small eggplants for this recipe as they cook faster and work best for this recipe.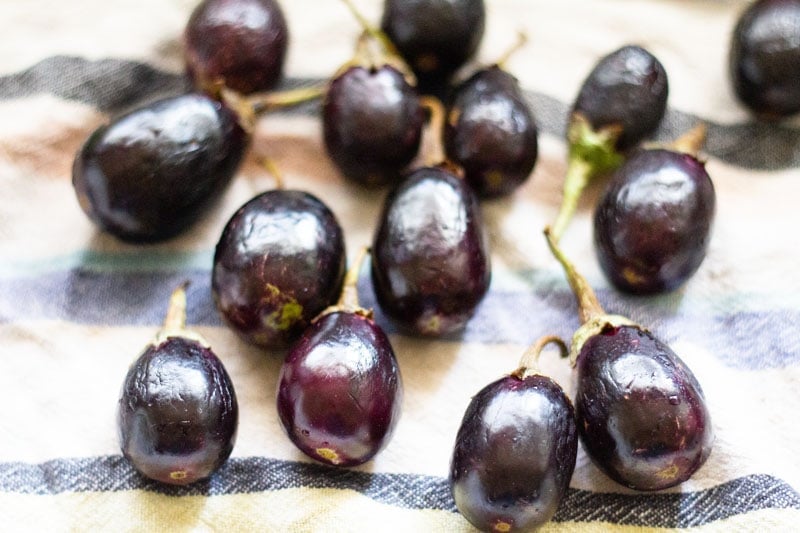 4. If you prefer, first slice off thinly the bottom/base of each eggplant. Then remove the stems or leave them intact. Slit each eggplant four ways: you want the eggplant to stay whole and not entirely chopped through, like in the photo below.
After cutting through the eggplant open it slightly and check for any worms. If you see any black spots or worms then discard that eggplant.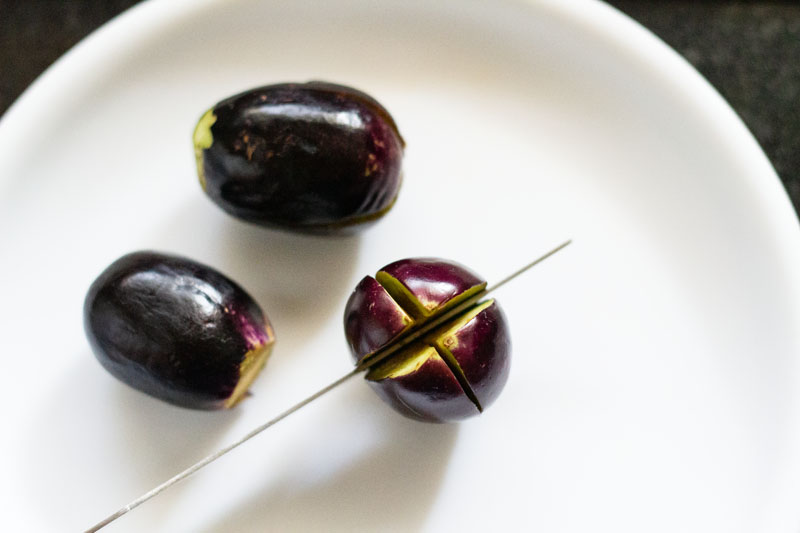 Stuff Eggplants
5. Now stuff the mixed spice powder into the cavity of each eggplant. Keep a bit of the spice blend on the plate to use for finishing the dish.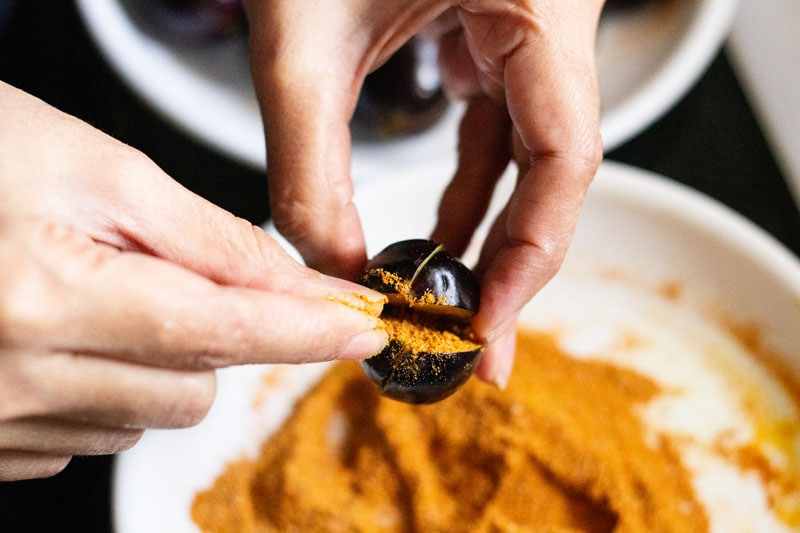 6. Once all of the eggplants have been stuffed, set aside as you prepare the potatoes.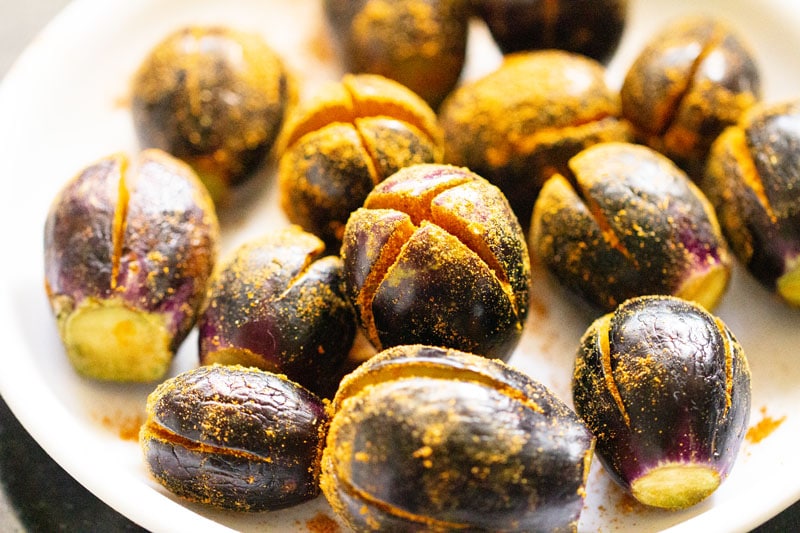 Make Bharwa Baingan
7. Peel, rinse, and chop 250 potatoes (2 to 3 medium-sized) into 1.25 inches cubes or pieces. In a heavy wok (kadai) or frying pan, heat 3 to 4 tablespoons of preferred cooking oil. Add the chopped potatoes to the hot pan.
The addition of potatoes is optional but makes for a hearty, satisfying and filling meal. You can also use baby potatoes.
TIP 1: If skipping potatoes then replace them with the same quantity of eggplants.
TIP 2: For the oil you can use any neutral tasting oil or mustard oil.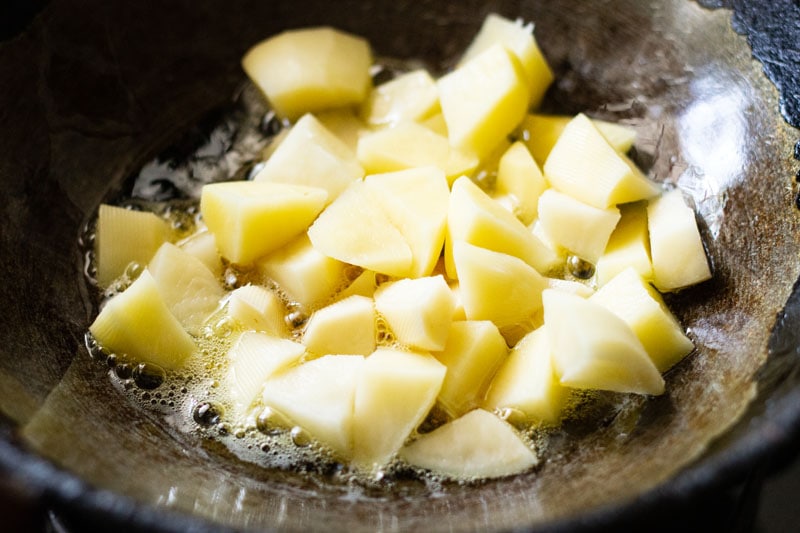 8. Sauté the potatoes over medium-low to medium heat, stirring occasionally.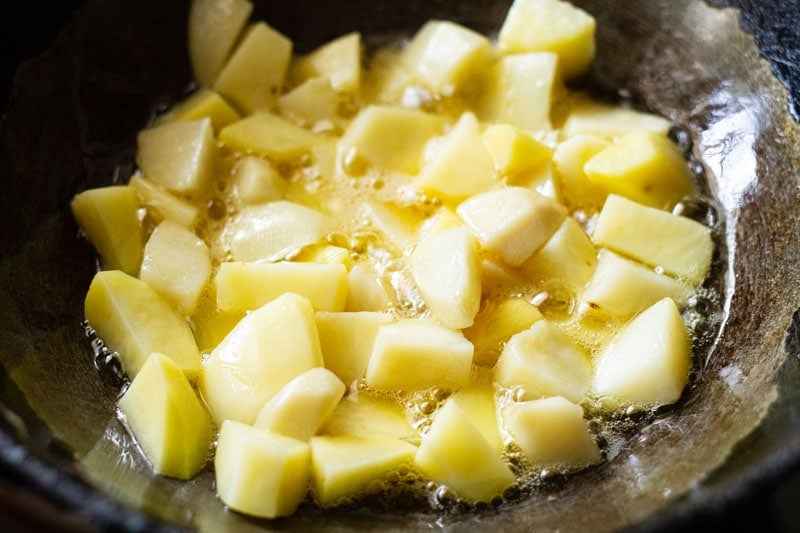 9. Continue to cook until the potatoes brown slightly around the edges.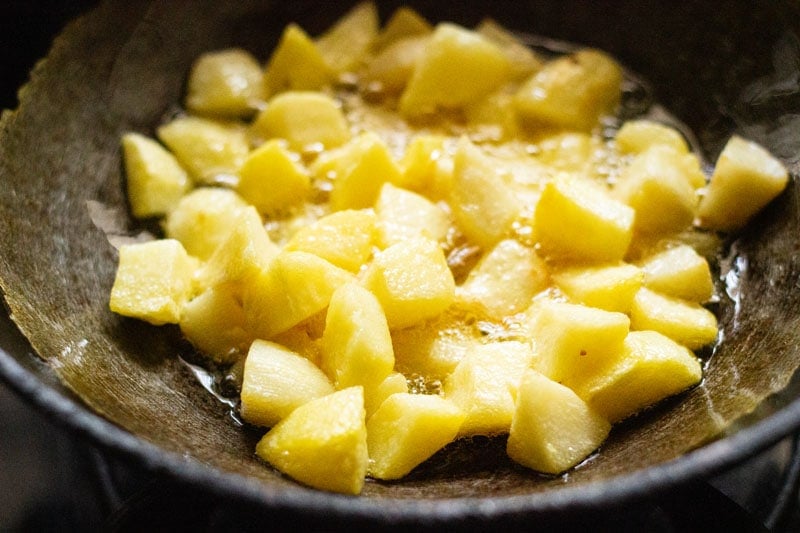 10. Now add the stuffed eggplant to the pan.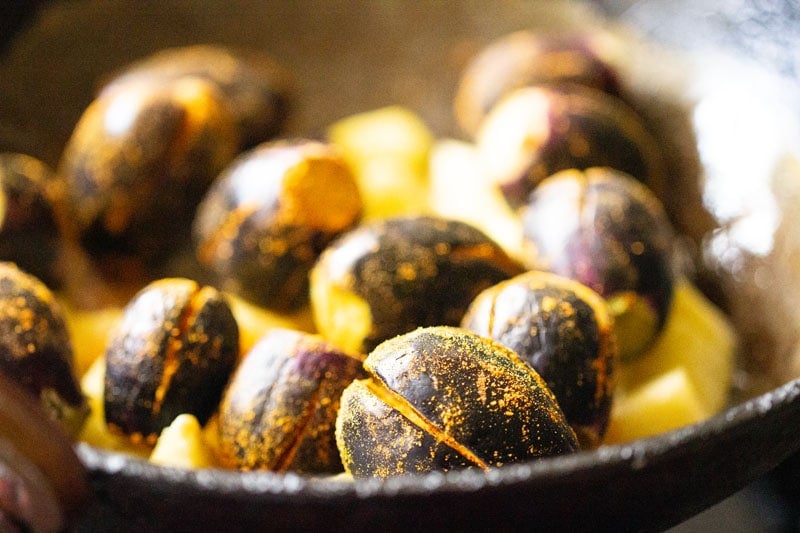 11. Stir well and saute the eggplant for a minute. Then cover the pan with a lid, reduce the stovetop heat to low, and allow the stuffed eggplants to cook undisturbed.
There's no need to add water, as the eggplant will release just the right amount of moisture on their own.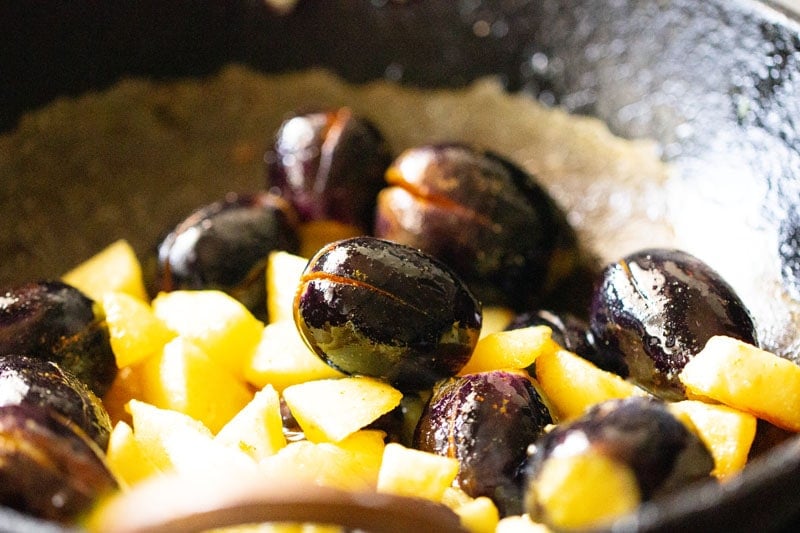 12. After 4 to 5 minutes, remove the lid and stir the veggies. Then cover again and continue to cook for several more minutes, until the eggplant begins to soften.
If you see that the veggies start sticking to the pan add in a splash of water. Mix and deglaze. Cover and continue to cook.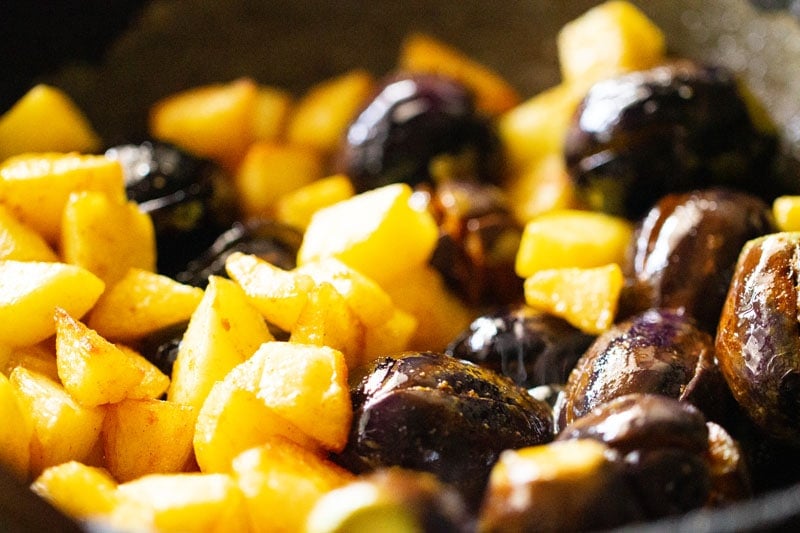 13. Once the stuffed eggplants are soft and fork-tender, sprinkle on the remaining leftover spice powder mix.
Stir and sauté for another minute or so to cook the seasonings with the eggplants and potatoes. Taste, and add more salt if needed.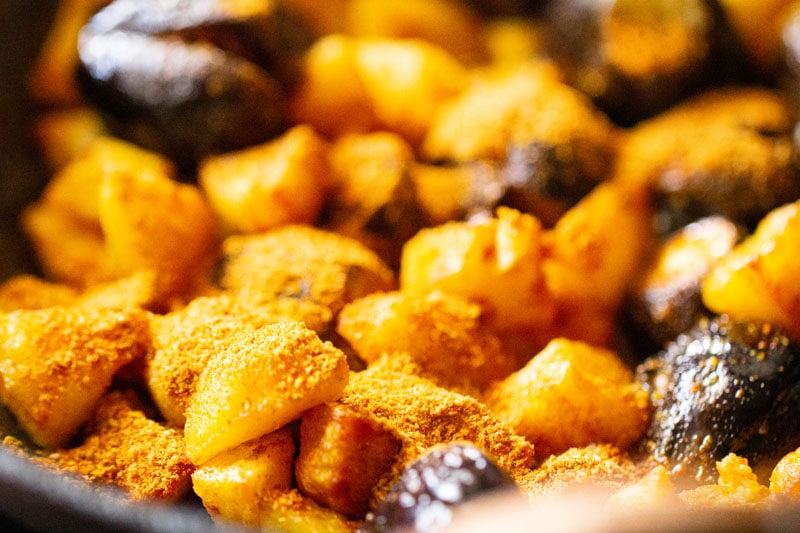 14. Serve the bharwa baingan ki sabji warm with a side of roti, paratha, naan or bread. You can also pair this dish with any North Indian meal.
While serving garnish with freshly chopped coriander (cilantro) leaves, if you like. It can be packed for lunch box as well.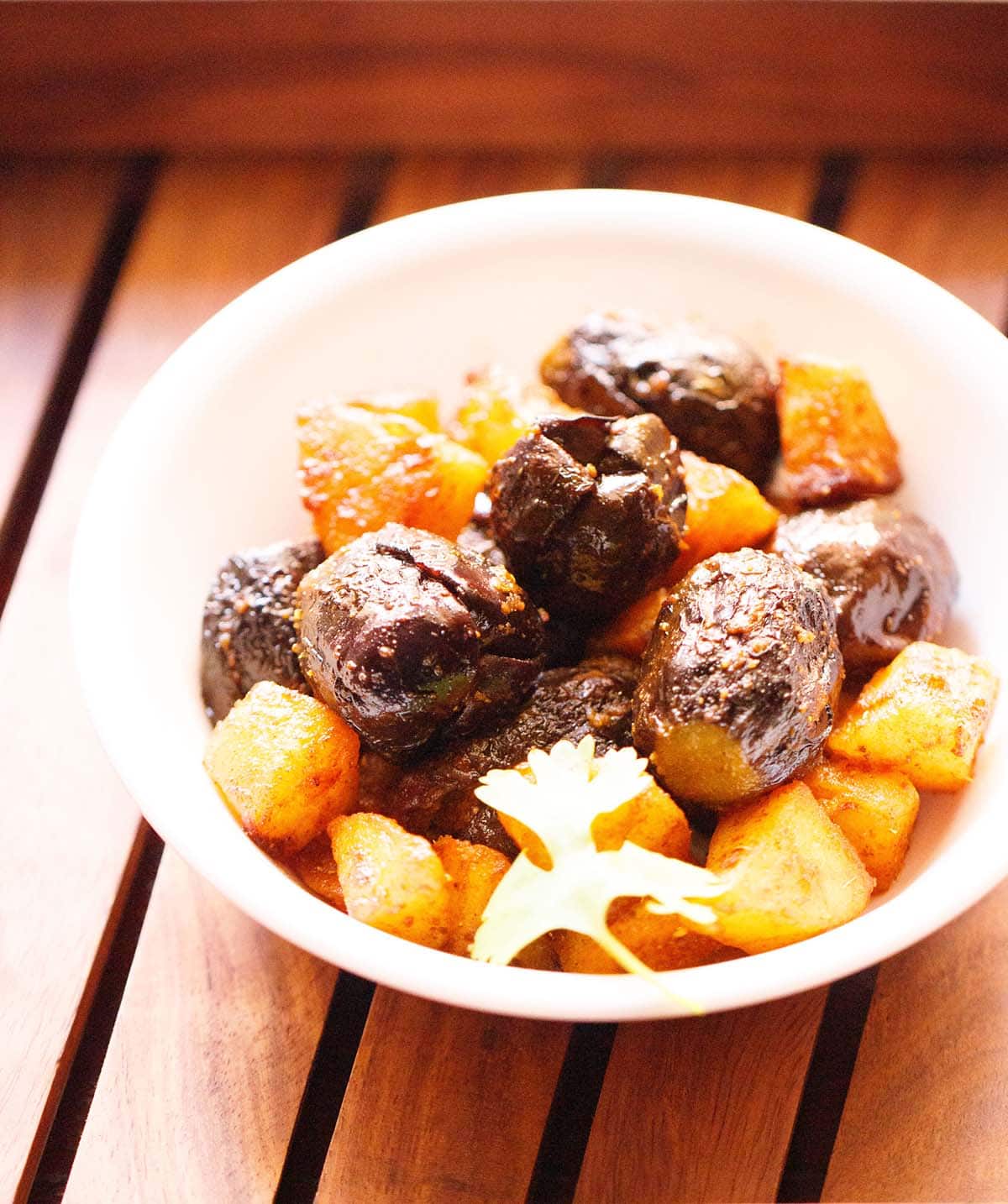 FAQs
What should I serve with bharwa baingan?
This hearty dish is great to enjoy on it's own as-is, or pairs well with steamed rice, lentils or your favorite veggie sides. I also like to serve with roti or paratha. You can also have it with whole wheat bread or pav (Indian dinner rolls).
How long does homemade stuffed eggplant keep well?
Bharwan baingan definitely tastes best when enjoyed immediately, nice and warm. You can keep cooled leftovers stored in an airtight container for one day, but the eggplant will get even softer when reheated.
How do I make this a low carb dish without potatoes?
Simply skip adding the potatoes and instead replace them with the same quantity of eggplants.
More Indian Eggplant Recipes!
Please be sure to rate the recipe in the recipe card or leave a comment below if you have made it. For more vegetarian inspirations, Sign Up for my emails or follow me on Instagram, Youtube, Facebook, Pinterest or Twitter.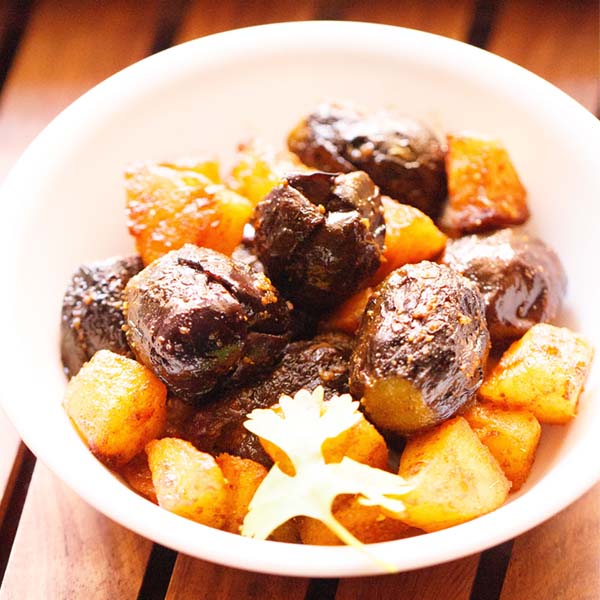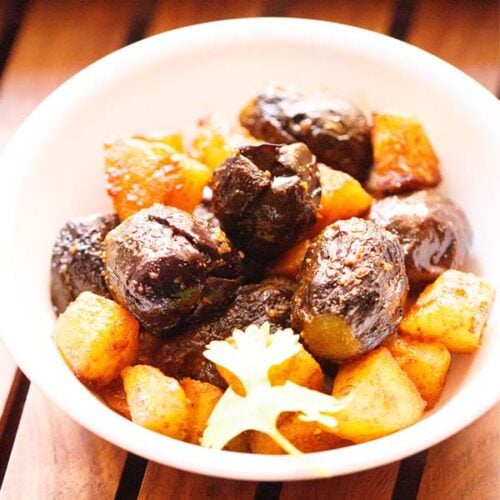 Bharwa Baingan (Stuffed Eggplant)
Bharwa baingan are small eggplant or baby brinjals stuffed with a spice mix and sauteed with potatoes. This North Indian stuffed eggplant dish makes for a comforting, healthy and filling meal served with a side of roti or paratha.
250

grams

baby brinjal

(baingan or eggplants) or 18 to 20 small brinjals

250

grams

potatoes

or baby potatoes, about 2 to 3 medium-sized potatoes or 15 to 18 baby potatoes

½

teaspoon

turmeric powder

1

teaspoon

Garam Masala

1

teaspoon

chilli powder

1

teaspoon

dried mango powder

(amchur)

1

teaspoon

Coriander Powder

(ground coriander)

1

teaspoon

cumin powder

1

teaspoon

salt

or add as required

3 to 4

tablespoons

oil

– any neutral flavored oil or mustard oil
Instructions
Preparation
Firstly, in a bowl or a plate mix all the six spice powders along with salt – garam masala powder, chilli powder, turmeric powder, coriander powder, cumin powder and amchur (dried mango) powder and salt. Keep aside.

Rinse the eggplants and dry them with the kitchen towel. Slice off the stem from the eggplants and the bottom part if you prefer.

Slit each eggplant into 4 parts taking care that you don't cut the entire eggplant. Stuff them with the spice powder mixture evenly. Keep all the stuffed eggplants aside.

Peel and dice the potatoes to 1.25 inches cubes or pieces. If using baby potatoes then chop if they are medium sized. If they are small, then just keep them whole with or without the peel.
Making bharwa baingan
In a heavy wok (kadai) or heavy bottomed frying-pan, heat the oil. Keep the heat to a medium-low or medium.

Then add the chopped potatoes. Saute the potatoes till they change colour and get lightly golden and crisp from the edges.

Add the stuffed eggplant, stir and sauté them for a minute. Then cover the pan and cook the stuffed eggplant on a low heat.

Check a couple of times and stir the veggies. Cover and then continue to cook. If you find that the veggies are sticking to the pan, add in a splash of water. Mix and deglaze. Cover and then continue to cook.

Once the eggplants are cooked, softened and fork tender, then add the remaining spice powder mix.

Stir well and saute for a minute. Check the taste and add more salt if required.

Serve bharwa baingan ki sabzi hot or warm with phulka or plain paratha or bread. You can also pair it as a side with any North Indian meal.

It can also be packed for lunch box. For best taste enjoy this dish hot or warm.
Notes
You can skip the potatoes. If not using potatoes then replace them with same quantity of baby brinjals.
This dish is not spicy. If you prefer a spicy taste then you can increase the amount of red chili powder.
Use baby eggplants as they work the best in this recipe.
You can use mustard oil or any neutral flavored oil.
If you do not have dry mango powder, then make the spice mix without the mango powder. Later when the veggies are cooked, drizzle ½ to 1 teaspoon lemon juice and gently mix.
This bharwa baingan recipe can be scaled.
This approximate nutrition info is for one serving of bharwa baingan made with sunflower oil and potatoes.
Nutrition Info (Approximate Values)
Nutrition Facts
Bharwa Baingan (Stuffed Eggplant)
Amount Per Serving
Calories 223
Calories from Fat 135
% Daily Value*
Fat 15g23%
Sodium 794mg35%
Potassium 577mg16%
Carbohydrates 22g7%
Protein 3g6%
Vitamin A 229IU5%
Vitamin B1 (Thiamine) 1mg67%
Vitamin B2 (Riboflavin) 1mg59%
Vitamin B3 (Niacin) 2mg10%
Vitamin B6 1mg50%
Vitamin C 19mg23%
Vitamin E 6mg40%
Vitamin K 6µg6%
Calcium 27mg3%
Vitamin B9 (Folate) 32µg8%
Iron 2mg11%
Magnesium 35mg9%
Phosphorus 74mg7%
Zinc 1mg7%
* Percent Daily Values are based on a 2000 calorie diet.
This Bharwa Baingan recipe post from the archives (July 2009) has been republished and updated on 10 June 2021.