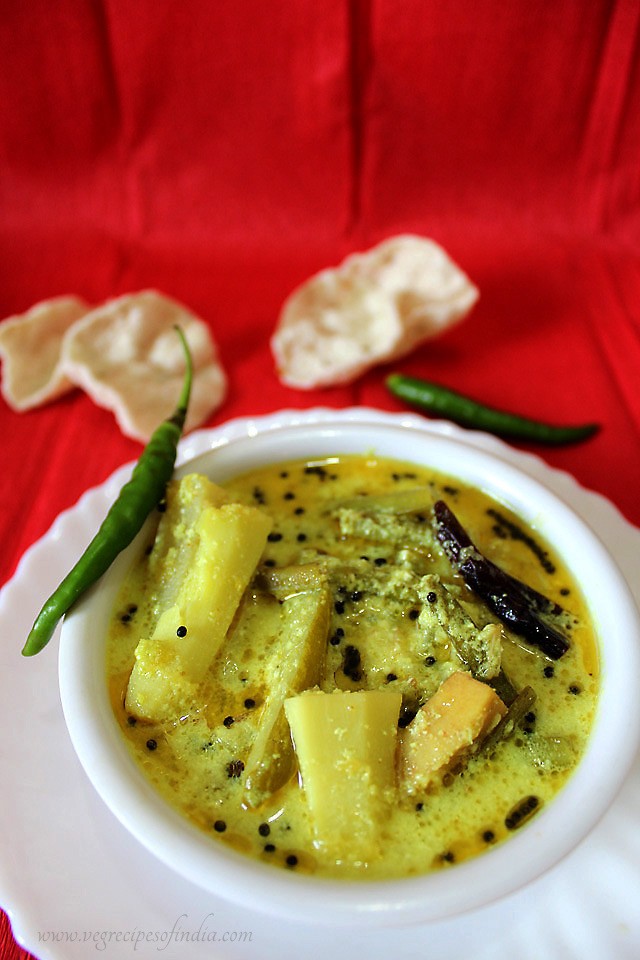 avial recipe with step by step photos – another favorite recipe made from mix vegetables, coconut and curd. avial is a traditional recipe of kerala and an essential dish of sadya.
this avial recipe is not the way it is authentically made in kerala. basically, avial is a dry dish and this avial recipe which i am posting is a curry version but a delicious one.
avial was a regular dish at my home. this is my mom's recipe and my mother would make it once a week with sambar. i guess my mother has learned this avial recipe from her in laws based in thrissur, kerala. as in some parts of thrissur, avial is made in curry version.
since i often make avial to be served as a main dish with rice, so i like this delicious curry version of avial.
avial dish was invented by Bhima – one of the five pandavas, during their exile. this is what the wikipedia mentions:
It is supposed to have been invented by Bhima (one of the Pandava brothers) during their exile. According to the legend, when Ballav (Bhima's name during this time) assumed his duties as the cook in the kitchen of Virata, did not know how to cook. One of the first things he did was to chop up many different vegetables, boil them together and top the dish with grated coconut. 

There is a mythology variation. Bheema is said to have prepared Avial, when there were unexpected guests for King Virata and he needed to serve meals for them. There was no sufficient vegetables to cook any single recipe for side dish, so Bheema used what ever available vegetables to make a new dish, which came to know as Avial.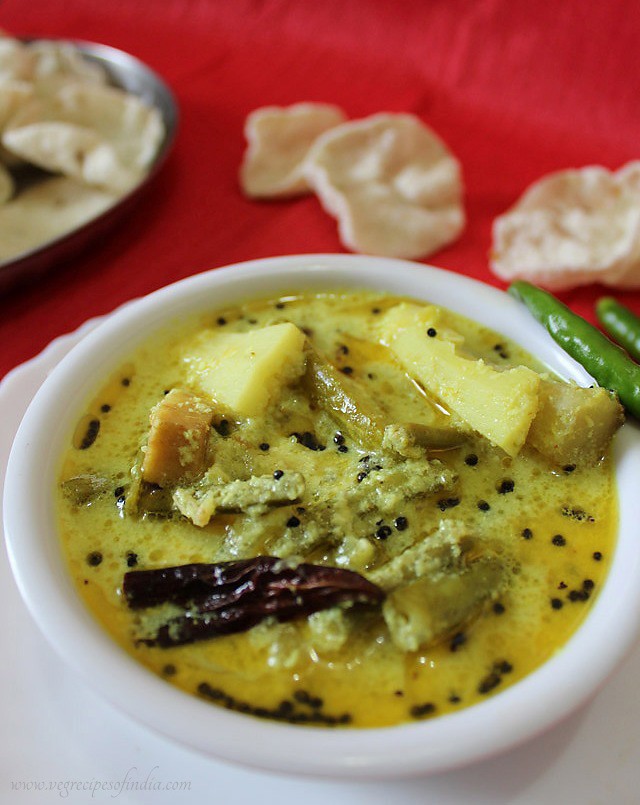 in avial, we use mix vegetables, but of a different kind. not the usual cauliflower, carrot, peas, beans combo. the vegetables that are generally added to avial are:
drumsticks/phalli
carrots
cucumber – the oblong cucumber used in sambar
raw plaintain
pumpkin/kaddu
ash gourd/petha
green beans – any variety can be used. we have used chawli (snake beans) and gavar (cluster beans)
tendli/tindora (gherkins)
suran/elephant yam
arvi/colocasia
snake gourd
you can always go for your own combinations of veggies depending on the availability and your choice.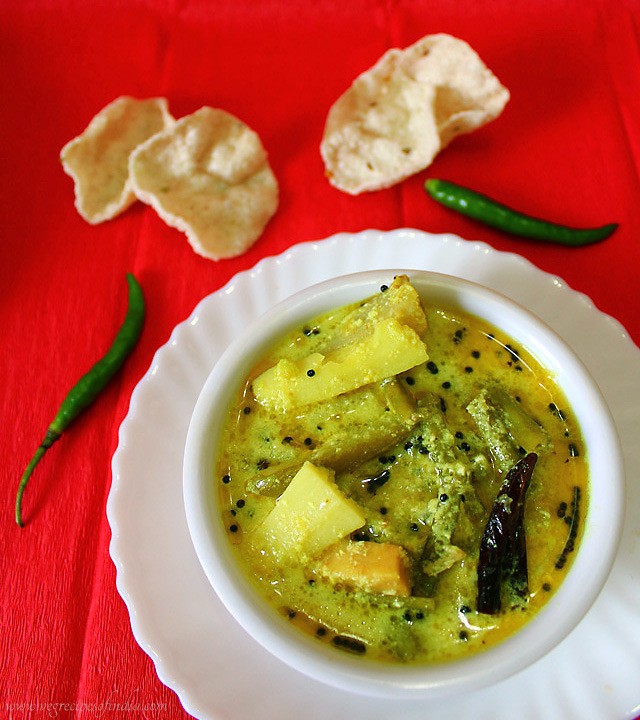 if you are looking for more similar recipes then do check mix vegetable recipe, veg kadai, fried mix vegetables recipe and sweet & sour vegetables.
avial recipe details below: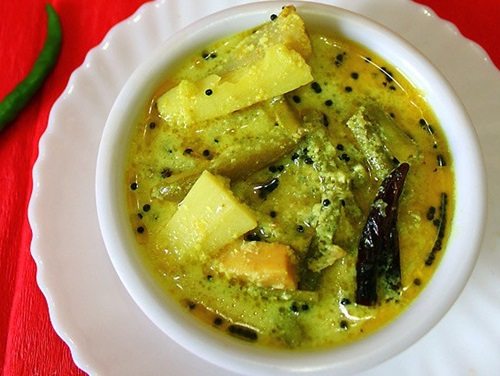 avial recipe
avial is a traditional kerala recipe made from mix vegetables, coconut and curd.
ingredients (1 cup = 250 ml)
The Veggies:
1

cup

chopped pumpkin

(kaddu)

1

cup

chopped yam

(suran)

1

cup

chopped colocasia

(arbi)

1

cup

chopped raw plantain

½

cup

chopped ash gourd

(petha)

½

cup

chopped tendli

(gherkins)

½

cup

chopped snake beans

(chawli)

½

cup

chopped cluster beans

(gavar)

2

stalks of curry leaves

(kadi patta)
The Coconut Masala:
1.5

cup

grated coconut

2

green chilies

(hari mirch)

1

teaspoon

cumin

(jeera)
Tempering Ingredients:
2-3

tablespoon

coconut oil

1

teaspoon

mustard seeds

(rai)

2-3

dry red chilies

or kashmiri red chilies
Other Ingredients:
1

cup

beaten curd

(yogurt or dahi)

1

teaspoon

turmeric powder

(haldi)

3

cups

water

salt

as required
how to make recipe
Preparing the veggies:
Chop all the veggies. Cook the veggies and curry leaves in water in a covered pan. Also add salt to the water.
Preparing the ground coconut masala:
Grind the coconut, green chilies and cumin with little water to a coarse paste.
Continuing with the veggies:
When the veggies are half cooked, add turmeric powder and mix the mixture well.

After a minute, add the ground coconut paste.

Mix well.

Simmer the veggies till they are fully cooked.

Once they are fully cooked, add the beaten curd.

Stir and simmer for a minute. Close the fire.
Preparing the Tempering:
In another pan, heat coconut oil.

Add the mustard seeds and broken red chilies

Let them and sizzle. When the crackling sound is over, pour the tempering into the avial.

Cover with a lid for 5 minutes and then stir.

Serve the avial with rice and sambar.
lets start step by step avial recipe:
1. firstly chop all the vegetables and keep aside.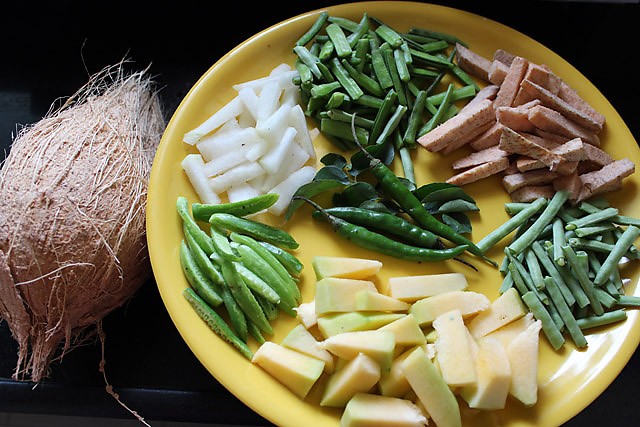 2. keep the chopped colocasia in salted water for 20 minutes to reduce the sliminess.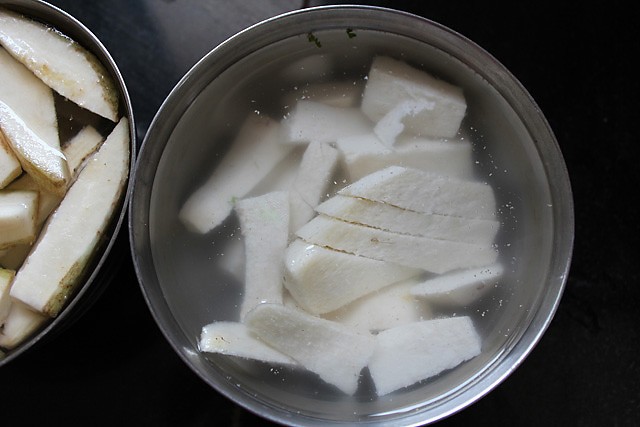 3. keep the chopped plantain in salted water for some minutes to avoid discoloration before cooking.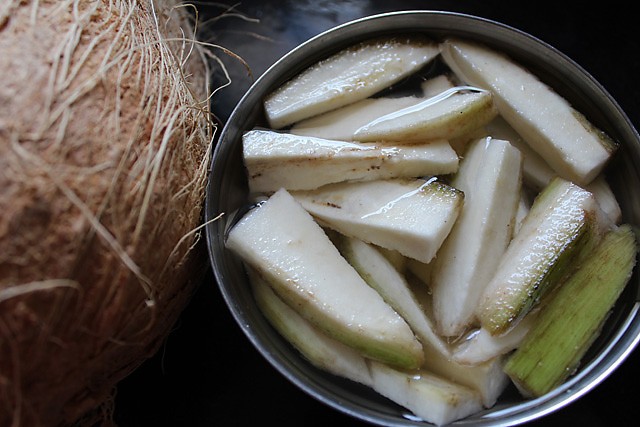 4. begin to cook the vegetables with curry leaves in water with some salt added to it. as we have used curry leaves at this step, we have not added curry leaves in the tempering. but you if you don't add curry leaves now, you must fry them when making the tempering.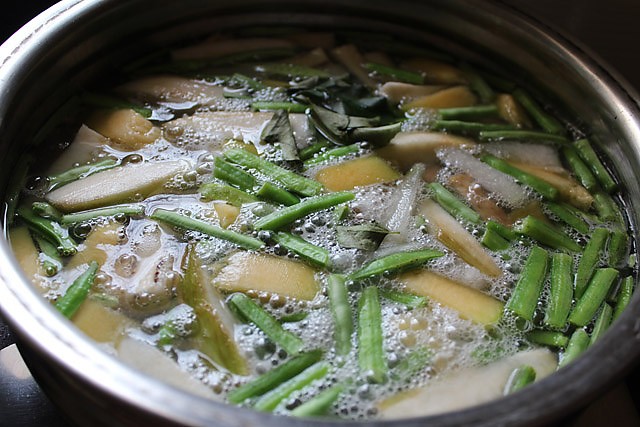 5. whilst the veggies are cooking we prepare the ground coconut masala – ingredients as shown in pic below.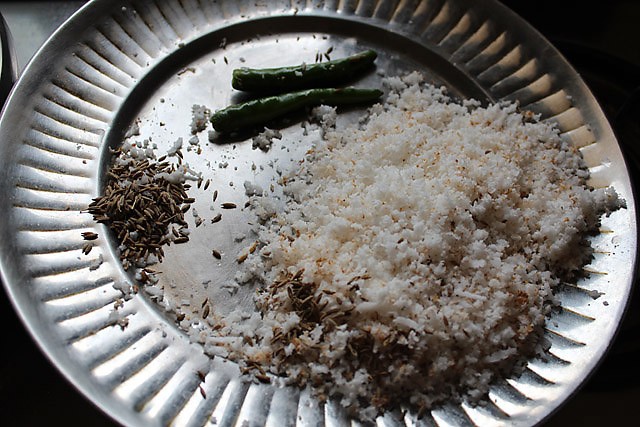 6. grind the coconut, cumin and green chilies with little water to a coarse paste.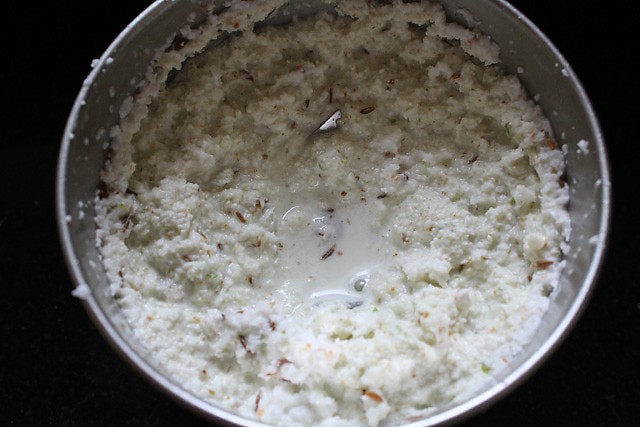 7. by now the veggies will be half cooked,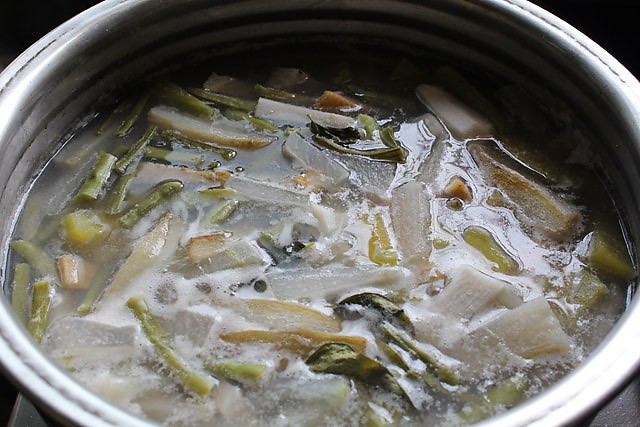 8. so its time to add some bright yellow color to the avial – turmeric powder…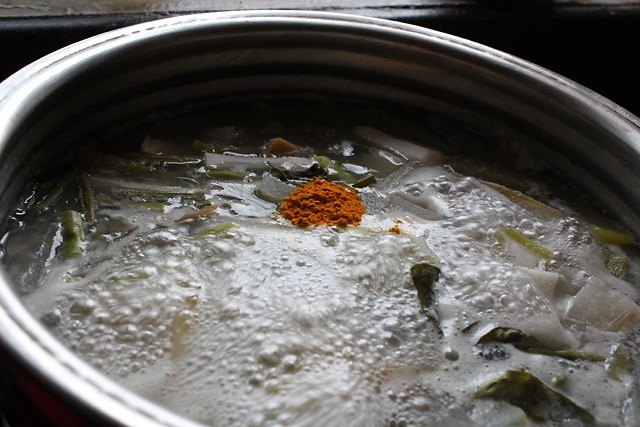 9. stir the turmeric with the rest of the half cooked veggies.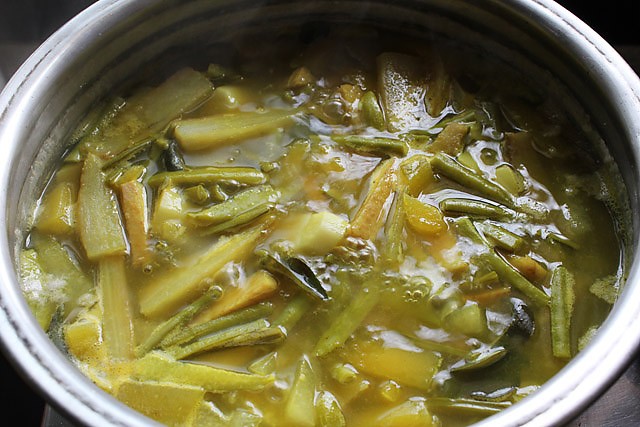 10. after a minute, add the ground coconut paste.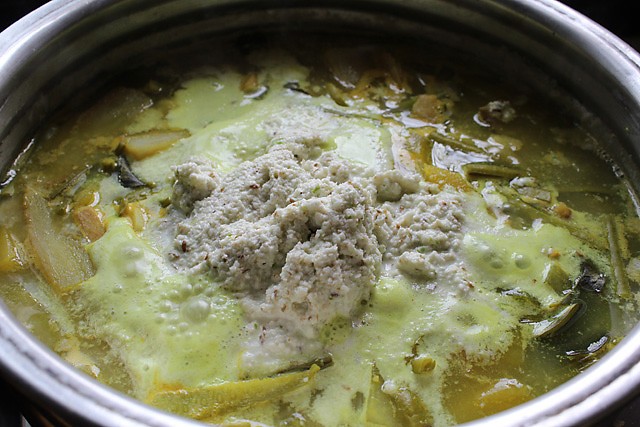 11. stir the paste with the rest of the cooked veggies.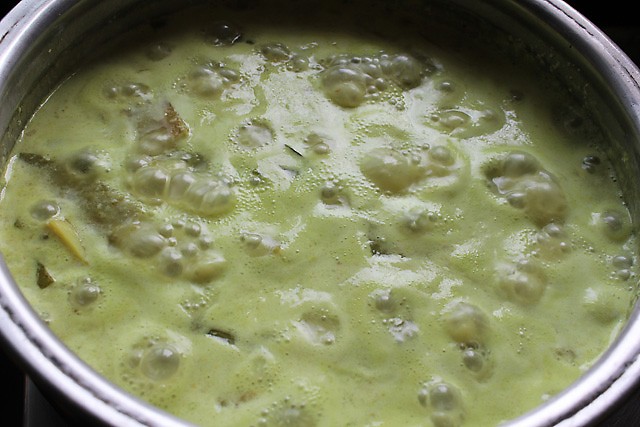 12. let the mixture simmer for some more minutes till the veggies are completely cooked. take beaten curd in a bowl or cup.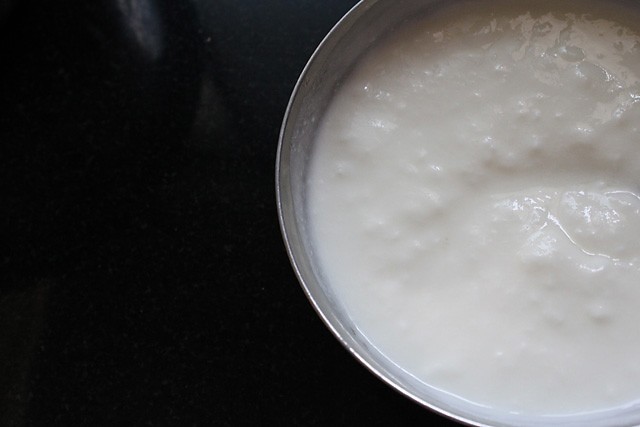 13. when all the veggies are cooked, add the curd.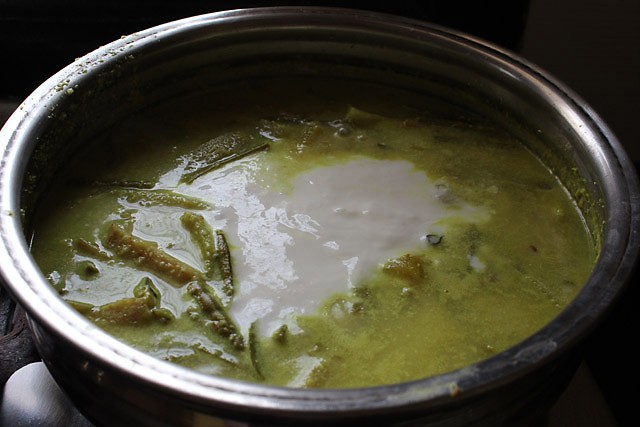 14. stir and simmer the avial for a minute and close the fire.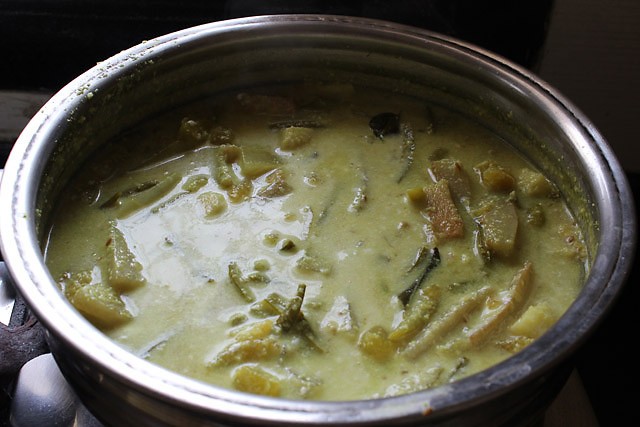 15. now comes the seasoning. in hot coconut oil, add the seasoning ingredients and when they sizzle.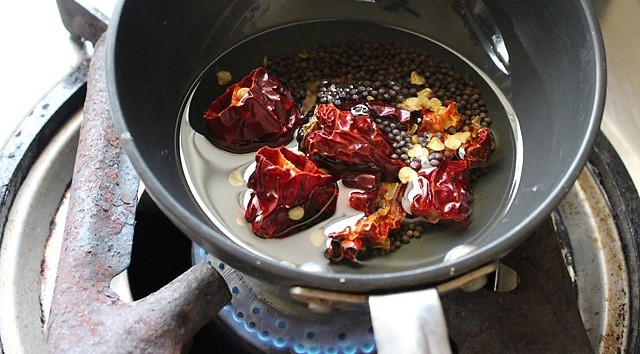 16. pour the hot seasoning on the avial.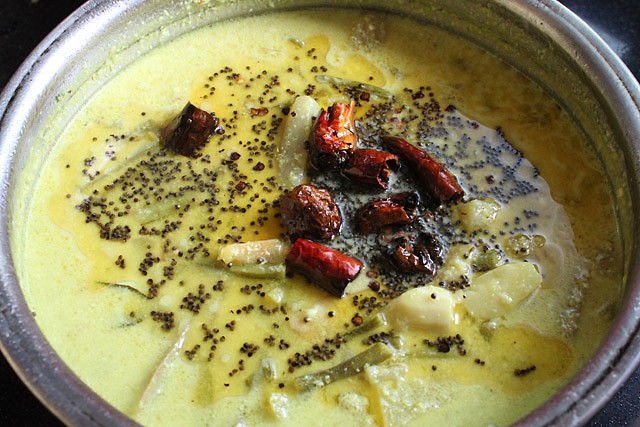 17. as soon as you finish pouring the seasoning, cover the pan with a lid for 3-5 minutes so that the aromas and flavors are absorbed. later, stir well the seasoning with the rest of the avial.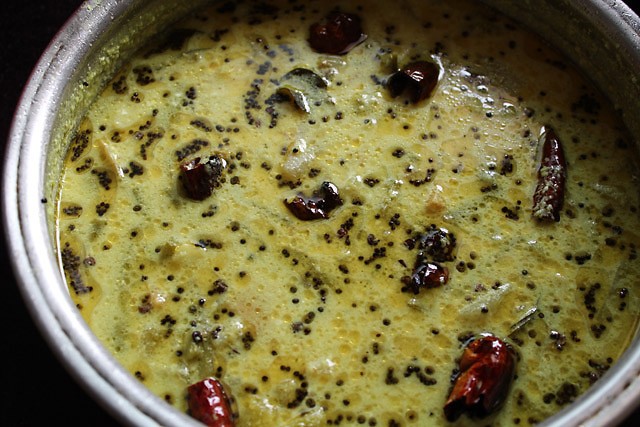 serve the hot avial with rice and some papads.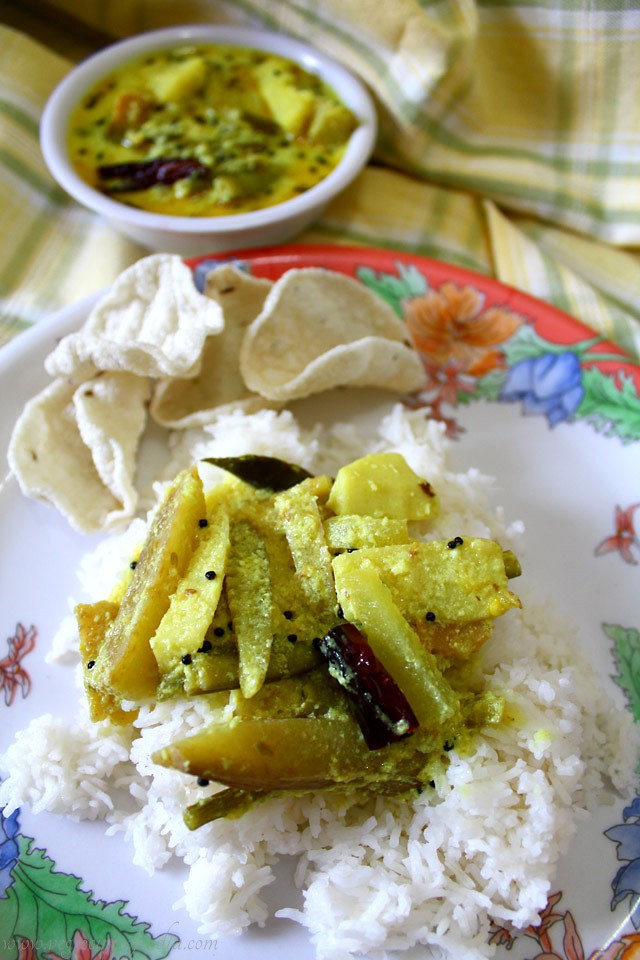 disclaimer – this avial recipe is a my mom's recipe and her own variation to the recipe. the recipe is different than what is authentically made in kerala as far as the consistency and tempering is concerned. no where it is mentioned that this is an authentic kerala avial recipe.