Yam chips recipe with step by step photos. Suran also known as Elephant foot yam is a tuber easily found in India.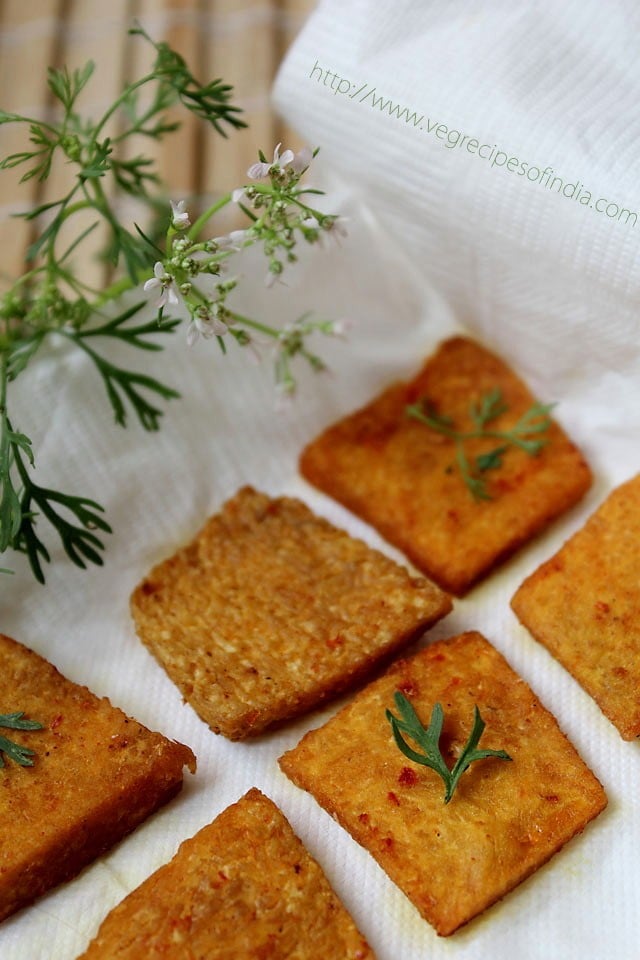 I am not sure about other Indian cuisines but it is commonly used in the Kerala cuisine. Suran was a regular in my house and I would love this veggie in the form of stir fries, in curry dishes and also as chips.
I have introduced elephant foot yam to a few folks including the hubby who had never had it before and they all loved it. So when you get your hands on elephant foot yam, do try these tuber veggie.
A few health benefits of elephant foot yam (suran):
High in fibre and in omega 3 fatty acids.
Low glycemic index – hence good for people suffering from diabetes.
Cools the body.
This is my mom's way of making the chips. Its a good side veggie dish with a dal rice combo or sambar rice or rasam rice combo. Other recipes I make from yam is Suran Vada and Yam Fry.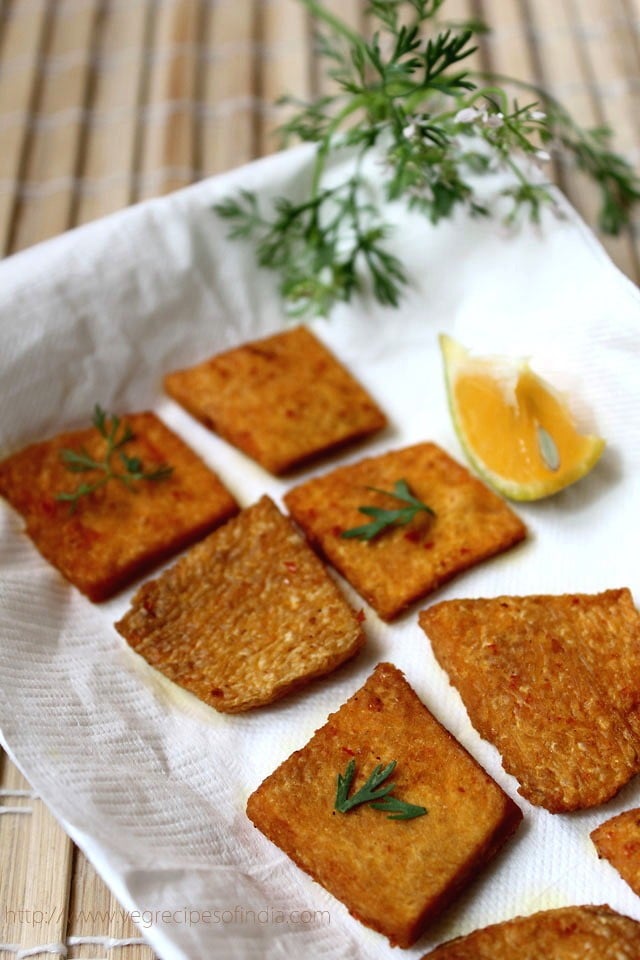 Peeling and cutting the yam can be a little problematic. Uou need a sharp and heavy knife to cut the whole yam. So be careful when you are doing it. Better to get a halved or quartered yam from the vegetable vendor.
Secondly your hands may get itchy while cutting the yam. To avoid this, spread some oil to your hands whilst chopping the yam. A souring agent like tamarind or lemon is added to the yam to reduce the itchiness. For this recipe we have always used lemon juice.
This is a simple and an easy suran chips recipe which has only 4 ingredients in it, except yam – turmeric, red chili powder, lemon juice and salt. The chips tastes excellent simply with these four ingredients.
How to make Yam Chips
Mixing Ground Spices with Yam
1: Peel, rinse and slice the yam in 0.3 to 0.4 cm slices. Add the turmeric powder, red chili powder, lemon juice and salt to the yam slices. You can also make the marination first in a small bowl and then add it to the yam slices.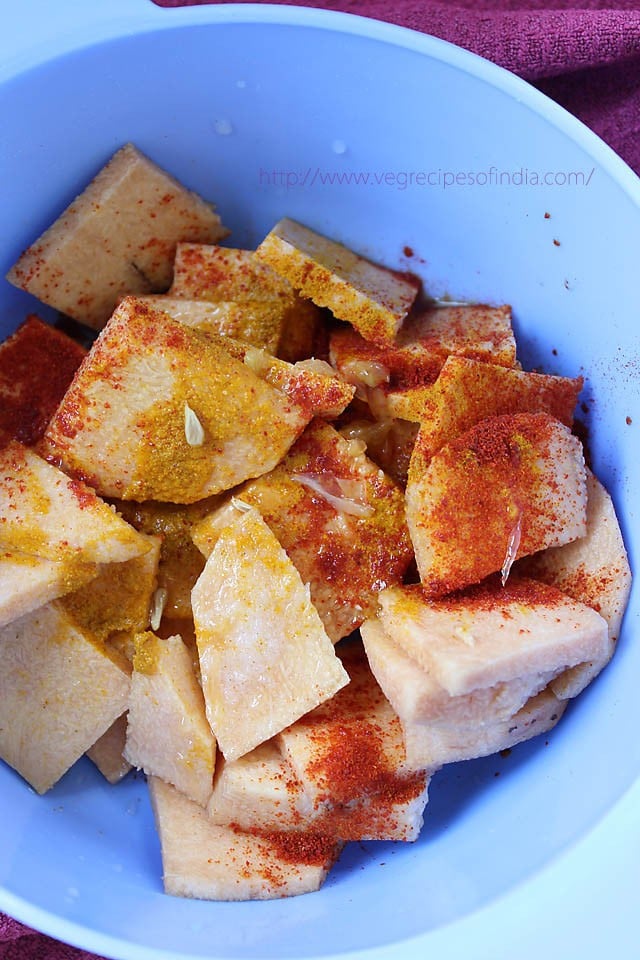 2: Mix it well so that each and every yam slice gets uniformly coated with the marination.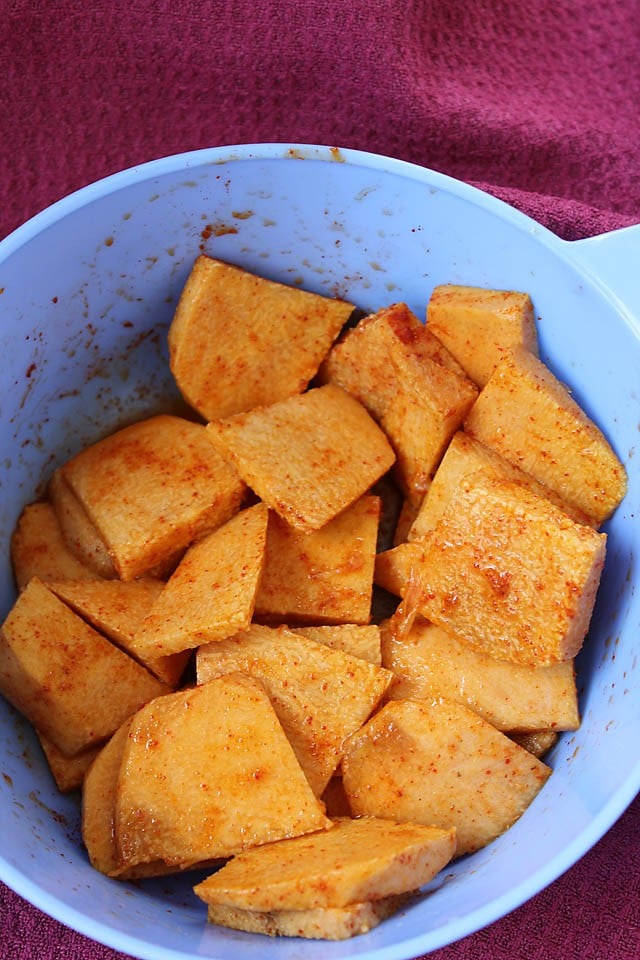 3: Marinate for 10 to 15 minutes. This how the marinated yam will appear after marination.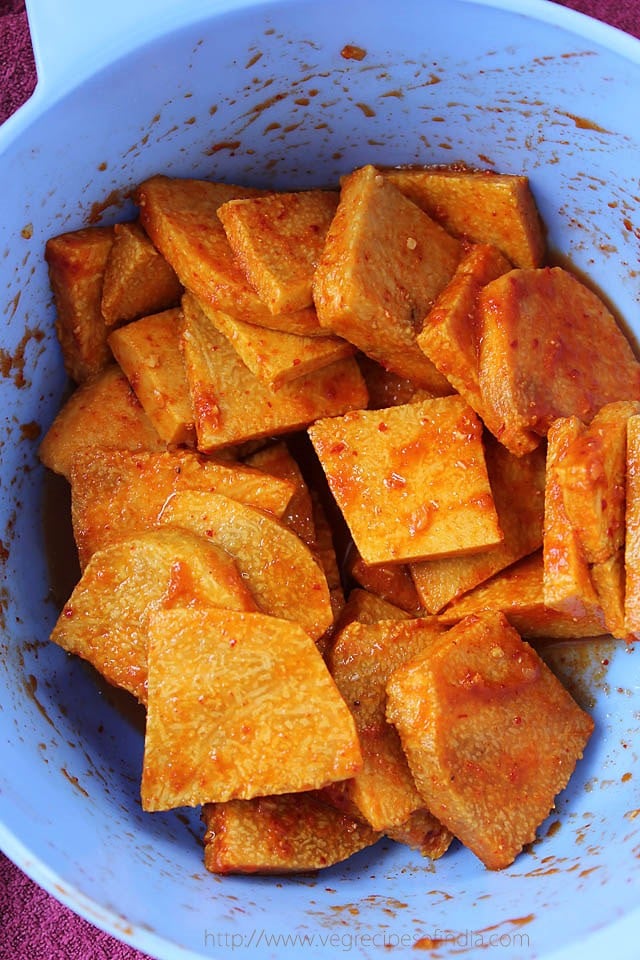 Frying Yam Chips
4: In a flat skillet or frying pan or tawa, heat oil as needed and add the marinated yam slices.
The yam slices are shallow fried, so you do not need to add too much of oil. For the first batch add about 3 to 4 tablespoons of oil and later add as needed. Fry with any neutral tasting oil.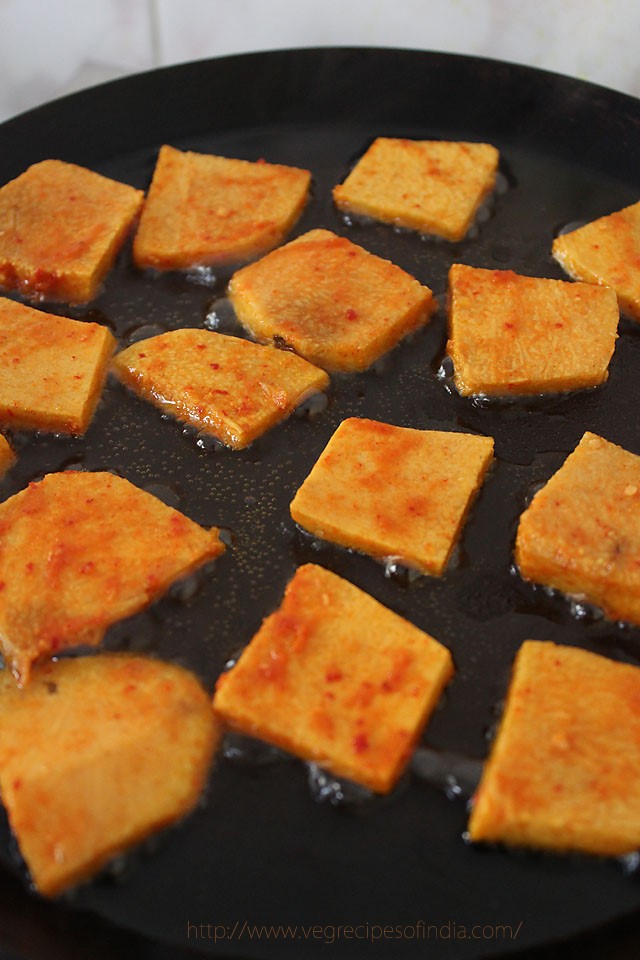 5: Shallow fry the yam slices, turning over when one side is cooked. Turn over for a few more times for uniform frying.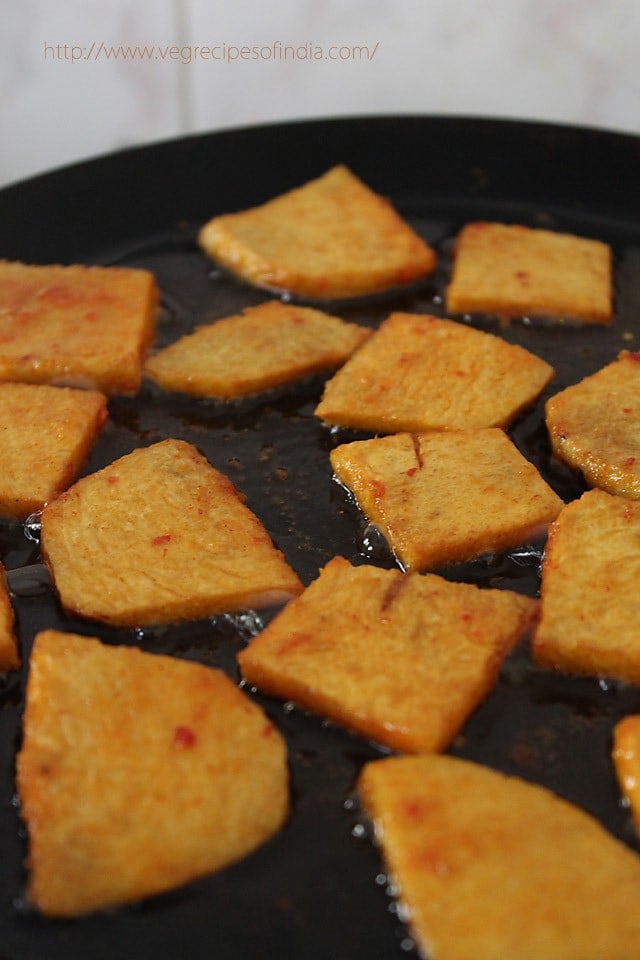 6: Fry them till they are crisp, cooked and well browned. drain the fried yam chips on a kitchen tissue.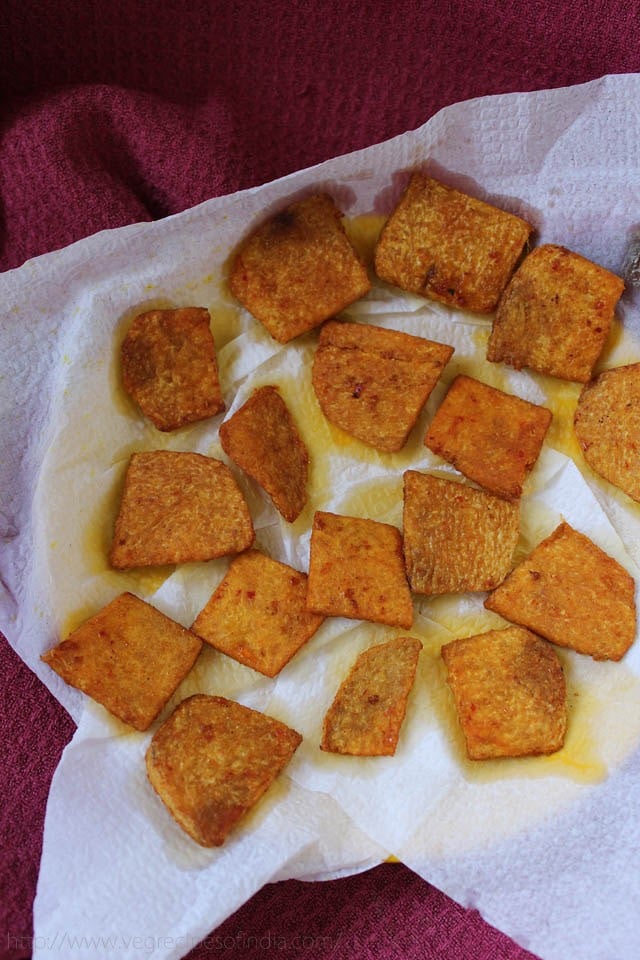 Whilst serving Suran chips, garnish with some coriander leaves and serve hot. Additionally some lemon wedges can also be served with the yam.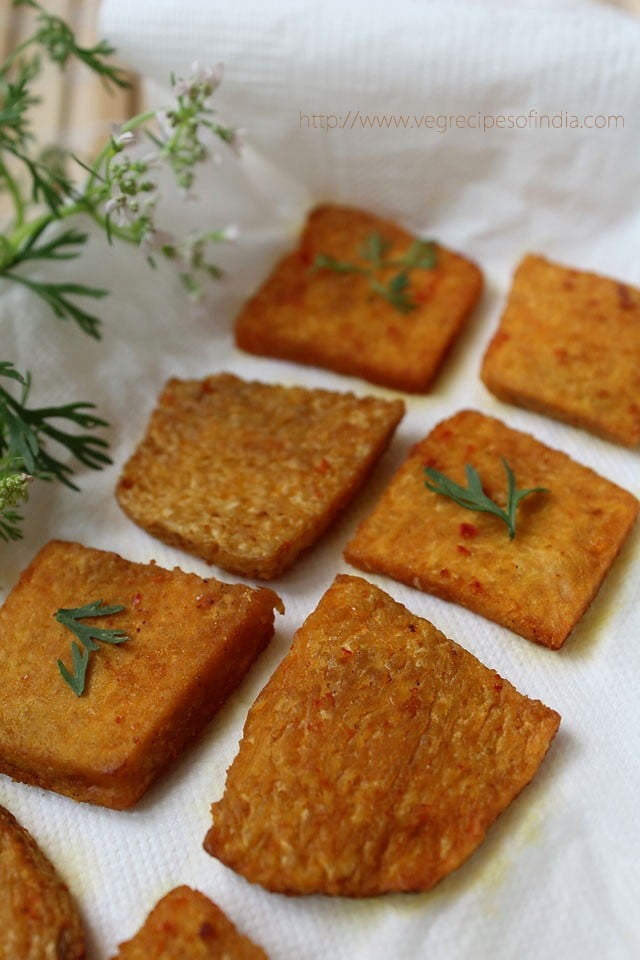 Few more tasty recipes for you!
Please be sure to rate this recipe in the recipe card below if you have made it. For more vegetarian inspirations, Sign Up for my emails or follow me on Instagram, Youtube, Facebook, Pinterest or Twitter.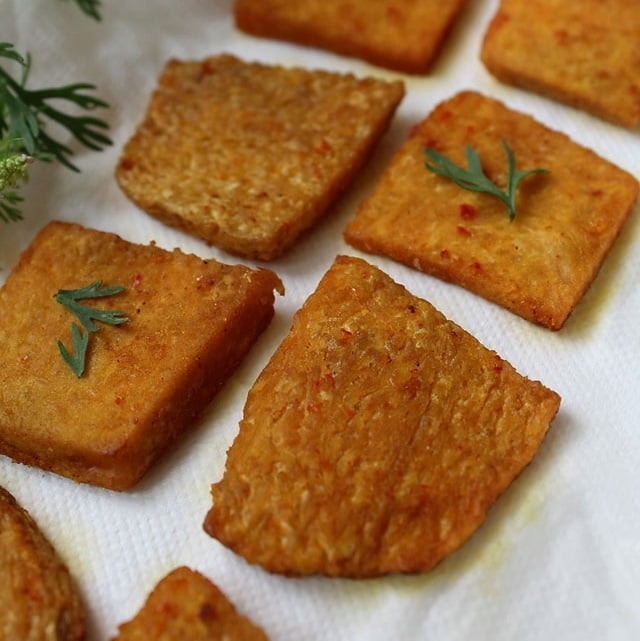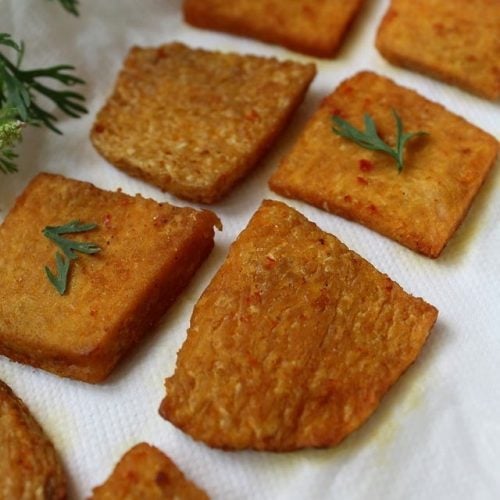 Yam Chips
Elephant foot yam chips recipe – this is a simple and an easy suran chips recipe which has only 4 ingredients in it, except yam – turmeric, red chili powder, lemon juice and salt.
Main ingredients
250

grams

elephant foot yam

(suran or zimikand) peeled, rinsed and sliced

1

teaspoon

red chili powder

½

teaspoon

turmeric powder

1 to 2

tablespoons

lemon juice

salt

as required

oil

for frying, as needed
For garnish
1 to 2

tablespoon

chopped coriander leaves

1 to 2

lemon wedges
Instructions
In a bowl mix the yam/suran with the rest of the ground spices, lemon juice and salt uniformly.

Marinate the yam slices for 10 to 15 minutes.

Shallow fry the yam slices in oil on a flat pan or tava.

Drain the suran chips kitchen tissues to remove excess oil.

Serve suran chips hot garnished with coriander leaves and lemon wedges.
Notes
The marinated yam slices can also be baked instead of frying but I have never tried baking the yam chips.
As a substitute tamarind juice, white vinegar or apple cider vinegar can be added instead of lemon juice.
Nutrition Info
(Approximate values)
Nutrition Facts
Yam Chips
Amount Per Serving
Calories 201
Calories from Fat 126
% Daily Value*
Fat 14g22%
Sodium 305mg13%
Potassium 530mg15%
Carbohydrates 18g6%
Protein 1g2%
Vitamin A 235IU5%
Vitamin B1 (Thiamine) 1mg67%
Vitamin B2 (Riboflavin) 1mg59%
Vitamin B3 (Niacin) 1mg5%
Vitamin B6 1mg50%
Vitamin C 12mg15%
Vitamin E 6mg40%
Vitamin K 3µg3%
Calcium 13mg1%
Vitamin B9 (Folate) 15µg4%
Iron 1mg6%
Magnesium 15mg4%
Phosphorus 37mg4%
Zinc 1mg7%
* Percent Daily Values are based on a 2000 calorie diet.