Sometimes I wonder about the bounty of produce that Mother Nature has for us. While some fruits and veggies are staple for humans; there are some which are unusual, yet absolutely worthy. Jimikand or Suran is one such. Owing to its appearance resembling an elephant's foot, it is rightly termed as the elephant foot yam as well. Jimikand Chips a.k.a Yam Chips is one yummy recipe which is made with this tuber easily found in India.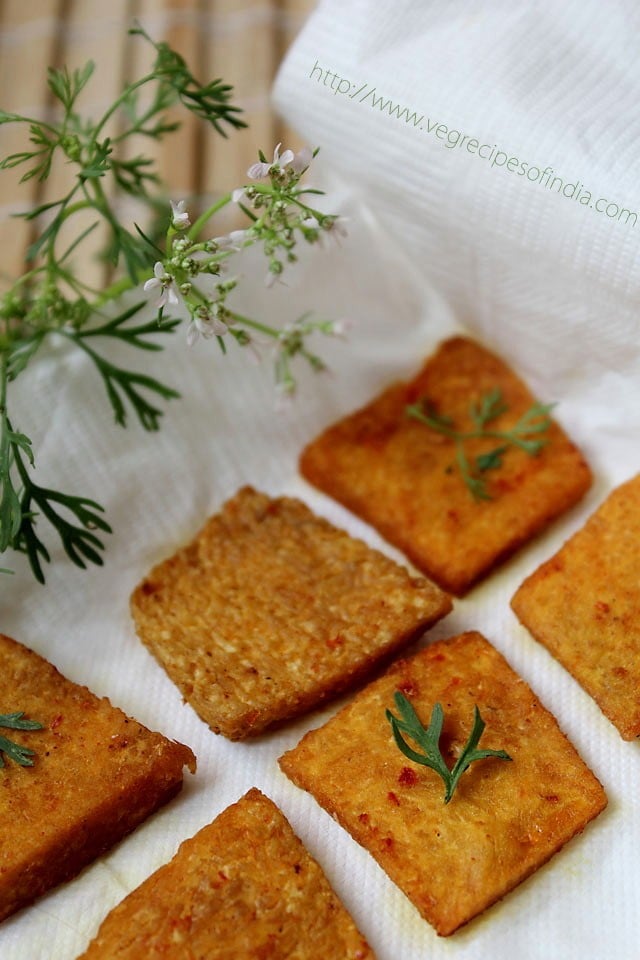 Yes, to Yam
As far as the popularity of this tuber vegetable is concerned, the elephant foot yam or suran is extensively used in Kerala cuisine. Though, I'm not really sure of its usage in other regional cuisines of India.
Since my childhood days, jimikand has been a regular in my house and I would love the variety of preparations like curries, stir-fries and chips that my mother would prepare for us. One of my fond memories of this vegetable is the spicy and tangy Yam Chips.
As is obvious, this Yam Chips recipe is from my mother's collection and we would usually have it as a side dish with dal-rice, sambar-rice or rasam-rice combinations.
I can't explain the comfort that this combo brings. Another version to the Jimikand Chips would be the rather more crispy and crunchy Yam Fry.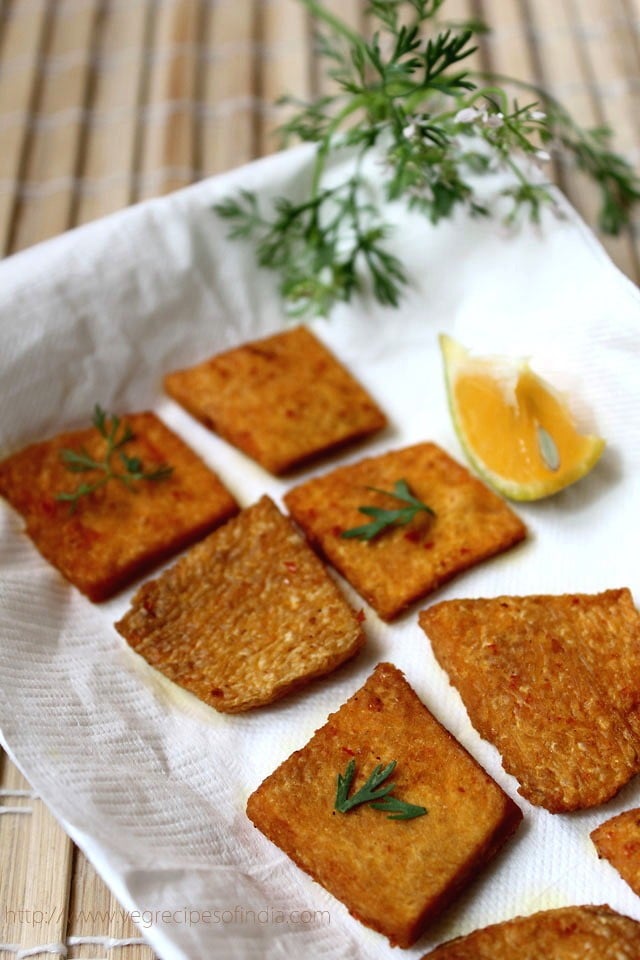 I have also introduced this vegetable to my family members and a few more people. Since the time they've tasted Yam, they've all loved it.
This Jimikand recipe is surely for keeps. So, whenever you get your hands on some elephant foot yam, get it and make this dish.
About Yam Chips
This is a rather simple and easy Jimikand recipe with only 4 ingredients, except the yam – turmeric powder, red chili powder, lemon juice and salt.
You just need to marinate the sliced yam with these for a while, shallow-fry in hot oil and enjoy the excellence that the dish brings to the palate.
The few substitutes that you can use in place of the lemon juice are vinegar, apple cider vinegar and tamarind juice. Also, you can opt to bake or air-fry the marinated yam slices instead of frying. All the more healthy.
Apart from the recipe, there are a few things that you must keep in mind when working with elephant foot yam.
Processing the yam by peeling and cutting can be a difficult task, since it is an extremely hard tuber. Thus, the knife that you will use has to be sharp and heavy. So, be extremely careful while handling it.
The best way to cut through the yam into smaller slices or pieces is to get the vegetable halved or quartered from the vegetable vendor itself.
Some varieties of the elephant foot yam may cause skin irritation and itchiness on the hands. So, when you are slicing it for this Jimikand recipe, spread some coconut oil or any other edible oil lightly on your palms before beginning to chop.
It is for the same reason; a souring agent is added to yam recipes as sometimes this vegetable may also cause irritation in the throat. Lemon juice is added in the Yam Chips recipe.
How to make Yam Chips
Preparation
1. Peel, rinse and slice 250 grams yam in 0.3 to 0.4 cm slices. Add ½ teaspoon turmeric powder, 1 teaspoon red chili powder, 1 to 2 tablespoons lemon juice and salt as required to the yam slices.
You can also make the marinade first in a small bowl and then add it to the yam slices.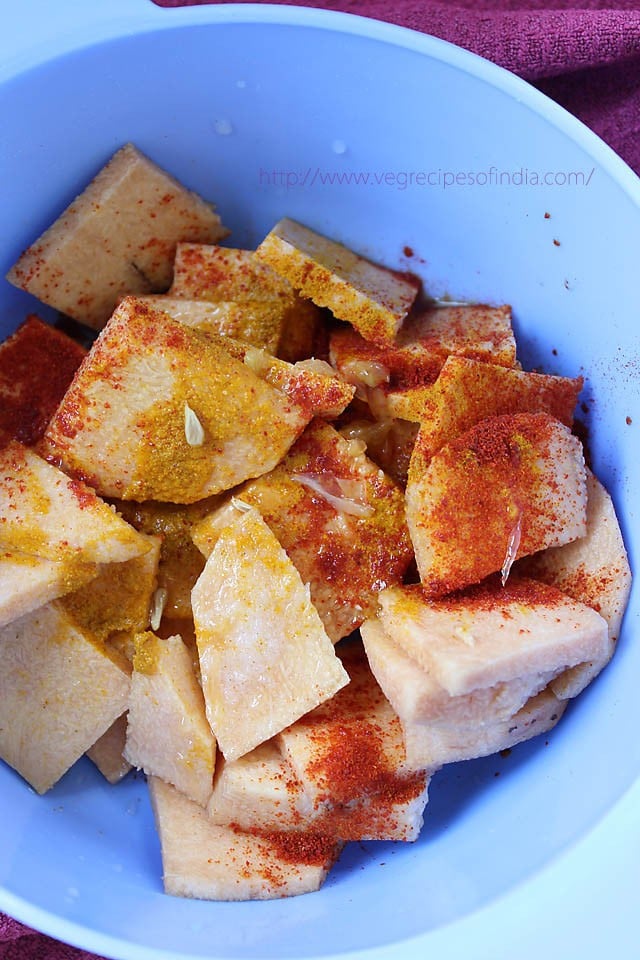 2. Mix well so that each and every yam slice gets uniformly coated with the marinade.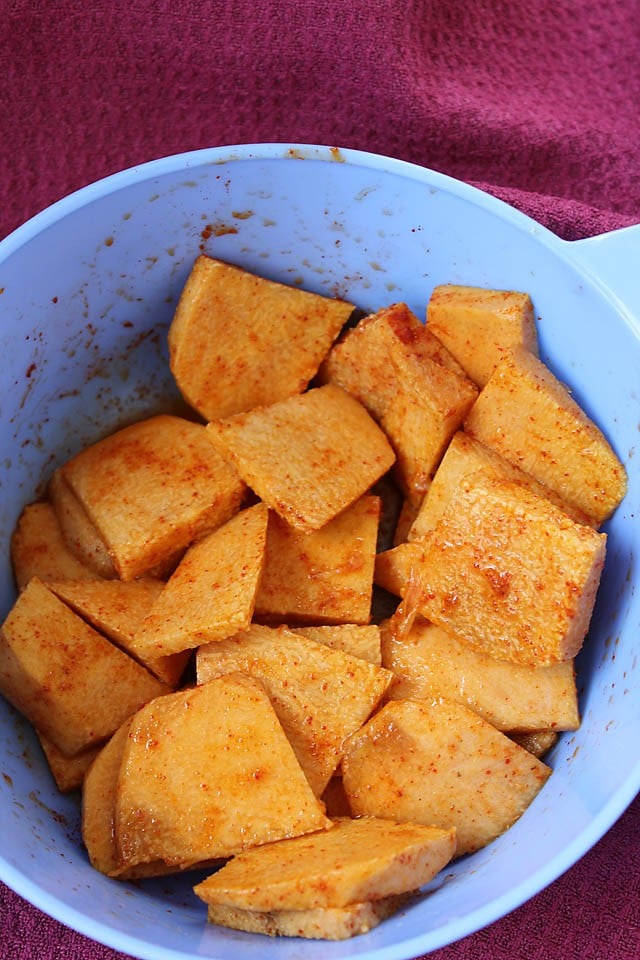 3. Marinate the yam slices for 10 to 15 minutes. This is how the marinated yam will appear after marination.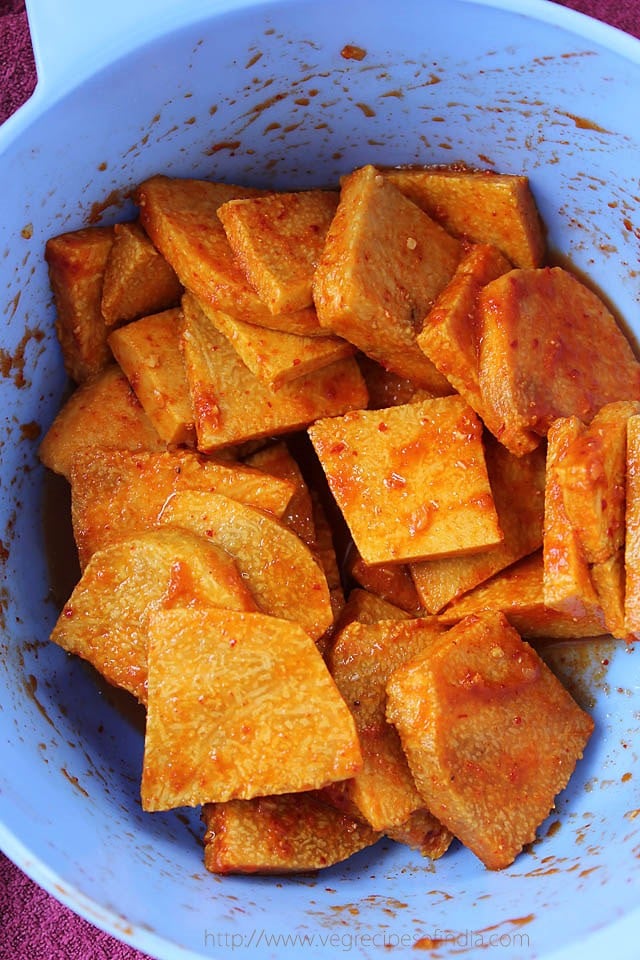 Make Yam Chips
4. In a flat skillet, frying pan or tawa, heat oil as needed for shallow frying and add the marinated yam slices.
The yam slices are shallow fried, so you do not need to add too much of oil. For the first batch, add about 3 to 4 tablespoons of oil and later add as needed. Fry with any neutral tasting oil.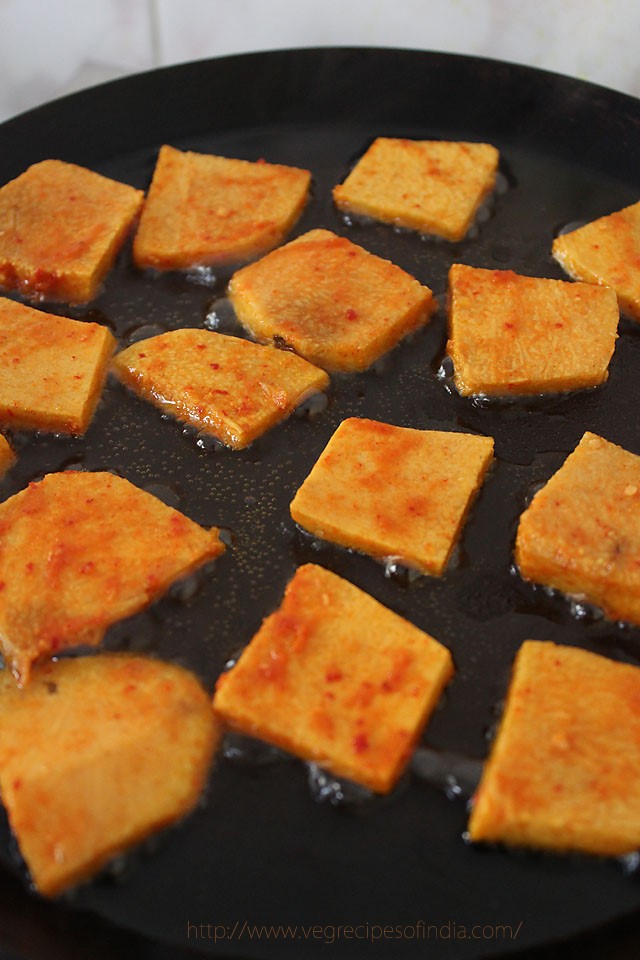 5. Shallow fry the yam slices, turning over when one side is cooked. Turn over for a few more times for even frying.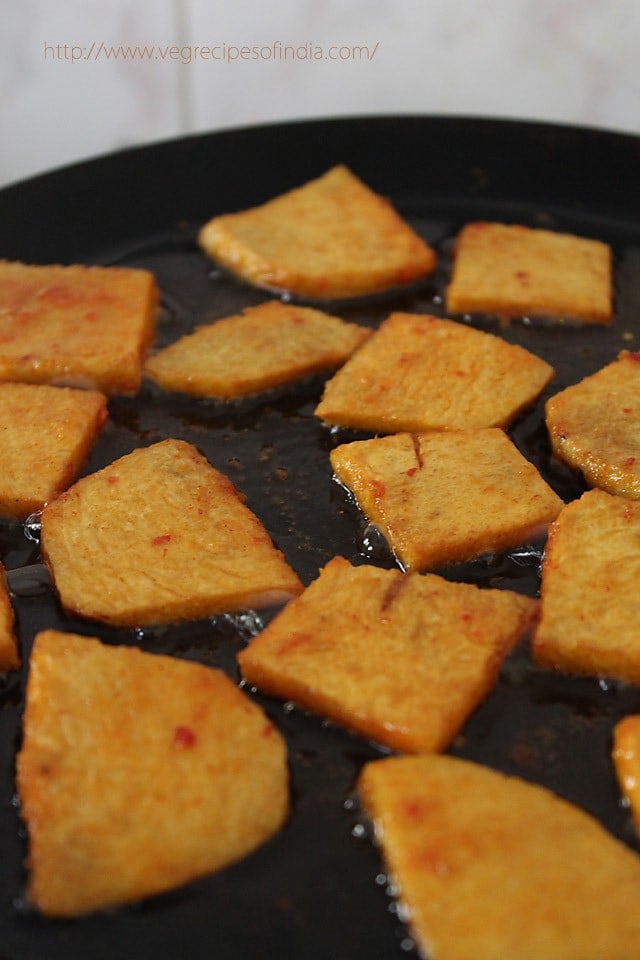 6. Fry the yam slices till crisp, cooked and well browned. Drain the fried Yam Chips on a kitchen paper towels.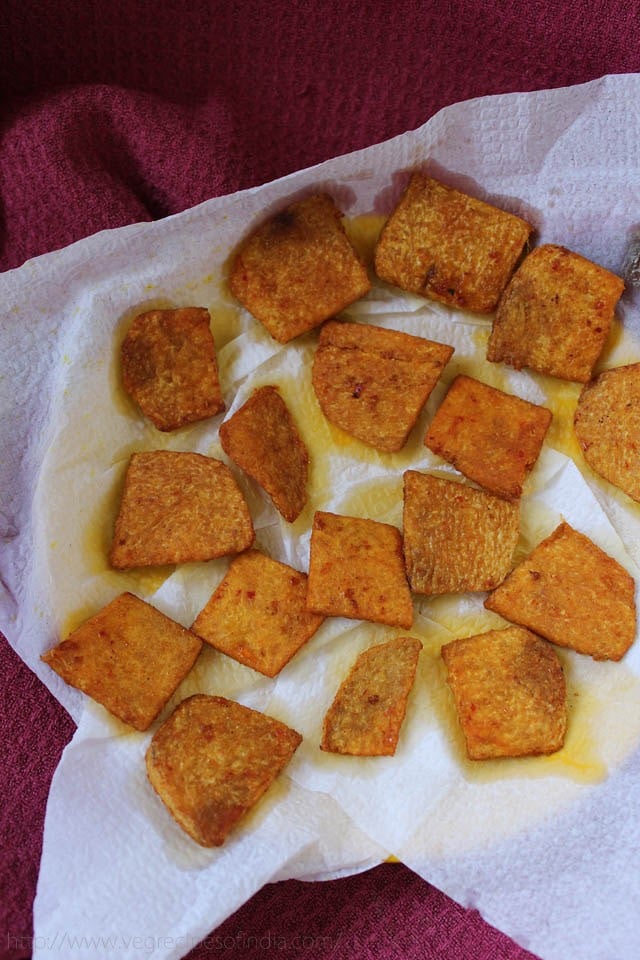 7. Garnish Yam Chips with some coriander leaves and serve hot. Additionally, some lemon wedges can also be served with the yam.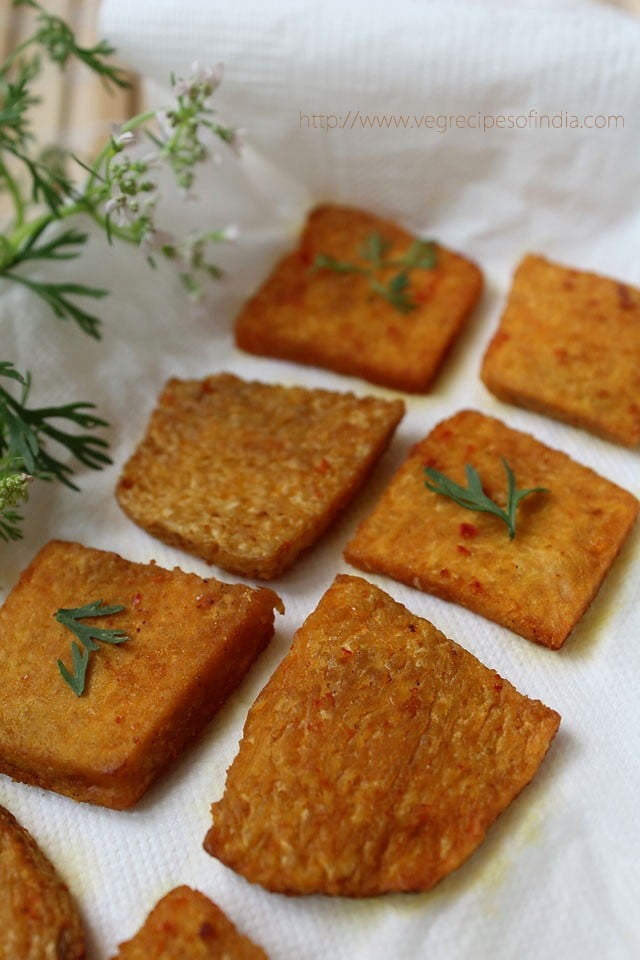 More Tasty Recipes To Try!
Please be sure to rate the recipe in the recipe card or leave a comment below if you have made it. For more vegetarian inspirations, Sign Up for my emails or follow me on Instagram, Youtube, Facebook, Pinterest or Twitter.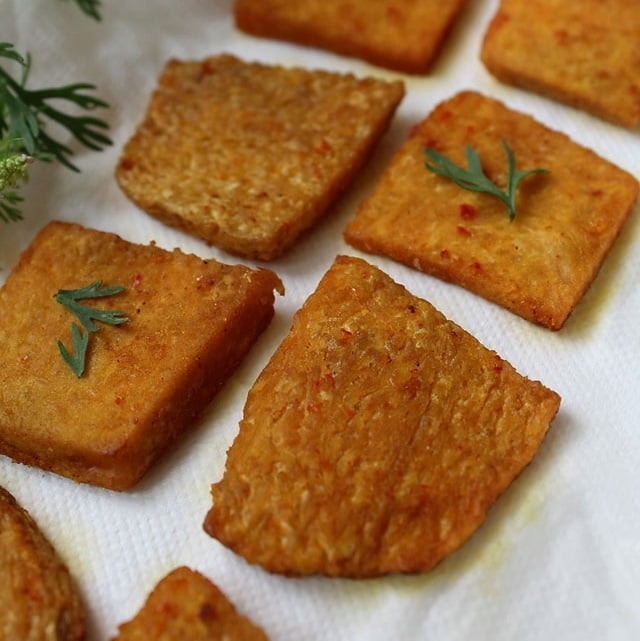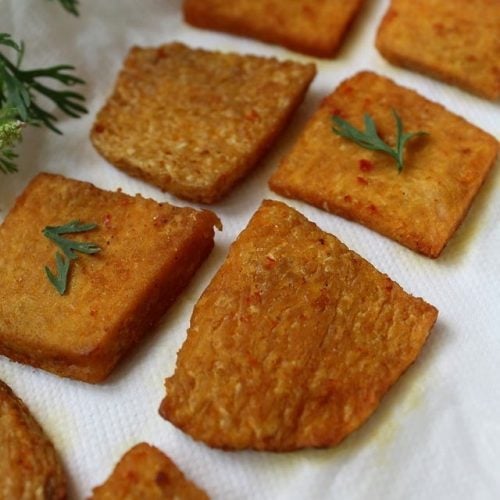 Yam Chips (Jimikand Recipe)
Elephant Foot Yam Chips recipe or Jimikand recipe is a simple and an easy recipe which has only four ingredients in it, except yam – turmeric, red chilli powder, lemon juice and salt.
Main ingredients
250

grams

elephant foot yam

(suran or jimikand) peeled, rinsed and sliced

1

teaspoon

red chilli powder

or cayenne pepper

½

teaspoon

turmeric powder

1 to 2

tablespoons

lemon juice

or add according to taste

salt

as required

oil

for frying, as needed
For garnish
1 to 2

tablespoons

chopped coriander leaves

1 to 2

lemon wedges
Instructions
Peel, rinse thoroughly and slice the elephant foot yam in 0.3 to 0.4 cm slices.

In a bowl mix the yam/jimikand slices with the rest of the ground spices, lemon juice and salt uniformly.

Marinate the yam slices for 10 to 15 minutes.

Shallow fry the yam slices in oil on a skillet, flat pan or tawa adding oil as needed.

For the first batch, you can add about 3 to 4 tablespoons of oil and later add as required. Use any neutral tasting oil to fry.

Fry until golden. Turn over the yam slices as needed, when they are being fried.

Place the shallow fried yam chips on kitchen paper towels to remove any extra oil.

Serve Yam Chips hot garnished with coriander leaves and lemon wedges.
Notes
The marinated yam slices can also be baked or air-fried instead of shallow frying.
As a substitute tamarind juice, white vinegar or apple cider vinegar can be added instead of lemon juice.
Nutrition Info (Approximate Values)
Nutrition Facts
Yam Chips (Jimikand Recipe)
Amount Per Serving
Calories 140
Calories from Fat 63
% Daily Value*
Fat 7g11%
Sodium 305mg13%
Potassium 537mg15%
Carbohydrates 19g6%
Protein 1g2%
Vitamin A 242IU5%
Vitamin B1 (Thiamine) 0.1mg7%
Vitamin B2 (Riboflavin) 0.03mg2%
Vitamin B3 (Niacin) 0.4mg2%
Vitamin B6 0.2mg10%
Vitamin C 15mg18%
Vitamin E 3mg20%
Vitamin K 3µg3%
Calcium 14mg1%
Vitamin B9 (Folate) 16µg4%
Iron 1mg6%
Magnesium 15mg4%
Phosphorus 38mg4%
Zinc 0.2mg1%
* Percent Daily Values are based on a 2000 calorie diet.
This Yam Chips recipe from the archives first published in February 2012 has been republished and updated on November 2022.