Collection of 19 pickles recipes from regional Indian Cuisine. In Hindi Language Pickles are also called as achaar or achar or aachar.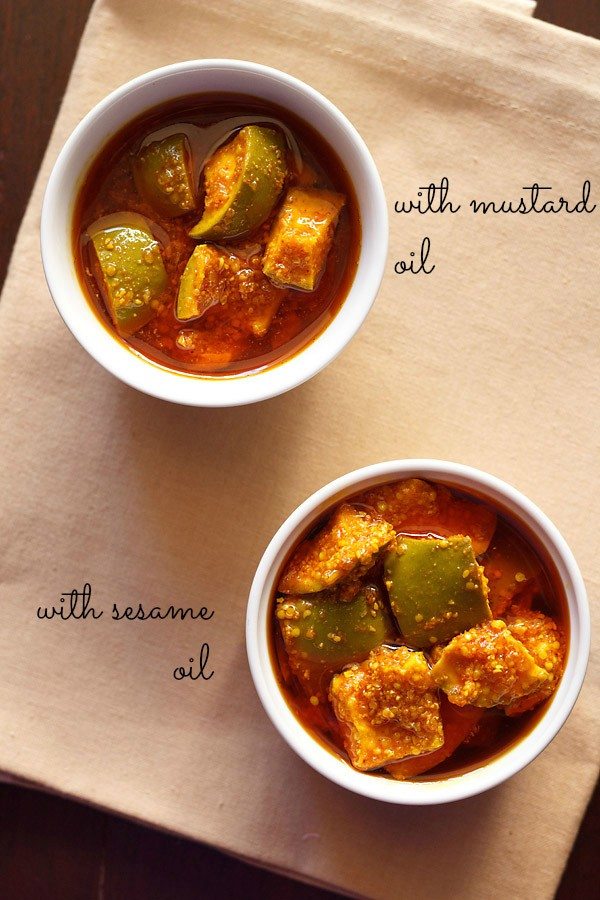 Pickle is an intrinsic and very important part of Indian cuisine. Without pickle on side, an essential part will be missing from an Indian thali. You will find pickles in most popular thalis like Andhra thali, Gujarati thali, Rajasthani thali or Maharashtrian thali etc.
During summers, its a practice in many Indian homes to prepare pickle in enough quantities so that it lasts for at least a year. Mango, lemon and chilli are the most common pickles and there are hundreds of varieties of pickles.
Each family has its own recipe suited to their taste buds. Pickles can be both sour and sweet as well as spicy. Popular version of spicy pickles are made in Telangana and Andhra Cuisine. Each state of India their own variation of making pickles.
Most pickles go very well as a condiment with simple Indian meals like dal-rice, curd-rice, veg pulao and even with roti-sabzi.
They also come quite handy while packing tiffin box for kids. In North India, it is a common practice to pack Paratha with a pickle.
Here I am sharing collection of pickle recipes that are already posted on the blog. So that its easier for you to find all pickle recipes in one place. I will keep on updating this post as I add more pickle varieties.
 19 Indian Pickle Recipes
1. Mango pickle – This Authentic Punjabi Mango Pickle is our family heirloom recipe and is really good with robust flavors. A sour, spiced and tasty Mango Pickle aka Aam ka Achar.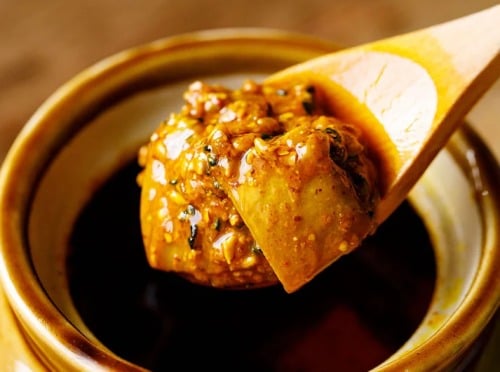 2. Lemon pickle – Spiced and a tangy 4 ingredient lemon pickle which is super easy to make. This is not an instant lemon pickle recipe and some sunlight and a few days is required, but the method is quick and very easy.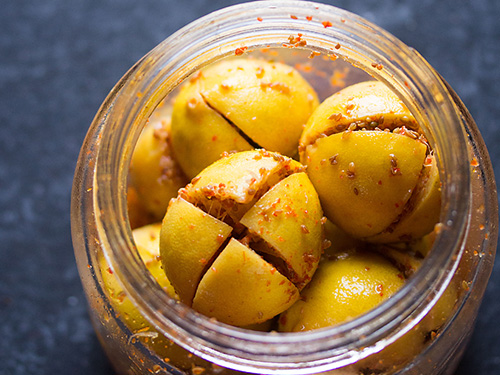 3. Amla pickle recipe – Andhra style spicy and tasty amla avakaya recipe. This vegan pickle is made from Indian gooseberries, which are also called as amla in Hindi. This is a spicy pickle with the sour taste of amla merging with the rustic flavors of the mustard seeds and sesame oil.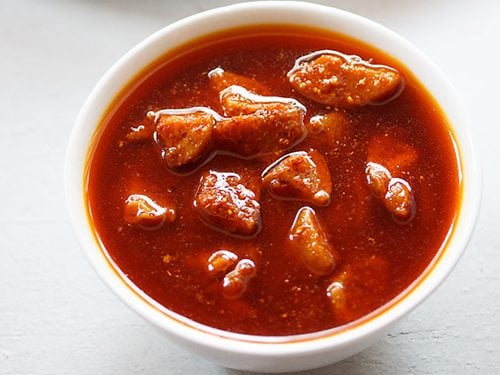 4. Hari mirch ka achar – This chilli pickle has ground mustard seeds, turmeric and lemon juice which imparts a major flavor, aroma and taste, not to forget the presence of green chillies too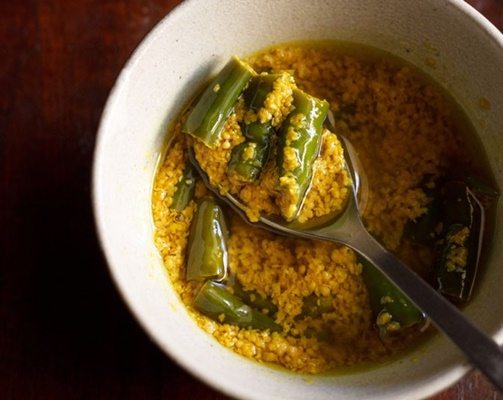 5. Red chilli pickle – A Banarsi style stuffed red chilli pickle. The red chilli pickle aka lal mirch ka achar tastes awesome. You can have it with chapatis or rice or parathas or with any Indian meal.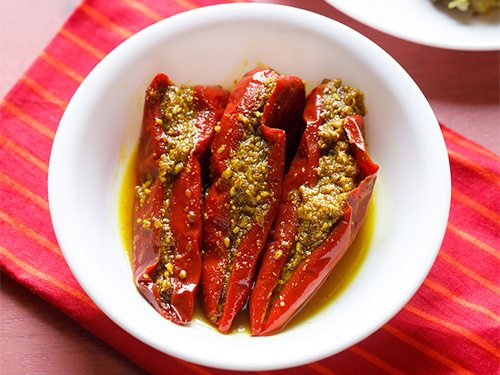 6. Naranga achar recipe – It is a tangy and spiced Kerala style pickle made with lemons, sesame oil, spices and herbs. It is instant and quick to make, but to serve you need to wait for a few days. Kerala naranga achar is also served in the onam sadya meal.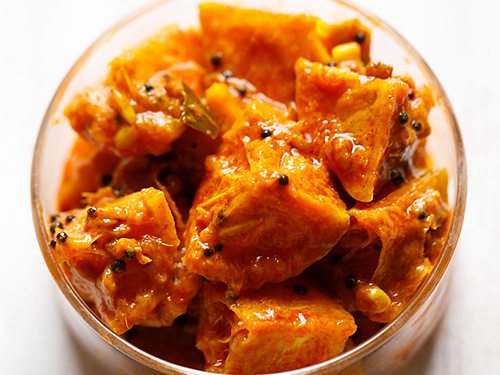 7. Gobi gajar shalgam achar – This is a sweet and sour Punjabi winter special pickle made with cauliflower, carrots and turnips. What you get in this pickle are crunchy cauliflower, carrots and turnips in a spicy, sweet and tangy base.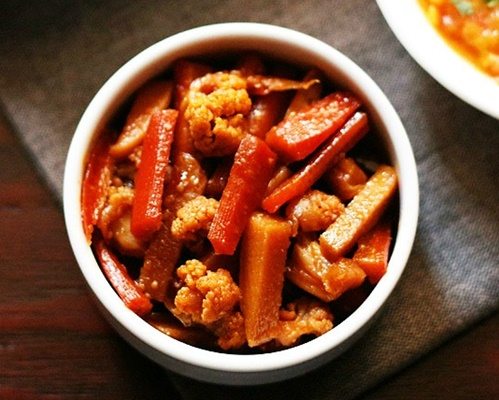 8. Instant Kerala Mango Pickle (Without Sun Drying Mangoes) – The pickle is prepared with raw unripe mangoes, mustard seeds, curry leaves and some spices. Best part of this pickle recipe is that it can be made in less than 15 minutes. At room temperature, this pickle will last for 2-3 days. After that place it in the fridge and it will last for a week more. You can also keep in the fridge from day one.
9. Andhra Avakaya – Mango avakaya or avakaya pickle is a spicy, robust pickle from the Andhra cuisine. Andhra cuisine is known for its spicy as well as tasty recipes. The recipe yields about 2 kg pickle and this can easily last for 6 months to a year. You can also halve the recipe if you want.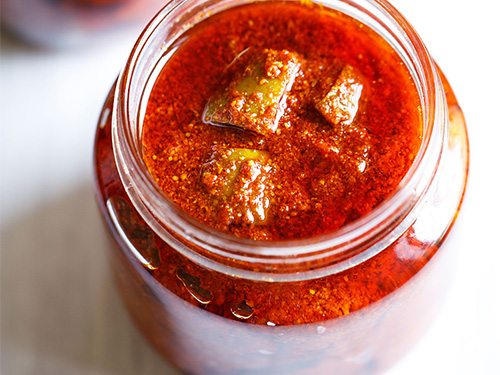 10. Karela pickle recipe – an easy and quick bitter gourd pickle cooked on stove top with vinegar and spices. If you like bitter gourd or bitter melon you will for sure like this pickle too.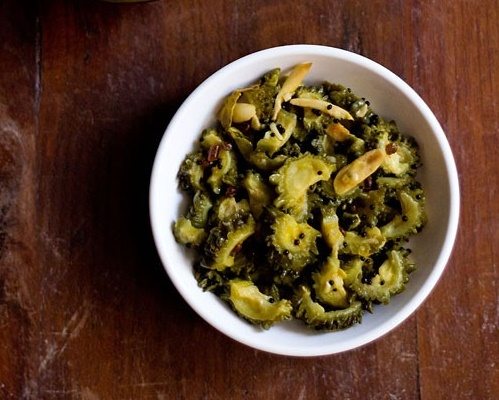 11. Thakkali Thokku – This is a tasty South Indian Style Tomato Pickle that you can serve with any with any South Indian meal. It can also be served with idli, dosa or khichdi. Generally thokkus are made in large quantities, but I have made this tomato thokku recipe to go for some 3 to 4 days.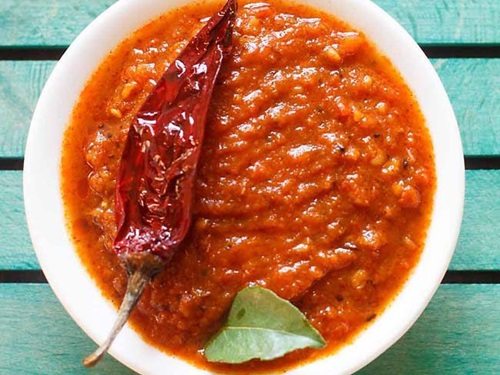 12. Sirke wale pyaaz or pickled onions – small red onions are marinated in vinegar, water and salt and kept for 2-3 days. So the onions soften with the taste of the vinegar in them and even loose their pungency. So the result are onions with a sour taste from the vinegar with their light sweet inherent taste.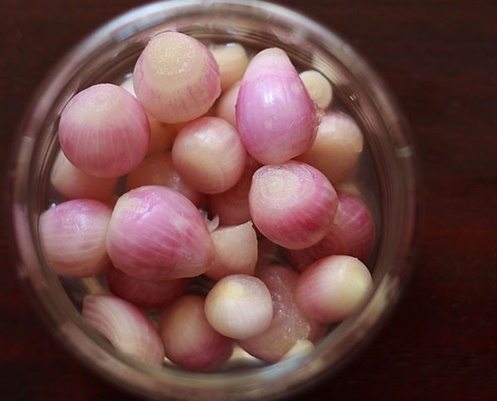 13. Fresh turmeric pickle recipe – a quick and easy pickle with fresh turmeric roots. To make this turmeric pickle no cooking is involved and you just need to mix everything. This fresh turmeric pickle stays good for about 2 months in the refrigerator.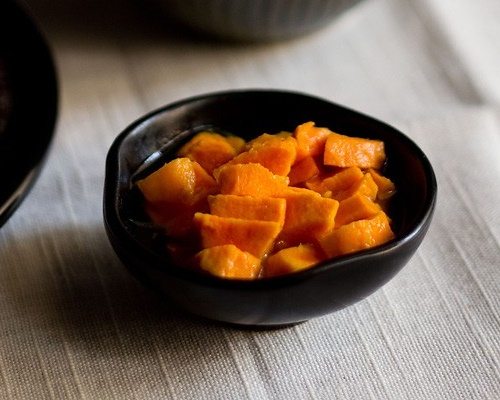 14. Star gooseberry pickle recipe – easy to prepare pickle with star gooseberries. No sun drying required. the same pickling method and recipe can be made with amla or Indian gooseberries as well.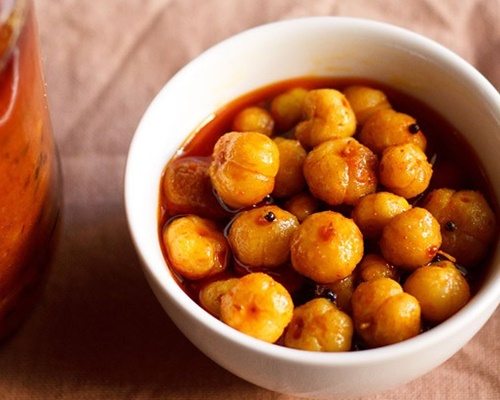 15. Khatta meetha nimbu ka achar with jaggery – This sweet sour lemon pickle has a burst of different flavors & tastes. The tang coming from the lemons, sweetness coming from the jaggery and the heat & spiciness coming from the spices.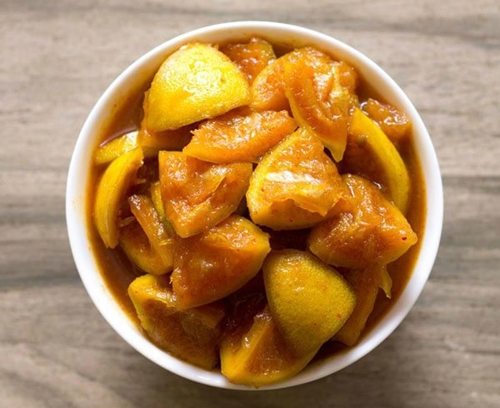 16. Gujarati Methia Keri – This is a Gujarati style spiced, sour pickle made with raw mangoes, split fenugreek seeds and mustard seeds. This pickle does not require sunlight and secondly, its one Easy & quick pickle to make.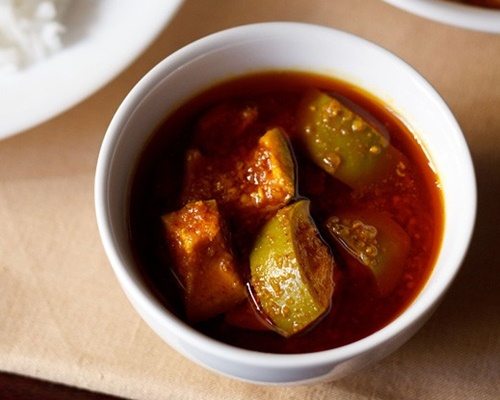 17. Sweet lemon pickle with sugar – sweet, spiced and tangy condiment is this 4 ingredient lemon pickle which is super easy to make. This pickle has a sweet taste and is sour, spiced, aromatic with flavors coming from the ajwain or carom seeds. There is no oil used in this recipe.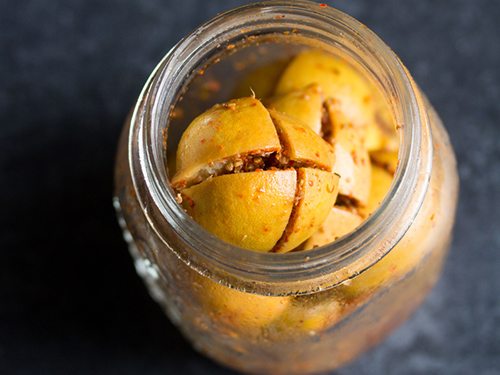 18. Easy lemon pickle with green chillies – It is made with just 3 ingredients that are lemon, turmeric and green chilies. Best part of this lemon pickle is that it has no oil, sugar and no spices. Yet the pickle tastes great. The tang coming from lemons, heat coming from green chilies along the turmeric flavor balances the taste of pickle.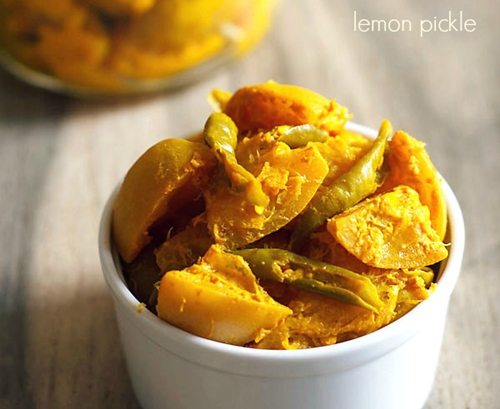 19. No Oil Mango Pickle with Jaggery – This is a Punjabi style sweet and sour pickle recipe made without green unripe mangoes, jaggery (or sugar) and spices. The spices added are nigella seeds, fenugreek seeds and red chilli powder.