Alu (spoken: a-du) is colocasia or taro in English and not aloo which is potato. So, this post is dedicated to one of the popular Maharashtrian dishes called Alu Vadi which is stuffed and rolled colocasia leaves that are tempered. This classic snack is also famous as the Patra Recipe in Gujarati cuisine. The same dish is referred to as Pathrode in the coastal regions of Udipi and Mangalore in Karnataka, South India. This is one of those dishes from Indian cuisine which is gluten free, low-fat and a healthy choice in snacks.
What is Alu Vadi
Alu Vadi has nothing to do with potatoes (aloo in Hindi), but everything to do with colocasia, which is known as 'alu' in Marathi.
As the name of the dish suggests, one of the main ingredients of this preparation is the use of colocasia leaves, which is also known as 'arbi ke patte' in Hindi language.
Common as the Patra Recipe in Gujarat and Pathrode in coastal Karnataka, this dish is quite intricate when it comes to its making procedure.
Thus, it is time taking to prep the entire dish up. But, once you prepare, it can be easily steamed and then tempered. Post which, it is ready to be consumed.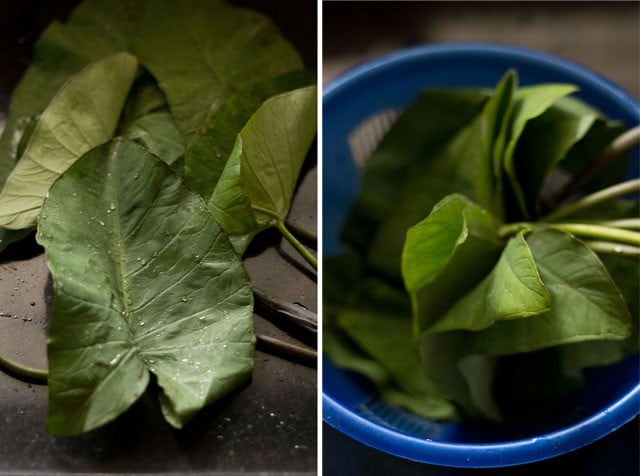 Basically, what happens in a traditional Alu Vadi is that fresh, tender colocasia leaves are smeared with a sweet, sour and spiced gram flour (besan) paste or batter and stacked on top of each other.
Once a set is ready, it is rolled carefully and steamed till the leaves and the batter is cooked. This is followed by slicing the steamed rolls into thick spirals or pieces, which are then tempered with some basic spices and curry leaves.
The spirals can also be deep-fried or pan fried. Once done, the stuffed Pathrode spirals are finished with a generous sprinkle of fresh grated coconut and chopped coriander leaves.
Hence, the Patra Recipe becomes a super tasty snack, full of flavors and texture. It is also really nutritious, if not deep-fried.
More on Patra Recipe
As I said earlier, the preparation of Alu Vadi does look a little daunting, but it is not difficult. I am sharing some points here that will help you to make this Patra Recipe with ease.
You can also my step-by-step pictorial demonstration, which will clear all your doubts on how to go about making this dish:
You have to first layer the taro or colocasia leaves with a tangy and spicy besan paste. Then, stack these up, one on top of the other.
Next, you'll be rolling these stacks and steaming them. Once steamed well, these are thickly sliced and essentially tempered, or even fried.
You can make these rolls a day before and then temper or fry them the next day. I prefer the tempered ones. However, you can also deep fry or shallow fry the rolls.
When making this dish, always use fresh leaves which are not itchy. The presence of calcium oxalate crystals is the reason for this itchiness on your hands, sometimes even throat and tongue too. So before proceeding with the recipe, check for this bit. You can ask your vegetable vendor also before buying them.
You can make the same recipe with large spinach leaves. So, just substitute the colocasia leaves with the palak ke patte and make a yummy variation.
Since monsoon is the season for fresh arbi leaves in India, you should definitely give this dish a try during the festival of Ganesh Chaturthi.
Other than this, you can also make the Arbi ke Patte ke Pakode and another Maharashtrian delicacy named Alu Chi Bhaji, which is simply a delicious colocasia leaves gravy.
These stuffed vegetarian rolls or Pathrode are best enjoyed plain or with a green chutney. Makes for an awesomely sumptuous tea-time snack as well.
How to make Alu Vadi
Make Batter
1. Take all the ingredients of the batter in a mixing bowl:
2.5 cups gram flour (besan)
1 inch ginger + 1 to 2 green chilies made into a paste in a mortar-pestle
1 teaspoon coriander powder
½ teaspoon red chili powder
½ teaspoon turmeric powder
1 teaspoon cumin powder
½ to 1 teaspoon oil, optional
salt as required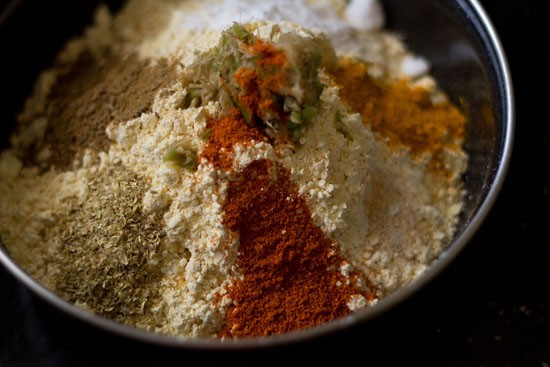 2. Add 3 to 4 tablespoons jaggery powder and tamarind pulp.
I soaked 1.5 tablespoon seedless tamarind in ¼ cup hot water for 20 minutes and then squeezed the pulp in the soaked water. Added this tamarind pulp or tamarind water.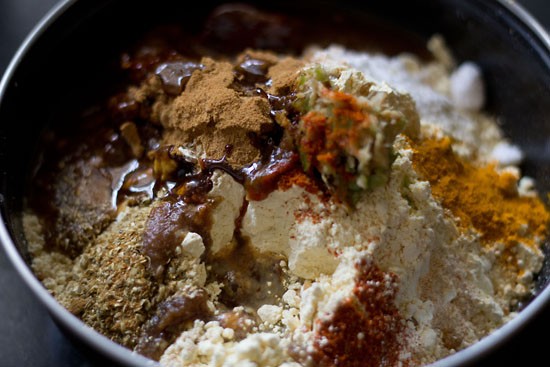 3. Stir and mix thoroughly to make a thick batter or paste. Ensure there are no lumps. Set aside.
If needed you can add a bit of water if the batter looks very thick.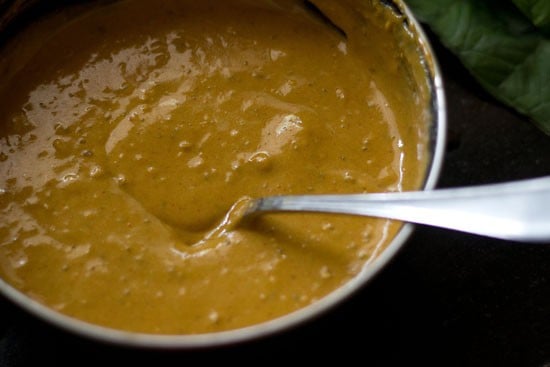 Prepare Colocasia Leaves
4. Rinse a few times in water and later pat dry 20 medium to large sized colocasia leaves with a kitchen napkin.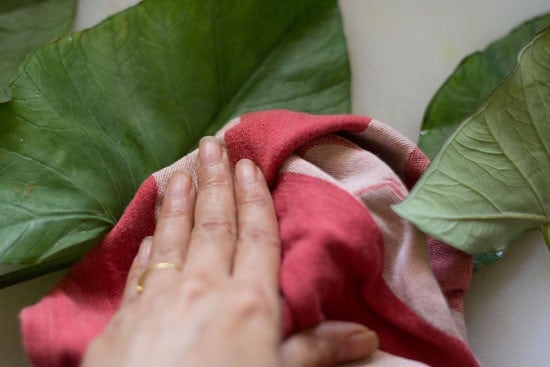 5. Slice the stalk from the base of the leaf.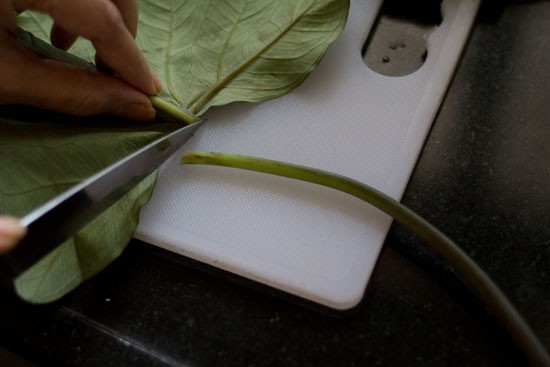 6. Place the leaf with the veins facing you and slice the middle vein right through the center, taking care not to break the leaf.
Remove any other thick veins from the sides too. Keep all the leaves ready like this.
Instead of using a knife (as it might tear the leaf if not used properly), you can also use a belan (rolling pin) and gently roll it on the leaves.
This will flatten the veins and leaf will not get cut. You can adjust the pressure as per the thickness of the vein.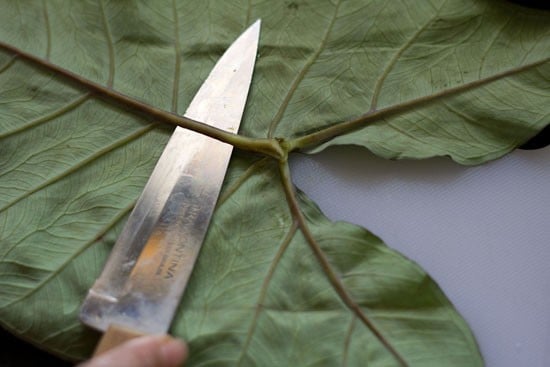 Assemble and Make Pathrode Rolls
7. Place the leaf with the vein sides facing downwards and the tip facing you. Apply the prepared gram flour batter.
Before beginning to roll, sort the leaves and place the largest one at the bottom and continue to keep the medium and smaller ones as you stack them up.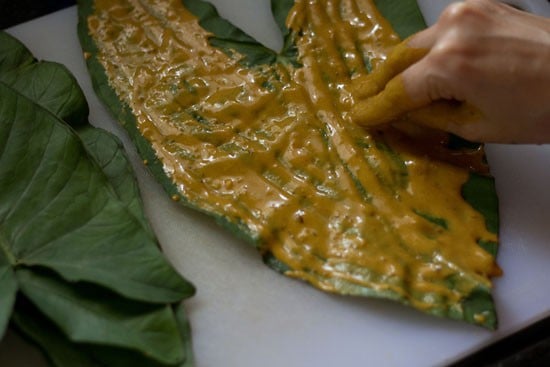 8. Now, place another leaf with the tip in the opposite direction. Placing the leaves in the opposite direction helps them to roll easily.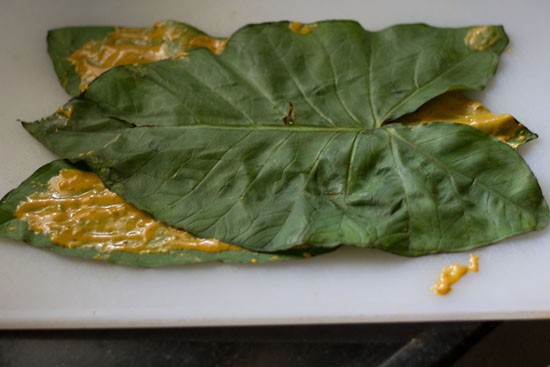 9. Apply the batter on the second leaf.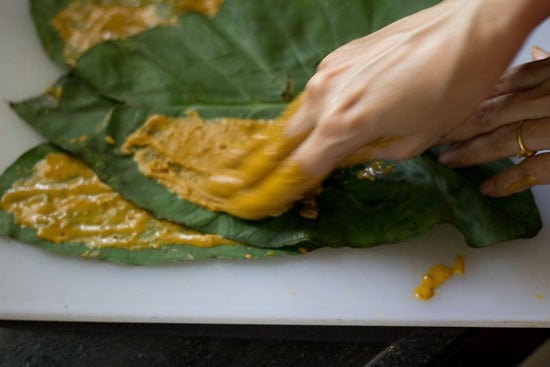 10. Completely cover the leaf with the gram flour batter.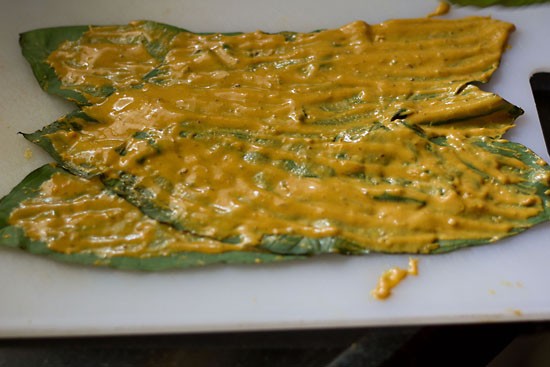 11. Now, place a third leaf with the tip facing you.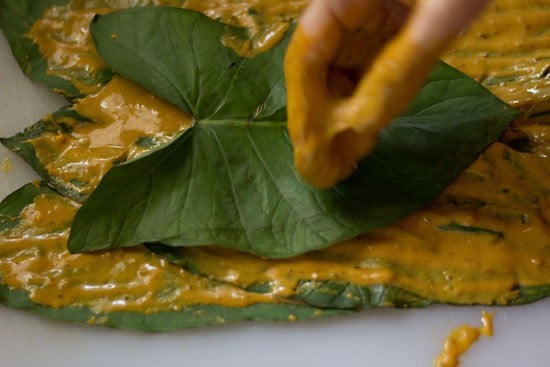 12. Apply the batter on this leaf too.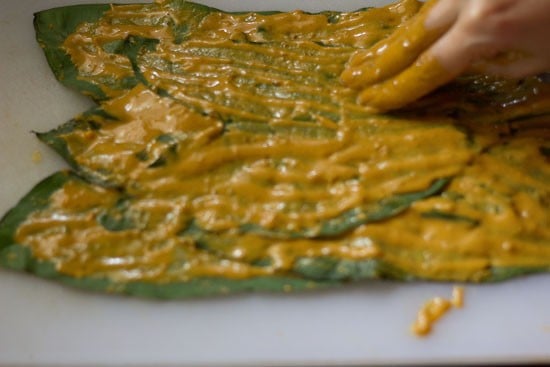 13. Finish off all the 10 leaves this way. Now fold the leaf from one side as shown in the picture below.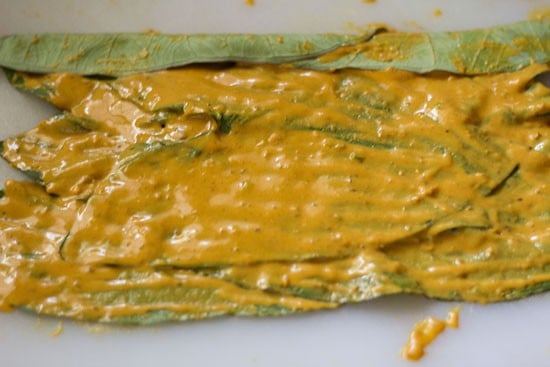 14. Apply the batter to the folded side and fold from the opposite side also. Apply batter to this second folded side too.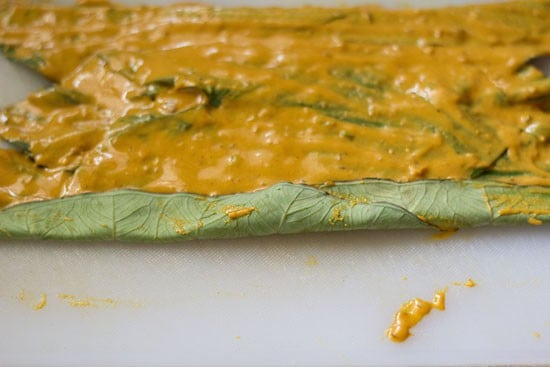 15. Begin to tightly roll the leaves and keep on apply the batter with each fold on the top.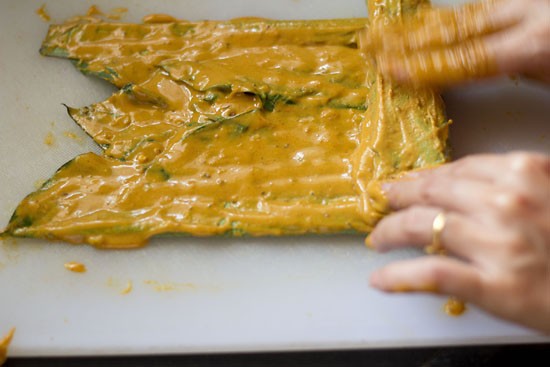 16. Almost finished rolling the stack of leaves.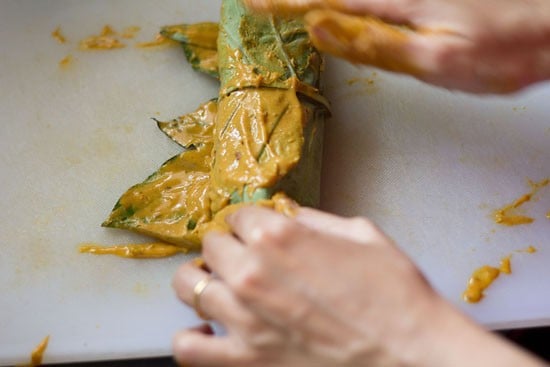 Steam Alu Vadi
17. I made 2 rolls from 2 batches of 20 leaves. Each roll had 10 leaves. Place these rolls in a greased steamer pan.
Steam for 20 to 25 minutes in a steamer or pressure cooker without the vent weight or whistle.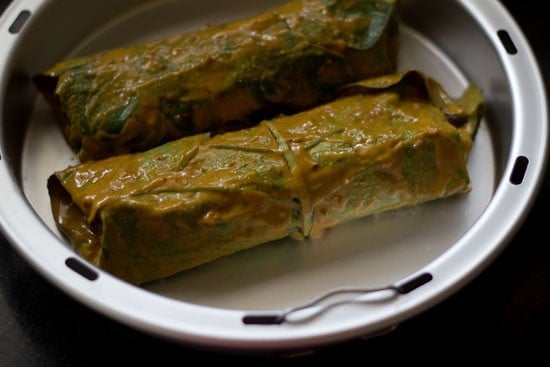 18. The leaves and the batter will be completely cooked. The rolls will also hold shape and become firm after cooking.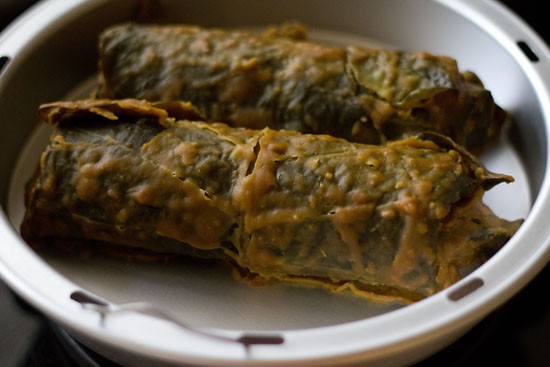 19. When warm or cooled, cut the steamed pathrode rolls into ½ inch thick spirals.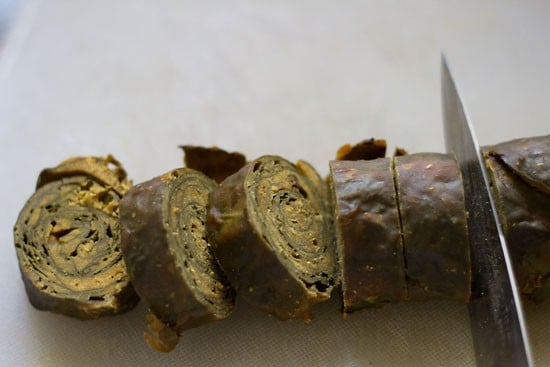 Make Tempering
20. Heat 2 tablespoons oil in a pan or kadai (wok). Keep heat to low or medium-low.
Add 1 teaspoon mustard seeds and let them crackle on low to medium-low heat.
Then add 10 to 12 curry leaves, ¼ teaspoon asafoetida (hing), 2 to 3 teaspoons white sesame seeds. Fry for some seconds until the sesame seeds crackle and the curry leaves become crisp.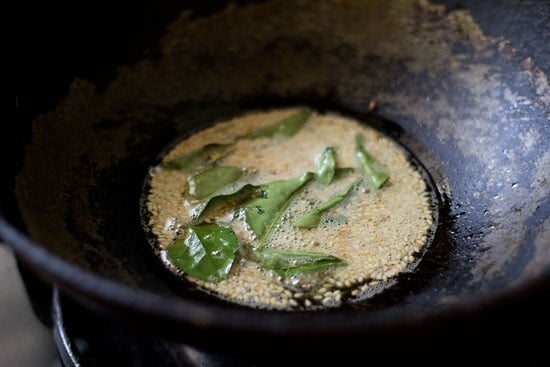 21. Add the sliced colocasia rolls and sauté on low heat for few minutes turning as needed. They will start to look crisp and get golden.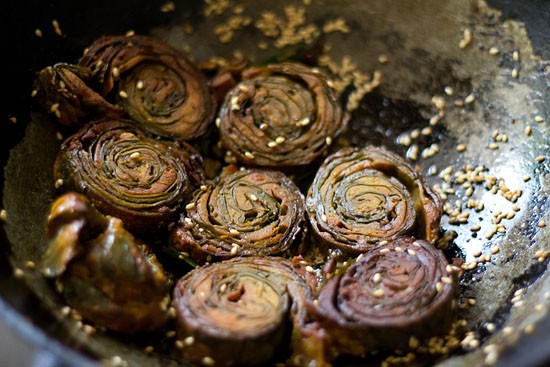 22. Switch off the heat. Lastly, add ¼ cup grated fresh coconut and 2 tablespoons chopped coriander leaves. Stir and mix gently.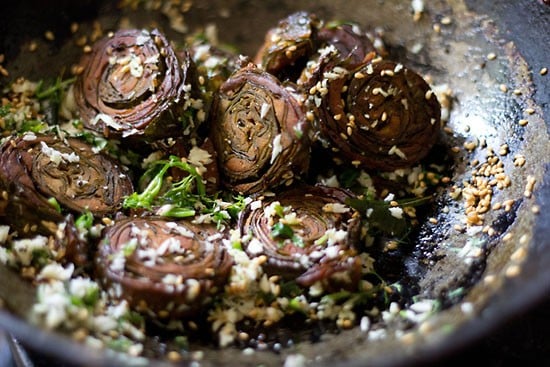 23. Serve Alu Vadi or Patra hot or warm. You can also garnish the Pathrode with coconut and coriander leaves instead of mixing them with the rolls.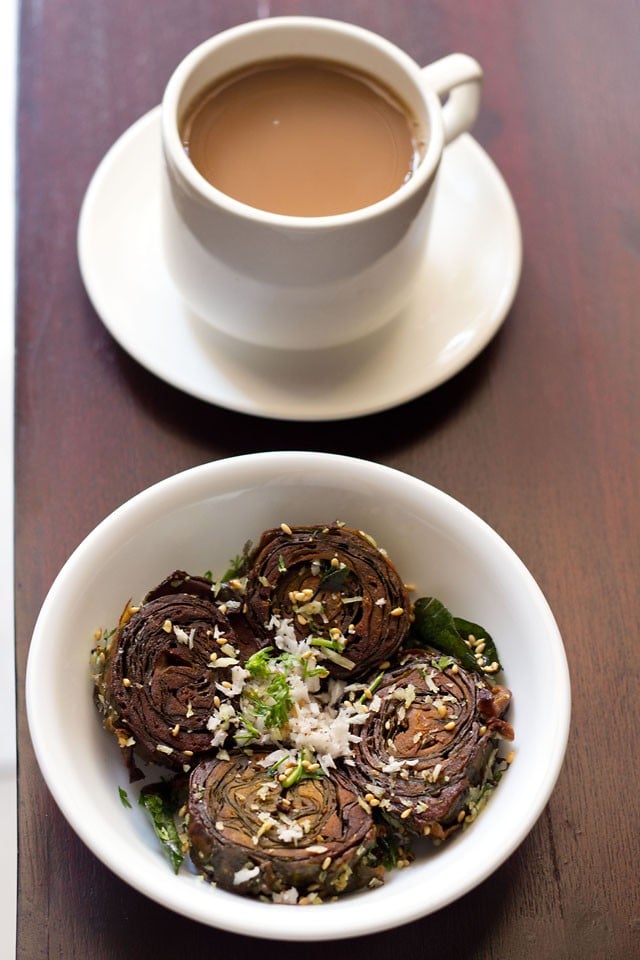 FAQs
What is the difference between Alu Vadi, Pathrode and Patra Recipe?
There is no major difference between the three, apart from they being different regional names for the same recipe. So, in Maharashtra it is Alu Vadi; in coastal Karnataka regions, it is Pathrode and in Gujarat, it is the Patra. However, the recipes may have some alterations depending upon the area it belongs to.
How can I make this Patra Recipe into a gluten free version?
To make it into a gluten free version, just use a gluten free/pure asafoetida and not a blend. If you don't have it, skip adding it all together.
Can I make the stuffed colocasia rolls a day prior and have it the next day?
Yes, you can definitely do so. If you are preparing the rolls a day prior, just make sure to temper or fry them, before consuming the next day.
How do I store leftover Pathrode?
You can put them in an air-tight box and refrigerate to store the leftovers. This way, it stays good for a couple of days.
Is it possible to deep fry Alu Vadi?
Yes of course, it is. You can even shallow fry it. But I would suggest you to just temper them and have it. This way it really becomes a wholesome snack.
More Maharashtrian Snacks To Try!
Please be sure to rate the recipe in the recipe card or leave a comment below if you have made it. For more vegetarian inspirations, Sign Up for my emails or follow me on Instagram, Youtube, Facebook, Pinterest or Twitter.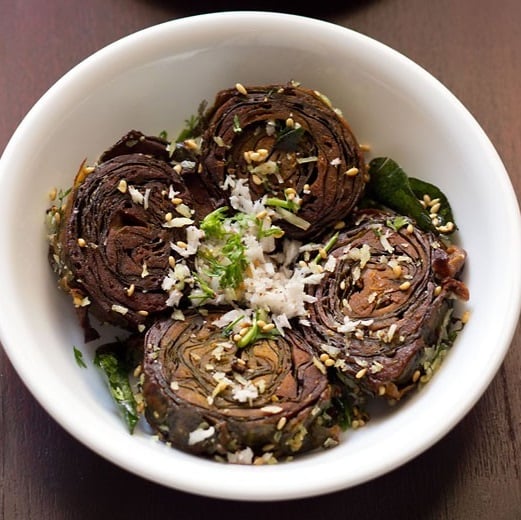 Alu Vadi | Pathrode Recipe | Patra Recipe
Alu Vadi also known as Patra or Pathrode is a delicious dish of colocasia or taro root leaves smeared with a spiced, sweet and tangy gram flour paste and steamed to be tempered later.
Main ingredient
20

colocasia leaves

or taro root leaves or arbi ke patte, medium to large-sized
For gram flour batter
1

inch

ginger + 1 to 2 green chilies

– made into a paste in mortar-pestle

1

teaspoon

Coriander Powder

½

teaspoon

red chilli powder

½

teaspoon

turmeric powder

1

teaspoon

cumin powder

1.5

tablespoon

tamarind

(seedless) soaked in ¼ cup hot water for 20 minutes

2.5

cups

gram flour

(besan), swap with chickpea flour instead

3 to 4

tablespoon

jaggery powder

or as required

½ to 1

teaspoons

oil

– optional

salt

as required

water

as required, optional
For tempering
2

tablespoons

oil

2 to 3

teaspoon

sesame seeds

1

teaspoon

mustard seeds

¼

teaspoon

asafoetida

(hing)

10 to 12

curry leaves

¼

cup

coconut

– grated and fresh

2

tablespoons

coriander leaves

– chopped
Instructions
Preparation to make alu vadi
Soak the tamarind in ¼ cup hot water for 20 to 30 mins.

Rinse the taro leaves well in water a few times and wipe them dry with a clean kitchen towel.

Prepare them as shown in the photos above – like removing the central vein and stalks etc.
Making gram flour batter
Now squeeze the tamarind directly into the water and extract the pulp.

Take all the ingredients for the batter in a mixing bowl.

Add the tamarind pulp and mix well to make a thick batter.

Add some water if needed.

Check the taste and add more salt or powdered jaggery if required.

The batter has to be really thick.
Making alu vadi
For the first roll use 10 leaves and for the second roll use remaining 10 leaves.

Sort and arrange the leaves according to their size. So use the large leaves first followed by the medium-sized and small leaves.

Now spread the batter on each leaf and arrange them as shown in the above photos.

Roll the edges vertically and spread some batter on them.

Now roll horizontally and tightly.

Keep on applying the batter on each fold as you roll.
Steaming alu vadi
Place the rolls on a greased steamer pan.

Steam the rolls for 20 to 25 minutes on medium to medium-high heat.

When warm or cool, slice them and temper them. Or you can opt to deep fry them and serve with green chutney or coconut chutney.
Making tempering for pathrode
For the tempering, heat oil in a pan. Crackle the mustard seeds first on a low heat.

Then add the sesame seeds, curry leaves and asafoetida. Sauté for a few seconds until the sesame seeds crackle and the curry leaves look crisp.

Then add the sliced rolls and sauté till they get golden from both the sides. Turn them as needed while sauteing.

You can also just pour the tempering mixture on the sliced rolls if you prefer.

Turn off the heat and sprinkle grated coconut and coriander leaves on the alu vadi or patra. Stir to combine and serve hot or warm.
Notes
Make sure to fresh, tender and green taro root leaves.
You can choose to steam in a pan/pot on the stovetop, in an Instant Pot or in a stovetop pressure cooker.
For a spicy alu vadi, add more red chilli powder.
For a more sweeter taste, add more jaggery.
Scale the recipe to make for less or more servings.
Nutrition Info (Approximate Values)
Nutrition Facts
Alu Vadi | Pathrode Recipe | Patra Recipe
Amount Per Serving
Calories 403
Calories from Fat 81
% Daily Value*
Fat 9g14%
Sodium 349mg15%
Potassium 1052mg30%
Carbohydrates 62g21%
Protein 20g40%
Vitamin A 2635IU53%
Vitamin B1 (Thiamine) 1mg67%
Vitamin B2 (Riboflavin) 0.3mg18%
Vitamin B3 (Niacin) 31mg155%
Vitamin B6 0.5mg25%
Vitamin C 77mg93%
Vitamin E 2mg13%
Vitamin K 63µg60%
Calcium 125mg13%
Vitamin B9 (Folate) 689µg172%
Iron 6mg33%
Magnesium 164mg41%
Phosphorus 298mg30%
Zinc 3mg20%
* Percent Daily Values are based on a 2000 calorie diet.
This Alu Vadi recipe from the archives first published in September 2013 has been republished and updated on December 2022.