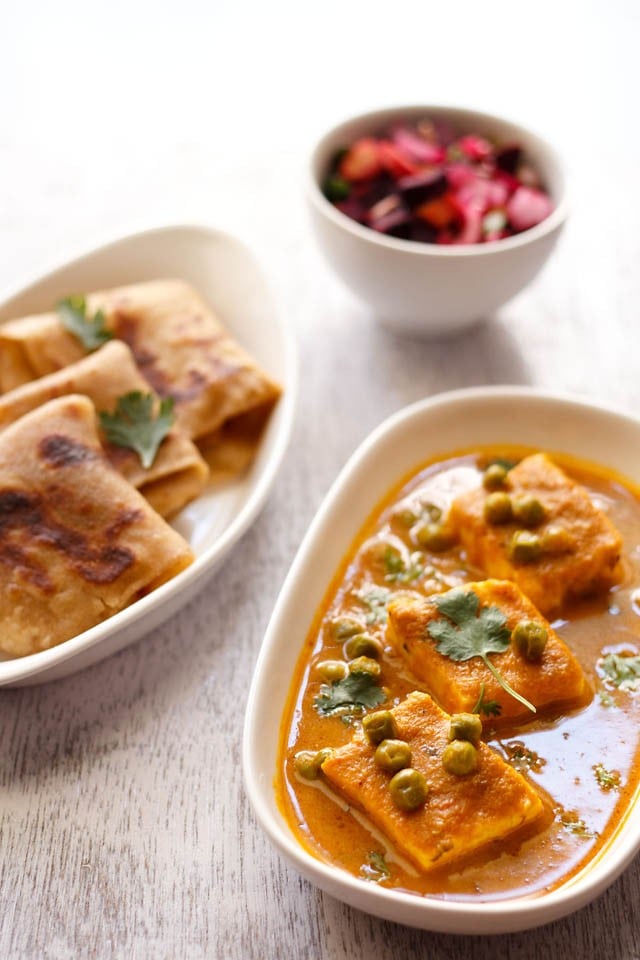 matar paneer or mutter paneer recipe – one paneer recipe amongst all the north indian paneer recipes… matar paneer is quite often made at home.
so here is a simple and easy recipe for matar paneer. this recipe is not restaurant style but a simple homemade dish. the kinds which make for a homely comforting meal.
i learnt to make mutter paneer first time at my in-laws' place. this is a classic north indian punjabi recipe which my mil makes. its simple, fuss free and easy.
just a slight adaptation i have done to her original recipe by adding cashews & some coriander leaves to the masala paste. mil does not add any cashews. i wanted a creamy texture in the matar paneer gravy and hence the addition of cashews. the coriander leaves also gives nice citrus notes to the curry. the rest of the matar paneer recipe is same.
matar paneer goes well with parathas, naan and even steamed rice. at home i usually make parathas or rotis to go with matar paneer. a side veg or a raita also goes well with the combination of matar paneer and parathas. in the pic are parathas and mix veg salad with nuts served with the matar paneer. vegan can substitute tofu with paneer and still enjoy the deliciousness.
tip from reader abhishek: you can shallow or pan fry the paneer pieces and then add these to the curry.
if you are looking for more paneer recipes then do check paneer butter masala, kadai paneer, paneer tikka, paneer bhurji, tawa paneer masala and palak paneer.
matar paneer recipe details below:
matar paneer
matar paneer - spiced and creamy curry with peas and cottage cheese
Ingredients
main ingredients:
200-250 gms paneer/cottage cheese
1 cup peas or matar - fresh or frozen
2 to 21/2 cups water
½ tsp turmeric powder (haldi)
¼ tsp red chili powder (lal mirch powder)
1 tsp coriander powder (dhania powder)
2 or 3 tbsp oil or ghee
a few coriander leaves for garnishing (dhania patta)
salt as required
sugar as required and optional (check notes)
ingredients for the masala paste:
3 medium sized ripe red tomatoes, chopped
1 medium to large onion, chopped
1 green chili, chopped
½ inch ginger, chopped (adrak)
2-3 garlic, chopped (lahsun)
1 tbsp chopped coriander, chopped
5-6 whole cashews, chopped
Instructions
blend all the ingredients mentioned under masala paste in a small grinder or blender to a smooth paste. keep aside.
heat oil or ghee. add ½ tsp cumin seeds. add the masala paste.
fry for 6-7 minutes on a medium flame till the oil separates from the paste.
add all the dry spice powders and stir. add the peas or matar, water and salt.
pressure cook till the matar/peas are cooked. (check notes below on how to cook in a pan.)
when the pressure drops on its own, open the lid of the pressure cooker.
add the paneer cubes. simmer for 2-3 minutes or till the paneer cubes get cooked.
don't overcook as the paneer becomes dense and hard then.
garnish matar paneer with coriander leaves.
serve matar paneer with rotis, parathas, naan or rice.
Notes
1. if making matar paneer recipe in a pan, then first fry the masala paste in the pan. add the dry spice powders and stir. add the matar/peas, salt and about 21/2 cups water. close the pan and cook the peas till they become soft. if the curry dries up whilst cooking, add more water.
2. if the tomatoes are tart, then sweeten the gravy by adding some sugar.