The recipe of Batata Vada that I am posting here is a hit at my home. Batata Vada is a Mumbai street food too. Potatoes are an all time favorite of mine and my family.
Potato is called as Batata in Marathi. In Mumbai and the rest of Maharashtra this recipe is called Batata Vada. In the south, it is called Potato Bonda.
There are a lot of variations in the way they make the potato stuffing. Even in Maharashtra the Batata Vada tastes different in different regions like Pune, Nashik, etc.
In fact in Mumbai itself it tastes different amongst the different vendors. The taste is different due to the inclusion of different spices in the potato filling.
This is the same batata vada that we use in the vada pav. In Dadar-Mumbai there is an eatery joint – Shree Krishna Batata Wada which is famous for their batata vadas.
There are other places as well, but I know of this one. This joint offers fresh, hot, tasty batata vadas. They also offer other snacks like sabudana vada, samosas, bhajiyas, chaats, fruit juices and cold drinks. I have visited this place so many times.
My recipe for the batata vada comes from this place. Although I don't know their cooks, but I know very well what goes in their potato filling.
I have had potato vadas in other joints also, but this place tops my list. Its been years now that I have not visited this place.
This batata vada recipe tastes very much close to the batata vadas available at the Shree Krishna joint in Dadar-Mumbai.
Making batata vadas are easy. Just prepare the potato filling, make them into balls or patties, coat them in the gram flour batter and deep fry them.
Batata Vadas are best enjoyed, when they are served hot.
We always have batata vada with some fried salted green chilies. This combo of the batata vada and green chilies is a spicy combination and you will like it if you like spicy food.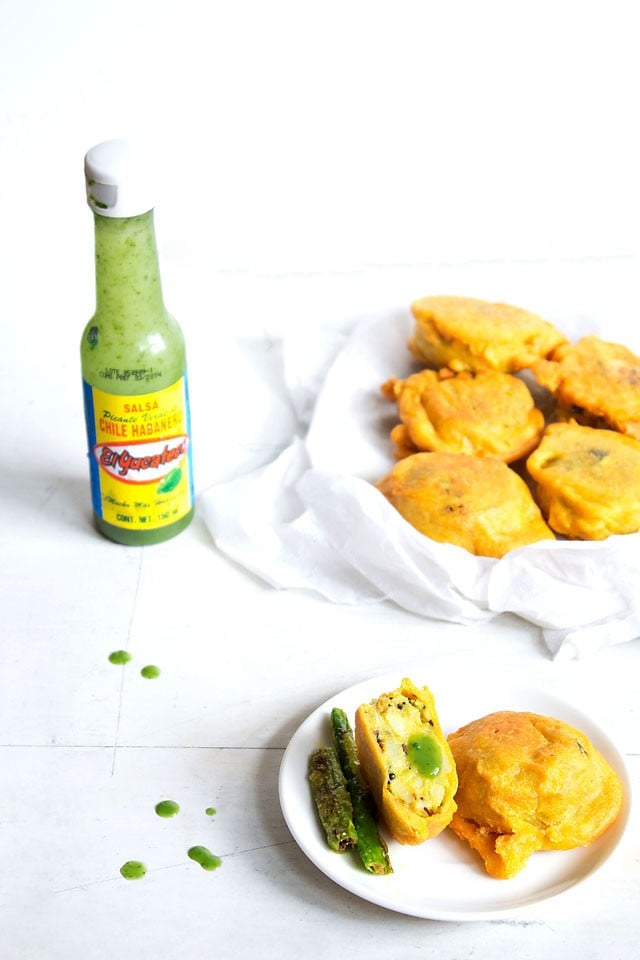 You can also serve batata vada with some coriander mint chutney or even tomato sauce. These potato vadas can be also stuffed between buns or bread and had with some onion or tomato slices or with a combination of indian chutneys.
If you are looking for similar recipes then do check aloo bonda, misal pav, pav bhaji, aloo tikki chole, chole bhature, veg momos and mumbai mysore masala dosa.
Batata Vada recipe details below:
Batata Vada Recipe
Batata Vada Recipe - Popular Mumbai Street Food Recipe.
ingredients (1 cup = 250 ml)
For the Potato Filling you will need:
4

medium sized Potatoes

10 to 12

curry leaves

2

teaspoons

urad dal

(husked spilt black gram)

1

teaspoon

mustard seeds

1

teaspoon

cumin seeds,

optional

1 to 2

green chillies,

chopped

1 to 1.5

tablespoon

finely chopped ginger

1/2

teaspoon

turmeric powder

⅛

teaspoon

asafoetida powder,

about 2 pinches of asafoetida powder

a few chopped coriander leaves

optional

oil for frying

salt
For the Besan (Gram Flour) batter you will need:
1.5

cups

gram flour

(besan)

½

teaspoon

turmeric powder

(haldi), optional

1

cup

water

2

tablespoons

rice flour

optional
how to make recipe
Preparing the filling:
Firstly boil the potatoes till cooked thoroughly. Then mash them well. There should be no lumps.

In a pan, take some oil.

When the oil gets hot, add the mustard seeds and urad dal.

When the mustard seeds start crackling and the urad dal turns brown, then add the cumin seeds, the curry leaves, chopped ginger, chopped chilly, asafoetida.

Fry till the spices are well cooked. Don't burn.

Add the turmeric powder.

Now add this tempered hot spices with the oil to the the mashed potatoes.

Add salt.

Mix the potatoes with the spice mixture with a spoon as the mixture will be hot.

Later you can mix with your hands.

Make equal sized medium balls of the potato mixture.

Flatten them a little as it helps to deep fry them easily.

Keep aside
Preparing the vadas:
Now take the gram-flour, turmeric powder, add salt to it.

You can also add a pinch of red chilly powder to it.

I added rice flour to this batter as rice flour makes the coating crisp while frying. You can completely omit adding rice flour. With water make a slightly thick batter.

Dip each potato patty or ball in the besan batter.

Coat the ball evenly with the gram flour batter.

In a hot oil in a deep fry pan, add the potato balls coated with gram flour paste.

Fry them till golden brown.

Serve hot.

Batata Vadas are served with green chutney and tamarind-jaggery sweet chutney.

You can also serve them with coconut chutney.

If you are short of time, you can serve them with tomato sauce too.

It is also served with fried green chillies tossed in salt and a maharashtrian dry chutney made up of garlic, red chillies and onions.

You can make a vada pav too of it. Just slice the pav or bun into to.

Apply the green chutney on one side.

Then apply the sweet chutney on the other side.

Sprinkle the maharashtrian dry chutney made up of garlic, red chilli and onions.

Keep the batata vada in between the two slices of pav and serve with fried green salted chillies. You can also use burger buns or bread slices.
recipe notes
the batter is slightly thick for making these vadas.

do not make a thin batter.

if the batter is too thick than you can add some water.

use good quality gram flour/besan to make the batter.