I know so many people who are a fan of a non-saucy pasta dish. And when you speak of this form of a pasta dish, the Aglio E Olio tops the list. More widely popular as the Spaghetti Aglio E Olio, since it is the preferred type of pasta used to make this dish, it is a no brainer that like other classic pasta preparations, this one also belongs to Italian cuisine.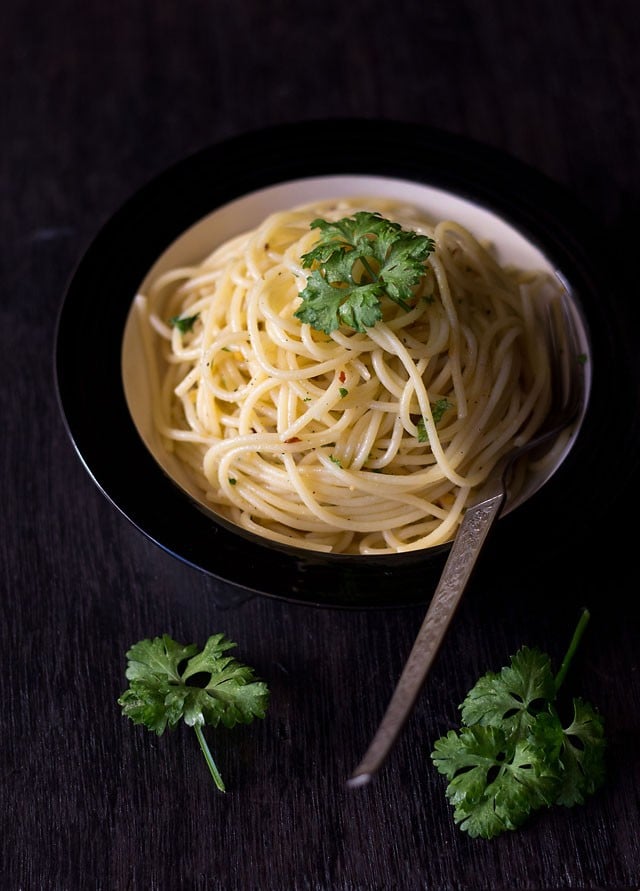 It is also one of the traditional Pasta Recipes from Italy that is not as intricate or layered as many other similar dishes are. Easy and quick to make, I'm sharing a fool proof, vegan recipe of this dish made with spaghetti, garlic, red chilli peppers and olive oil.
What is Aglio E Olio
The literal translation of the Italian term Aglio E Olio is 'garlic and oil.' And when you add the word spaghetti in the name, it simply means that it is a dish made of spaghetti majorly with garlic and oil.
Since, the most common choice of cooking oil in classic Italian cooking has always been olive oil, that is what also goes in a traditional version of the dish Spaghetti Aglio E Olio.
The Spaghetti Aglio E Olio also primarily belongs to the region of Naples and is a popular 'primo' dish in Neapolitan cuisine. 'Primo' is the word to describe a 'main course or pasta course' in Italian cuisine.
Another prime ingredient that is a part of the most authentic Aglio E Olio preparation is the dried red chilies or the red chili flakes as it is referred to in India. In this aspect, the dish also has another moniker to it, which is 'olio e pepperoncino.'
Most of the Italian fine-dine restaurants mention the name of the dish in their menus as this itself. 'Pepperoncini or pepperoncino' denotes the chilies/pepper in the dish.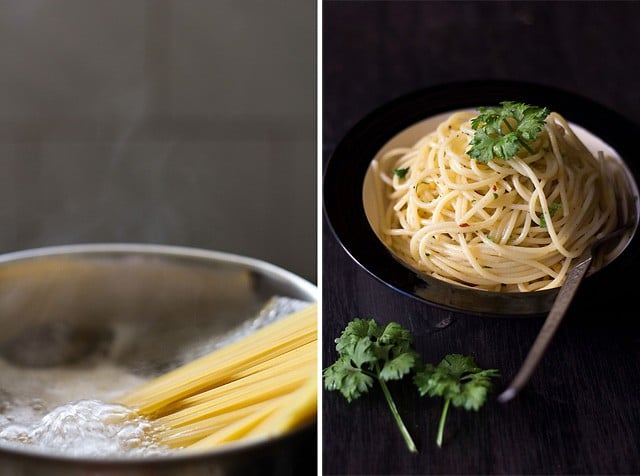 For many, the Spaghetti Aglio E Olio is a perfect base recipe in which other ingredients can be added to make it into a customized pasta dish.
For instance, there are seafood versions with clams, mussels, shrimps, etc. and other variations with spinach, tofu, broccoli, lemon, etc. A garnish of parsley and parmesan cheese is also quite common in this pasta dish.
This pasta preparation is really and easy and fuss-free recipe with minimal ingredients, yet is super popular all over the world today. It is the bold flavors and the simplicity itself, which are the reasons of its popularity.
About This Aglio Olio Recipe
Many readers often request me to post pasta recipes. While I do know to cook pasta in quite a few ways, the Italian variations of pasta recipes always amaze me.
This Aglio E Olio with spaghetti is another recipe that I tried and got good results, keeping the authenticity too intact, to a large extent.
Not everyone is fond of pasta as a meal and my family is one of them. But sometimes, on rare occasions, I prefer to cook a pasta dish because of the ease of preparing it.
This Spaghetti Aglio E Olio happens to be a favorite, whenever we're looking for a quick dish and something without any sauce in it as well.
Although essentially, an Aglio E Olio is great with a sprinkle of some parmesan cheese on top but this recipe of mine does not have it. So, you really don't have to worry about sourcing it too.
Basically, it is just the spaghetti tossed in garlic infused olive oil. Additional flavors include the chili flakes, black pepper and some parsley.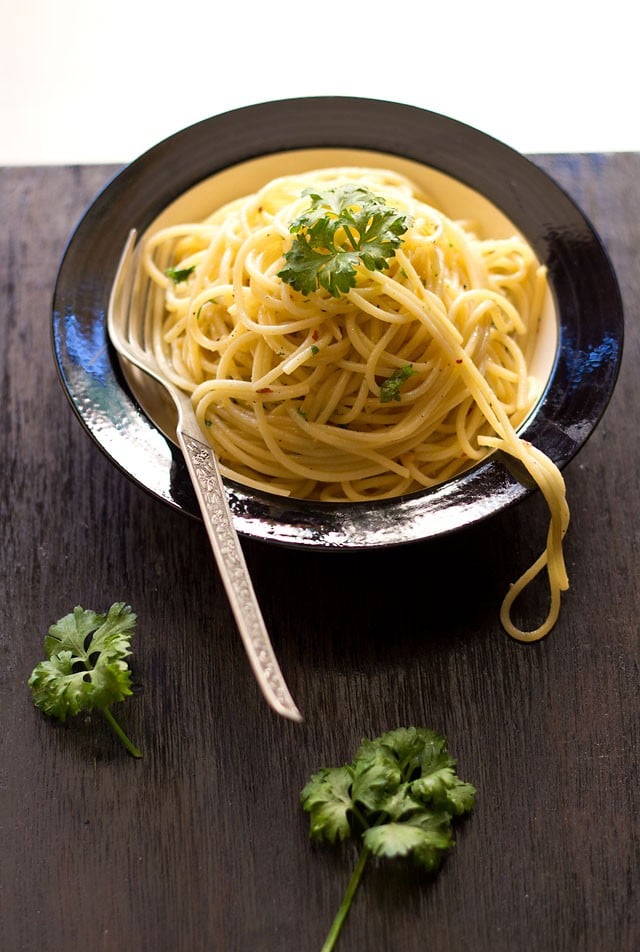 Another variation that you can bring in this recipe is that you can replace the spaghetti with any other type of pasta like linguine, vermicelli, angel hair pasta or even penne. However, the best results are with spaghetti because that's what the name of the dish is too.
I have adapted this Spaghetti Aglio E Olio recipe from the cookbook "Good Eating Pasta". This recipe is very simple and a quick one, especially if one is hungry. You can serve it with a side soup like sweet corn soup or tomato soup or a nice crunchy vegetable salad.
Expert Tips
Garlic: Since the most dominating flavor is of garlic, make sure to use a generous quantity of fresh garlic in it. You can either finely chop, slice, grate or mince it.
Cooking Spaghetti: As you prefer, feel free to cook the spaghetti until al dente or cook a bit more further until they are tender and soft.
Olive Oil: For best results, make sure to use extra virgin olive oil. Although, if you don't have this and have a regular one, then you can use that too.
Parsley: In India, usually 2 types of parsley are available in the market – curly and flat leaf. Use whichever you get. In fact, it is said that the flat leaf makes it more authentic. Also, if you don't have parsley, then skip adding it.
Red Chillies: You can even use some thinly sliced fresh red chilies to the dish. But first sauté them with garlic and then add to the spaghetti. If you are adding the fresh red chillies, then skip the chili flakes, if you wish to.
Seasonings: In a classic Spaghetti Aglio E Olio, coarse sea salt is used. So, if you have it at home, go ahead and use it to season this dish too. Or else just use you regular salt. For the black pepper use freshly cracked or crushed pepper or ground black pepper.
Storage: If you have leftovers, then refrigerate it and consume within 24 hours. While serving, just reheat the spaghetti with some olive oil in a pan.
More Pasta Recipes To Try!
Please be sure to rate the recipe in the recipe card or leave a comment below if you have made it. For more veetarian inspirations, Sign Up for my emails or follow me on Instagram, Youtube, Facebook, Pinterest or Twitter.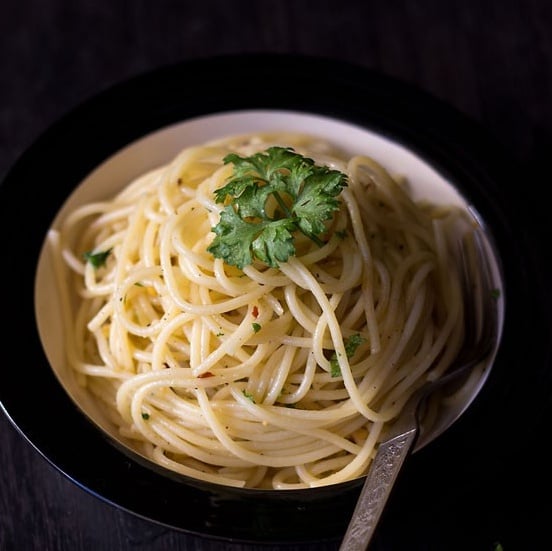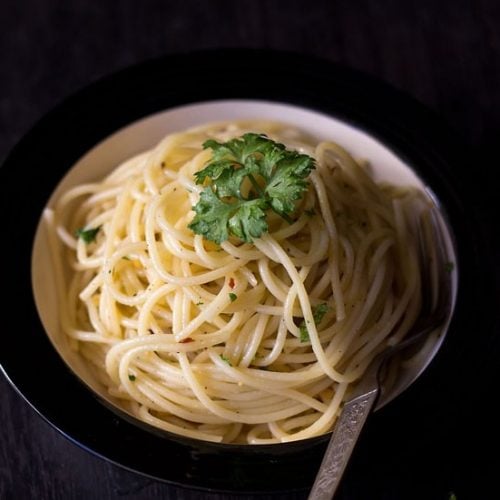 Spaghetti Aglio e Olio Recipe
Spaghetti Aglio e Olio recipe is a traditional Italian pasta dish made with spaghetti, olive oil, garlic and chilli flakes. It is a simple and quick pasta yet high on flavors.
For cooking spaghetti
225

grams

spaghetti

1

teaspoon

salt

4

cups

water
For aglio e olio
2

tablespoons

extra virgin olive oil

3 to 4

garlic cloves

– small to medium-sized, finely chopped or minced ( I have added an extra touch of garlic, but you can reduce to 1 to 2 garlic cloves)

1

teaspoon

red chili flakes

or add as needed

salt

as required

black pepper

as required

1 or 1.5

tablespoons

parsley

– fresh, finely chopped
Instructions
Cooking spaghetti
Boil about 4 cups of water with 1 teaspoon of salt.

Add the spaghetti. Don't break the spaghetti like we do for noodles.

Keep them whole and place in water. Once they start cooking, they will start settling below in the water.

Stir occasionally and let the spaghetti cook in the water for 8 to 10 mins or till they become al dente.

They should be cooked but still have a bite to them.

Using a colander, drain the water and place the spaghetti in a bowl.

Cover the bowl, so that the cooked spaghetti does not dry. Set aside.
Making spaghetti aglio e olio
Heat the olive oil in a small frying pan.

Keep heat to a low and add finely chopped or minced garlic and salt as needed.

On a low heat, lightly brown garlic with the salt stirring often. Make sure not to burn the garlic.

Add the garlic and olive oil mixture to the cooked spaghetti in the bowl.

Add red chili flakes and parsley. Season with salt and black pepper.

Mix and toss well so that the seasonings, olive and spices coat the spaghetti evenly. Serve Spaghetti Aglio e Olio hot or warm.
Notes
For a spicy taste add more red chilli flakes. 
You could also use fresh red chillies, instead of chilli flakes. But sauté the red chillies with garlic and later add to the cooked spaghetti.
If you prefer, you can cook the spaghetti more than the al dente stage and have them completely tender.
Scale the recipe easily to make for more servings.
Nutrition Info (Approximate Values)
Nutrition Facts
Spaghetti Aglio e Olio Recipe
Amount Per Serving
Calories 553
Calories from Fat 144
% Daily Value*
Fat 16g25%
Sodium 1793mg78%
Potassium 307mg9%
Carbohydrates 86g29%
Protein 15g30%
Vitamin A 468IU9%
Vitamin B1 (Thiamine) 0.1mg7%
Vitamin B2 (Riboflavin) 0.1mg6%
Vitamin B3 (Niacin) 2mg10%
Vitamin B6 0.2mg10%
Vitamin C 4mg5%
Vitamin E 3mg20%
Vitamin K 43µg41%
Calcium 56mg6%
Vitamin B9 (Folate) 24µg6%
Iron 2mg11%
Magnesium 69mg17%
Phosphorus 225mg23%
Zinc 2mg13%
* Percent Daily Values are based on a 2000 calorie diet.
This Spaghetti Aglio e Olio recipe from the archives first published in July 2013 has been republished and updated on December 2022.