A lot of people I know, don't really like lady's finger or okra (bhindi) because of its slimy texture. But if you cook okra pods the right way, they make for a great plant-based option that can be turned into fantastic dishes. Just like this Besan Bhindi (also called Besan Wali Bhindi), a dry, tangy, flavorful and spiced okra dish from Rajasthani cuisine. For more such awesomeness, you can refer to this compilation of Bhindi Recipes.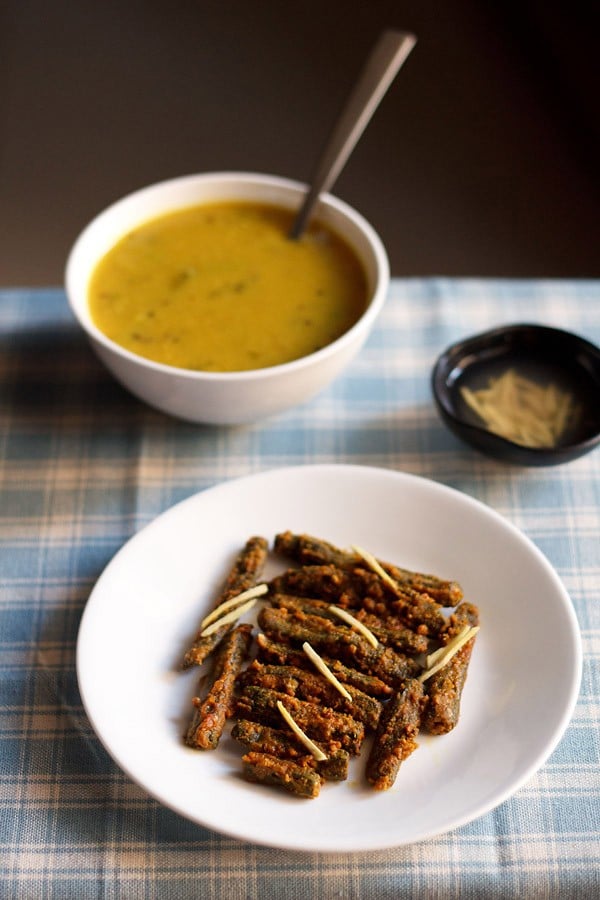 About Besan Bhindi
If you though that the food culture of Rajasthan is all about royal and rustic dishes like ker sangri, Gatte Ki Sabzi, their non-vegetarian fares and rich sweets like ghevar, then you are highly mistaken. Because not just these, it is also about simple, yet sumptuous preparations like this Besan Bhindi, Rajasthani Kadhi and more.
Apart from the besan (gram flour or chickpea flour) and the bhindi (okra) that makes this dish, other ingredients are all those which are easily available at any given time in an Indian home kitchen. So, you really don't have to run shop to shop to source any of it.
The spice list for this Besan Bhindi consists of your basic everyday ones like coriander powder, red chili powder, turmeric powder and garam masala powder. The dried mango powder (amchur powder) that is added in this recipe gives it a much-desired tang, taking the flavors too, a notch higher.
This Besan Bhindi is completely gluten-free. To make it completely vegan too, you can use oil instead of ghee to fry the besan as well. We are not even deep-frying the bhindi in excess oil, but just lightly sautéing in little oil. This also makes it quite a nutritious dish.
This recipe is not that quick to make, but is definitely simple and easy if you follow it the right way. One thing is for sure that once you get a taste of this Rajasthani style Besan Bhindi, you will just want to eat more and more.
More On The Recipe
I have adapted this recipe of Besan Bhindi from the famous Jiggs Kalra's cookbook 'Classic Cooking of Rajasthan.' This cookbook is also a must if you are fond of Rajasthani cuisine. I have tried a few recipes from this book and they all were winners. It has both vegetarian and non-vegetarian recipes, both popular and unusual ones too.
Being a specialty of the cuisine of Rajasthan, along with the spices, besan or gram flour is also very typical in this recipe. This particular flour is roasted first and then the spices are added.
The original recipe calls for frying the okra. To cut down on the fat, I have just lightly sautéed the okra. Frying or sautéing okra before you prepare the dish, reduces the sliminess in the okra. Also, there are no other veggies like onions, tomatoes, etc. added. So overall, there is less chopping work.
Besan wali Bhindi is a no onion, no garlic recipe as well. The end result is a crisp, spiced and masala coated bhindi which goes very well with chapati or phulka. You can relish this Rajasthani Bhindi as a side dish with dal-rice or kadhi-chawal too.
How to make Besan Bhindi
Preparation
1. Mix 1 inch julienned ginger, ½ tablespoon lemon juice, ½ teaspoon sugar and ½ teaspoon water in a small bowl and keep aside for a maximum of 3 hours or 40 to 60 minutes.
This solution of lemon juice and sugar makes the ginger pinkish in color. For some reason unknown to me, the ginger did not get a pink hue.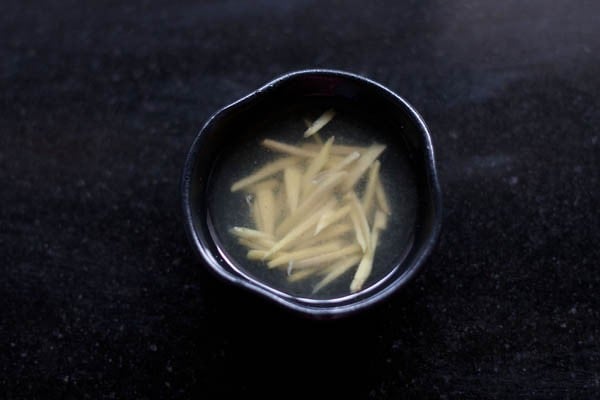 2. Rinse and thoroughly pat dry 200 to 250 grams okra (bhindi). Make 2 or 3 slits on each okra pod, without cutting completely.
Do check to see if there are any worms in the okra by slightly opening the pods.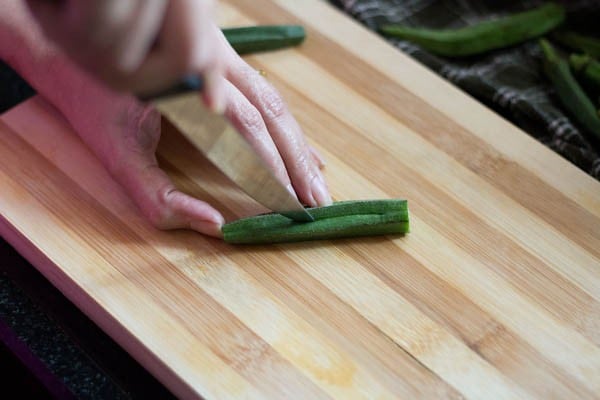 Make Besan Bhindi
3. Heat 3 tablespoons oil in a frying pan and sauté the okra till crisp and browned. You can also sauté the okra in batches.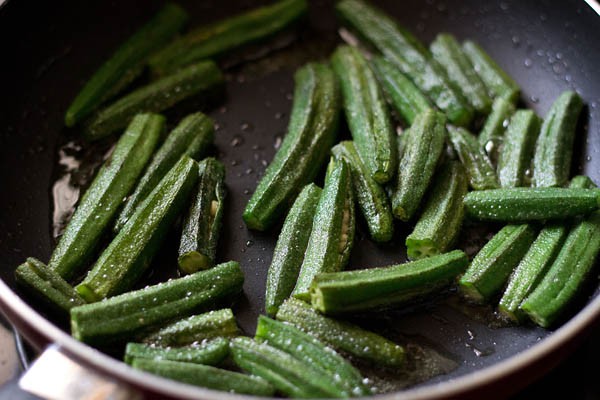 4. Drain on kitchen paper towels.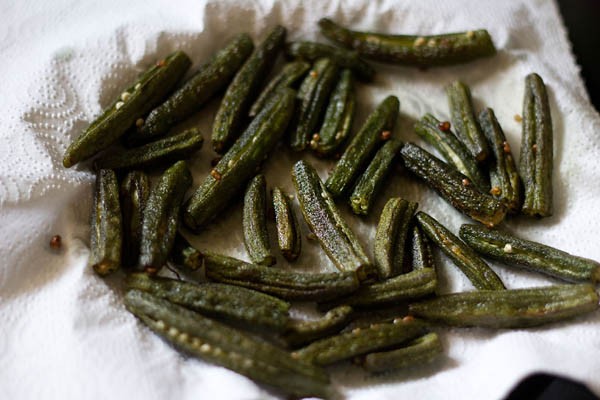 5. Heat ½ tablespoon ghee in a pan and sauté the gram flour (besan), stirring often. The besan has to change color and become aromatic. This is an important step.
If you don't roast the besan well, there will be a raw taste in the final dish. You should be able to see the fat leaving the besan once it is roasted well.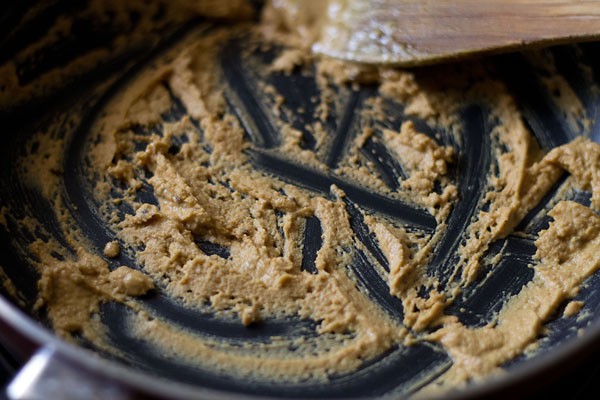 6. Add the sautéed okra. Stir well and you will see the consistency of the besan changing. It becomes more smooth.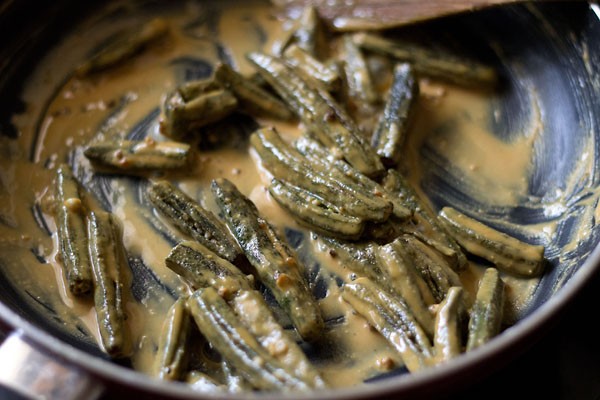 7. Add 1 teaspoon coriander powder, 1 teaspoon dried mango powder (amchur powder), ½ teaspoon red chili powder and ¼ teaspoon turmeric powder.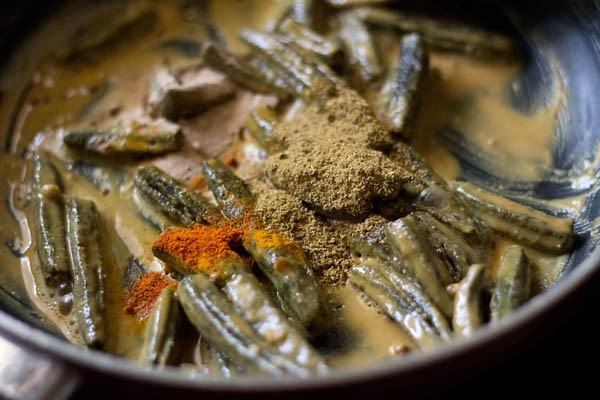 8. Stir and then add ½ tablespoon water along with salt as required. You could skip the step of adding water.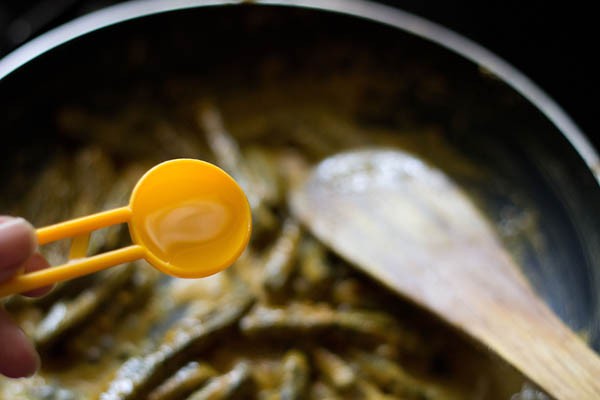 9. Stir and sauté till the besan and the spice mixture has coated the bhindi well.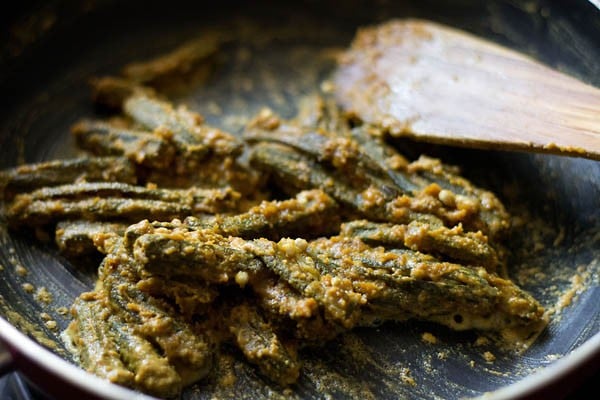 10. Lastly, sprinkle ⅛ to ¼ teaspoon garam masala powder and give a final stir.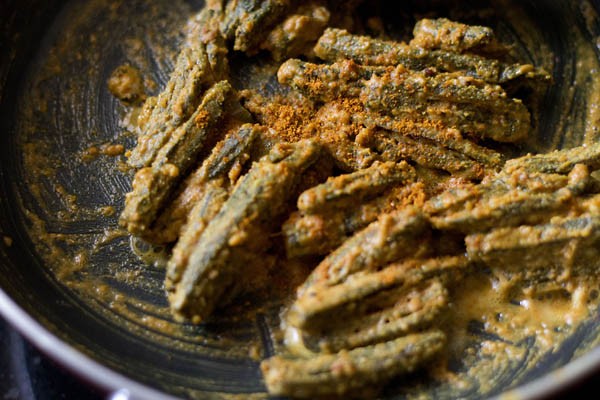 11. Garnish Besan wali Bhindi with only the ginger juliennes from the lemon-sugar-water mixture. You can also garnish with coriander leaves.
Serve hot with chapati, phulka or as a side dish with dal and rice or a Rajasthani meal or North Indian meal.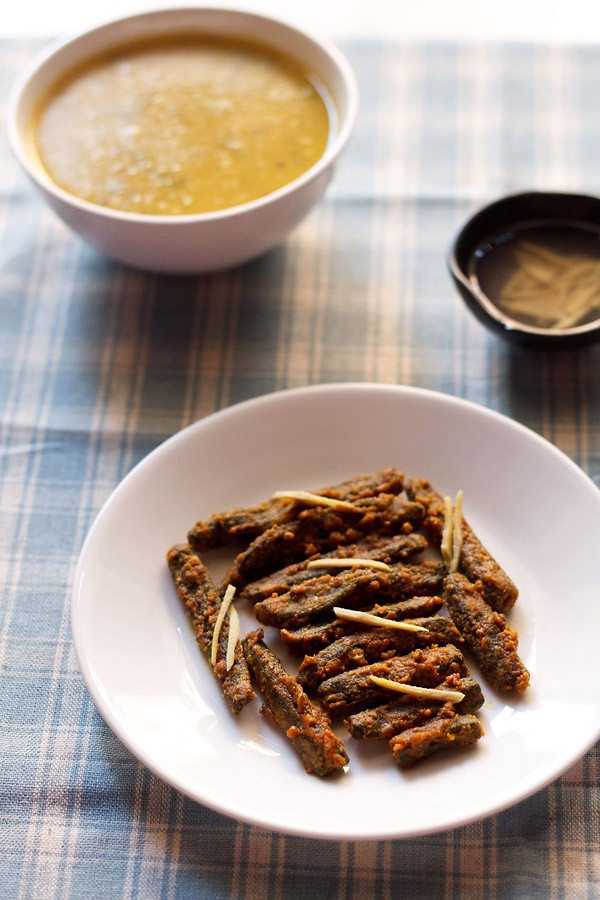 Expert Tips
The ginger juliennes in a lemon juice, sugar and water solution should turn the ginger, pinkish in color. It not just enhances the flavor of this besan wali bhindi, but also makes it pretty to look at.
Serving this dish with the ginger is not mandatory. You can skip adding it as a garnish and serve the bhindi as it is.
To make this dish completely vegan, replace ghee with oil to fry the besan as well.
Make sure to roast the gram flour well, which means it has to become fragrant, change color and you should see fat leaving the flour. If not done so, there will be a raw taste in the final dish.
More Bhindi Recipes To Try!
Please be sure to rate the recipe in the recipe card or leave a comment below if you have made it. For more vegetarian inspirations, Sign Up for my emails or follow me on Instagram, Youtube, Facebook, Pinterest or Twitter.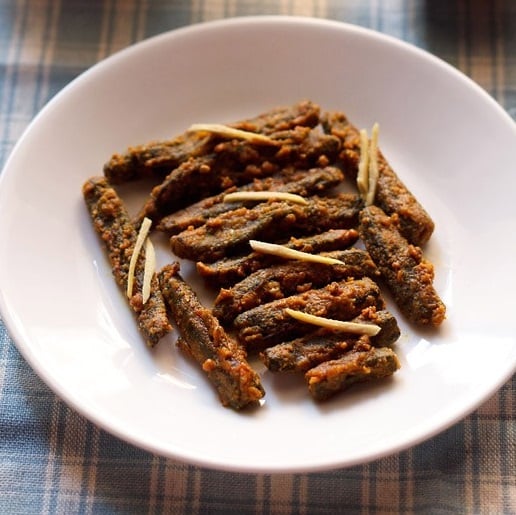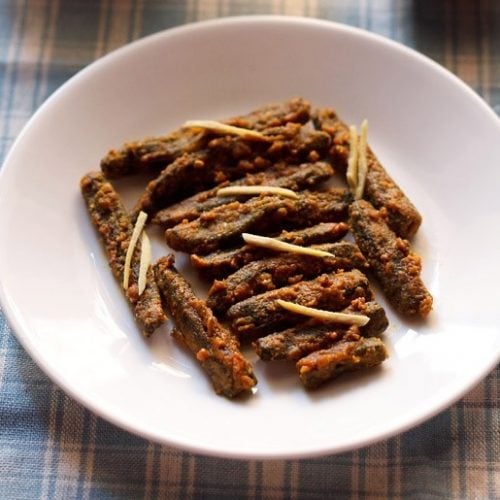 Besan Bhindi (Besan Wali Bhindi)
Besan Bhindi ((also called Besan Wali Bhindi) is a dry, tangy, flavorful and spiced okra dish from the Rajasthani cuisine. It features besan a.k.a gram flour as a unique ingredient which gives a nuttty flavor to the dish.
main ingredients
200 to 250

grams

okra

(bhindi or lady finger), small-sized

4

tablespoon

gram flour

(besan)

1

teaspoon

Coriander Powder

1

teaspoon

dry mango powder

(amchur powder)

½

teaspoon

red chilli powder

or cayenne pepper

¼

teaspoon

turmeric powder

⅛ to ¼

teaspoon

Garam Masala

½

tablespoon

water

– optional

3

tablespoons

oil

for sautéing the bhindi

½

tablespoon

Ghee

for frying the gram flour

salt

as required
For garnish
1

inch

ginger julienned

– or cut into thin strips

½

tablespoon

lemon juice

½

teaspoon

water

½

teaspoon

sugar

1

tablespoon

chopped coriander leaves

(cilantro)- optional
Instructions
Preparation
In a small bowl, mix together the ginger juliennes, lemon juice, sugar and water.

Keep this pickled ginger aside for a minimum of 30 mins to 1 hour or maximum of 3 hours.

Rinse and pat dry the okra (bhindi). Slice off the crowns and the tip of the okra pods.

Then make two or three slits on each bhindi, without breaking them.
Making besan bhindi
Heat 3 tbsp oil in a pan. Add the prepped okra pods. Sauté them till they are crisp and browned.

Drain the bhindi on paper towels to remove any extra oil.

In the same pan, add ½ tablespoon ghee.

Add the gram flour and fry till it changes color and becomes fragrant. Keep on stirring while frying the gram flour so that it does not get burnt.

You should see the fat releasing from the gram flour.

Add the bhindi to the besan. Stir to mix and combine.

Then add all the spice powders (coriander, dry mango powder, red chilli powder and turmeric powder).

Stir well and sprinkle salt and ½ tablespoon water. Adding water is optional and you can also skip this step.

Stir and saute, until the roasted gram flour and spice mixture coats the bhindi well.

Lastly, add garam masala and give a stir.

While serving, garnish with only the julienned ginger that was soaked in lemon-sugar syrup. You could also opt to garnish with coriander leaves.

Serve Besan wali Bhindi hot with roti or chapati or as a side dish with dal rice or curry rice.
Notes
Use fresh tender okra pods.
Ensure that the okra pods are thoroughly dry before you sauté them. Any water or moisture on the pods can make them slimy.
Adjust the ground spices easily in the recipe.
You can scale the recipe to make for larger servings.
Nutrition Info (Approximate Values)
Nutrition Facts
Besan Bhindi (Besan Wali Bhindi)
Amount Per Serving
Calories 327
Calories from Fat 234
% Daily Value*
Fat 26g40%
Cholesterol 10mg3%
Sodium 607mg26%
Potassium 456mg13%
Carbohydrates 20g7%
Protein 5g10%
Vitamin A 880IU18%
Vitamin B1 (Thiamine) 1mg67%
Vitamin B2 (Riboflavin) 1mg59%
Vitamin B3 (Niacin) 1mg5%
Vitamin B6 1mg50%
Vitamin C 25mg30%
Vitamin E 9mg60%
Vitamin K 35µg33%
Calcium 93mg9%
Vitamin B9 (Folate) 127µg32%
Iron 2mg11%
Magnesium 85mg21%
Phosphorus 112mg11%
Zinc 1mg7%
* Percent Daily Values are based on a 2000 calorie diet.
This Besan Bhindi recipe post from the archives first published in February 2014 has been republished and updated on November 2022.