Collection of 36 vegetarian moong dal recipes – lentils form a staple in Indian cuisine. There are a variety of lentils that are consumed in India. Out of them moong lentils is one of the commonly used lentil. There are many recipes which are made with moong lentils. In this post I am compiling all these recipes in one collection list.
In ayurveda, moong is one lentil which is recommended for balancing all three doshas (kapha, pitta & vata). Even plain mung dal khichdi sans any seasoning or spices is consumed as part of a detox diet. Its also a good source of protein for vegetarians. So do try to include moong lentils in your diet.
There are many delicious recipes which you can make with them. Since moong dal is easily digestible, moong dal khichdi made with some rice and a bit of turmeric, is recommended as one of the weaning foods for babies. Due to the fact that moong dal is easy to digest, moong dal khichdi is also recommended to people recovering from illness.
Preparing moong sprouts from whole moong dal is another way you can have them in your diet. In this collection I have also included healthy recipes that can be prepared with moong sprouts. Some mixed sprouts recipes are also included in the list as moong bean sprouts is also one of the beans added in mixed bean sprouts.
Although, you can get ready made sprouted moong beans from market but it is always better and healthy to sprout moong beans at home. I have already written a detailed post on How to sprout moong beans at home. You can also check my post on Making mixed bean sprouts at home.
You can also check these Similar recipes collections:
Collection of 36 Moong dal recipes
1. Moong dal khichdi recipe – one pot meal of rice and moong lentils. Light and easy to digest meal. in India, when someone is ill or recovering from illness, then dalia and moong dal khichdi are often served to him/her. Even doctors recommend khichdi to patients.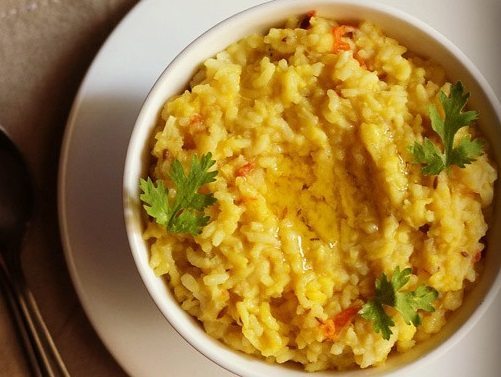 2. Moong dal – this moong dal tadka is a spiced version of a tasty dal with flavors of tempered cumin, garlic, garam masala powder and red chili powder.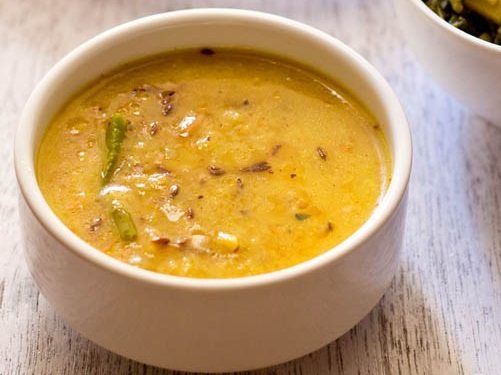 3. Moong dal cheela recipe – healthy and nutritious chillas made with moong lentils. To make these moong dal chillas the moong lentils need to be soaked overnight or for some hours.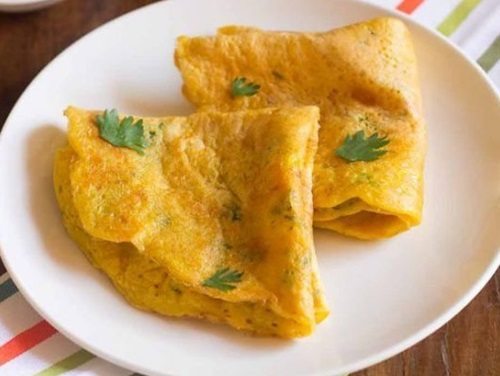 4. Moong dal payasam recipe – creamy and a delicious payasam made with yellow mung lentils, jaggery and coconut milk. For more delicious kheer recipes, you can check this Collection of 24 kheer varieties.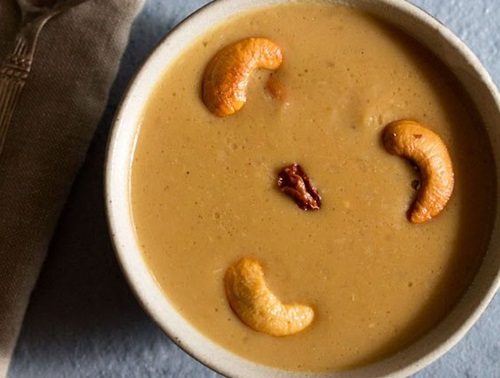 5. Moong dal dosa recipe – pesarattu dosa or moong dal dosa Is a popular breakfast recipe of Andhra Pradesh. This is a healthy & nutritious dosa variety. Vegan as well as gluten free. Pesarattu dosa is served with upma. The dosa can be served with coconut chutney. They also taste good with a simple coriander chutney also.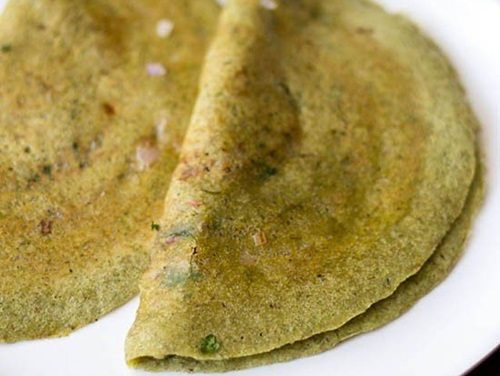 6. Ven Pongal recipe – ven Pongal is a South Indian breakfast made with rice and yellow moong lentils. This porridge like savory dish is laced with cumin, asafoetida and black pepper. Not to forget the lovely aroma of ghee, which is used for tempering these spices.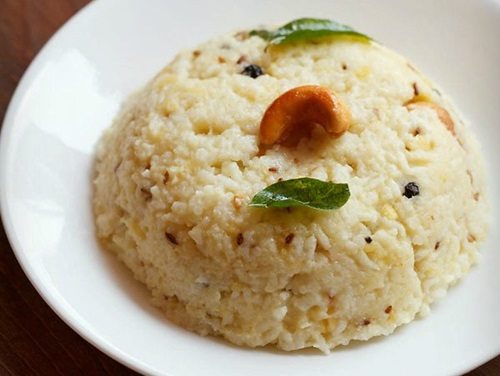 7. Punjabi sabut moong dal recipe – the taste of this sabut moong dal is like a home cooked dal and really goes well with rotis or steamed rice. If I make a side veggie dish, I serve the dal with steamed rice or we just have it with rotis with a side veggie salad.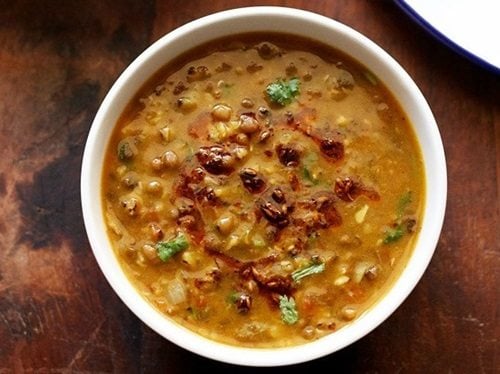 8. Moong dal halwa recipe – a popular and rich halwa recipe from north India. Moong dal halwa is usually made on celebratory or festive occasions like Holi, Diwali, marriages etc. For more delicious halwa recipes, you can check this Collection of 28 halwa varieties.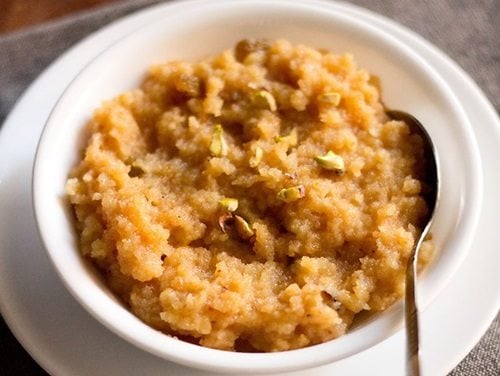 9. Bengali khichdi recipe – bhaja muger dal or moong dal khichuri is always made during durga puja festival. This khichdi is served as bhog to maa durga along with some other Bengali delicacies. the khichdi has an addition of mixed vegetables that we generally add to pulao like – cauliflower, green peas, potatoes, carrots etc.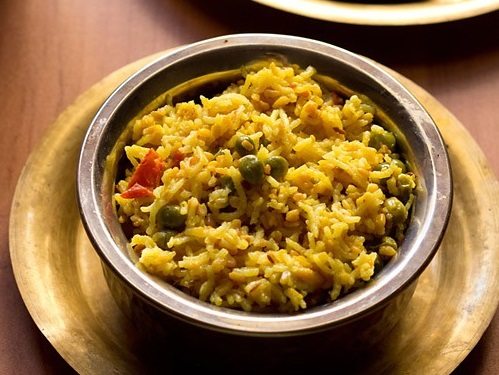 10. Moong dal ladoo recipe – easy recipe of delicious ladoos made with moong lentils, ghee and sugar. these moong dal ladoos taste much like besan ladoo. If you make besan ladoos for festive occasions, then for a change try making these moong dal ladoos and you will definitely like them. For more delicious ladoo varieties, you can check this Collection of 22 ladoo recipes.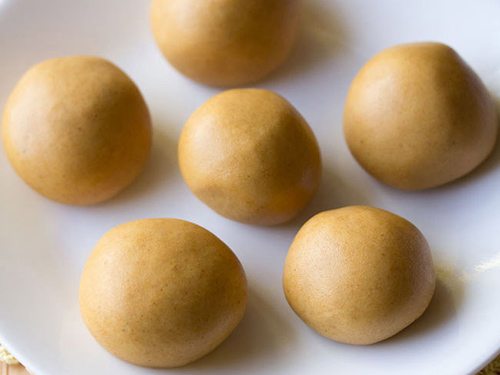 11. Akkha masoor dal recipe – spiced whole red lentils or masoor dal dish from the Kolhapuri cuisine. The recipe is a semi dry version. Though you can also make a dry dish.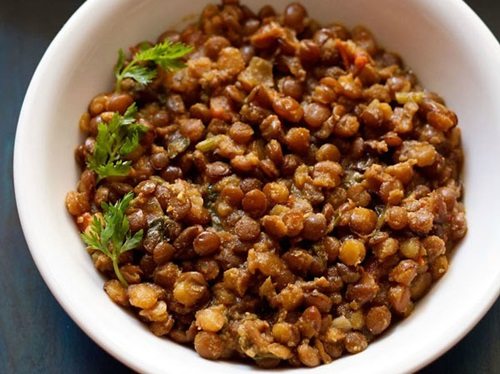 12. Moong dal dhokla recipe – healthy and nutritious moong dal dhokla. Dhokla is a popular Gujarati snack. best accompaniment to the moong dal dhokla is mint cilantro chutney or coconut chutney. Also it can go with raw papaya chutney or tamarind dates chutney.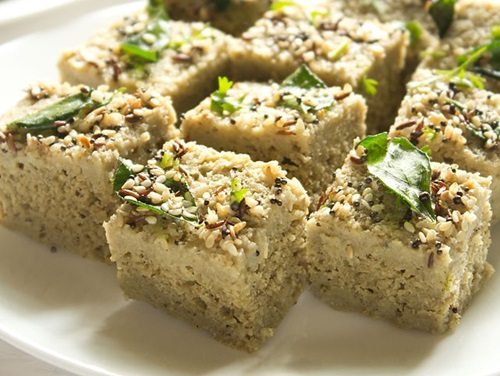 13. Moong dal bhajiya recipe – moong dal bhajiya or moong dal pakora is a street food snack from Mumbai. These are fried fritters made from yellow mung lentils and mildly spiced.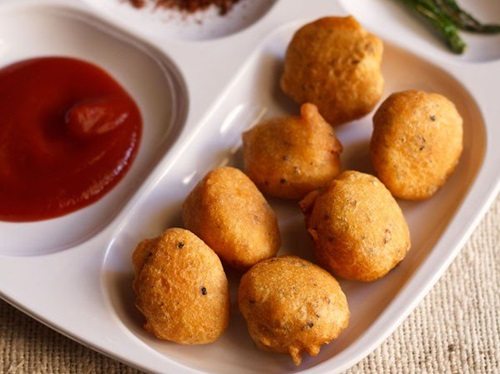 14. Dal kachori recipe – flaky kachoris made with a spiced moong lentils stuffing. Kachoris are basically deep fried breads. There are many varieties of kachori recipes in the Indian cuisine and moong dal kachori is a popular one.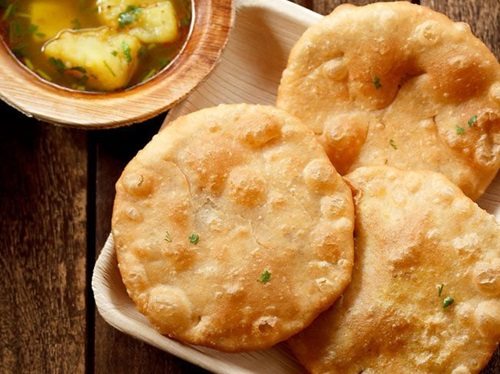 15. Ram ladoo recipe – a popular street food snack from Delhi. These are basically fried pakoras or vadas made from moong dal and chana dal batter. However they are called as ram ladoos.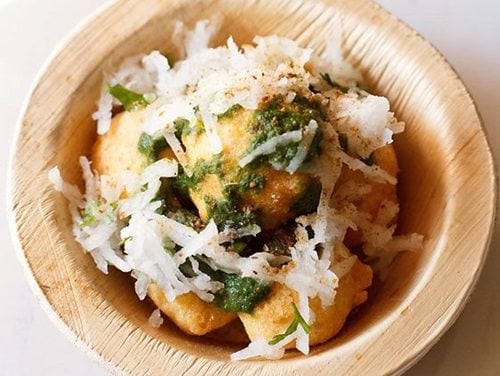 16. Masala khichdi – spiced moong dal khichdi with mix vegetables. here is a variation of a khichdi recipe that is slightly spicy and includes mix veggies. Warm, comforting and nutritious. You can serve masala khichdi with a side salad, pickle, roasted papads or curd.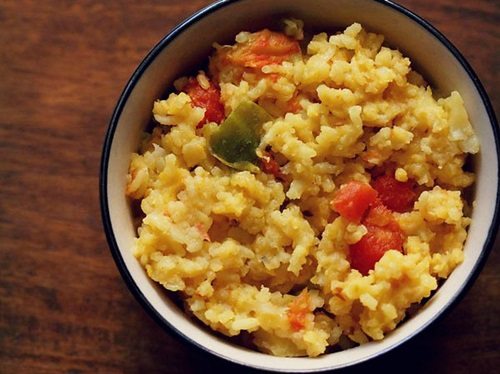 17. Sweet Pongal recipe – sweet porridge like dish made with rice and mung lentils, flavored with cardamoms and dry fruits. Sweet Pongal is also known as sakkarai Pongal in tamil language is a sweet dish made during festive occasions in south India. It is also served in temples in south India.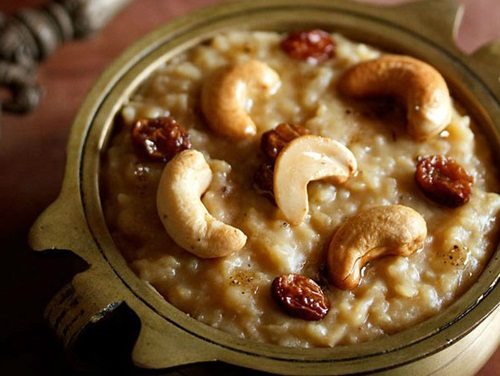 18. Turai ki sabzi – easy homely recipe of ridge gourd bhaji with moong dal. ridge gourd is also called as turai in hindi and dodka in marathi. We call it as shirali.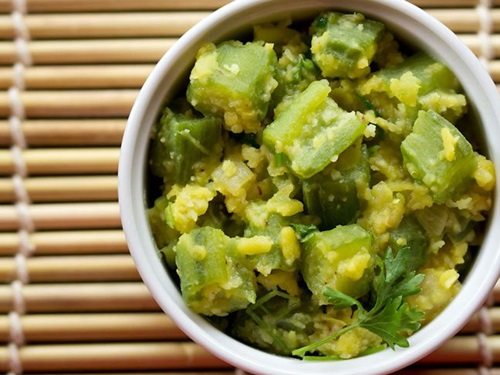 19. Moong dal fry recipe – quick and easy to make dal fry with mung lentils, onions, tomatoes and spices.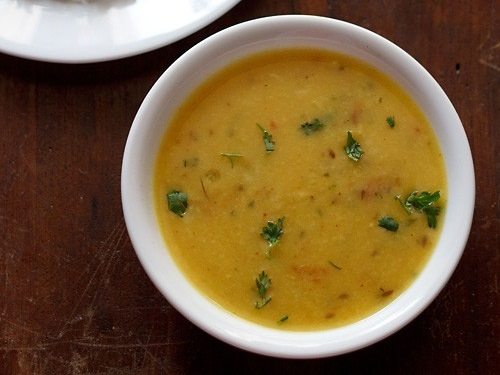 20. Pudina moong dal recipe – this is a simple, easy and quick moong dal recipe. I have used mint and garlic for the flavorings. I have not used onions and tomatoes in this recipe.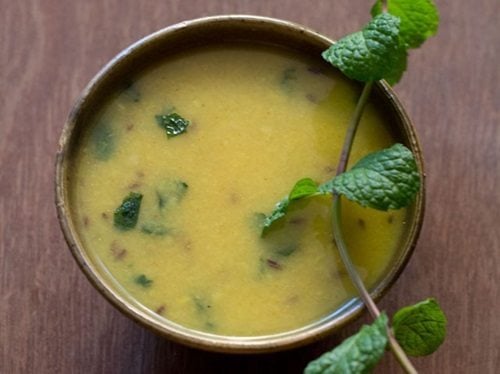 21. Suva bhaji recipe – simple yet tasty homely recipe of dill leaves with moong lentils. Suva are also known as dill leaves in english and shepu in marathi language. these leaves have a strong aroma and slight pungent taste.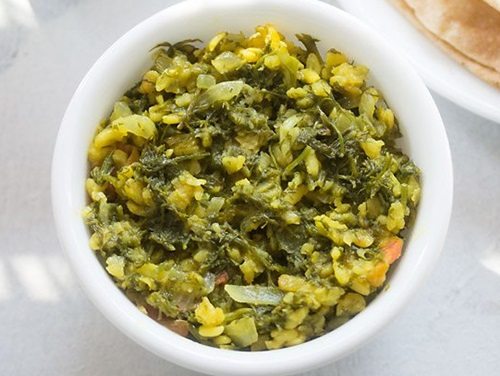 22. Moong urad dal vada recipe – tasty vadas made from moong dal and urad dal. spongy, porous from inside and crisp from outside. You can serve these tasty moong urad dal pakoras with tomato sauce or green chutney or pudina chutney.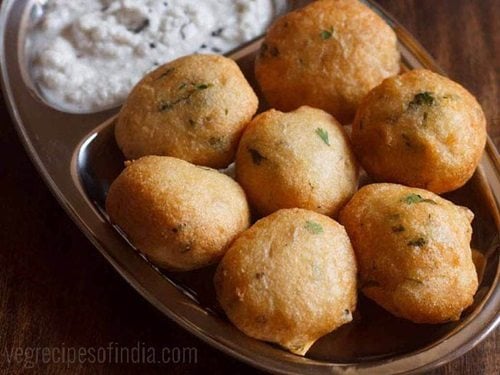 23. Cabbage kootu recipe – tasty South Indian style recipe of cabbage and moong lentils with coconut and spices. This cabbage dal recipe is very easy to prepare and tastes great with steamed rice. For more tasty cabbage recipes, you can check this Collection of 14 cabbage recipes.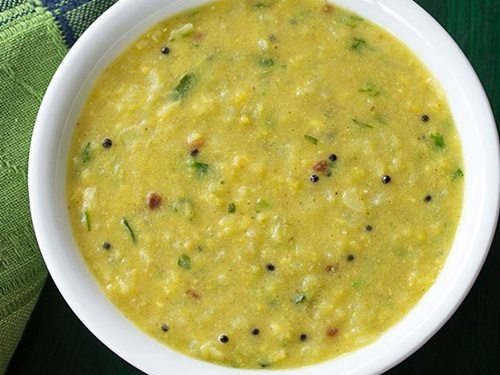 24. Moong dal khichdi recipe for Ganesh Chaturthi – a simple and very easy moong dal khichdi recipe for Ganesh Chaturthi festival. This moong dal khichdi is prepared as a naivedyam for lord ganesha and is made using minimal ingredients and spices. This is a no onion no garlic khichdi recipe.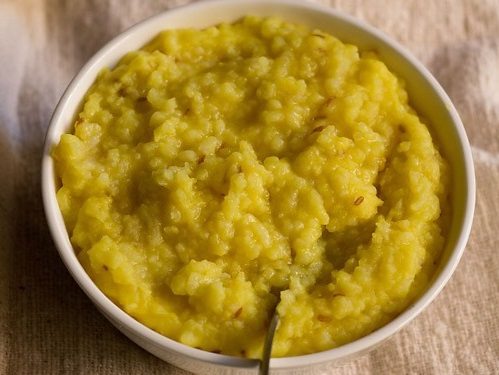 25. Trevti dal recipe – home style Gujarati dal made with a combination of three dals or lentils – chana dal (bengal gram), moong dal (mung lentils) and arhar dal (pigeon pea lentils).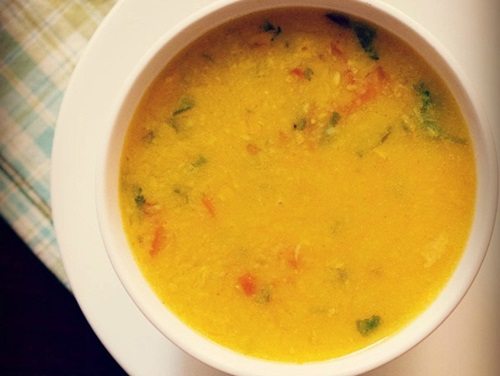 26. Lasooni dal palak fry recipe – there are some variations that can you do in a basic Dal fry recipe. this recipe of lasooni palak dal fry has spinach (palak) added in good amounts. The dal is also tempered with lots of garlic (lasoon or lahsun). So you get a garlicky flavored spinach dal.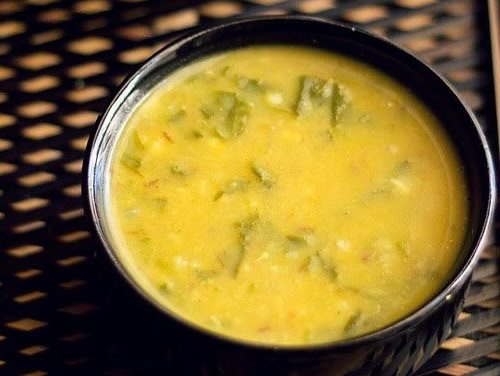 27. Rajasthani panchmel dal recipe – it is a protein packed dish as it contains the goodness and nutritive qualities of 5 different lentils. panchmel dal is also known as panchratna dal and is made with these 5 lentils – chana dal, urad dal, moong dal, arhar dal and moth dal.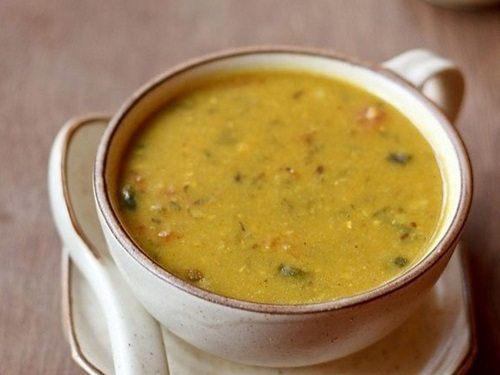 28. Bajra khichdi recipe – a warming and nutritious khichdi variety made with pearl millet. This khichdi is very popular in the regions of haryana and Rajasthan. bajra is warming to body and it is good to consume these nutrition packed millets in winters.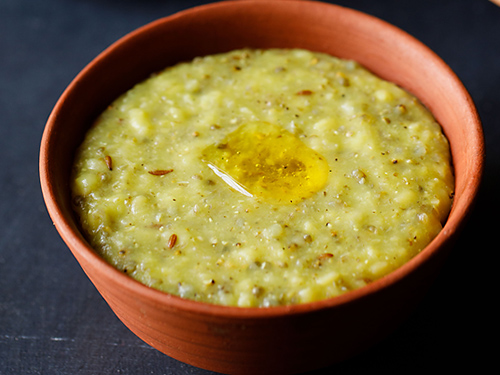 29. Oats khichdi recipe – healthy and delicious one pot oats khichdi made with oats, mix vegetable and moong dal. you can use quick cooking oats as well as rolled oats to prepare the recipe. oats khichdi can be served plain or along with some curd, raita or pickle.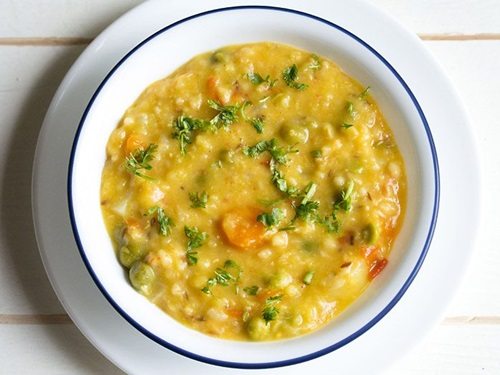 30. Palak khichdi recipe – a sumptuous and nutritious khichdi made with mung lentils, rice, spinach and peanuts. easy to prepare as well as healthy and light on the stomach.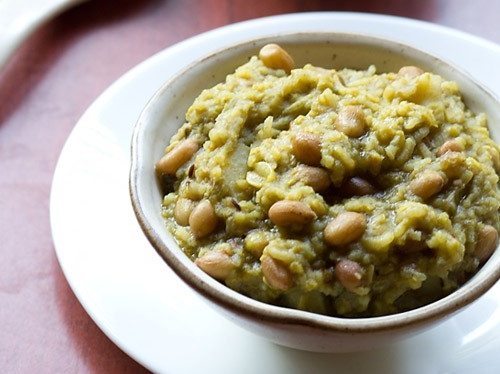 Recipes made with moong sprouts
1. Moong sprouts salad recipe – very easy as well as a very healthy salad recipe. This salad made from moong sprouts is specially good for people who does not have much time for cooking or who does not know much about cooking. For more healthy salad recipes, you can check this Collection of 16 salad recipes.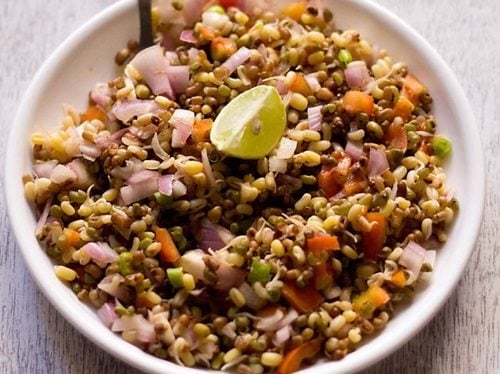 2. Moong sprouts sabzi recipe – an easy and healthy recipe of a semi dry curry made with moong sprouts.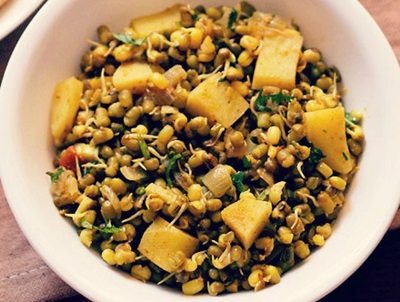 3. Moong sprouts chaat recipe – easy, quick and tangy chaat made with mung bean sprouts. in the moong sprouts chaat, I have added boiled potatoes, tomatoes and onions. You could also add some grated carrots, cucumber or beets. For more tasty chaat recipes, you can check this Collection of 30 chaat recipes.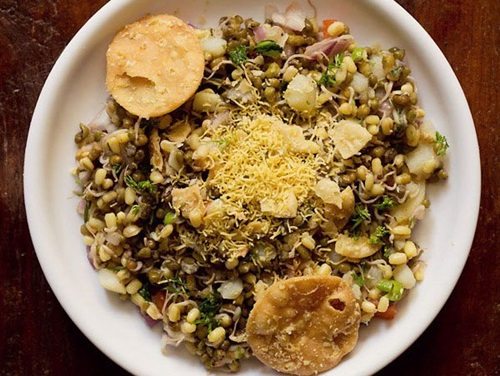 4. Usal recipe – usal is a Maharashtrian curried dish made with legumes/sprouted legumes or mixed sprouted legumes and is had with pav (bread), chapati or rice. This recipe is Malvani usal and one of the oldest recipes I had posted made with mixed bean sprouts. It can also be made with moong sprouts only.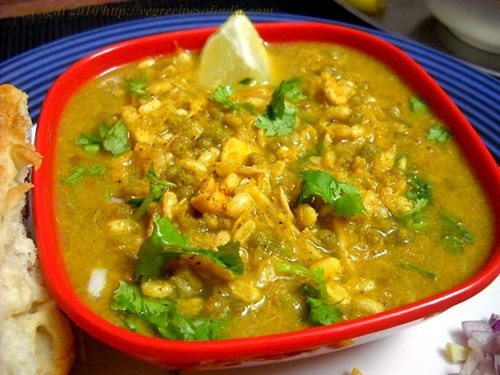 5. Mixed Sprouts curry recipe – a nutritious curry made with mixed sprouts. You can serve this mixed sprouts curry with phulkas and rice bhakri. It also goes well with bajra roti or jowar roti. The curry also goes well with whole wheat bread.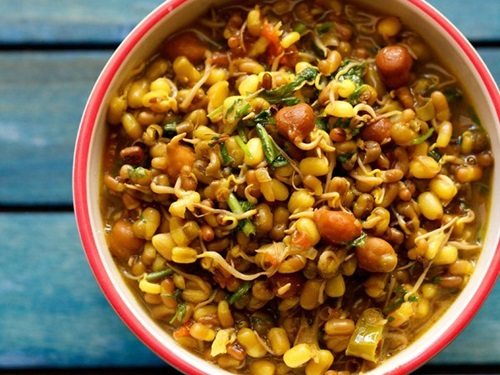 6. Mixed sprouts usal recipe – easy and delicious recipe of usal made with mixed sprouts, onions, tomatoes and spices. usal goes very well with chapatis, bread rolls (pav) and even steamed rice.