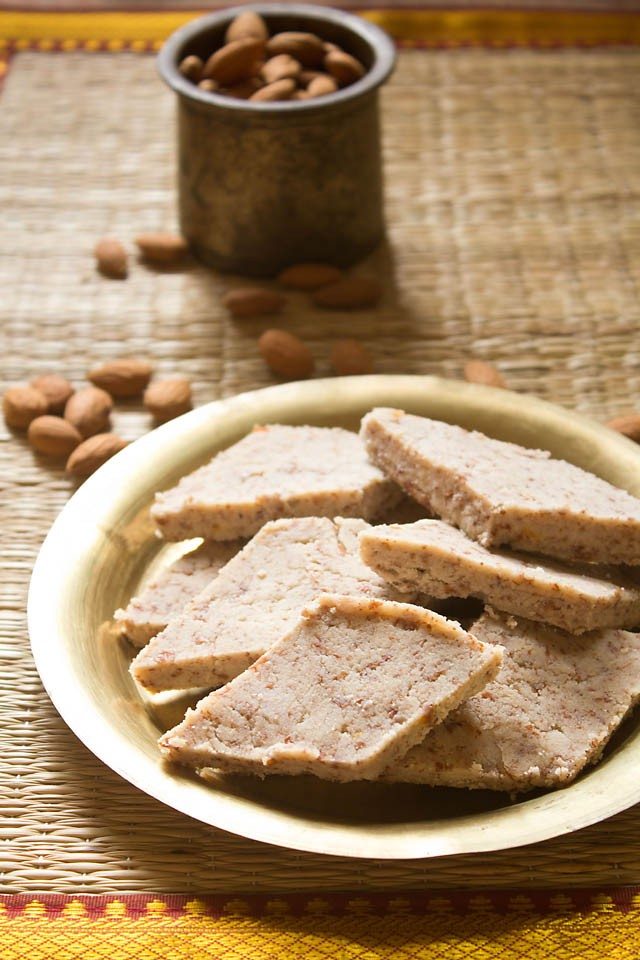 almond halwa recipe with step by step photos – i had made the almond halwa or badam halwa as we call it in hindi for dussehra festival, but could not post the recipe at that time. so had decided that will post it before diwali.
sweets and sweets is what we see during the diwali festival. when we were kids, our neigbours would gift us both savory and sweet diwali treats and they would be sooo much that all of us would get bored of these after 2-3 days 🙂
i always preferred the savory ones over the sweet mithais. amongst the sweet mithai, i used to only like cashew barfi or kaju katli. till today it is my favorite.
i plan to make kaju katli this time for diwali along with some gulab jamuns too. plan to make some chaklis too.
okay, now coming back to this almond halwa. it is a super light and not at all a heavy dessert. there is very less oil in the halwa. in this halwa you won't see oil or ghee oozing out from anywhere.
the predominant taste and flavor in this badam halwa is only of almonds and almonds.. if you are fond of almonds then you will like this almond halwa.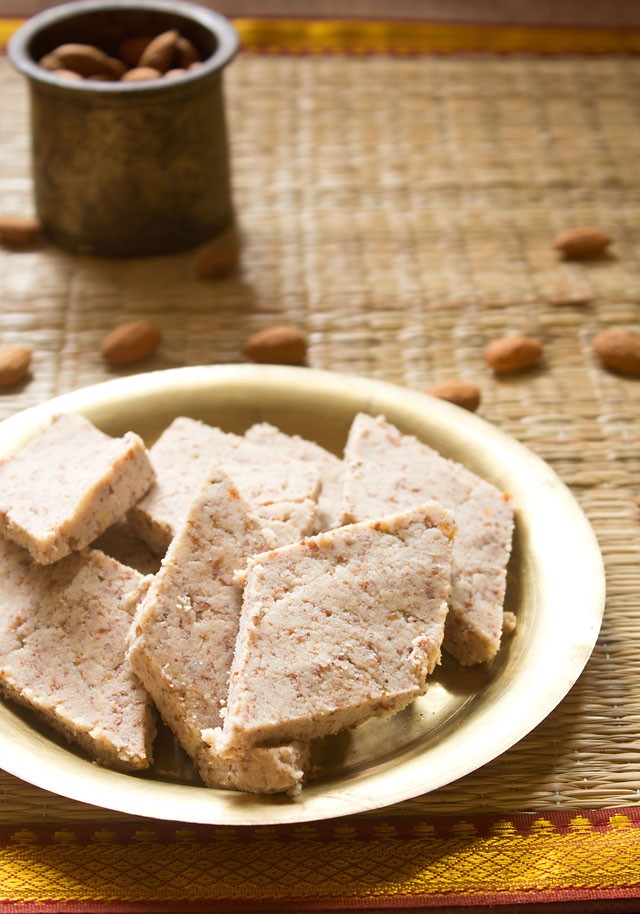 instead of ghee, i have added coconut oil. the almonds over power the aroma of the coconut oil and you won't even know there is coconut oil in the halwa.
though you can add sunflower oil or add ghee if you prefer. made with simple ingredients this is a super light healthy almond halwa.
if you are looking for more halwa recipes then do check lauki halwa, apple halwa, atte ka halwa, rava kesari, sooji halwa and moong dal halwa recipe.
almond halwa recipe below: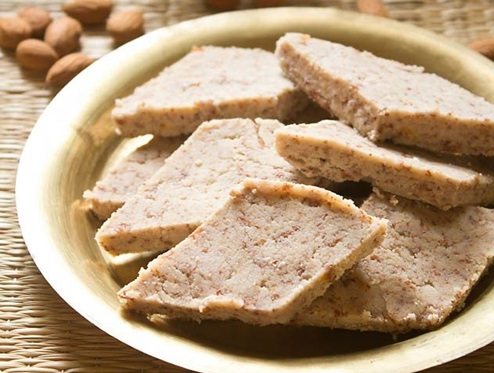 almond halwa recipe | badam halwa recipe
made with simple ingredients this is a super light and healthy almond halwa recipe.
total time
6
hours
50
minutes
calories per serving
318
kcal
ingredients (1 cup = 250 ml)
for blending the almonds:
1

cup

almonds soaked overnight or blanched

(badam)

1

cup

water for soaking

¾

cup

water for blending or grinding
other ingredients:
2

pinches

of saffron

(kesar)

5 to 6

green cardamoms,

crushed

¼

cup

water or milk

¼

cup

sugar

2

tablespoons

coconut oil
how to make recipe?
blend the soaked almonds with 2 cups water to a smooth paste.

take the almond paste in a pan. cook till the mixture thickens and dries.

now add sugar. stir. add water and stir again.

keep on stirring. add oil.

stir and cook till the whole mixture becomes lumpy and thick.

lastly add saffron and cardamom and stir.

pour on a greased plate or pan.

let the almond halwa cool.

slice in diamond or rectangular shapes.

you can also refrigerate the almond halwa and then slice them.

badam halwa stays good for 5-6 days in the refrigerator.
step by step badam halwa or almond halwa recipe:
1: soak or blanch 1 cup almonds in 1 cup water. what you see below is almonds soaked overnight and drained. blanching the almonds would help in peeling them easily. soaked ones take a lot of time. so i did not peel the almonds.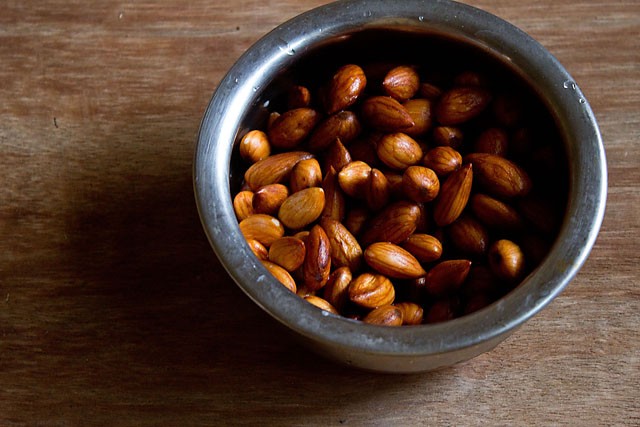 2: blend the almonds with ¾ cup water in a blender or grinder to a smooth paste. take the almond puree in a wide pan.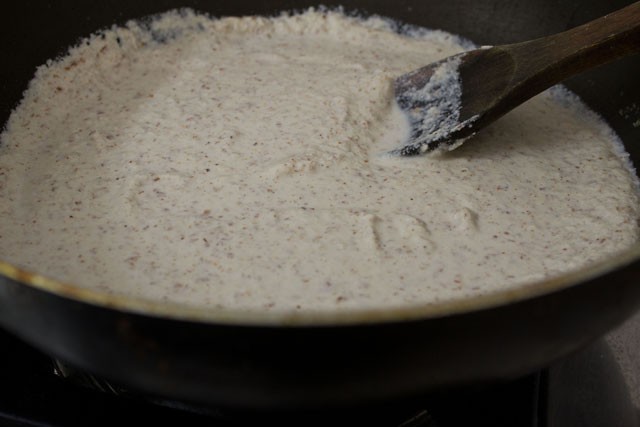 3: start cooking the almond paste on a low to medium flame.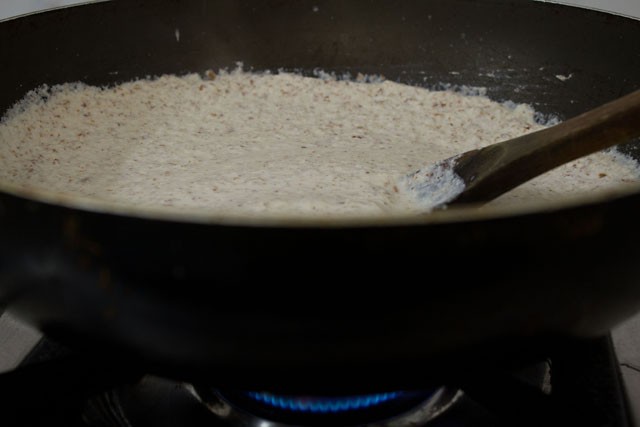 4: keep on stirring the paste at intervals. the paste splutters, so be careful while stirring.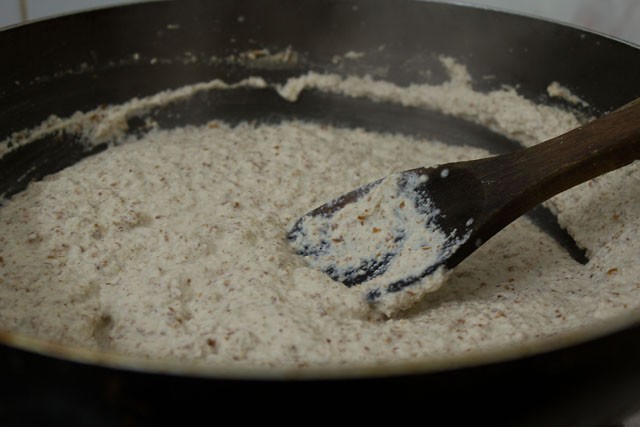 5: the paste would start becoming dry and will become thick. this is how the paste appears after 12 to 13 minutes.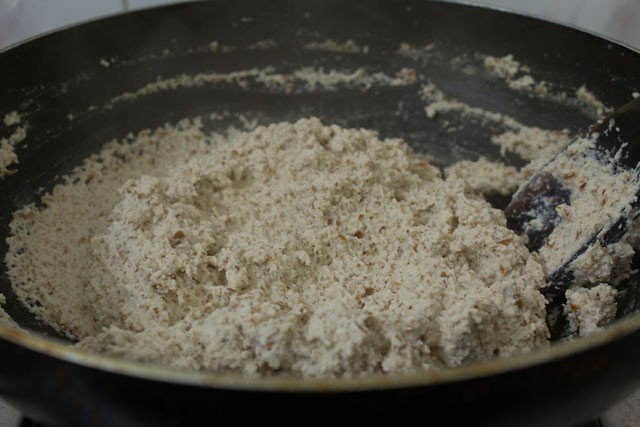 6: at this stage add ¼ cup sugar.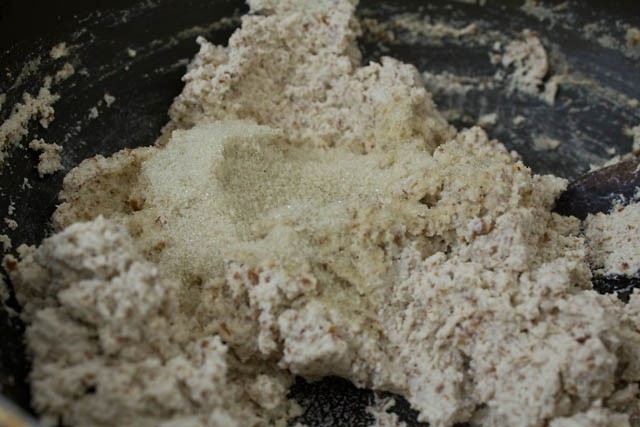 7: stir and then add ¼ cup water. you can also add milk instead of water.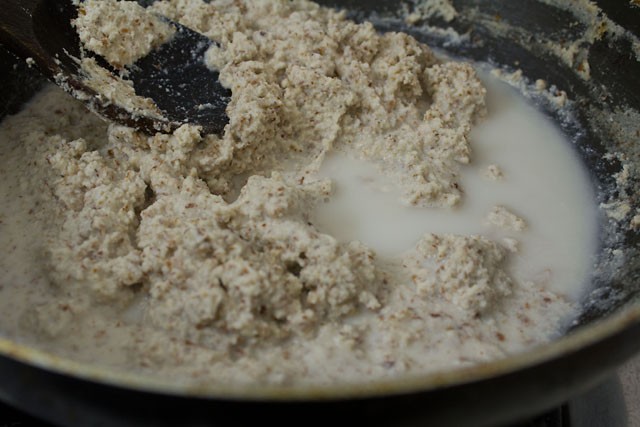 8: again stir and mix well.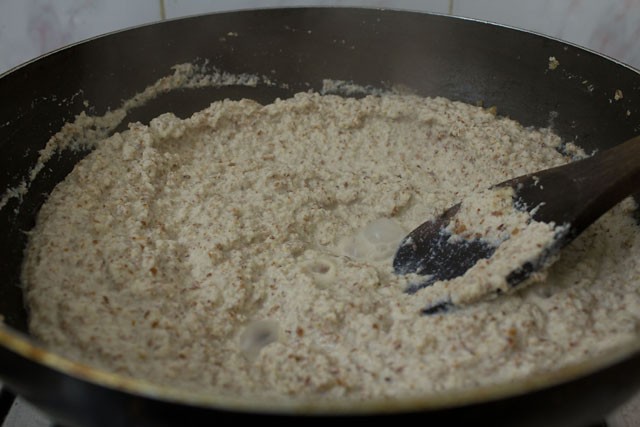 9: add 2 tablespoons coconut oil.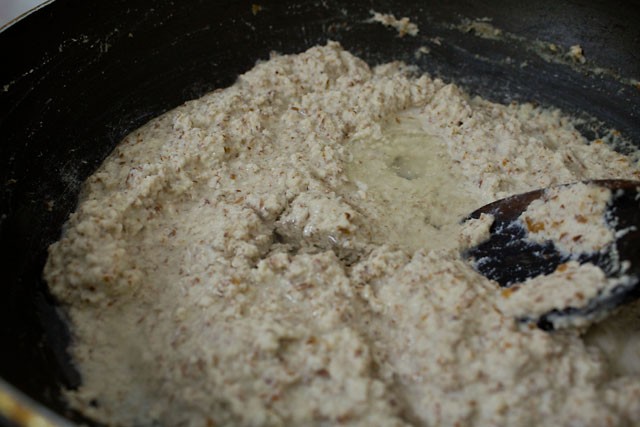 10: stir and let the mixture cook for some 20 minutes more. be ready to exercise your wrist muscles with the constant stirring 🙂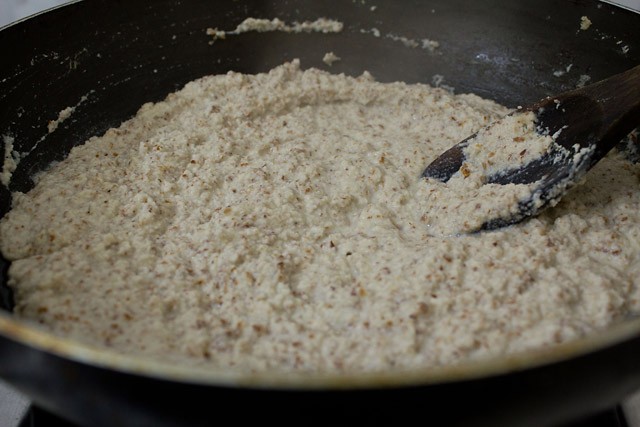 11: thickened a bit. 9 minutes after adding oil.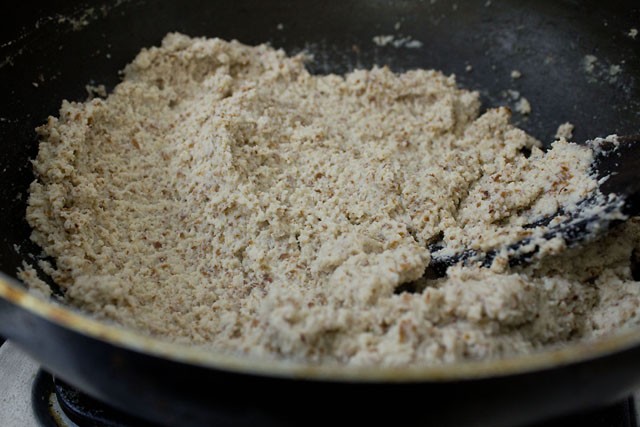 12: has become lumpy and thickened very well. after 10 minutes. the mixture has to become lumpy and it should stick to each other. if you add more oil or ghee you will see the oil separating out at this stage very clearly.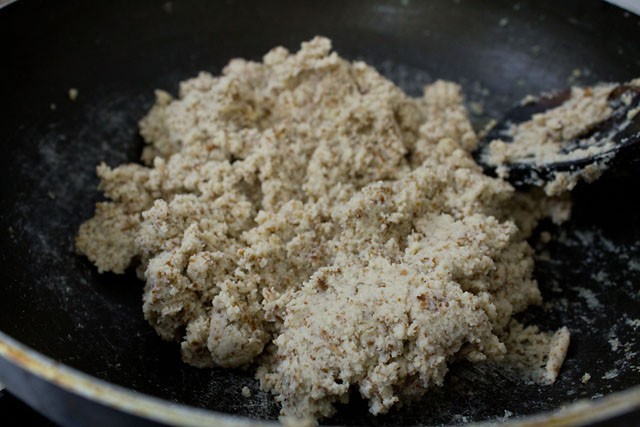 13: time to add 5 to 6 crushed green cardamoms and 2 pinches of saffron/kesar. mix well and switch off the fire.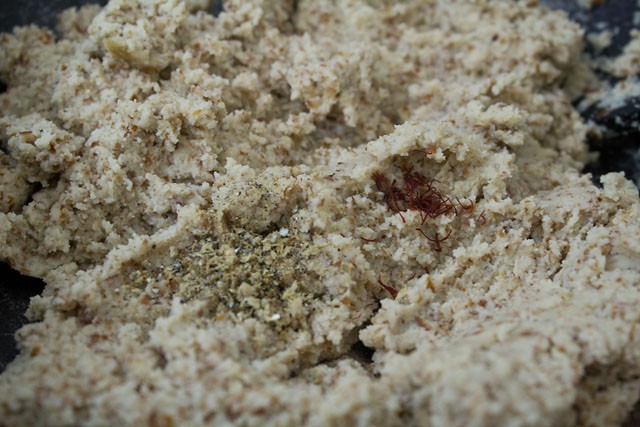 14: now you can serve the almond halwa warm or hot in serving bowls or spread the hot halwa evenly on a greased plate or baking tray. if you want you can apply silver paper (varaq) on top of the badam halwa. i avoid all these things due to contamination in the varaq.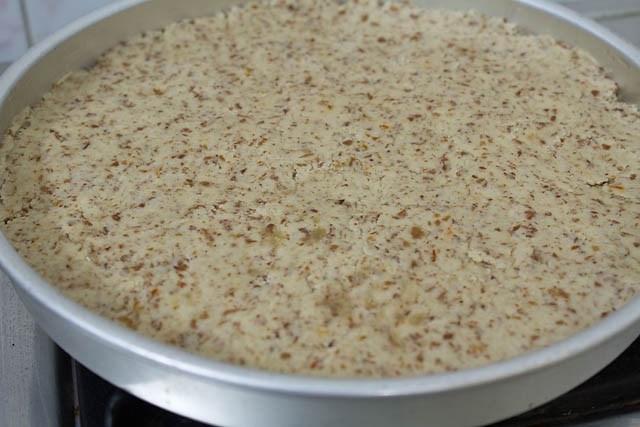 15: once the badam halwa cools, then slice in square or diamond shapes.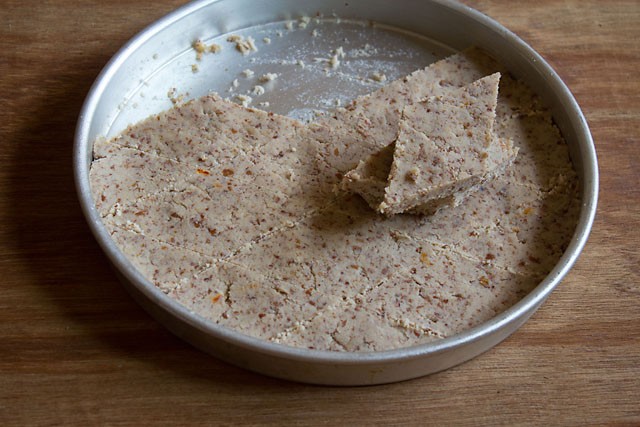 16: serve almond halwa and enjoy.