Read This Recipe in -> Hindi
Vegetable Sambar Recipe with Step by Step Photos – An easy and quick method to make delicious Sambar in pressure cooker. I usually make sambar using the method I have mentioned in this post as this is a very easy method for making sambar and less time consuming for me.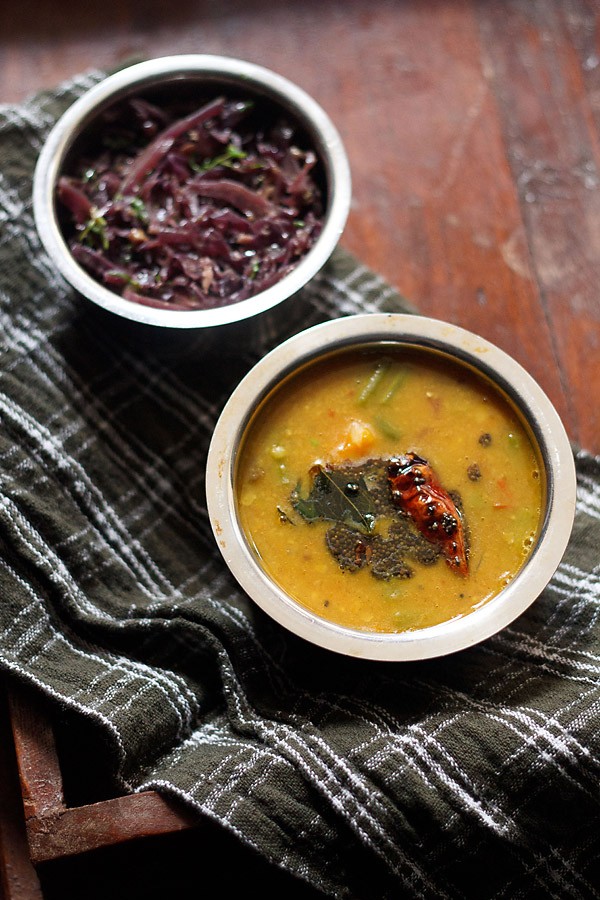 When you are in a hurry to cook a meal then these quick recipes are life saver. I have already shared many recipes posted on blog which are made in pressure cooker and are thus much easy and quick to prepare:
In this sambar recipe, I use sambar powder and cook the vegetables and yellow lentils (arhar dal) in a pressure cooker. Cooking in pressure cooker reduces the cooking time considerably.
Usually the vegetables are cooked separately and then the mashed dal is added to the cooked vegetables. In this recipe, I have used veggies like small brinjals, okra, french beans, potatoes, shallots and tomatoes. However, you can have your own choice.
Sambar can be served with steamed rice, idlis, dosas or vada or uttapam.
if you are looking for more more sambar recipes then do check tomato sambar, kerala sambar, udipi sambar, vegetable sambar and hotel style tiffin sambar recipe.
Vegetable Sambar Recipe in pressure cooker Below:
vegetable sambar recipe
Sambar recipe - an easy and quick recipe to make vegetable sambar using pressure cooker.
ingredients (1 cup = 250 ml)
ingredients for sambar recipe:
½

cup

tuvar or arhar dal

(pigeon pea lentils)

1 to 1.5

cups

cleaned and chopped vegetables

like okra, french beans, potatoes, shallots or onions, small round brinjals, tomatoes

1

tablespoon

seedless tamarind

(imli) soaked in ⅓ cup water

1 to 1.5

tablespoons

sambar powder

½

teaspoon

red chilli powder

½

teaspoon

turmeric

(haldi powder)

a pinch of asafoetida

(hing)

2 to 2.5

cups

water,

for pressure cooking the dal

1

cup

water

to be added later or add as required

salt as required
tempering (tadka/chaunk) for sambar:
2

tablespoons

sesame oil (gingelly oil),

can also use peanut oil or sunflower oil

2 to 3

dry red chillies

(sookhi lal mirch)

1

teaspoon

mustard seeds

(rai)

1

pinch

fenugreek seeds

(methi seeds), optional

1 to 2

pinches

asafoetida

(hing)

2 to 3

garlic cloves

crushed lightly with the peels, optional

10 to 12

curry leaves
how to make recipe
preparation for vegetable sambar recipe:
first soak the tamarind in warm water for 30 mins.

pick and rinse the dal in water well.

chop all veggies and keep aside.

if using brinjals, then keep them immersed in water in which a bit of salt is added, so that they don't darken.
making sambar recipe:
cook dal in 2 to 2.5 cups water in the pressure cooker for 8-9 whistles on medium to high flame. the dal should become soft and mushy.

once the pressure settles down on its own, remove the lid.

now add the chopped veggies, turmeric powder, red chili powder, asafoetida and salt. add 1 cup water and stir well.

pressure cook again for 1 whistle on medium to high flame. once the pressure settles down on its own, remove the lid.

add the sambar powder and tamarind pulp. if the consistency of sambar is thick, then add some water.

keep the cooker on the stove and and then simmer the sambar for 10 to 12 minutes on a low flame.

keep on stirring at intervals so that the dal does not stick to the bottom. switch off and keep the sambar covered.
tempering for quick sambar recipe:
in a small pan, heat oil. crackle the mustard seeds first.

then add the fenugreek seeds, garlic, red chilies, asafoetida and curry leaves.

fry till the garlic turns a light brown and the red chilies change color. pour the whole tempering in the steaming hot sambar. close with a lid so that the flavors infuse for about 5-6 minutes.

later stir and then serve the vegetable sambar with steamed rice or idli or dosa or medu vada.
recipe notes
for faster cooking you can soak the lentils in water for 30-45 mins before cooking them.
usually the vegetables are not cooked in a pressure cooker but in another pan. but cooking the vegetables in the pressure cooker saves a lot of time and also preserves the nutrients of the vegetables.
you can also add about ¼ or ½ teaspoon garam masala powder to the sambar when you add the veggies. the use of garam masala powder gives a spicy flavour and taste to sambar.
How to make Quick Vegetable Sambar Recipe:
1: Sambar uses tamarind pulp as it lends a subtle sour flavor and taste to it. So first to make the tamarind paste, take some warm water and soak the tamarind in it for 30 mins.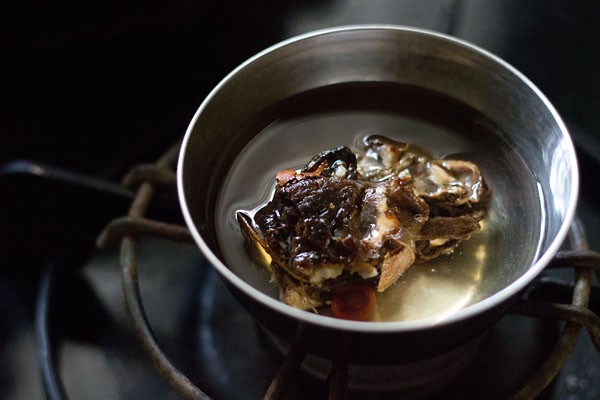 2. Once the tamarind gets soft, you then squeeze the tamarind and remove the pulp. Strain it later.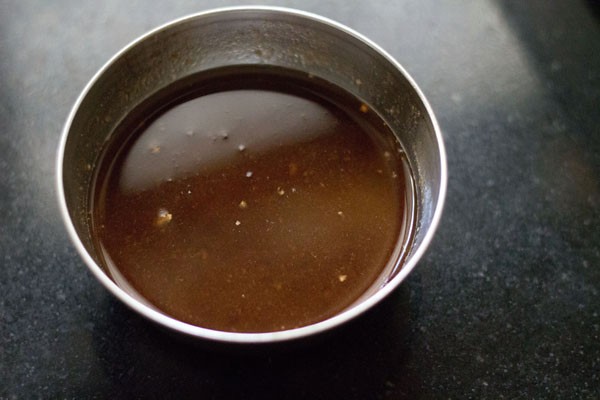 3: Boil ½ cup tuvar dal/arhar dal along with 2 to 2.5 cups water in a pressure cooker till the dal is mushy and completely cooked. Open the lid and mash the lentils. You can see the consistency of dal in the pic below.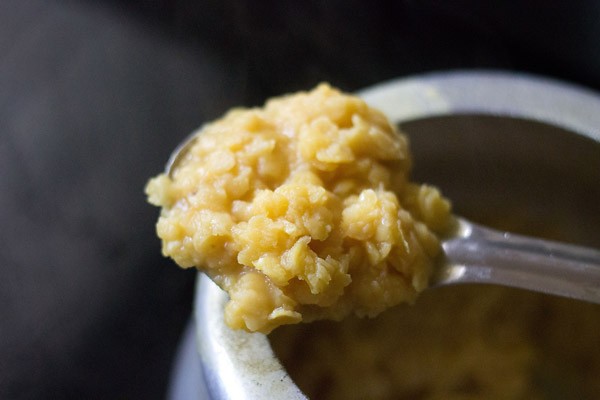 4: Now add 1 to 1.5 cups chopped vegetables in the pressure cooker containing the mashed dal.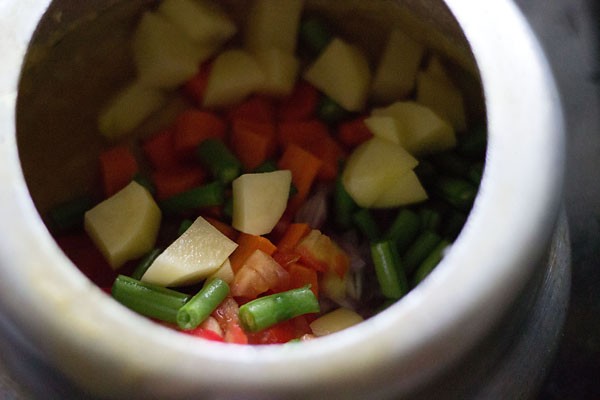 5: Stir well and then add ½ tsp turmeric powder/haldi, ½ tsp red chilli powder, a pinch of asafoetida, salt. Add 1 cup water. Stir well and and pressure cook for one whistle on medium to high flame. Ensure that you don't over cook the vegetables.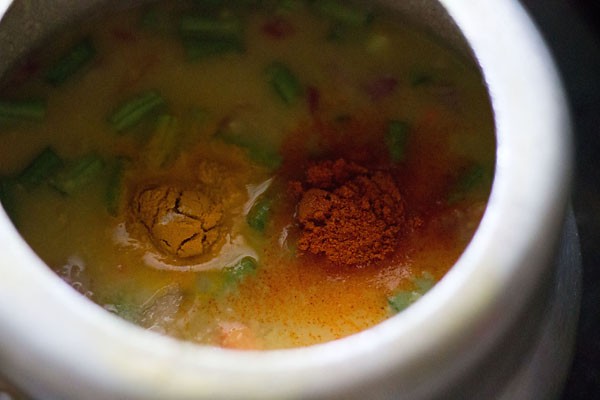 6: Then once the veggies are cooked, add the tamarind pulp and 1 to 1.5 tbsp sambar powder. Add water if required to give a medium consistency in the sambar. Simmer for 10-12 minutes without the lid on a low to medium flame. Once done cover and keep the sambar aside.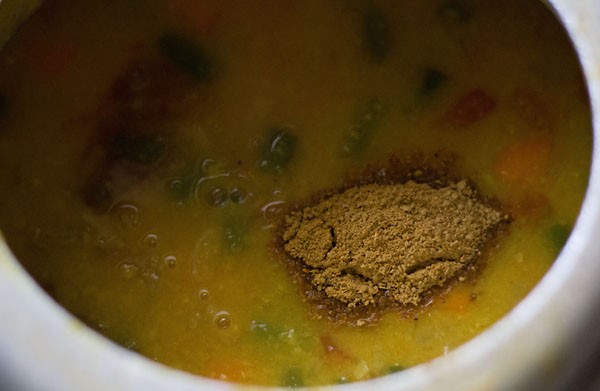 7: In a pan, heat 2 tbsp oil. Add 1 tsp mustard seeds. When it starts crackling, add 12 to 15 curry leaves, 2 to 3 dry red chillies, 2-3 garlic cloves, 1 pinch of fenugreek seeds and a pinch or two of asafoetida. Fry them till the red chilies change color and the garlic turn a light golden. Now add this tempering mixture in the hot sambar. Immediately cover the cooker with its lid, so that the aroma and flavors from the tempering mixture gets infused with the sambar.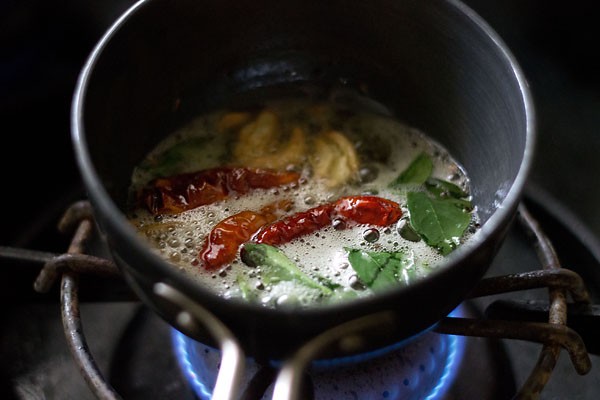 8: Usually, the sambar is cooked a two three hours earlier as its taste become better with time. However, I like sambar to be served as soon as it is made. Sambar can be served with steamed rice, idlis, dosas, medu vada or rava uttapam. I served the sambar with rice and red cabbage thoran.