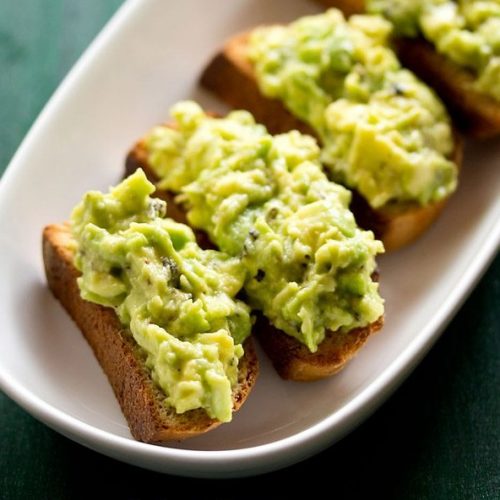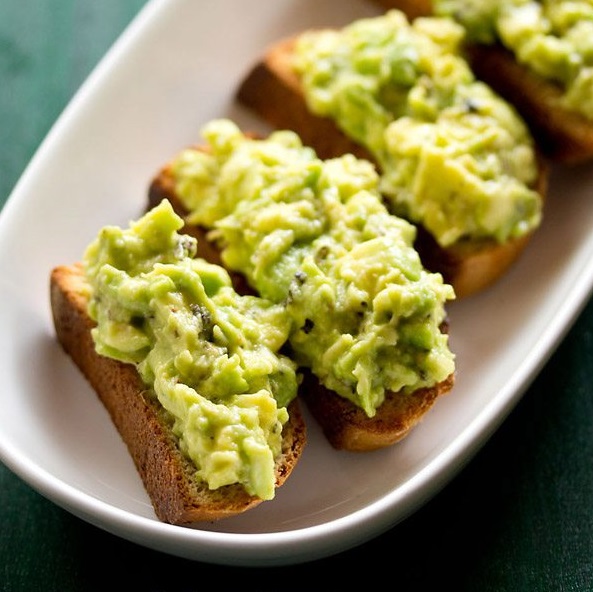 Print Recipe
avocado garlic bread toast
easy and a quick breakfast recipe of avocado garlic bread toast.
for the toasts:
8 to 10

slices

from baguette

or garlic bread or french loaf

1 to 2

teaspoon

extra virgin olive oil

for brushing

1

medium sized garlic clove,

halved
for the avocado filling:
1

medium to large avocado

1

small to medium garlic cloves,

minced or finely chopped

½

teaspoon

oregano

or add as required

crushed black pepper

as required

a few drops of lemon juice

salt as required
firstly slice a garlic loaf or a french bread.

then heat a griddle or tawa. place the loaf slices on it. toast them on a low to medium flame.

whilst the bread is getting toasted, we prepare the avocado filling. take an avocado. rinse if you want. then give a cut at the center moving around the entire avocado.

we want the avocado in two halves. remove the seed.

with a spoon, scoop out the entire avocado flesh, which is like butter and gets removed easily.

place the scooped avocado flesh on chopping board and then chop.

add the chopped avocado in a mixing bowl. also add 1 small to medium garlic clove (finely chopped or minced)

season with 1/2 teaspoon oregano (or add as required), crushed black pepper (as required), salt and a few drops of lemon juice. the lemon juice prevents the discoloration.

mix well and keep aside.

once the slices are toasted, then brush some extra virgin olive on top.

halve a garlic and rub the garlic on all the bread slices.

now gently place the avocado filling on the toasted bread slices. if you want you can even sprinkle some red chili flakes.

serve avocado garlic bread toast immediately.