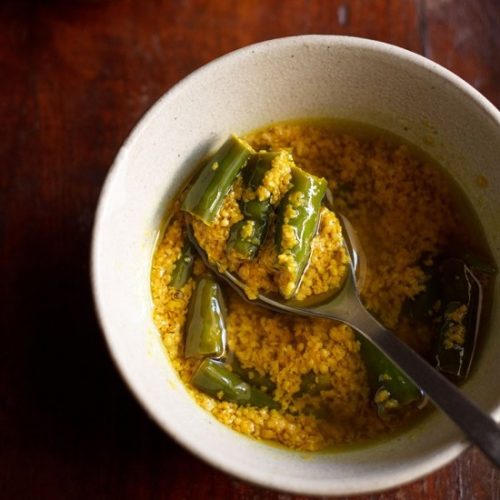 Print Recipe
chilli pickle recipe
an easy to prepare green chili pickle with ground mustard, lemon juice and oil.
1.25 to 1.5

cups

chopped green chilies

- less hot or medium hot variety (hari mirch)

6

tablespoons

mustard seeds

- yellow or black or split mustard seeds (rai na kuria or rai ki dal)

3

tablespoons

rock salt

(sendha namak)

2

teaspoon

turmeric powder

(haldi)

1

cup

mustard oil

or sunflower oil or peanut oil (sarson ka tel ya moongphalli ka tel)

5 to 6

lemons

(nimbu) - yields ⅓ to ½ cup lemon juice
chopping green chilies
rinse and wipe dry the green chilies very well. there should be no trace of moisture in them. you can also let them dry on their own.

remove the crowns and chop the green chilies in 1 inch pieces.
making green chilli pickle
in a dry grinder or coffee grinder, powder the mustard seeds coarsely. here i used yellow mustard seeds. but you can also use black mustard seeds.

in a clean glass jar, add the green chilies, ground mustard seeds and salt.

mix by shaking the jar or use a clean non reactive spoon to mix the contents of the jar. cover the jar with its lid tightly and keep in the sun for 2 to 3 days. if the sunlight and heat is very intense, then just 1 to 2 days is fine. if you don't have sun and its cloudy all the time, then just keep outside. in the evening, remove the jar from out and keep in a dry place in your kitchen. i kept for 3 days since the sun was playing hide and seek.

after 2 to 3 days, add lemon juice and turmeric powder to the pickle..

with a clean non reactive spoon, mix everything very well. close the jar and again keep in the sun for 1 to 2 days.

proceed with the next step after 1 or 2 days.
adding mustard oil in chilli pickle
heat mustard oil till its smoking point. let the mustard oil cool till it becomes warm or is slightly hot.. about 15 mins. you can use any other oil like sunflower or peanut oil. if using these oils, then just heat them till they are hot. you don't need to heat them till their smoking point.

pour the mustard oil in the pickle jar.

cover the jar with its lid and keep the pickle at room temperature for 4 to 5 days for the pickling process to happen.

you can even keep the chilli pickle for 2 to 3 days at room temperature and then in the fridge. since it was during the winters, i had made the pickle, i kept the jar out for all 5 days. once we started serving the chilli pickle, then i kept the jar in the fridge.

serve green chili pickle as a side condiment with a simple indian meal like dal-rice or curd-rice. the pickle can also be served with aloo paratha, gobi paratha, mooli paratha or even plain parathas or chapatis.