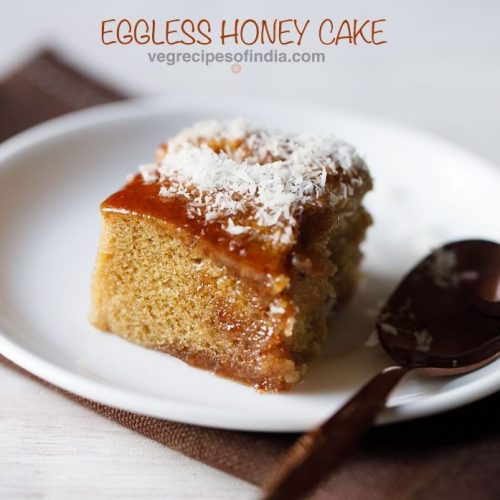 Print Recipe
honey cake recipe
honey cake is a well known dessert made famous by the south indian bakeries, especially iyengar bakery. this honey cake recipe has a soft, light crumb and is made with whole wheat flour (atta), unrefined cane sugar and uses less oil.
for sponge cake
1.25

cups

whole wheat flour

(atta) or 150 grams

½

teaspoon

baking soda

1

pinch salt

1

cup

cold water

½

cup

sugar

or 90 to 100 grams sugar

½

teaspoon

vanilla extract

or ¼ teaspoon vanilla essence

1

tablespoon

lemon juice

or lime juice or vinegar – apple cider or white vinegar

¼

cup

sunflower oil

or any neutral tasting oil
for honey glaze
3

tablespoons

honey

1

tablespoons

rose water

or drinking water
other ingredients
⅓

cup

desiccated coconut,

unsweetened
a) sifting dry ingredients
grease a 6X6 inches pan with some oil. you can also use a round pan or a loaf pan.

preheat oven at 180 degrees celsius for 15 minutes. for OTG as well as convection ovens, you can use the temperature of 180 degrees celsius, both for preheating as well as baking.

take 1.25 cups whole wheat flour (150 grams) in a seive.

add ½ teaspoon baking soda and 1 pinch salt.

sift the dry ingredients and keep aside.
b) mixing wet ingredients for cake
in a bowl take 1 cup cold water. the water has to be cold or chilled.

add ½ cups sugar (85 grams sugar). with a whisk mix very well till all the sugar is dissolved.

then add ½ teaspoon vanilla extract, 1 tablespoon lemon juice or lime juice or vinegar. mix well.

add 1 tablespoon lemon juice or lime juice or vinegar. for the vinegar, you can use apple cider vinegar or white vinegar.

then add ¼ cup sunflower oil. mix very well.
c) making cake batter
now add the wet ingredients to the sifted dry ingredients.

with a wired whisk and with light pressure from your hands, begin to mix.

mix to a smooth batter. small tiny lumps are fine. do not over mix the batter.

pour the eggless cake batter in the cake pan. gently tap and shake the sides so as to even the batter in the pan.

place the pan in the preheated oven for 180 degrees celsius. if using OTG then use both the top and bottom heating elements on (toast mode in the indian OTGs).

bake the cake for 30 to 40 minutes till the top is golden. time varies from oven to oven, so it can take less or more time than 30 to 40 minutes.

check cake with a skewer and it should come out clean.

place the cake pan on a metal rack and let it become warm.

when the cake becomes warm or cools, remove it from the pan and keep on a wooden board or a chopping board or a large plate or tray. then place it upright.

then with a skewer poke holes in the cake all over. keep aside.
making honey glaze for cake
in a small bowl, take 3 tablespoons honey.

add 1 tablespoon rose water or drinking water. instead of water you can also use a fruit juice like apple juice, mango juice or orange juice. but do note that some flavor of the fruit juice will be felt in the cake.

mix very well with a spoon. the rose water should get mixed evenly with the honey. keep aside.
making jam glaze for honey cake
take 3 tablespoons strawberry jam in a pan. you can also use rose jam (gulkand) or mango jam or any fruit jam.

add 2 teaspoons sugar and 2 tablespoons water.

keep the pan on stove top and lit the gas stove on a low flame. mix very well and begin to heat this jam glaze mixture.

break the lumps of jam and mix it with the water. stir often. stir and mix to a smooth jam mixture.

let the jam glaze come to a boil and then switch off flame. remove the pan from the stove top and keep aside. let the jam mixture become lukewarm.
making honey cake
spread the honey glaze all over the cake with a spoon or spatula.

spread honey evenly and all over. also spread it on the sides of the cake.

optional step is to slice the cake before spreading the lukewarm jam glaze. or else you can slice the honey cake later.

spread lukewarm jam glaze all over with a spoon or spatula. also spread on the sides.

now sprinkle desiccated coconut all over the honey cake. optionally the desiccated coconut can also be spread at the sides.

gently press desiccated coconut with a spoon or butter knife, so that it sticks to the jam glaze.

let the jam glaze set (about 15 to 20 minutes) and then you can serve slices of honey cake. leftover remaining slices can be refrigerated. they stay well in the fridge for about a week.
Calories:
218
kcal
|
Carbohydrates:
35
g
|
Protein:
2
g
|
Fat:
8
g
|
Saturated Fat:
2
g
|
Sodium:
66
mg
|
Potassium:
82
mg
|
Fiber:
2
g
|
Sugar:
21
g
|
Vitamin C:
1.5
%
|
Calcium:
0.7
%
|
Iron:
4.3
%