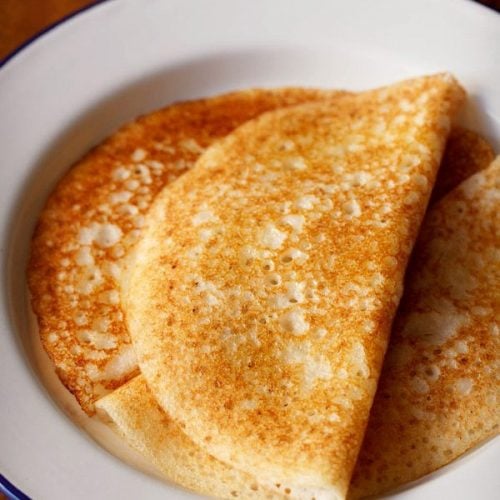 Print Recipe
davangere benne dosa
benne dosa recipe - crisp, soft davangere style benne or butter dosa. a special dosa from the city of davangere in karnataka.
for benne dosa
1

cup

idli dosa rice

or parboiled rice or 200 grams

¼

cup

urad dal,

50 grams

¼

teaspoon

methi seeds

1.5

cups

puffed rice

(murmura or pori) or 50 grams

1

tablespoon

maida

(all purpose flour)

¼

teaspoon

sugar

3 to 3.5

cups

water for soaking

¾

cup

water

for grinding or add as required

¼

teaspoon

baking soda

salt as per taste

oil and butter as required

white or yellow
for making potato palya
300

grams

potatoes

or 3 to 4 medium potatoes

50 to 60

grams

onion

or 1 medium onion chopped or ⅓ cup chopped onion

1

small green chili,

finely chopped

1

tablespoon

oil

salt as required
for making spicy coconut chutney
½

cup

tightly packed grated coconut,

fresh or frozen

5 to 6

green chilies.

roughly chopped

1 to 2

seeds of a green cardamom

3 to 4

tablespoon

water for grinding

salt as required
preparing dosa batter and fermenting
pick and then take idli dosa rice or parboiled rice, urad dal, methi seeds in a bowl.

rinse all of them together for a couple of times. drain and keep aside.

take 1.5 cups puffed rice (50 grams) in a bowl. if you want you can rinse them too once. or add them directly to soak. do note that rinsing makes the puffed rice a bit sticky to handle.

strain and add the rinsed puffed rice to the bowl containing the rinsed urad dal, rice and methi seeds.

pour 3 to 3.5 cups water. stir well, cover and allow all the ingredients to soak for 5 to 6 hours.

strain very well and add the soaked ingredients in a grinder jar. strain really well as the puffed rice holds quite some water. also when adding water for grinding be careful.

add 1 tbsp all purpose flour (maida).

add water in parts and grind to a smooth batter. a rava like grainy consistency of the rice is also fine. i ground in two parts. in the first part i added 1/2 cup water and in the second part, i added 1/4 cup water. so overall used 3/4 cup water for grinding.

take the ground batter in a bowl.

add 1/4 tsp sugar. mix very well.

cover and keep the batter to ferment for 8 to 9 hours or more depending on the temperature conditions in your city.

before making the dosas, add 1/4 tsp baking soda and salt as per taste. mix very well.
preparing benne dosa
in a cast iron tava or griddle, spread some oil with a spoon or with halve of a onion.

take a ladle of the batter and pour on the tava. heat the tava first very well. before spreading the batter, reduce the flame and then spread the batter.

gently spread to a slightly thick dosa. once you spread the dosa, increase the flame to medium intensity.

you will begin to see a lot of tiny holes in the dosa.

cook on medium flame till the top has cooked.

once the top has cooked, add some butter on top.

spread the butter gently all around with a spoon or spatula.

flip the dosa. cook for some seconds or a minute and then fold.

serve davangere benne dosa hot with potato palya and coconut chutney. if you are unable to serve them hot, stack them in a roti basket or casserole and serve warm. you can also add some butter on top of the dosa while serving. you can serve the dosa separately or place the potato stuffing in the dosa and then serve.
preparing potato palya for benne dosa
take 300 grams or 3 medium sized potatoes. rinse them well and then steam or boil them till they are completely cooked. if cooking in a pressure cooker, then cook the potatoes for 4 to 5 whistles.

when they are still warm or slightly hot, peel and mash them roughly. keep aside.

in a pan, heat 1 tbsp oil. add ⅓ cup chopped onions.

saute the onions till translucent.

add 1 small green chilies (finely chopped). if you want you can also add 2 to 3 green chilies. stir well.

then add the roughly mashed potatoes.

season with salt.

mix very well and saute for a minute.

serve potato palya with davangere butter dosa or regular dosa.
preparing coconut chutney for benne dosa
take ½ cup freshly grated tightly packed coconut in a small grinder. add 5 to 6 green chilies (roughly chopped) and 1 or 2 seeds from a green cardamom pod. for a pronounced cardamom flavor, you can add all the seeds from 1 small green cardamom.

season with salt as per taste.

add 3 to 4 tbsp water and grind to a smooth consistency.

remove coconut chutney in a serving bowl and serve the chutney with davangere benne dosa and potato palya.