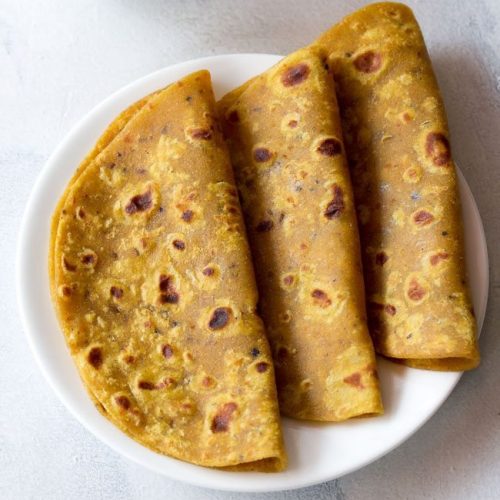 Print Recipe
masala paratha recipe
masala paratha - spiced unleavened whole wheat flat breads. masala paratha is a variation of plain paratha with some spices added in it.
kneading dough for masala paratha
take 2 cups whole wheat flour/atta in a mixing bowl or a large plate.

add all the spices - 1/4 teaspoon cumin seeds, 1/4 teaspoon carom seeds, 1/4 teaspoon crushed black pepper, 1/4 teaspoon red chili powder, 1/4 teaspoon turmeric powder, 1/2 teaspoon garam masala powder and 1/2 teaspoon dry mango powder. also add salt as per taste.

mix very well.

add 1 tablespoon oil and 1/2 cup water.

mix well and begin to knead. add water in parts while kneading. i used overall 1 cup water while kneading. depending on the quality of flour you can add less or more water.

knead to a smooth and soft dough. cover and allow the dough to rest for 30 minutes.

again lightly knead once more and make medium sized balls from the dough.
rolling and making masala paratha
on a rolling board, dust one dough ball with some flour.

gently roll to a round of about 7 to 8 inches.

heat a tawa. when the tawa becomes hot, place the paratha on it.

let the paratha cook on a medium to high flame.

when one side is partially cooked, about ¼ cooked, then flip the paratha.

spread some oil or ghee on this partially cooked side.

flip again when the second side is half cooked.

spread some ghee or oil on this side too.

flip a couple of times, till the paratha is evenly roasted and cooked.

press the edges with a spatula so that they are also evenly roasted and cooked.

cook the paratha till you see golden blisters on top and they are evenly roasted.

prepare all parathas this way. serve them hot or stack them in roti basket or a warm casserole.

serve masala parathas hot or warm with any veggie dry sabzi or a gravy.

you can also serve masala parathas with mango or lemon pickle or fresh curd.
if you want the paratha to be spicy, then increase the red chili powder and garam masala powder.