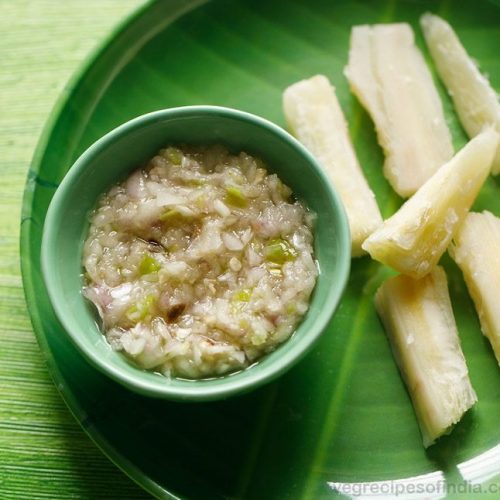 Print Recipe
ulli chammanthi
ulli chammanthi for kappa - ulli chammanthi is a simple condiment made from coarsely ground pearl onions, chilies and salt. this tasty onion chammanthi is usually served with steamed or boiled tapioca.
for ulli chammanthi:
½

cup

roughly chopped pearl onions

or red onions or shallots

3 to 4

green chilies

or add as per taste

1

teaspoon

sea salt

or add as required

1

tiny piece of tamarind

(optional)

2

tablespoons

coconut oil

or add as required
making ulli chammanthi recipe
rinse 10 to 12 pearl onions. then peel and roughly chop them. also rinse and chop 3 to 4 green chilies. you will need ½ cup of roughly chopped pearl onions.

in a small grinder add the chopped onions and green chilies.

add 1 tiny piece of tamarind (optional). also add 1 teaspoon sea salt. you can also add white salt as per taste.

using the pulse option grind at intervals. grind to a coarse mixture.

remove the onion chutney in a bowl.

add 2 tablespoons coconut oil. you can add some more coconut oil also if you want. mix very well.

serve ulli chammanthi with steamed tapioca (chenda kappa).
making chenda kappa
take 1 tapioca (about 500 to 600 grams). rinse it well.

peel and then chop tapioca in long cylindrical pieces of 3 to 4 inches. rinse again in water a couple of times.

then take all of the rinsed tapioca pieces in a pan.

add ½ teaspoon salt or add as required.

add 2 cups water.

cover the pan with its lid and cook tapioca on a medium-low to medium flame.

in between do check when the tapioca pieces are getting cooked.

simmer till a knife or a fork can easily pass through the tapioca. do not overcook the tapioca.

then drain all the water.

serve chenda kappa hot or warm with ulli chammanthi.