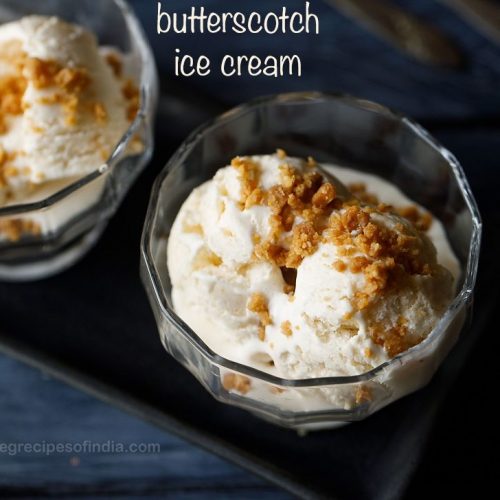 Print Recipe
butterscotch ice cream
butterscotch ice cream is one of the popular and tasty indian ice cream varieties. this butterscotch ice cream recipe is an easy recipe. the ice cream recipe is made only with 3 ingredients. praline is also made and added to the ice cream. addition of praline gives that crispy bite when eating butterscotch ice cream.
for butterscotch ice cream
1

can

chilled sweetened condensed milk

or OR 400 grams sweetened condensed milk

2.75 to 3

cups

cream, chilled – 30% to 50% fat

1

teaspoon

vanilla extract or butterscotch essence
making praline for butterscotch ice cream
take 10 to 12 cashews in a mortar-pestle. you can add any nuts of your choice like almonds, walnuts, pecans or roasted peanuts.

with the pestle, crush the cashews to a coarse mixture. keep aside. you can even chop the nuts.

in a pan add 2 tablespoons butter. keep the flame to a low.

when the butter begins to melt, add 4 tablespoons sugar. mix the sugar with the butter.

on a low flame cook this butter and sugar mixture. stir at intervals, but do not stir non-stop.

the mixture will begin to change color. continue to stir at intervals when the sugar starts changing color.

a point will come when the color will become brown and all the sugar will melt.

check a few drops of the mixture in a bowl of water. it will harden and solidify. when you snap it, it will break easily. this is the hard ball consistency of the sugar.

at this point, switch off the flame when you see all the sugar has melted and caramelized with a brown colored molten liquid.

then immediately add the crushed cashews. mix quickly.

pour this praline mixture on a plate lined with parchment paper or butter paper. you can also use a plate on which some butter or oil (neutral tasting) has been spread.

let the praline harden and cool. then break praline in small pieces.

place the praline pieces in a mortar-pestle. with the pestle, crush to a coarse mixture. keep aside. do not make a fine powder.
making butterscotch ice cream
in a large bowl or a stand mixer bowl, take 2.75 to 3 cups of chilled whipping cream (30% to 50% fat). add 1 teaspoon vanilla extract or butterscotch essence.

begin to whip the cream at full speed, with an electric beater or with the whipping attachment of the stand mixer.

timing will vary depending on the fat content in the cream. both for amul fresh cream and amul whipping cream, it takes about 8 to 10 minutes. also be careful while whipping and do not whip too much, as then the cream would get churned into butter.

whip till stiff peaks are formed. you can also whip till soft peaks. if using 25% fat cream, then you can whip till soft peaks.

now add 400 grams of chilled sweetened condensed milk (about 1.6 cups).

also add the crushed praline. reserve 1 tablespoon of the praline mixture as a garnish.

fold gently but very well. also remember not to overfold as then the butterscotch ice cream mixture can fall flat.

remove the butterscotch ice cream mixture in a container or box and then cover it tightly. freeze till the butterscotch ice cream is set.

before serving, keep the butterscotch ice cream box or bowl for some minutes at room temperature. then using a scoop, remove the ice cream.

serve butterscotch ice cream. you can sprinkle the reserved praline mixture on top while serving. you can also pour butterscotch sauce. alternatively chocolate chips or grated chocolate or candied fruits or even tutti frutti can be sprinkled from top if you want.