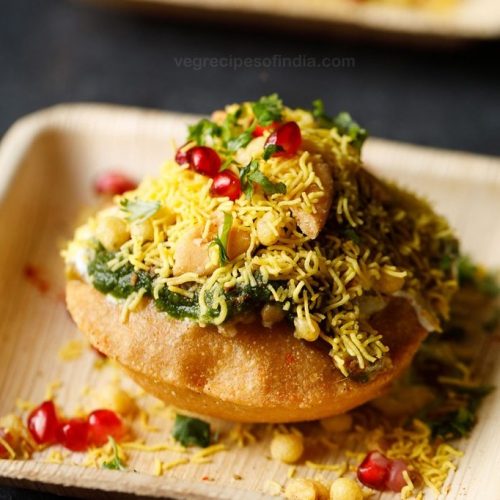 Print Recipe
raj kachori recipe
raj kachori also called as the king of all kachoris is a popular chaat snack from north india.
Servings:
10
to 11 kachoris
for chaat stuffing
1.5

cups

boiled chana

1.5

cups

boiled moong or steamed moong sprouts

1.5

cups

boiled and peeled potatoes cubes

10 to 12

papdi

fine sev

- as required

chaat masala powder

- as required

⅓

cup

green chutney

⅓

cup

sweet chutney

½

cup

beaten curd

(dahi or yogurt)

black salt

– as required

roasted cumin powder

– as required

red chili powder

– as required

finely chopped coriander leaves

– as required
making raj kachori dough
take 1 cup fine rava (160 grams), 3 tablespoons whole wheat flour (atta) and 2 tablespoons besan (gram flour) in a mixing bowl.

add ½ teaspoon salt, ¼ teaspoon red chili powder, ¼ teaspoon saunf powder and ⅛ teaspoon black pepper powder. also add ⅛ teaspoon baking soda or 2 to 3 pinches of it.

drizzle 1 teaspoon oil. with clean fingertips mix everything very well.

then add 7 to 8 tablespoons water in parts and begin to knead the dough.

add water as required and begin to knead to a firm dough.

the dough should not be soft. it should be firm. in case the dough looks wet initially, then no need to worry. continue to knead and the rava will absorb the water eventually. knead very well for about 10 minutes. if the dough looks dry, then add some more water.

cover the dough with a moist kitchen towel and let the dough rest for 30 minutes.

after 30 minutes, knead the dough again and make medium sized balls from the dough. cover the dough balls with a moist kitchen napkin, so that they do not become dry.

take the dough ball and gently roll it to a 4 to 5 inches diameter round.

do not make the kachoris too thin nor thick. roll evenly. you can roll all the kachoris and keep them covered with a moist kitchen towel. or you can simultaneously roll and fry together.
frying raj kachori
heat oil for deep frying kachori in a kadai. add a tiny piece of the dough in the oil. if it comes up gradually and steadily on top, the kachoris can be fried.

gently slid the kachori in the medium hot oil.

the kachori will come up on top in a couple of seconds as soon as you add it.

gently nudge the kachori with the slotted spoon, so that it puffs up.

the kachori should puff up well like a poori.

fry till the base is golden and then turn over the kachori with a slotted spoon.

turn again and continue to fry. gently press the edges with the slotted spoon so that they also get fried well. you can turn the kachori a couple of times often to get an even golden color.

fry till the crust is crisp and golden. then remove crispy fried kachoris with a slotted spoon and keep on kitchen paper towels for extra oil to be absorbed. this way fry all raj kachoris on medium flame.
assembling and making raj kachori
assemble all the chaat ingredient elements before you start making raj kachori. take one kachori and keep it in a serving plate or bowl.

break the top crust of the kachori and create enough space inside for the chaat ingredients to occupy.

first add some boiled chana or as required.

then add some boiled and peeled potatoes cubes.

next add some boiled moong or steamed moong sprouts.

top with some beaten curd.

next add green chutney and sweet tamarind chutney as required.

sprinkle some black salt, roasted cumin powder and red chili powder, as required.

crush some papdi and top it on the raj kachori.

add some boondi. sprinkle some sev on top.

lastly garnish with add some pomegranate arils and chopped coriander leaves.


serve raj kachori chaat straight away. this way assemble and make all raj kachoris. serve immediately.