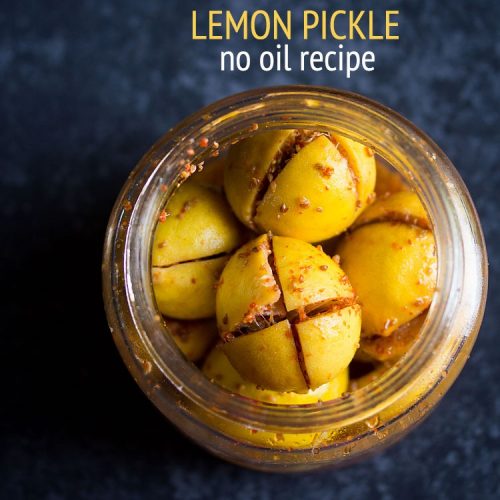 Print Recipe
lemon pickle recipe
sour lemon pickle recipe - spiced and tangy condiment 4 ingredient lemon pickle which is super easy to make.
preparation for lemon pickle recipe
firstly rinse 6 to 7 medium sized lemons (250 grams) very well in water. then spread them in a clean plate or kitchen towel and let them dry naturally at room temperature.

you can even wipe dry them very well with a clean kitchen cotton towel or napkin.

before beginning with the recipe making, do make sure that your hands, chopping board, knife, kitchen towels, bowls and jar are clean and moisture free.
making lemon pickle
later take each lemon and cut four sides but keeping the lemon intact and whole. do not cut through completely. cut all lemons this way.

in a bowl, squeeze a bit of juice from each lemon piece. do not squeeze the lemons too much. keep this lemon juice aside.

in another plate or bowl, take 1 tablespoon carom seeds (ajwain), ½ tablespoon red chili powder and 1 tablespoon salt.

mix very well.

now with your fingers or a small spoon stuff this masala in each lemon. keep aside.

place the lemons in a clean glass jar. you can sun dry the jar for 1 to 2 hours if you want.

now remove the seeds and pour the lemon juice which was in the bowl in the jar.

add leftover masala if any on the stuffed lemons in the jar.

sprinkle some salt (about ½ to 1 teaspoon) all over the lemons. this is done so that the top does not get spoiled while the lemon pickle is maturing.

cover with a lid and keep the jar in sunlight for 4 days. every day shake the jar.

the tangy lemon pickle will be ready after 4 to 5 days and then you can serve it with your meals. refrigerate the lemon pickle.
tips for making tangy lemon pickle recipe
:
don't cut the lemons entirely. make incision or cut on four sides.
keep in sun for 4 to 5 days or till the pickle has become soft and matured.
everyday, shake the jar well. 
when making the pickle, ensure there is no moisture on the knife, chopping board, bowl and the jar.
you can sun dry the jar before you add the lemon pickle in it.
the recipe can be doubled or tripled.
any size of lemon can be used. but they should have juice in them. they should not be dry. so its best to use fresh lemons. avoid using lemons which have become discolored from outside.
the leftover pickle masala is added in the pickle jar. so don't throw it away.
also additionally some salt needs to be added in the jar. addition of salt prevents the lemon pickle from getting spoiled on the top.