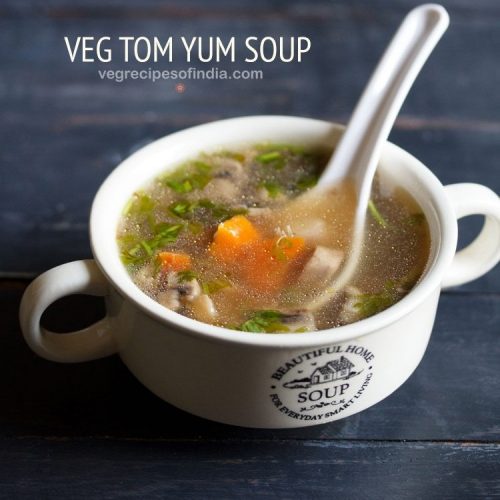 Print Recipe
tom yum soup recipe
this delicious thai tom yum soup recipe is a spicy and sour soup made with mix vegetables.
2

teaspoons

oil

(use any neutral flavored oil. i used sunflower oil)

2

tablespoons

sliced shallots or pearl onions or small onions

½

teaspoon

finely chopped garlic

(lahsun)

⅓

cup

chopped carrots

¼

cup

chopped french beans

2

cups

chopped white button mushrooms

OR 200 grams white button mushrooms

1.5

inch

galangal

2

lemon grass stalks

3 to 4

kaffir lime leaves

6

small thai green chillies

OR add as required

3

cups water

salt as required

2

tablespoons

lemon juice

1

teaspoon

soy sauce

½

teaspoon

sugar

OR add as per taste

2 to 3

tablespoons

coriander leaves
preparation for tom yum soup
firstly rinse and slice/chop all the veggies. also peel and finely chop garlic.

then rinse the lemon grass stalks and remove the outer first or two layers. these layers are stiff and hard layers. discard them or you can add them in your tea or any veg stock that you make.

smash it lightly with a knife and then slice the lemon grass. do note that if you do not have lemon grass stalks, then you can use 1 long lemon grass leaf. just tie it around itself and then add in the soup.

peel 1.5 inch galangal and slice thinly. galangal is rough and not easy to slice, so some pressure is required while slicing.

take 6 small thai chilies and smash each one lightly. thai chilies can be added less or more as per your choice.

now slice the chilies diagonally in large pieces.
making tom yum soup
heat 2 teaspoons oil in a pan. add 2 tablespoons sliced shallots and ½ teaspoon finely chopped garlic.

saute for a minute on low to low-medium flame.

add the chopped veggies and sliced mushrooms. you can add your choice of mix veggies to the soup.

mix well and saute for a minute.

then add 3 cups water. you can also use homemade veg stock.

now add the sliced lemon grass stalks, galangal and thai chilies.

tear 3 to 4 kaffir lime leaves and then add them.

season with salt as per requirement and mix well. do add less salt as we will also be adding soy sauce later.
cooking tom yum soup
cover the pan with lid and simmer on low to medium flame till veggies are done.

do check at intervals when the veggies are being cooked.

cook till the veggies are tender and cooked well.

then add ½ teaspoon sugar. you can even use palm sugar or jaggery or coconut sugar.

add 1 teaspoon soy sauce.

mix very well and simmer tom yum soup for a minute.

switch off flame and then add 2 tablespoons lemon juice. for a less sour taste, you can add 1 tablespoon lemon juice.

lastly add 2 to 3 tablespoons coriander leaves. stir and check the seasonings. if required you can add more salt, lemon juice or soy sauce or sugar.

while serving thai tom yum soup remove the lemon grass stalks, red chilies, kaffir lime leaves and galangal. these cannot be chewed as they are stringy and dense. so do make sure not to finely slice or chop them.

serve tom yum soup hot.
substitutions:
galangal - ginger (in recipe, add 1 inch ginger)
kaffir lime leaves - lime zest or lemon zest (zest from 1 lemon or 1 lime)
lemon grass stalks - lemon zest (zest from 1 lemon)
small thai red chilies - medium hot to hot green chilies or fresh red chilies (add 1 or 2)