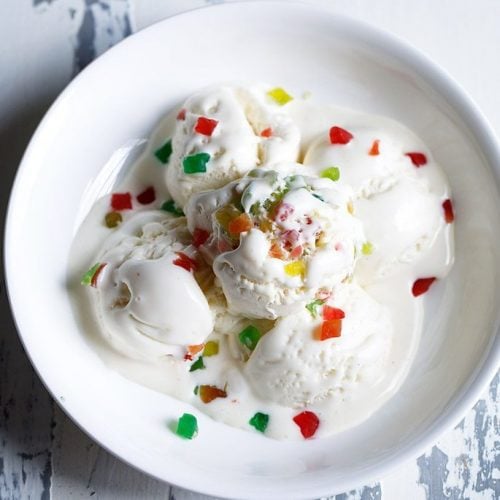 Print Recipe
tutti frutti ice cream
this tutti frutti ice cream recipe is an easy and quick version of delicious tutti frutti ice cream made with only 4 ingredients.
1

can sweetened condensed milk

OR 400 grams

2.5 to 2.75

cups

whipping cream

- 30% to 50% fat

2

teaspoons

vanilla extract

OR 1 teaspoon vanilla essence

⅓ to ½

cup

tutti frutti

(candied raw papaya pieces) - can add more if required

some tutti frutti for garnish
in a large bowl, take 2.5 cups of chilled whipping cream (30% to 50% fat).

add 2 teaspoons vanilla extract. if using vanilla essence, then add 1 teaspoon of it.

then with an electric beater, whip till stiff peaks are formed.

now add 400 grams of chilled sweetened condensed milk (400 ml or about 1.6 cups).

fold gently but very well. also remember not to overfold as then the ice cream mixture can fall flat.

next add ⅓ to ½ cup of tutti frutti. fold again.

remove the ice cream in a box or then cover it tightly. or you can cover the same bowl (if its freezer safe) with a tight fitting lid or aluminium foil.

freeze till the ice cream is set.

before serving, keep the ice cream box or bowl for some minutes at room temperature. then using a scoop, serve tutti frutti ice cream. you can sprinkle some tutti frutti from top if you want.
if you don't have tutti frutti, then you can use glazed cherries cut in small pieces.
tutti frutti can be replaced with dry fruits. this way you can make with dry fruits ice cream.