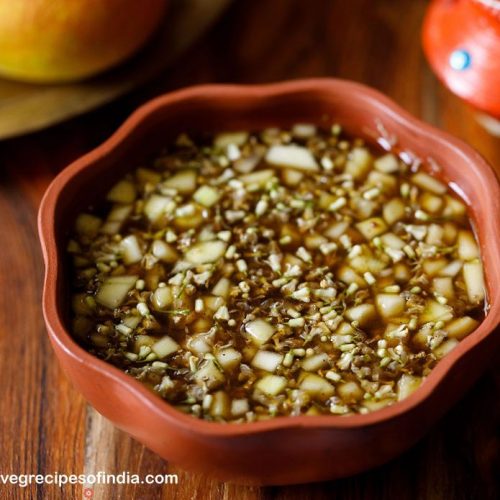 Print Recipe
ugadi pachadi
ugadi pachadi is one of the most important dish that is made during ugadi festival.
1

teaspoon

tamarind

¼

cup

water for soaking tamarind

⅓

cup

water to be added later

¼

cup

jaggery

⅓

cup

finely chopped raw mangoes

2

tablespoons

neem flowers

¼

teaspoon

black pepper powder

¼

teaspoon

salt or add as required
soak 1 teaspoon tamarind in ¼ cup water for about 40 minutes to 1 hours. then squeeze the tamarind pulp and keep it aside. in a bowl, add this tamarind pulp.

then add ⅓ cup water.

add ¼ cup chopped jaggery.

mix very well with a spoon so that the jaggery dissolves.

then add the finely chopped raw mangoes and neem flowers.

season with ¼ teaspoon salt and ¼ teaspoon black pepper powder. mix very well.

offer ugadi pachadi as naivedyam to your deities. then serve it your family.
ugadi pachadi recipe can be doubled or tripled.
you can add less or more of any of the 6 ingredients.