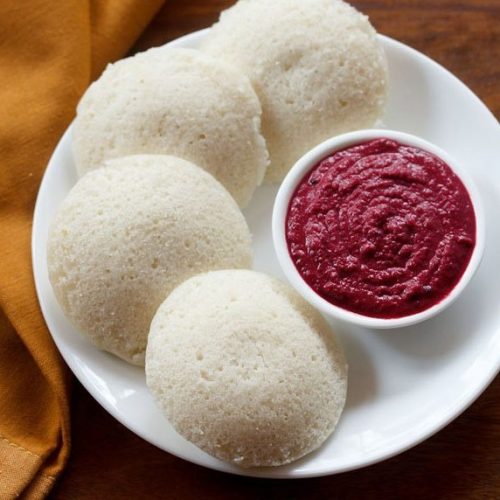 Print Recipe
instant idli recipe
Instant idli recipe - quick and instant recipe of idli with homemade instant mix. No fermentation required.
for making instant idli mix flour
300

grams

rice flour

or 2 cups rice flour

125

grams

urad dal

or ½ cup urad dal - (husked whole or split black gram)

45

grams

thick poha

or ½ cup thick poha (flattened rice)

½

teaspoon

salt

or add as per taste
for making instant idlis
1

cup

of idli mix

⅔ to ¾

cup

water

to make a thick flowing batter

¼

cup

sour curd

(khatta dahi or sour yogurt)

½

teaspoon

fruit salt

or eno
making instant idli mix flour
Take all the three main ingredients before you proceed - 2 cups rice flour, ½ cup urad dal and ½ cup thick poha.

Heat a pan on a low to medium flame. Then lower the flame, add the urad dal.

Roast urad dal on a low flame for about 2 minutes, stirring often. Urad dal is roasted just to get rid of some moisture from them.

Then add the poha.

Mix very well and roast for a minute on low flame. Remove the pan from the stove top and let this mixture cool down.

Then add everything in a grinder jar. Grind to a fine powder.

Keep a large plate or tray or pan and place a sieve on it. Take the ground flour in the seive (channi) and sift it.

Some urad dal grits will be there. You can add them to your dals or discard.

Add rice flour and salt. Mix very well.

The idli mix is ready to be bottled. With a spoon, add the idli mix flour in a jar. Seal tightly with a lid. Use the idli mix when required.
making instant idlis from the flour
Before proceeding, grease the idli plates very well with oil. Also heat 2 to 2.5 cups water in a 5 litre pressure cooker or idli steamer or an electric cooker.

In a mixing bowl or pan take 1 cup of instant idli mix.

Add 1/4 cup of sour curd.

Add water in parts. So you can add 1/3 to 1/2 cup water first.

Then begin to mix with a wired whisk. A wired whisk works best as it helps to dissolve the lumps in the batter.

Add more water and continue to mix. Overall you can add 2/3 to 3/4 cup of water.

Mix very well. You can briskly whisk this mixture for a minute to aerate it a bit.

You need to get a batter which is thick yet flowing, almost like an idli batter.

Now take 1/2 teaspoon eno or fruit salt.

Sprinkle the fruit salt all over the batter.

As soon as you add eno, mix very well and be quick. Do mix the eno very well with the batter. Otherwise you will have a faint green color on the idlis as well as uneven texture in them.
steaming idlis
Now pour the batter in the idli moulds. Place the idli stand in a 5 litre pressure cooker or idli steamer or an electric cooker.

Steam the idlis for 10 to 12 minutes or till they are done and a tooth pick or fork inserted in the idlis, comes out clean. These idlis cook faster. So do keep a check. Do not overcook as then they will become hard.

Once done, remove them and allow to sit for a few minutes.

Then with a butter knife gently remove the idlis from the mould. Place them in a casserole.

Serve instant idlis hot or warm with your favorite coconut chutney and sambar.
Tips for making instant idli recipe:
Since we are only using baking soda as the leavening agent, its best to check whether its fresh and active. If the eno is not fresh or active or past its shelf life, then the idlis will become dense.
To check, just add about 1/4 teaspoon fruit salt in 1 to 2 tablespoons of water and it should fizz and bubble. If it does not then the fruit salt is not active.
The ratio of sour curd and water can always be played around with. For a more sour taste, you can even add ½ cup of sour curd and reduce the water accordingly.
Also do note that these idlis cook faster than the ground & fermented idlis. So do keep a check while they are steaming.