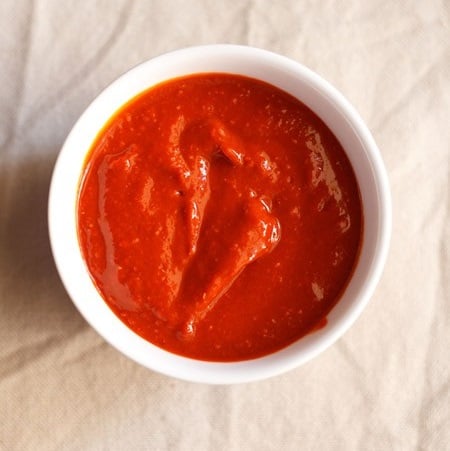 Print Recipe
red chutney for chaat recipes
Spicy and hot red chutney for chaat snacks, made with just three ingredients - dry red chilies, garlic and salt. This chutney is versatile and can be added to chaat like sev puri, ragda patties, dahi sev batata puri, bhel puri and even to wraps, sandwiches or with pakoras (fritters). Just a little is enough to spice up the dish.
Soak the red chilies in hot water for about 30 mins. The water just needs to cover them.

Peel and roughly chop the garlic.

Drain the red chilies.

Adding very little water grind both the red chilies and garlic in a chutney grinder or blender till smooth. The consistency of the chutney should be more towards thicker side or of medium consistency.

Pour the red chutney in a small jar or bowl. Cover and refrigerate.

When preparing chaat snacks, just add a small amount of red chili chutney while topping the chaat with other chutneys.