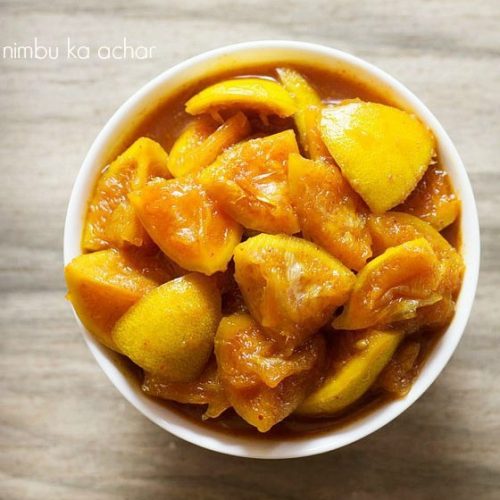 Print Recipe
nimbu achar recipe
easy nimbu ka achar recipe with step by step photos. sweet sour (khatta meetha) pickle prepared with lemons, jaggery and spice powders.
Servings:
1
medium bottle
chopping lemons
keep all the ingredients ready for making nimbu achar.

rinse the lemons and wipe them with a cloth. the lemons shouldn't have any trace of moisture in them.

chop the lemons into bite sized pieces.
making nimbu ka achar
heat a pan. lower the flame and then add 1 cup of jaggery in it.

after a minute, the jaggery powder will start melting. keep stirring the mixture.

then add 1.5 teaspoon red chili powder, 1 teaspoon coriander powder, 1/2 teaspoon roasted cumin powder, 1/2 teaspoon turmeric powder, 1/4 teaspoon hing and 2 teaspoons sugar & 3 teaspoons of salt.

keep stirring the mixture on low heat.

then add a teaspoon of oil.

stir the mixture for a minute or until it begins to bubble. switch off the flame.

add the chopped lemons into the hot mixture. stir and mix very well.

the mixture should nicely coat the lemons.

remove the lemon mixture into another vessel or bowl. allow to cool.

at room temperature transfer the lemon pickle into a sterilized bottle. cover tightly with a lid and allow the pickle to rest in the jar for 2 to 3 days. you can even keep for 4 to 5 days.

after 3 to 4 days the lemons would leave moisture and blend well with the spices and jaggery mixture. if you want then you can also keep the lemon pickle in the sun for 2 days. when the pickle is ready, then refrigerate.

serve nimbu ka achar with aloo parathas, rotis or onion paratha. this achaar would stay good for about 2 months in the fridge.
how to sterilize the glass jar for storing nimbu ka achaar
:
in a large sauce pan heat water, till it reaches its boiling point, meaning it has begun to boil.
immerse the jar and its metallic lid in the hot water.
continue to boil water along with the jar for 8 to 10 minutes.
remove the jar with the help of clean tongs and place the jar inverted on a thick towel kept on the kitchen tabletop.
let the jar dry naturally.
Calories:
1074
kcal
|
Carbohydrates:
260
g
|
Protein:
6
g
|
Fat:
6
g
|
Saturated Fat:
1
g
|
Sodium:
7038
mg
|
Potassium:
748
mg
|
Fiber:
15
g
|
Sugar:
223
g
|
Vitamin A:
20
%
|
Vitamin C:
321.2
%
|
Calcium:
19.7
%
|
Iron:
35.7
%