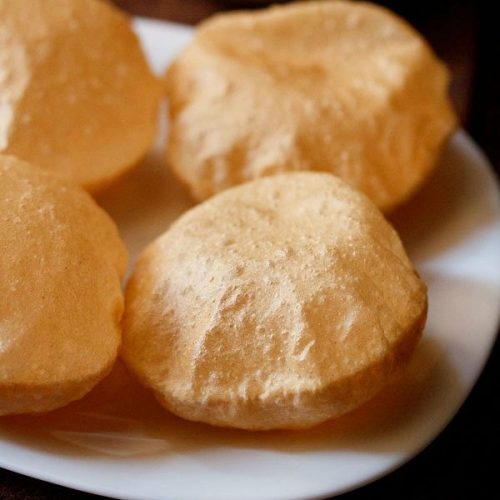 Print Recipe
crisp poori recipe
poori recipe - how to make crisp and yet soft pooris
kneading dough for crisp pooris
in a bowl take 2 cups whole wheat flour (atta), 3 tbsp fine sooji (rava or cream of wheat) and 1/2 tsp salt or add salt as per taste.

mix everything very well with a spoon or with your hands.

add water little at a time and as required. also add 1 tsp oil.

begin to mix first and then start to knead the dough.

then add more water as required and knead the dough really well. the dough may appear hard as first, but as you continue to knead it will become slightly soft.

the sooji absorbs water while you knead. so if the dough looks sticky, then don't worry. continue to knead and the stickiness will go away. the dough should not be too soft but a little stiff and tight.

cover and allow the dough to rest for 30 minutes. after 30 minutes again knead the dough lightly.
rolling and frying poori
make small to medium sized balls of the dough. cover and keep aside.

now take a dough ball. with your palms slightly flatten it and apply oil to it on both sides.

gently roll to a small or medium sized poori or circles which is neither too thin nor thick.

you can roll the poori and fry it simultaneously or place the rolled pooris in a plate and later fry them. do cover with a clean kitchen towel, so that they don't dry up.

heat oil in a deep frying pan or kadai.

when the oil is sufficiently hot then add one poori at a time.

the poori will rise gradually on top and begin puffing up.

gently nudge with the slotted spoon so that the poori puffs up very well.

once the oil has stopped sizzling, gently flip the poori and fry the other side.

once both the sides are crisp, golden and fried well, remove the poori with a slotted spoon. drain on kitchen paper towels.

serve pooris hot or warm with any potato curry or any veg curry.