Collection of 70 winter special vegetarian recipes. sometimes I am requested by readers to make collection of recipes season wise. So I am starting with a collection of special winter recipes.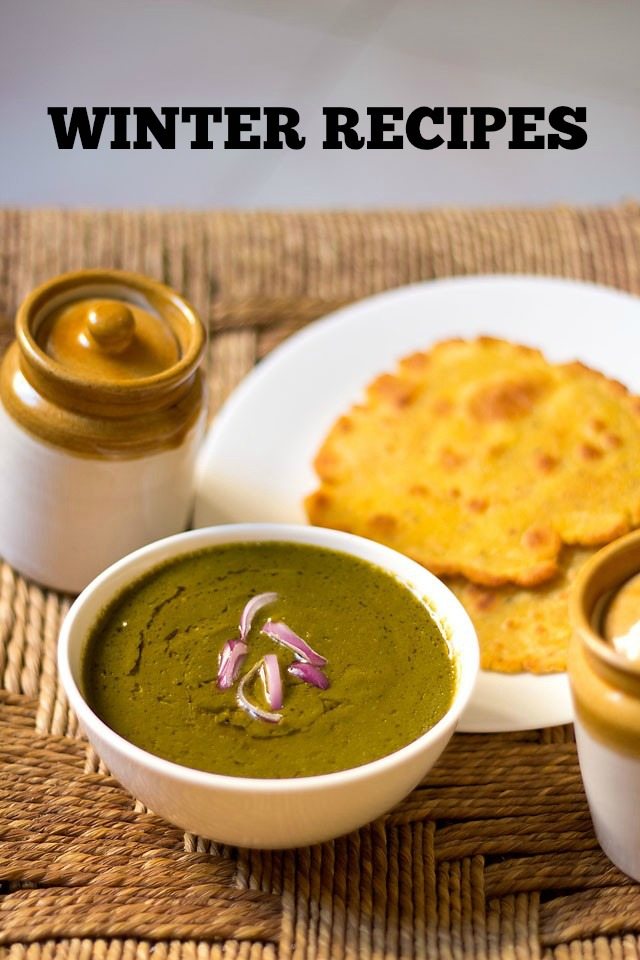 To make this collection, I have considered three factors.
Recipes made with vegetables or ingredients which arrive during winter or are freshly available, e.g sarson (mustard greens), phonk or hurda (tender jowar), green peas (matar), flat beans, purple yam, brinjal (baingan), greens like spinach (palak) and fenugreek leaves (methi) etc
Spicy and hot recipes like spicy soups, curries and rice based dishes.
Recipes made with ingredients which are warming to the body and are generally consumed during winters like sesame seeds, peanuts, dry fruits, ginger, millet flour (bajra) etc.
I have divided this post into 3 parts:
Main course recipes
Snacks recipes
Sweets recipes
I hope this collection of winter recipes, helps you in making menu choices during the winter season. Stay warm and stay healthy.
Main course recipes for winters:
1. Bajra roti recipe – gluten free delicious flat bread made from millet flour or bajra flour. millets are healthy grains. So its very good to include them in your diet. you can serve bajra roti hot or warm with an Indian vegetable curry, dal or side veggie dish like Bharli vangi or Usal or Badanekayi ennegayi or Gutti vankaya kura.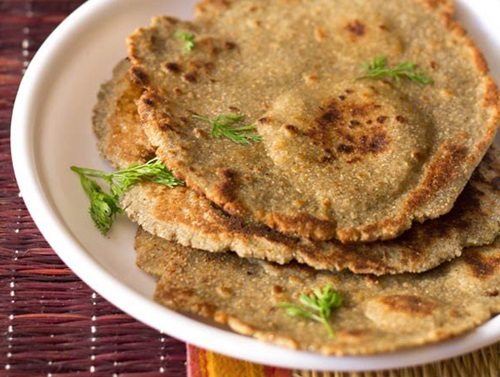 2. Sarson ka saag recipe – delicious sarson ka saag topped with Homemade butter and served with Makki di roti (flat breads from maize flour) is not only comforting but also warms up the palate as well as the body. It is one of the most Popular Punjabi recipe made during winters.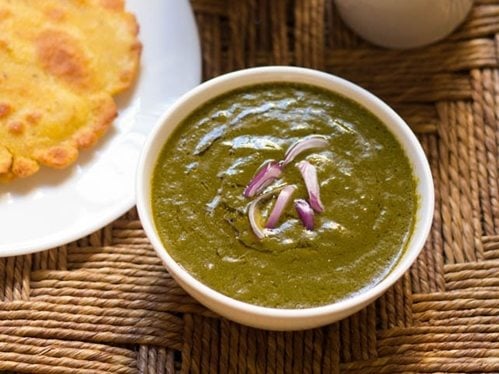 3. Undhiyu recipe – undhiyu is a one pot vegetable casserole dish that is the hallmark of Gujarati vegetarian cuisine. This is an easy undhiyu recipe that does not take much time. Undhiyu is made during winters in southern Gujarat, as some of the veggies added in it are only available in the winter season.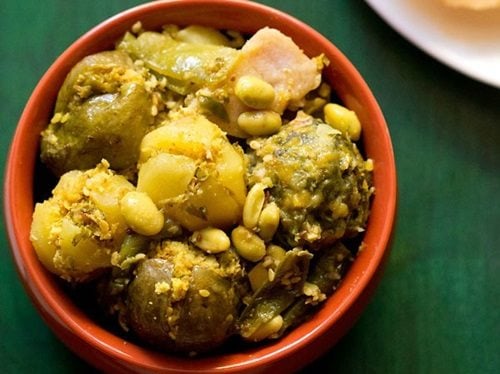 4. Kashmiri dum aloo recipe – baby potatoes in a spicy vibrant curd based gravy. A delicious recipe from the Kashmiri cuisine. if you are looking for a mild dum aloo recipe then I suggest you to check: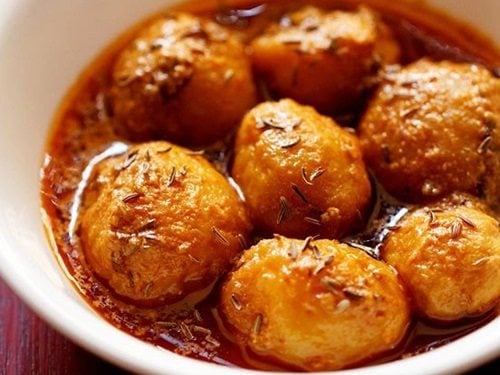 5. Rasam recipe –  this rasam is sour, spicy and is warming to the palette. Its best to have rasam in chilly winters or when you are suffering from cough and cold. The spices and herbs that go into the rasam like cumin, black pepper, garlic and tamarind help in relieving the cold and also act as a digestives.
Rasam Can be had plain like a soup as an appetizer. It can also be served with steamed rice along with a side vegetable dish like Potato roast, French beans poriyal, Beetroot poriyal or even along with Vegetable sambar.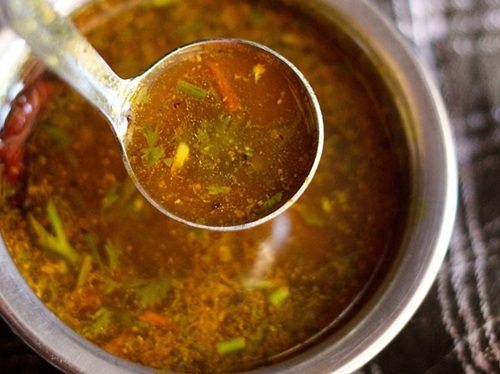 6. Spicy veg pulao recipe – a one pot spicy vegetable pulao recipe. the four ingredients which contribute to the spice and heat are ginger, garlic, green chilies and red chili powder. this pulao recipe is not very spicy but medium spicy.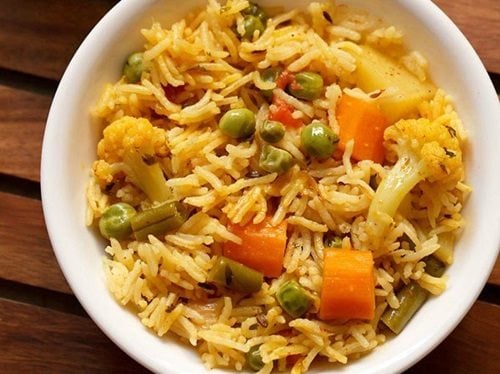 7.  CHoliya pulao recipe – a simple, easy and healthy pulao made from fresh green chickpeas (cHoliya or hara chana or harbhara). CHoliya is available during winters. Few more delicious Pulao varieties you can check are: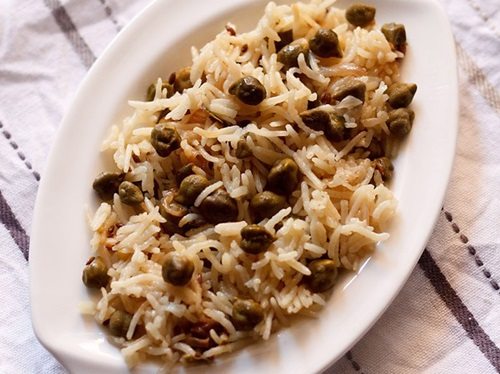 8. Spicy veg biryani recipe – this is a spicy veg biryani with robust flavors. There is no layering involved in the biryani. Like most South Indian biryanis this recipe is one pot and cooked in steam or dum. Other spicy rice based recipes on blog are:
Mushroom biryani (Chettinad style)
South Indian mushroom biryani (spicy biryani)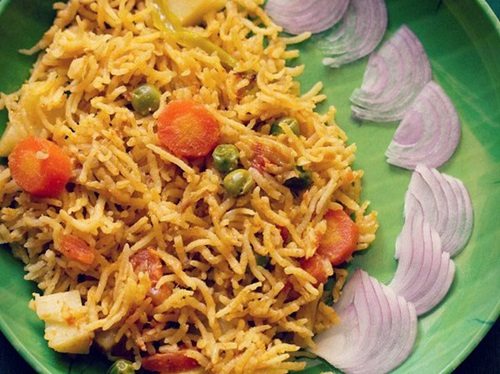 9. Palak saag – saag made with spinach and radish (mooli). This palak saag recipe is exactly the same way Sarson da saag is made. You can also check this Chane ka saag recipe.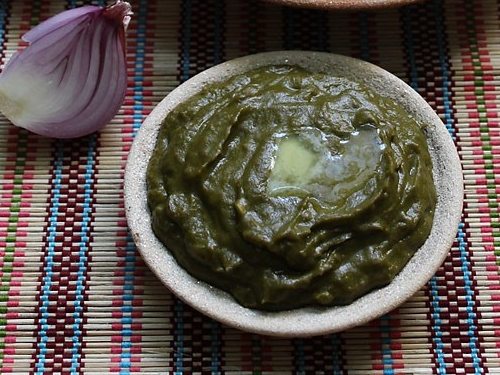 10. Baingan bharta – simple and delicious Punjabi baingan bharta recipe made without the use of many spices and masalas. In regional Indian cuisine, there are many popular recipes made using fire roasting the brinjal.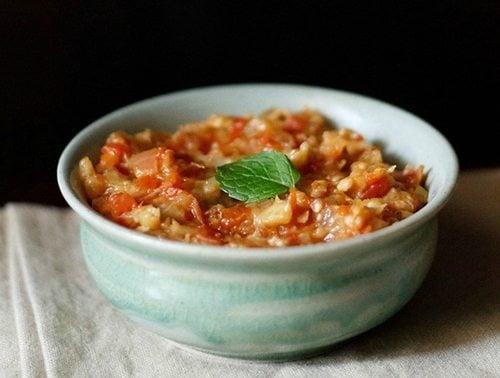 11. Mooli paratha recipe – delicious North Indian parathas stuffed with spiced grated radish. usually mooli parathas are served with Butter or Curd or Pickle of your choice. Few more popular Punjabi paratha recipes you can make are: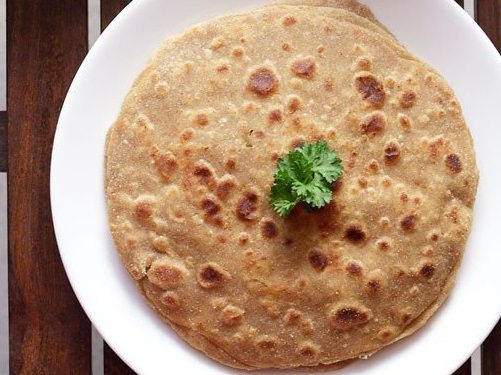 12. Aloo methi – potatoes with fenugreek leaves made in Punjabi style. Simple home cooked food with minimal ingredients. Vegan and gluten free. For more tasty fenugreek recipes you can check this collection 20 Recipes made with methi leaves.
13. Matar ka nimona – easy to prepare UP style matar ka nimona recipe. This is a gravy like dish prepared with fresh green peas, onions, tomatoes and spices. I have also added potatoes but they are optional. For more delicious green peas recipes you can check this Collection of 30 recipes made with matar.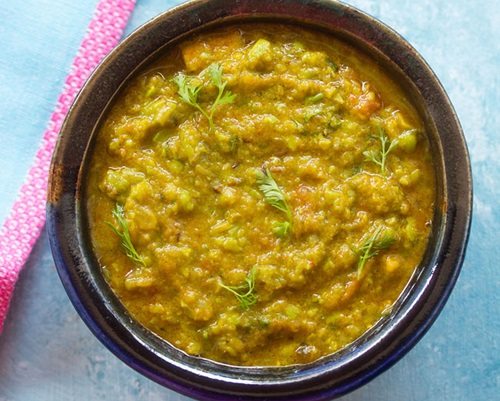 14. Aloo palak recipe – potatoes in a smooth spinach sauce. the dish pairs well with rotis, phulkas or naan. I have also shared Aloo palak sabzi recipe.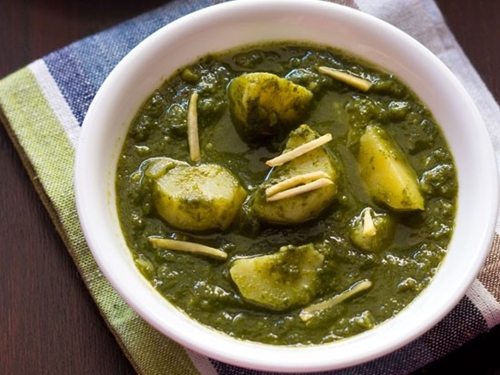 15. Vangi bath (Karnataka style) – homely delicious recipe of brinjal rice from the Karnataka cuisine. Karnataka vangi bath recipe makes use of vangi bath masala powder and tamarind pulp as two of the main ingredients. Whereas the Maharashtrian vangi bhath recipe used Goda masala and curd or tomatoes.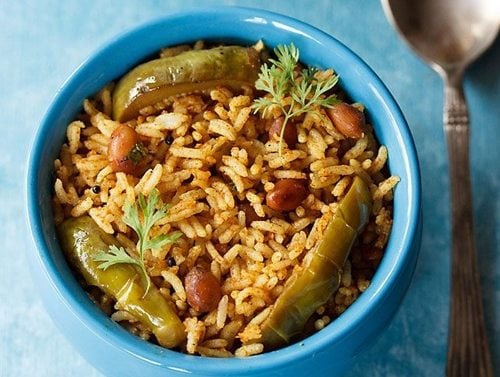 16. Milagu jeera rasam recipe – this pepper cumin rasam is spicy, tangy and hot rasam thats good during the winters. another similar version is this Pepper rasam recipe (milagu rasam) which is also good for cough and cold. For more rasam recipes you can check this collection of 14 Rasam varieties.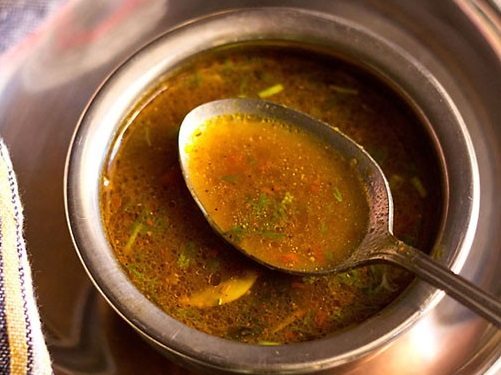 17. Methi malai paneer – creamy, mildly sweet gravy with hints of bitterness from methi leaves. For more paneer recipes, you can check this collection of 82 Recipes made with paneer.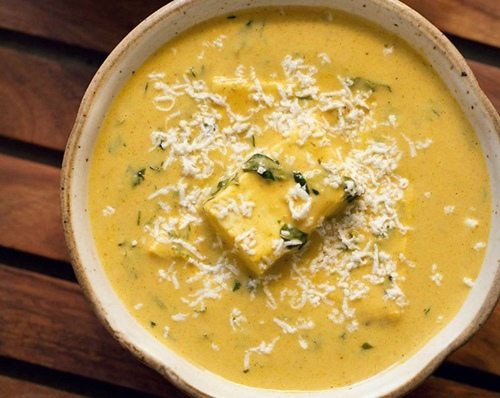 18. Palak chole – the palak chole recipe is like the North Indian chana curry and just has the addition of spinach. Basically an onion-tomato paste sauted with spices to which the spinach and then the chickpeas are added. Few more delicious variations which are made often are: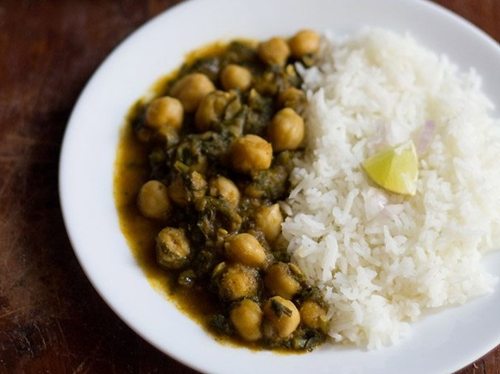 19. Bathua paratha recipe – delicious parathas made with bathua leaves. Bathua is warming and thus its good to have during winters. This bathua paratha recipe is similar to the way I prepare Palak parathas.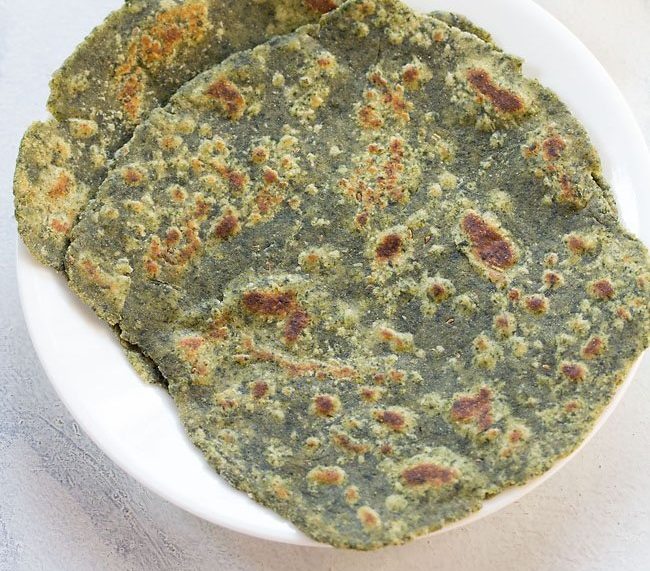 20. Aloo cHoliya recipe – a North Indian Punjabi curry recipe made with potatoes and fresh green chickpeas (hara chana or harbhara). I make this lightly spiced and thin curry in the winters often. Since this is the season we get fresh green chickpeas in the Indian market.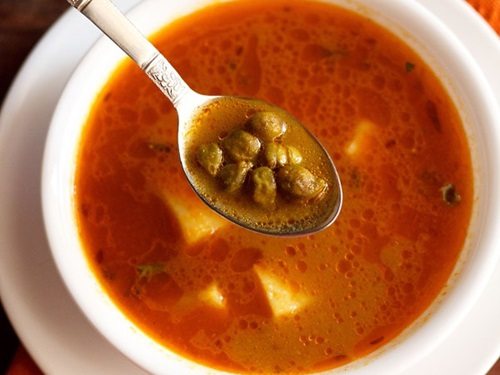 21. Matar paneer – spiced and creamy curry with peas and cottage cheese. This recipe is not restaurant style but a simple homemade dish. The kinds which make for a homely comforting meal. a family recipe. I have also shared Dhaba style matar paneer recipe.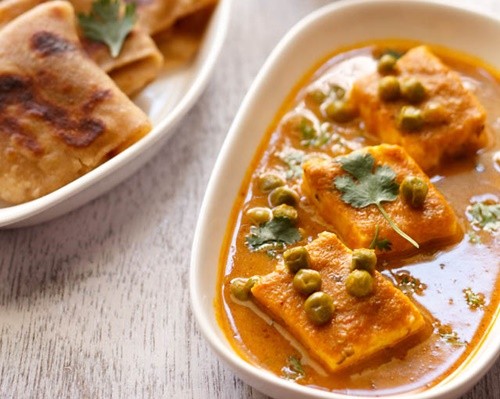 22. Palak dal – easy and simple spinach dal step by step recipe. No onion no garlic recipe. i have shared few more similar Dal recipes like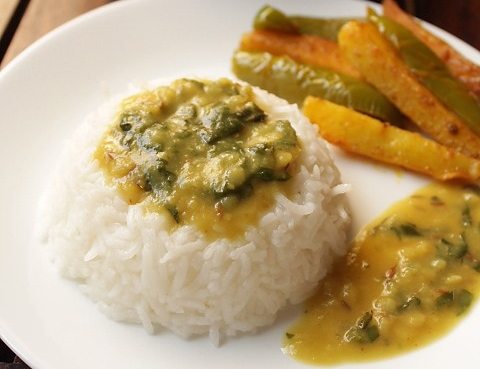 23. Methi thepla – flat breads made from fresh fenugreek leaves, whole wheat flour and gram flour can be munched anytime of the day. Makes for a healthy breakfast, tiffin or picnic brunches. Other similar recipes you can make during winters are: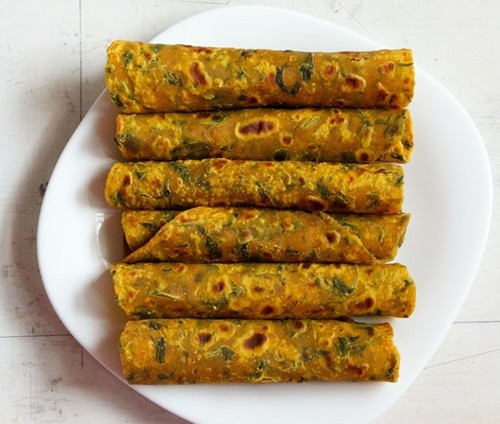 24. Saag paneer – paneer in spinach and fenureek greens. Goes well with rotis, Plain paratha or Makki di roti.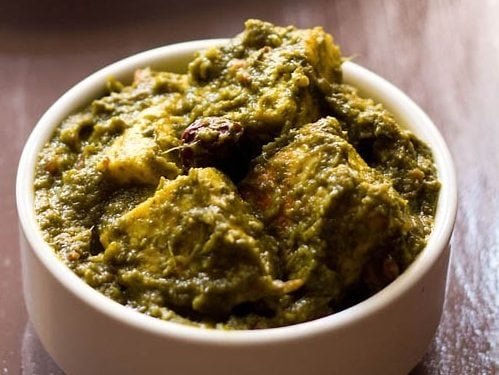 25. Gutti vankaya kura – stuffed brinjal curry from the Andhra cuisine. the stuffing is made from a mix of desiccated coconut, peanuts and spices, which is ground finely. Small tender brinjals are stuffed with this ground masala and then cooked. you can also check this Badanekayi ennegayi recipe.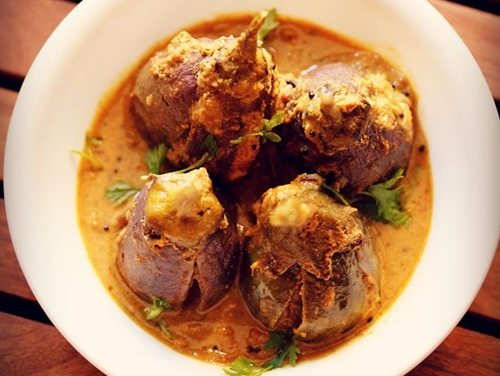 26. Palak paneer – Soft paneer cubes cooked in a smooth spinach curry. This is one of the most popular Indian paneer recipe. few more similar recipes made with greens and paneer that you can try are: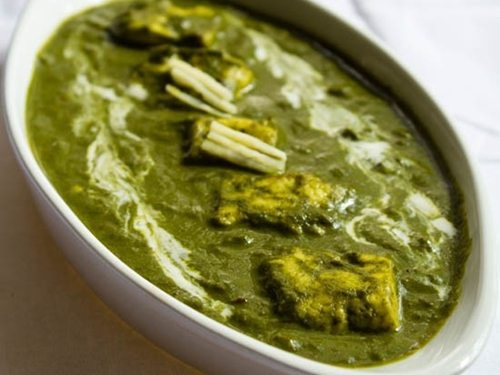 27. Methi matar malai – popular Punjabi North Indian curry made with green peas, fenugreek leaves and cream (malai).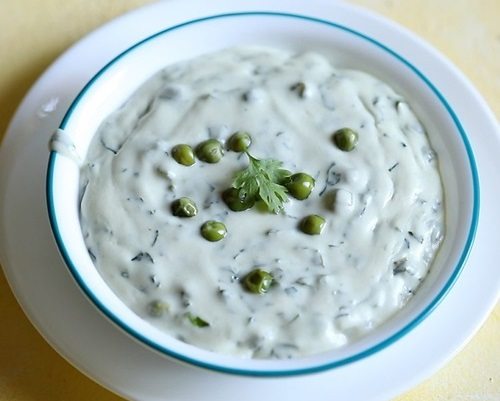 28. Aloo matar curry – a simple and home style Punjabi recipe of peas and potatoes curry. I have also posted Dry aloo matar recipe. few more delicious variations which are made in Punjabi homes are: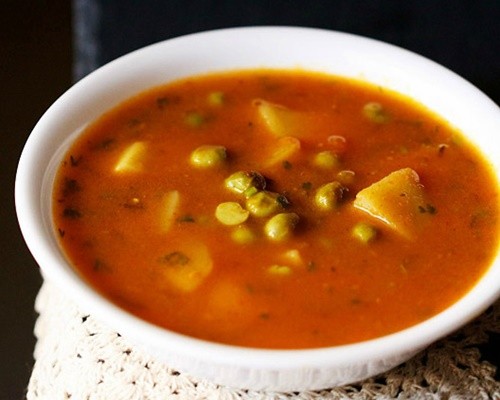 29. Veg Kolhapuri recipe – spicy mix vegetable curry from Kolhapuri cuisine. You can add any veggies of your choice. Vegetable Kolhapuri is best served with chapatis, Bajra bhakri or Jowar bhakri or Phulkas and even Parathas. you can also check this Paneer Kolhapuri recipe.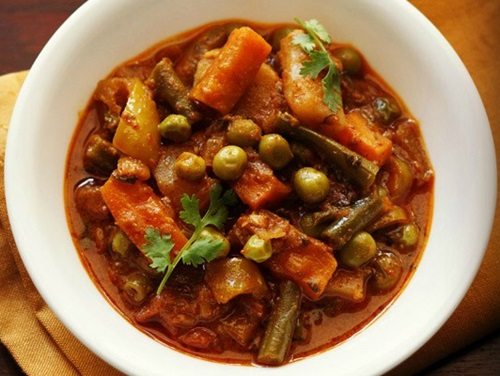 30. Chilli paneer recipe restaurant style – there is a gravy or sauce in this restaurant style chilli paneer version. You can serve chilli paneer with Veg fried rice or Schezwan fried rice or Burnt garlic fried rice or 5 spice rice. it also goes well as a side dish with Veg pulao or Jeera rice or Ghee rice. few more spicy recipes from Indo Chinese cuisine are: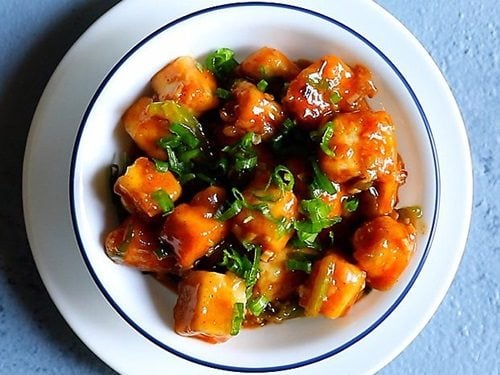 31. Chickpea curry recipe – spicy and super delicious South Indian chana masala curry made with coconut. In this chana masala the real flavor comes from the coconut and whole spices. chana masala is a regular dish at home. You can serve chana masala with rotis or Pooris or Bhatura or Aloo paratha or Kulcha. I have posted many popular Chana recipes On blog like: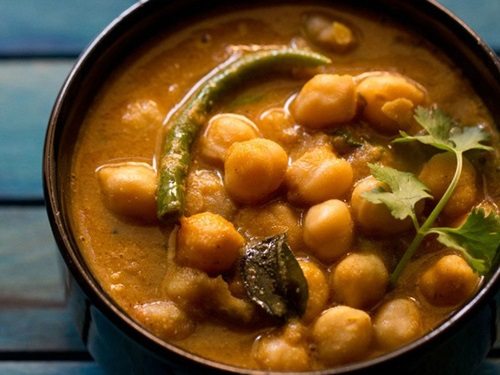 32. Mushroom pepper fry recipe – spicy and tasty recipe of mushroom and capsicum pepper fry. black peppers are added to this dish along with some more spices. The pungency of black pepper is one of the highlight of this recipe.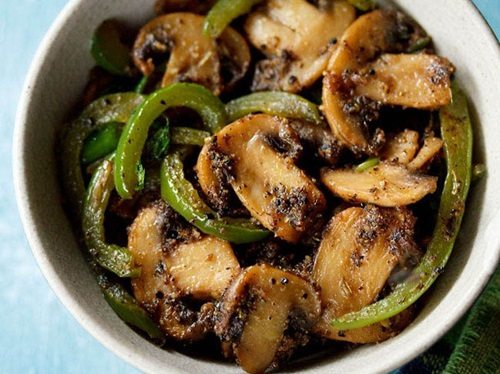 33. Schezwan masala dosa recipe – crispy, spicy and tasty schezwan masala dosa recipe from Mumbai. schezwan dosa is basically a fusion of the South Indian and Indo Chinese cuisine. Apart from this dosa there are many Dosa varieties which are popular in Mumbai like: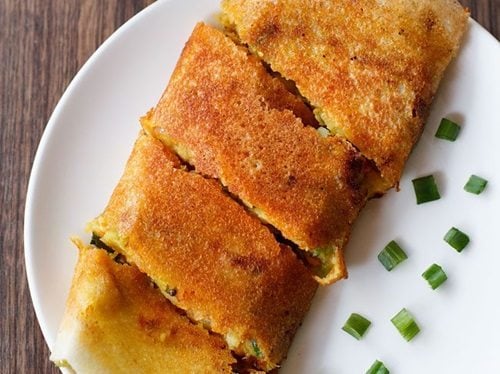 34. Matar pulao recipe – this tasty peas pulao is a simple and easy pulao recipe. the matar pulao is aromatic and has sweet tones because of peas or matar. i prefer to use fresh matar to make this pulao or other Green peas recipes like: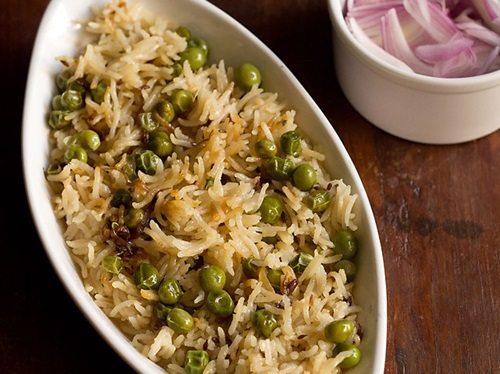 35. Vegetable kadai recipe – restaurant style delicious kadai vegetable gravy recipe. Making veg kadai takes some more time than preparing Kadai paneer as the veggies need to be cooked. But the results are too good and delicious.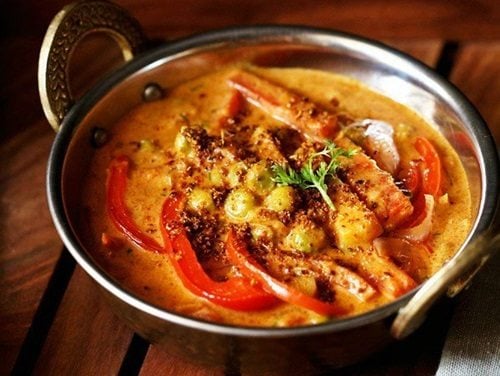 36. Papdi bhaji recipe – a simple mildly spiced steamed dish made with flat green beans. val papdi is also called as hyacinth beans or surati papdi.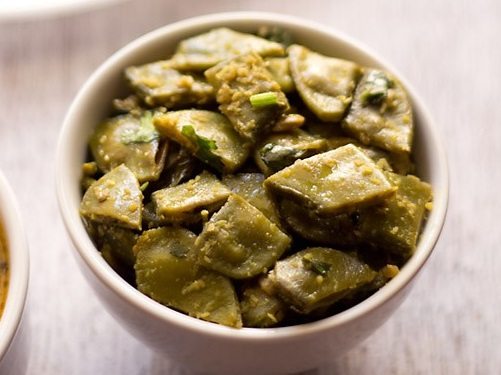 37. Kashmiri pulao recipe – Kashmiri pulao is one of the easiest pulao recipes to make and unlike other pulaos this one is on the sweeter side. Reason being the pulao is garnished with both dry fruits and fresh fruits. Dry fruits gives warmth and is ideal for the cold climate of kashmir.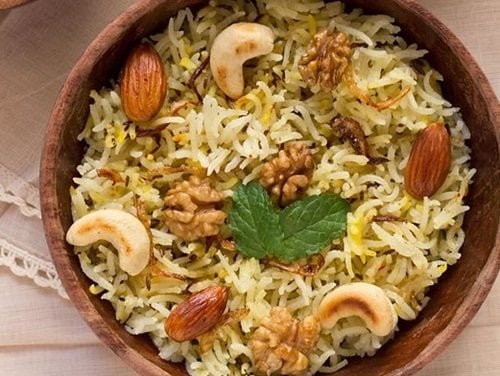 19 winter snacks recipes:
1. Bajra vada recipe – Gujarati style delicious vadas made from Bajra flour (pearl millet flour), spices and herbs. BAjra is a warming food, so good to have during winters or when the climate is cold. Two more recipes where bajra is added are: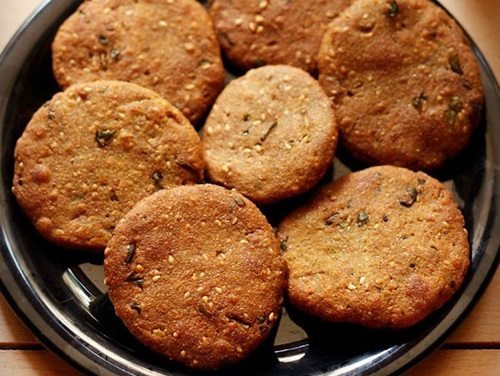 2. Tomato soup – Easy to make restaurant style tomato soup. This is one of the most popular soup recipe on the blog. For more tomato recipes, you can check this collection of 26 tomato recipes.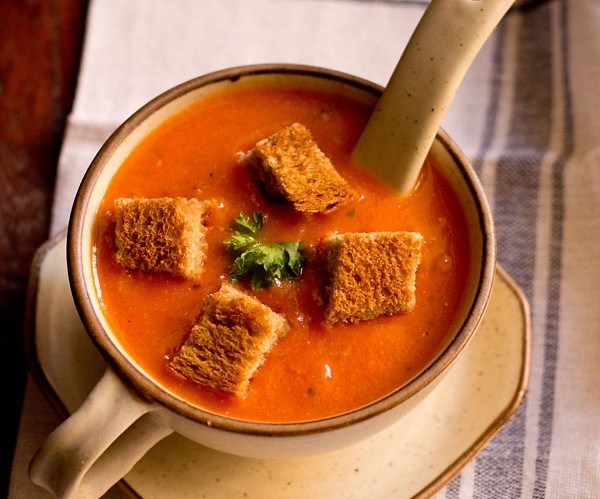 3. Koraishutir kachori – fried bread with a mild and sweet green peas stuffing. A popular Bengali breakfast as well as snack. Few more similar recipes on blog are: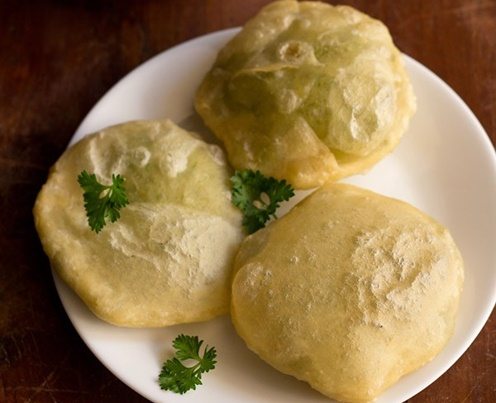 4. Carrot ginger soup recipe – easy recipe of a comforting carrot and ginger soup. There is sweet taste in the soup coming from the carrots along with the warmth of ginger. During winters its good to have soups. There are many Popular soup recipes on blog like: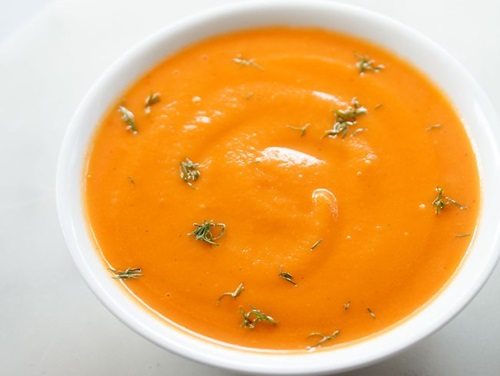 5. Chura matar recipe – UP style recipe of chura matar or matar poha. Chura matar is an evening snack which is popular and made in many homes in Uttar Pradesh during the winters.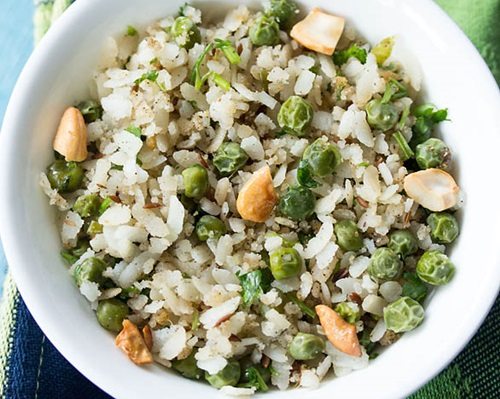 6. Spinach soup – Easy and creamy palak soup recipe with video. Good way to include healthy greens in your diet. If you want to include more of spinach in your diet, then here is this useful collection of 29 spinach recipes.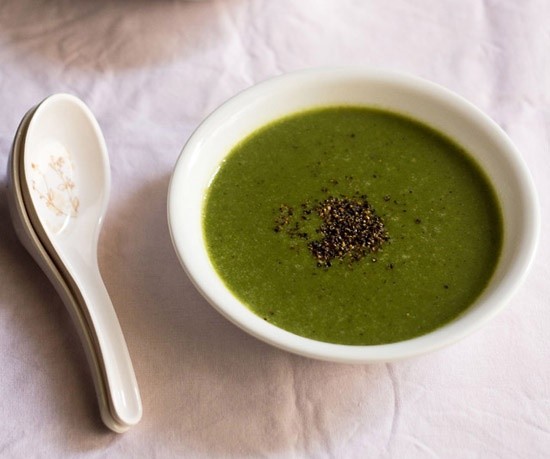 7. Hurda upma recipe – healthy and nutritious upma made with tender sorghum (jowar) grains. Every year during winters, tender jowar grains are available in the markets. These green grains are super healthy and there are many snacks that you can prepare with them. Two more recipes I make with hurda are Hurda pakora and Hurda bhel recipe.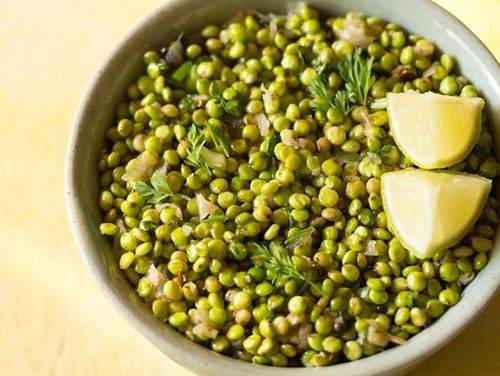 8. Gobi gajar shalgam achar – sweet and sour Punjabi winter special pickle made with cauliflower, carrots and turnips. For more pickle recipes, you can check this Collection of 12 pickle recipes.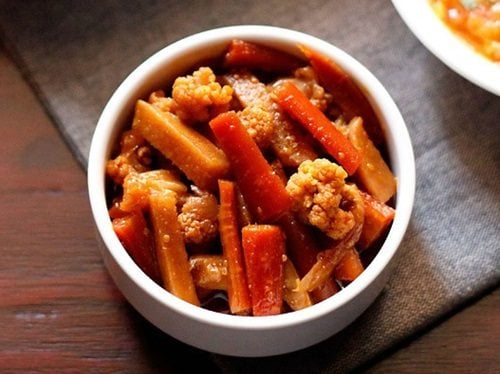 9. Hara bhara kabab recipe – tasty veg kabab made from spinach, peas and potatoes. Nutritious as well as delicious. hara bhara kabab is an easy finger food that can be served as a brunch or also as a starter. One which is light and not heavy. Few more kabab recipes on blog are: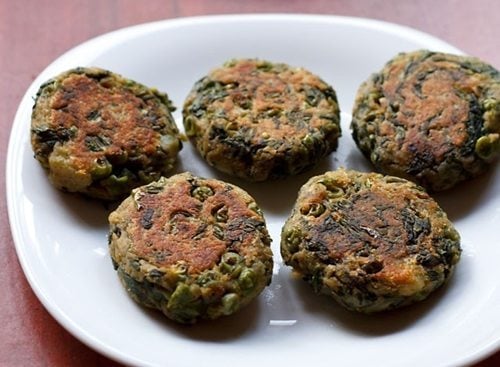 10. Manchow soup – spicy and hot soup made from mixed vegetables. An Indo Chinese step by step recipe. you can serve veg manchow soup as starter with any Indo Chinese main course like: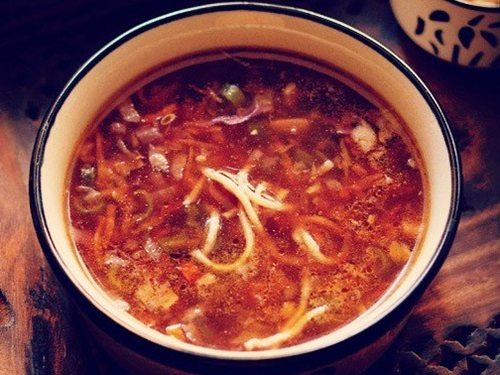 11. Sweet potato chaat recipe – this is one of the most easy to prepare chaat recipe with sweet potatoes or shakarkandi. This chaat tastes so good that you can have this chaat any time. Its a popular street food in north India. For more delicious chaat snacks you can check this Collection of 32 chaat snacks recipes.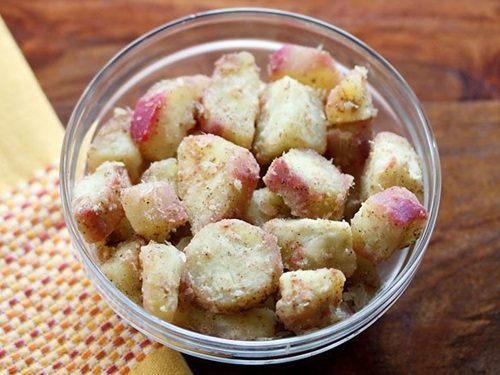 12. Ginger tea recipe – warm, spiced tea made with ginger and cardamom. ginger tea is a very common Indian beverage made from tea leaves and fresh ginger. Its also called as adrak wali chai in India. you can serve the ginger tea plain or with Indian snacks like Pakora, Tikki, Cutlet, Medu vada, Namak pare, Sandwiches or Samosa.
13. Gobi 65 recipe – a tasty starter snack of spicy fried cauliflower florets for the winters. The genre of 65 recipes are pretty popular in southern parts of India. The recipe I am sharing is not very spicy and adapted from my Paneer 65 recipe. two more delicious variations are: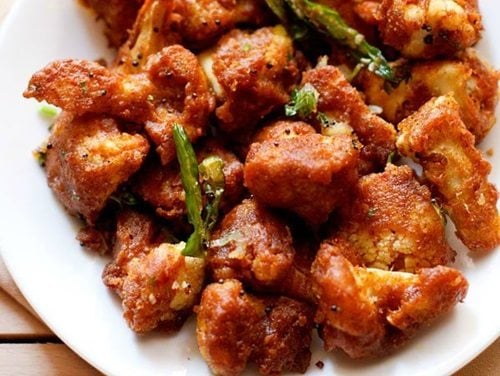 14. Masala chai recipe – Indian spiced tea or chai made with whole spices. this recipe shows how to make masala chai when you do not have Masala tea powder. you just need a few whole spices.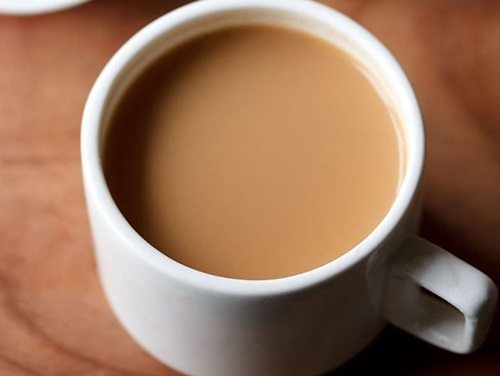 15. Kand pakora recipe – crisp fritters made from purple yam. These pakoras are also called as ratalu puri. serve these kand pakoras with Coriander chutney, Mint chutney or with Tomato ketchup.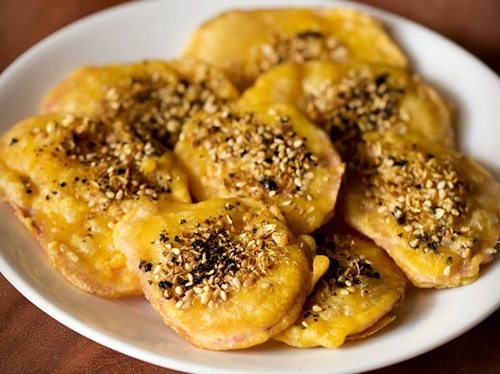 16. Palak pakora recipe – crisp and tasty Deep fried spinach fritters. these palak pakoras can be baked too if you don't want to fry them, with all the goodness of the spinach, sesame seeds and of course chickpea flour. Few more popular Pakora recipes you can check are: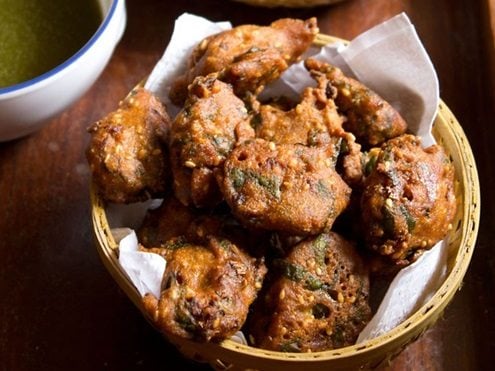 17. Carrot kanji recipe – gajar kanji is a traditional Punjabi fermented drink that is made in the winters. the kanji is made with simple ingredients – carrots, mustard powder, red chilli powder and black salt along with water. The mustard added to the kanji helps in keeping the body warm in the chilly winters of the north. You can also add some turnips to the kanji if you prefer.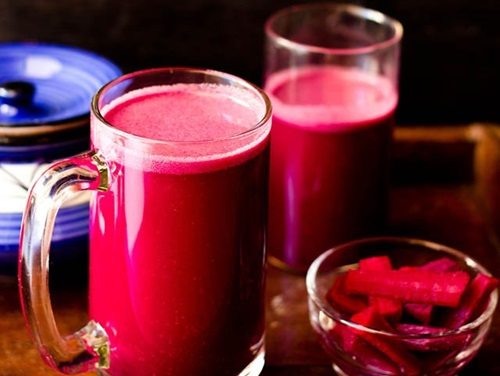 18. Aloo chana chaat recipe – spicy, tangy, sweet chaat recipe made with boiled potatoes and white chickpeas. For more delicious chaat varieties you can check this collection of 32 chaat snacks recipes.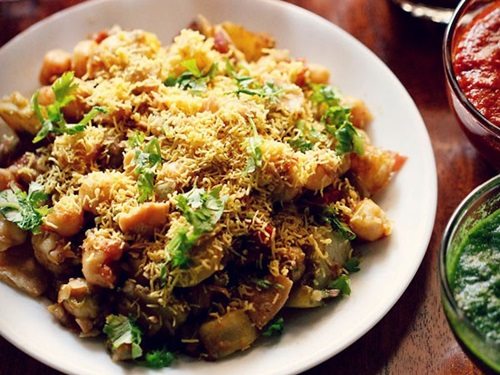 19. Ram ladoo recipe – a popular street food snack from Delhi. These are basically fried pakoras or vadas made from moong dal and chana dal batter. However they are called as ram ladoos.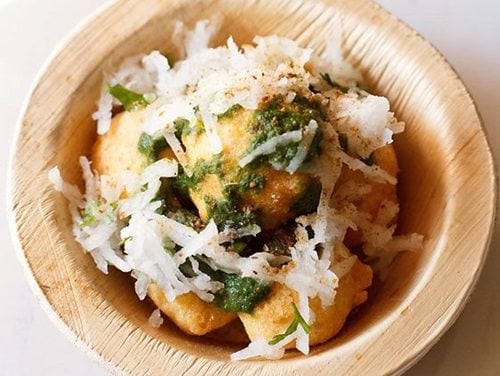 10 winter sweets recipes
1. Gajar halwa recipe – during winters, we make gajar halwa often. Its a popular dessert in north India during winters. This recipe is a traditional way of making delicious gajar halwa without any shortcuts or tweaks.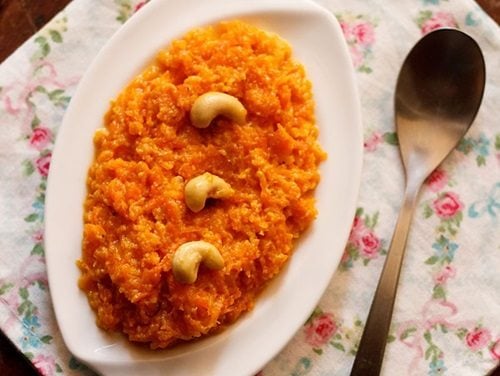 2. Peanut ladoo recipe – easy two ingredient recipe of ladoos made with roasted peanuts and jaggery. these peanut ladoos stay good for about a week at room temperature and for 15 to 20 days in the fridge. You can serve these ladoos plain or even serve it as a sweet snack in the tiffin box. The recipe can also be easily doubled or tripled. Other recipes you can make with peanuts are: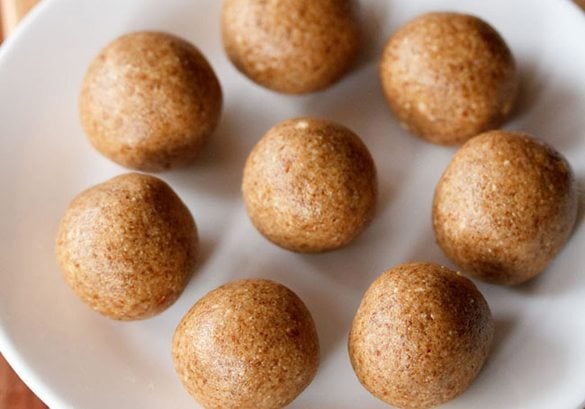 3. Til gud ke ladoo recipe – easy recipe of delicious ladoos made with sesame seeds, peanuts, desiccated coconut and jaggery. two more versions I have shared are:
Sesame seeds ladoo – where the jaggery syrup is cooked till a soft ball consistency.
Til khoya ladoo recipe – where the ladoo are made with sesame seeds powder and Khoya.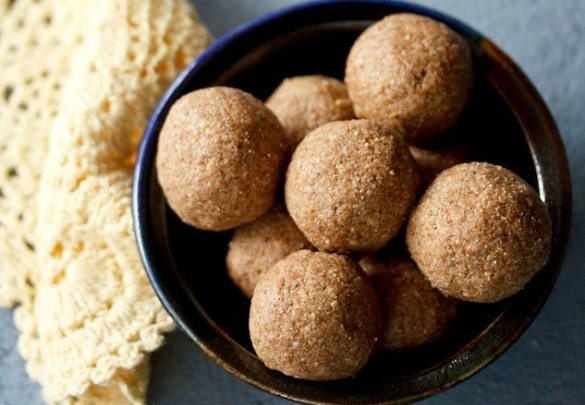 4. Gajar burfi recipe – easy, quick and tasty recipe of carrot burfi made with 4 ingredients. the recipe of carrot burfi is similar to the way gajar halwa is made.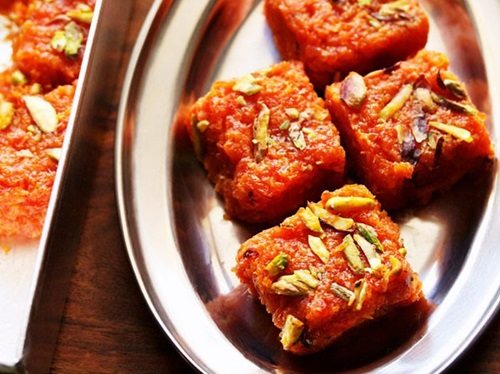 5. Dry fruits ladoo – no sugar ladoos made with dry fruits. This is an easy and quick recipe for making these healthy and delicious ladoos. Also a vegan recipe.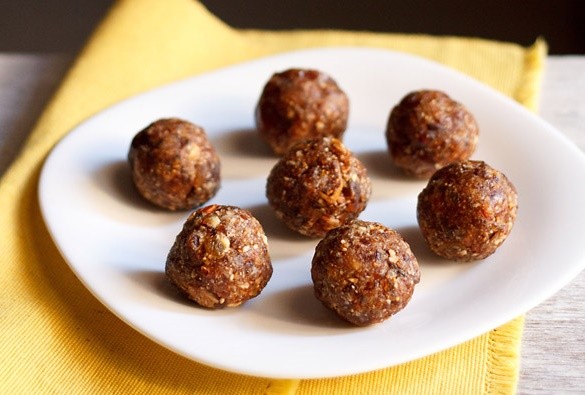 6. Dry fruits barfi recipe – a simple, easy and tasty recipe to make dry fruits barfi. in this recipe, Apart from mixed dry fruits i have also used sesame seeds and desiccated coconut. Since made of dry fruits, this barfi is warming in nature and hence good for cold seasons or winters. Few more Barfi recipes you can make are: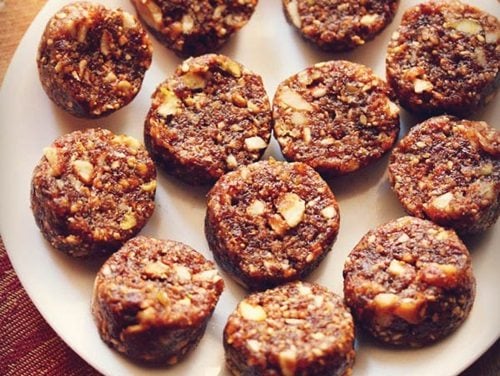 7. Badam ladoo – quick and easy ladoos made with almonds, jaggery and raisins. Badam ladoos make for a healthy sweet snack. Another very popular South Indian sweet made with badam is this Badam halwa recipe.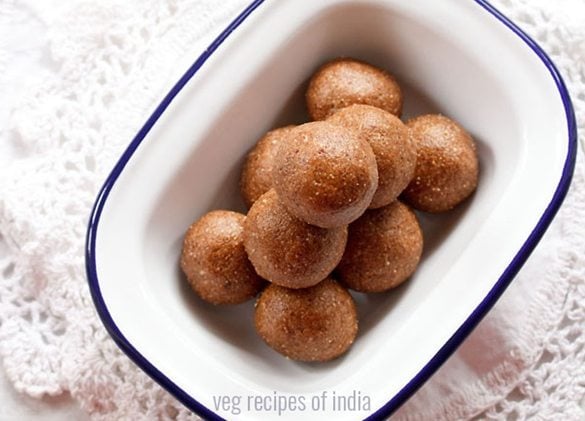 8. Nolen gurer payesh recipe – a delicious rice kheer made with date palm jaggery and rice. Nolen gurer payesh recipe is a winter delicacy as fresh date palm jaggery arrives in the markets in winters in west bengal.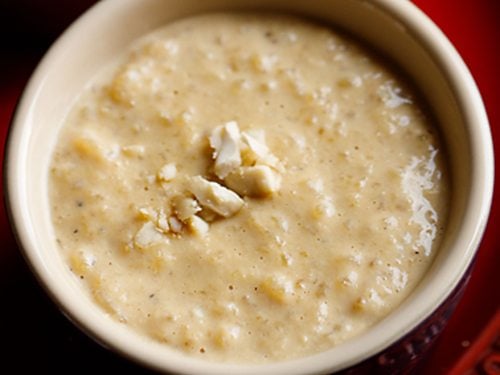 9. Besan ladoo – a popular ladoo made from gram flour, powdered sugar and ghee. while making besan ladoos, its important to roast the gram flour well, till it starts releasing the ghee and also will starts giving nutty fragrance. Other popular sweets you can Make with besan are: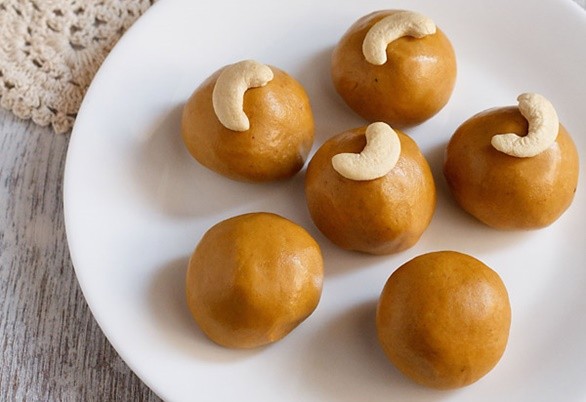 10. Panjiri recipe – a traditional Punjabi sweet made with whole wheat flour, sugar, ghee and dry fruits. serve this panjiri sweet anytime just as it is or with some warm milk. Panjiri stays good for many weeks at room temperature.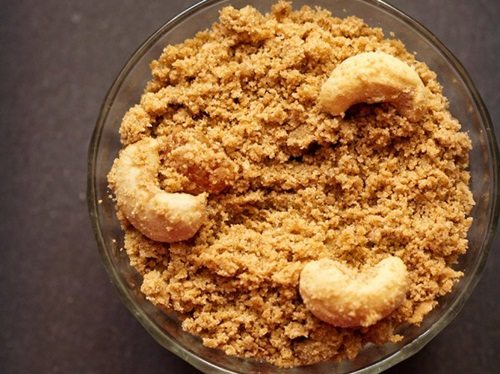 11. Eggless christmas fruit cake recipe – this fruit cake has a wonderful fragrant aroma and is light, crumbly, moist and too delicious with notes of rum in it. the recipe used a mix of dry fruits and nuts. You can use your choice of dry fruits also. i have also shared two more version of fruit cakey:
Kerala style christmas plum cake (made with whole wheat flour, apple juice and caramel)
Eggless christmas wine fruit cake recipe (made with red wine)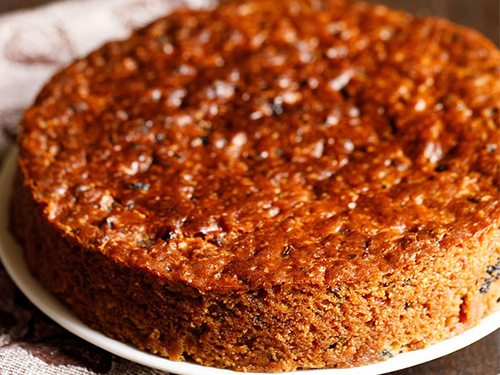 12. Atta ladoo recipe – easy and quick to prepare delicious ladoos made with whole wheat flour or atta. atta ladoo is not only good during winters but also in the monsoons. Plus they are filling too. you can also check Karah prasad and Atte ka halwa recipe.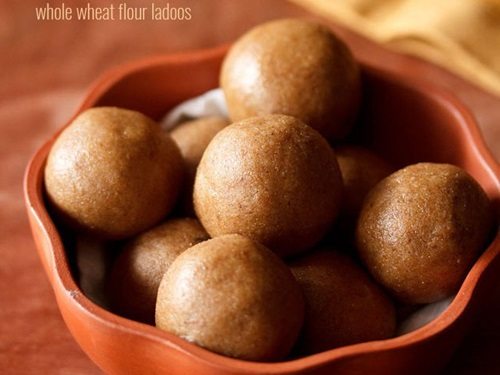 13. Apple pie recipe – an easy to make vegan apple pie spiced with cinnamon and nutmeg. Other recipes you can make with apples are: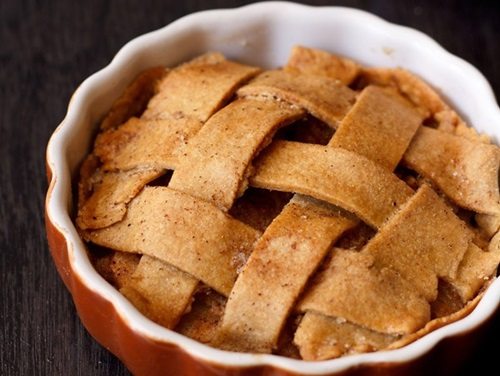 14. Khubani ka meetha recipe – a very popular sweet dish of Hyderabad. Khubani is the urdu term for apricots. Meetha means sweet. So in english, khubani ka meetha translates to apricot sweet or sweet dish made from apricots.