vegan strawberry shortcake recipe – when a fruit vendor delivered strawberries to our house, thinking we are the previous owners, i did not knew what to do with the strawberries besides making shakes or smoothies.
so i asked on my facebook page and got some suggestions. one of the suggestion was to make a strawberry shortcake.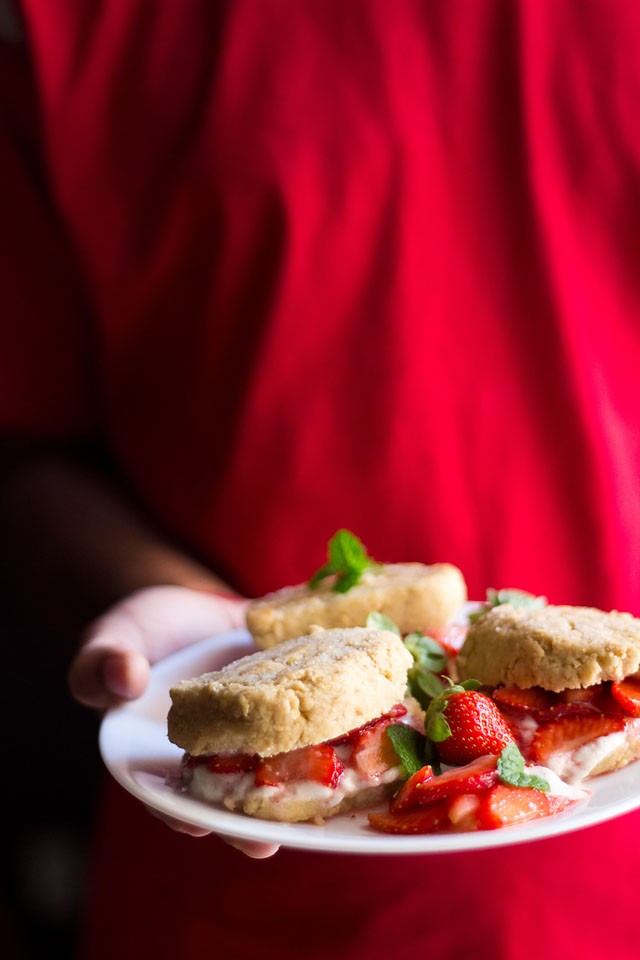 since we have never ever had a strawberry shortcake, i decided to make the shortcake.
a shortcake is a small sweet crumbly biscuit like cake leavened with baking powder or baking soda. more about shortcake here.
i adapted this recipe from the cook book "the cookie and biscuit bible : over 300 delicious, easy-to-make recipes" and veganised it. the original recipe asked for cream which i substituted with cashew cream. so this recipe is vegan.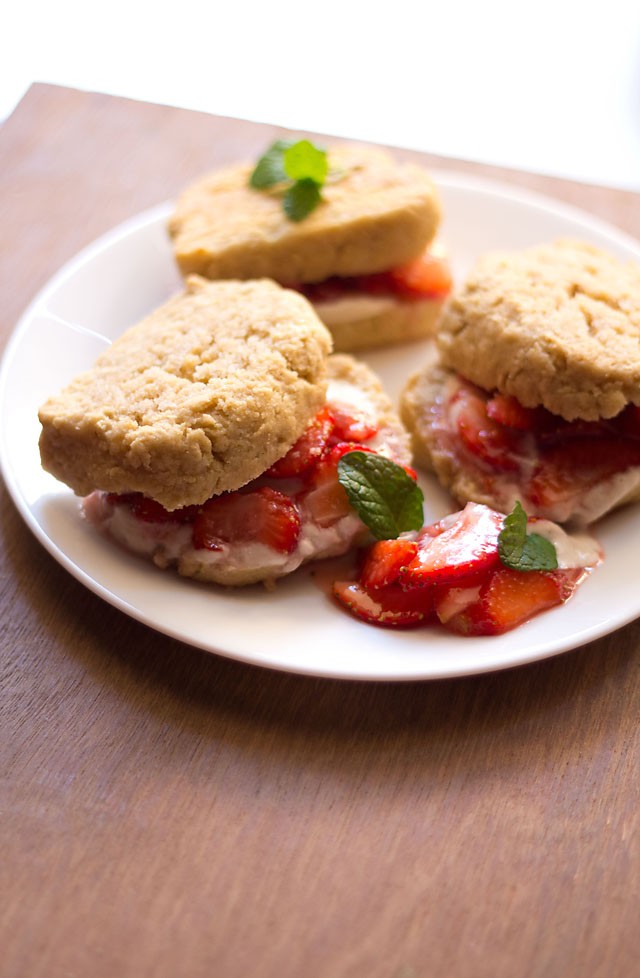 in the strawberry shortcake recipe, the amount of baking powder used was 1 tbsp for 2 cups of flour which i felt was too much and would give a bitter taste to the shortcake. so i added 3/4 tbsp but still there was a slight bittery tinge. so i would suggest to add ½ tbsp baking powder if you plan to make this strawberry shortcake.
using regular cream is your choice and you can use it instead of cashew cream. if you are feeling too lazy to make the shortcake, then you can just get some ready sponge cake. make the strawberry filling at home and add it to the sponge cake.
now for the filling…. strawberry and whipped cream is a great combination. here, i have replaced cream with cashew cream. the taste was not that like of strawberry and whipped cream, yet we enjoyed this stuffing. it was much similar to the fruit sald with cream i had posted earlier. you can also check this strawberry cream recipe.
overall the result was a strawberry shortcake which was good and we loved it.
so when you have strawberries and wanna have a dessert, then do make this easy eggless & vegan strawberry shortcake.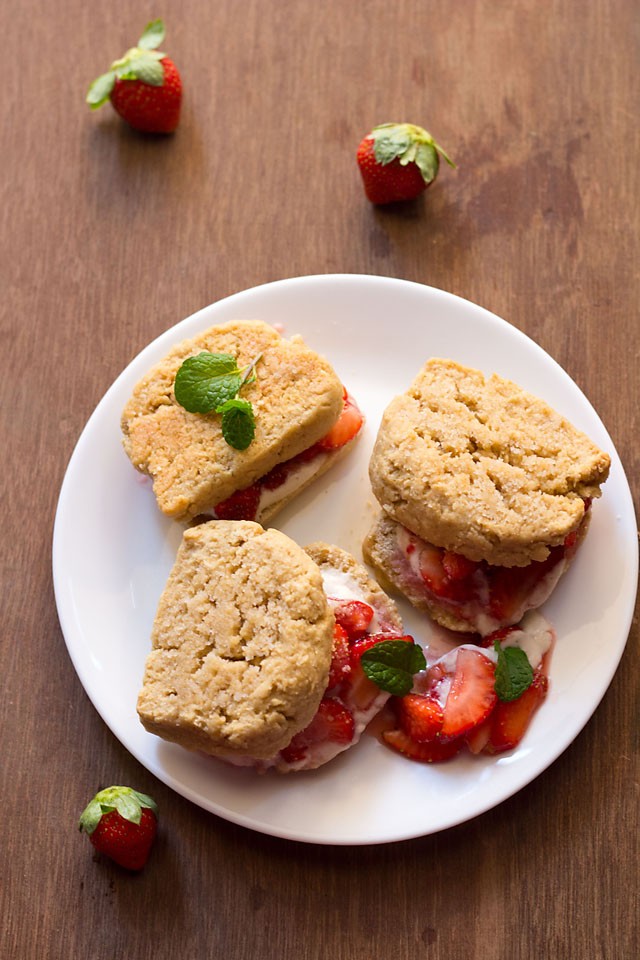 if you are looking for eggless recipes then do check vanilla cake, black forest cake, chocolate cake, banana bread, choco lava cake and strawberry cream cake recipe.
vegan strawberry shortcake recipe below: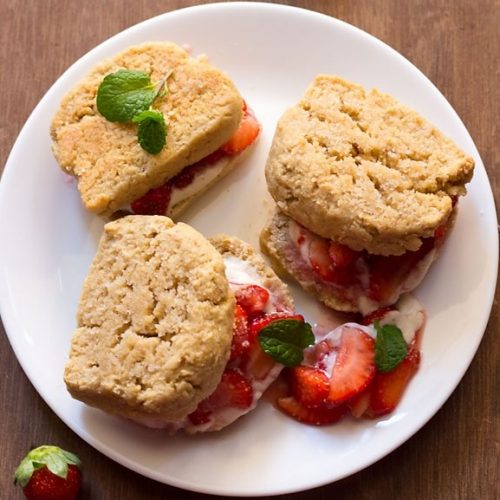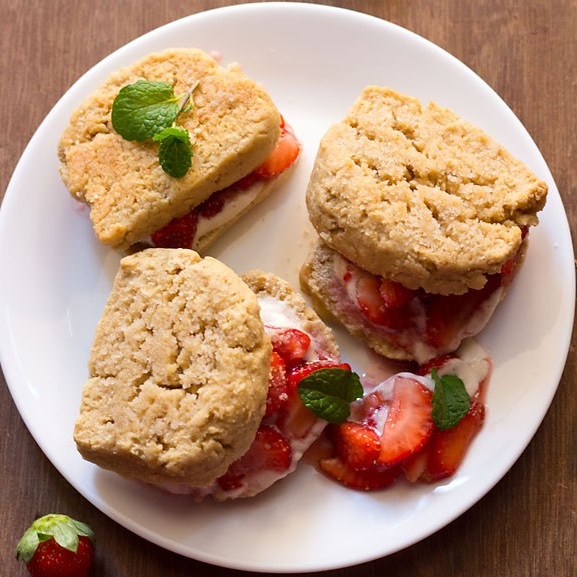 vegan strawberry shortcake recipe
a tasty vegan recipe of strawberry shortcake. a shortcake is a small sweet crumbly biscuit like cake leavened with baking powder or baking soda.
ingredients (1 cup = 250 ml)
for the shortcake:
2

cups

all purpose flour

(maida)

⅓

cup

powdered sugar

or regular sugar or fine organic cane sugar

½ or ¾

tablespoon

baking powder

1

cup

whipping cream

or cashew cream

1

pinch

salt
for the strawberry filling:
350 to 400

grams

strawberries

- halved or quartered depending on size

3 to 4

tablespoon

icing sugar

or regular sugar or fine organic cane sugar

1

cup

whipping cream

or cashew cream
how to make recipe
making the shortcake:
first preheat the oven to 200 degrees C.

sieve the flour with the baking powder or salt.

add 1/4 cup of the powdered sugar and mix.

add the cream gradually and gently keep on stirring.

clumps will be formed. just gather the clumps together.

do not knead the dough.

shape the dough into a 6 inches log.

cut into 6 equal slices and place the slices on a greased baking tray.

sprinkle the remaining powdered sugar and bake for 12-15 minutes till the shortcakes are light golden.
preparing the filling:
take 1/4 part of the strawberries in a bowl.

add icing sugar and mash the strawberries with a fork.

add the remaining chopped strawberries and stir.

if using dairy cream then whip the cream till soft peaks are formed.

for cashew cream just whip it lightly.

slice each shortcakes into two horizontally.

place the lower halves on each serving plates.

top these with some of the cream.

top some of the strawberry filling on the cream.

place the tops of the shortcakes on the fillings.

garnish with mint leaves and serve with the remaining cream or strawberry filling.
recipe notes
making the cashew cream:
1: take 1 and 1/2 cup cashews.
2: soak them for few hours in the fridge.
3: drain the water from the cashews.
4: add the soaked cashews in a blender.
5: pour cold water in the blender again just about covering the cashews completely.
6: add some sugar and vanilla if you prefer.
7: blend till smooth and creamy.
8: remove in a bowl and keep in the fridge.
9: the cashew milk stays good for 3 days in the refrigerator.
10: use when required.
use sweet strawberries. if the strawberries are a bit tart, then add more sugar while macerating the strawberries.
About
i started vegrecipesofindia.com in feb 2009. it is a pure vegetarian blog and shares recipes with step by step photos.

i am passionate about cooking from childhood and learnt cooking from my elders. a home science degree course further enhanced my cooking and baking skills professionally along with an internship in a five star hotel. i am trained both in mainstream indian as well as international cuisines.

all the 1800 recipes posted on blog are tried and tested and made healthy wherever possible. the recipes are detailed and with step by step pictures that will easily help you to make delicious and tasty vegetarian food.