Collection of 24 tasty vada recipes from the Indian cuisine. Vada is a generic term used for fried snacks or side dishes that are made with lentils, rice, millets or their flours. Whereas the South Indian cuisine has a variety of vadas, the cuisine of maharashtra and Gujarat also has unique vada recipes.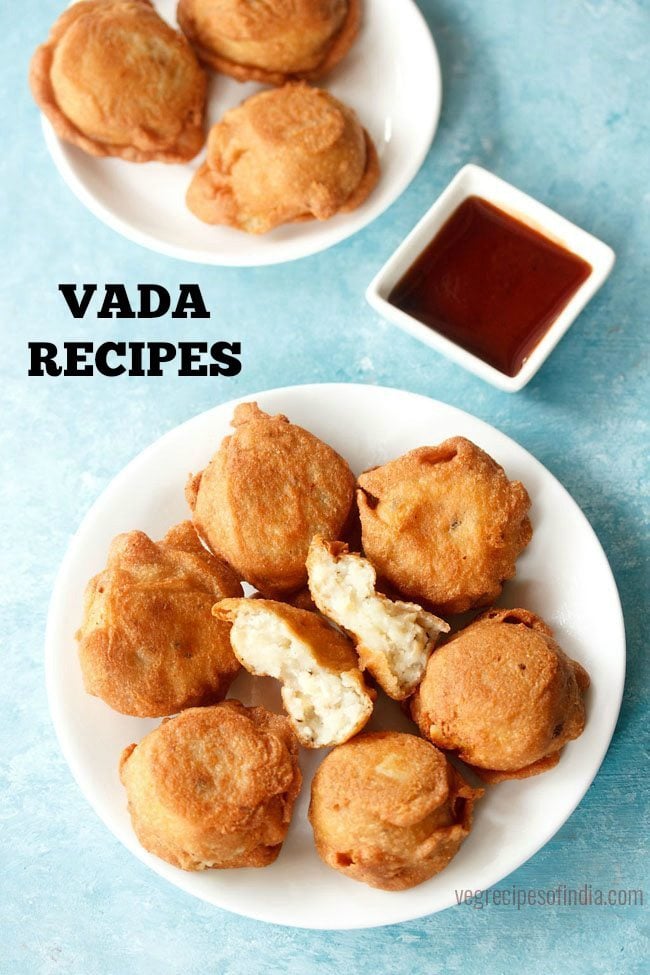 In this post I have shared all the vada recipes I have posted on website – from the popular and well known to the least known recipe. Since vadas are always fried, its best to make them once in a while. A better alternative would be to make them in an appe or paniyaram pan adding less oil. For reference you can check this Masala paniyaram recipe.
Most of the vada varieties in this post can be served as a tea time snacks or can also be served with coffee.
I have also posted few more collections of Indian snack recipes like:
Collection of 24 vada recipes
1. Medu vada recipe – crisp and fried doughnuts made from black gram. Medu vada is one of the easiest snack to make. if you have left over sambar and don't know what to do,  just make the Medu vadas – Dip them in sambar and enjoy.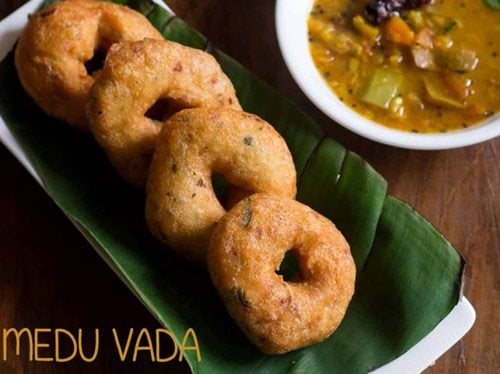 2. Dahi vada recipe – popular North Indian street food snack where lentil dumplings are dunked in a creamy whipped yogurt, which is topped with spicy and sweet chutneys. Dahi bhalla are slightly different from dahi vada. In dahi bhalle, papdis, boiled potato cubes & cooked chickpeas are added which add different textures, taste and flavor to the dahi bhalla.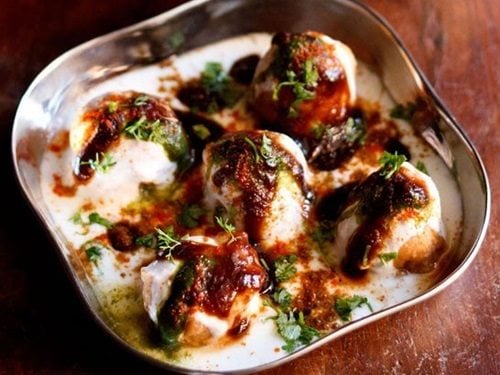 3. Dal vada recipe – yum and a favorite South Indian snack made with chana dal or bengal gram. We love to have these vadas with coconut chutney or tomato ketchup or red chilli garlic chutney. These are so good and addictive that you cannot stop at one.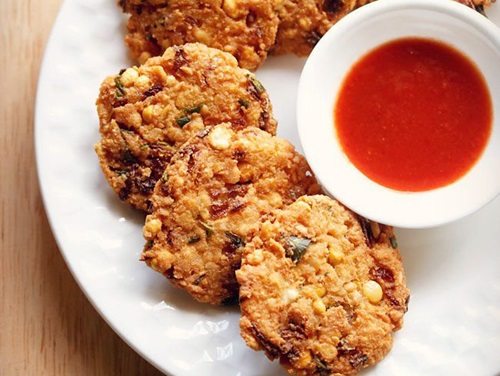 4. Batata vada recipe – a popular Maharashtrian snack of spiced mashed potatoes, coated with gram flour batter and then deep fried. Tastes best when hot and served with some fried & salted green chilies.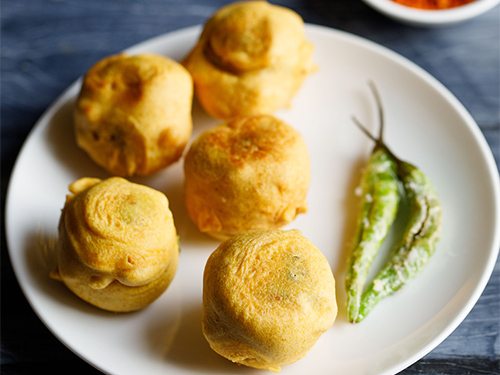 5. Masala vada recipe – South Indian spiced fritters made with chana dal. the method of preparing masala vada is similar to Falafel. instead of ground white chickpeas, chana dal is used here. The spices and herbs added here are also different than what is added in falafel. usually I serve masala vada with our evening tea or coffee and at times with coconut chutney or tomato ketchup.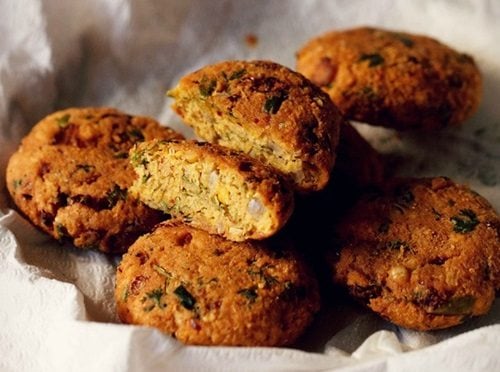 6. Sabudana vada – crispy and delicious fritters often made during religious fasting days like Ekadashi or Navratri fasting. you can serve them with phalahari chutney.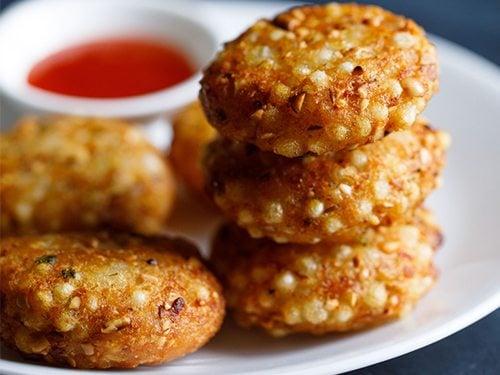 7. Mix veg vada recipe – crisp vadas made with chana dal and chopped mix veggies. this recipe is a delicious variation of the chana dal vada where mixed veggies are added. Due to the addition of veggies, the vada have a soft texture from within, whereas the outside has a crisp texture. You can serve veg vada with tomato ketchup or coconut chutney or coriander chutney or mint chutney.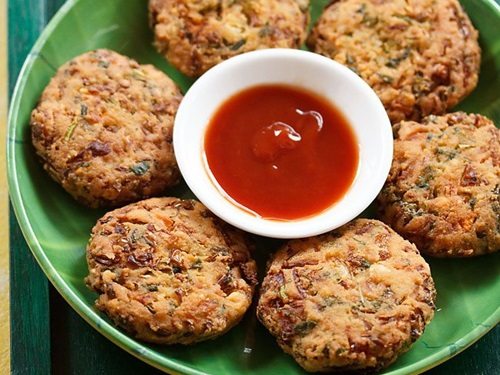 8. Rava vada recipe – these instant rava vadas are crisp and tasty vadas made with rava (cream of wheat) as the main ingredient. these vadas make for a quick evening snack and are easy to make. You can also make them as an after school snack for kids. For more delicious rava recipes you can check this Collection of 27 rava recipes.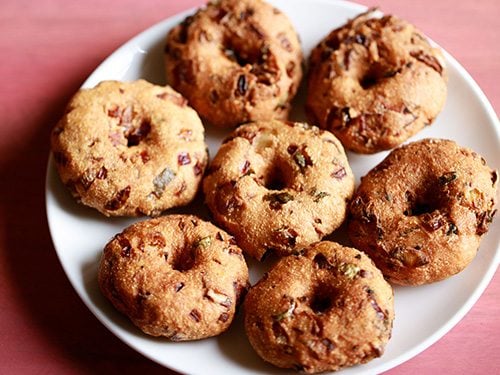 9. Maddur vada recipe – maddur vade are crisp fried patties which are served as an evening snack in Karnataka. This tasty and popular snack is made with a mix of rice flour, cream of wheat, all purpose flour, onions and some herbs-spices.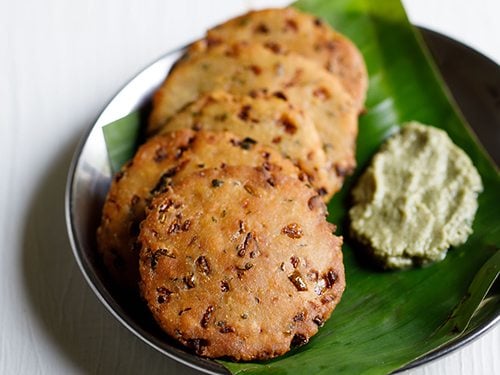 10. Bread vada recipe – simple yet tasty recipe of vadas made with bread, spices and herbs. they taste good and can be served as an evening snack with some tea or Chai.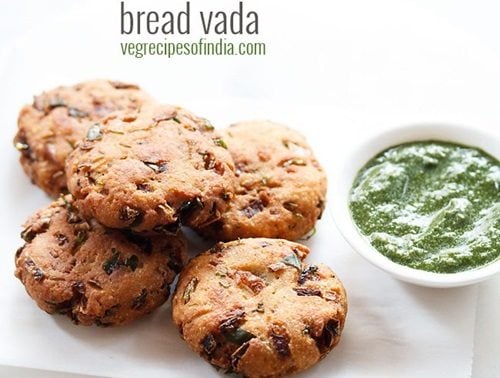 11. Farali batata vada recipe – delicious snack of potato vadas or potato bonda made for fasting or vrat. these farali batata vada make for a nice snack during fasting. For more fasting recipes made with potatoes you can check this link -> 12 potato recipes for fasting.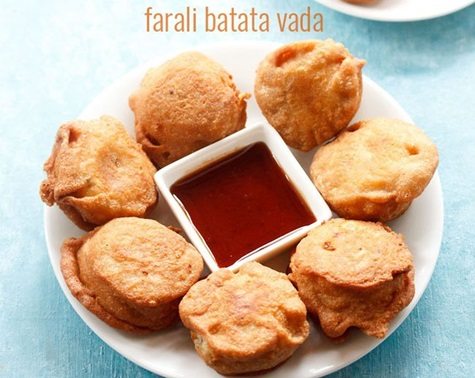 12. Vada pav recipe – this is one of the most humble street food of Mumbai, yet it is tasty and delicious. It basically has Batata vada which is sandwiched between two slices of a Pav, along with sweet chutney and green chutney.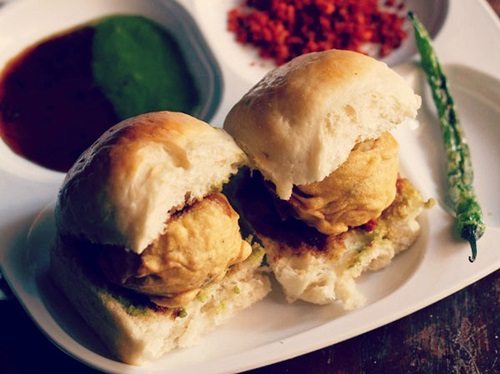 13. Moong urad dal vada recipe – crisp and yet soft fritters made from moong and urad dal batter, which is then deep fried. These taste best with coriander chutney, but also tastes good with tamarind dates chutney or saunth chutney or tomato ketchup.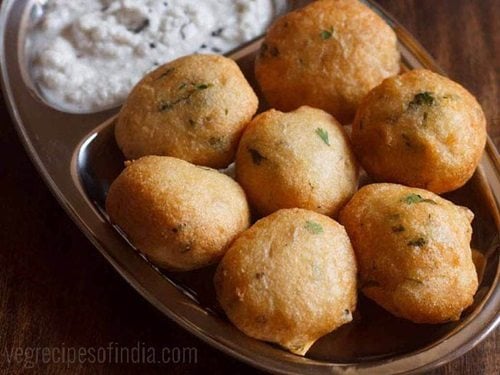 14. Suran vada recipe – no onion no garlic cutlets made with yam and spices. these suran patties are very easy to make. They are crisp with a soft texture from inside. The only time taking part is chopping the suran or yam. Do peel and chop the suran carefully.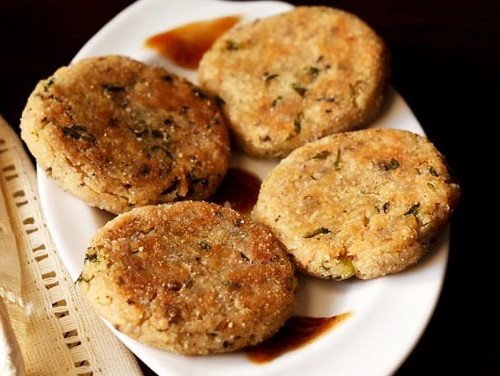 15. Bajra vada recipe – Gujarati style vada or patties made from pearl millet flour, spices and herbs. bajra is a warming food, so good when the climate is cold. instead of deep frying, you can also shallow fry the vadas or even make flat breads and roast them on a tava/skillet.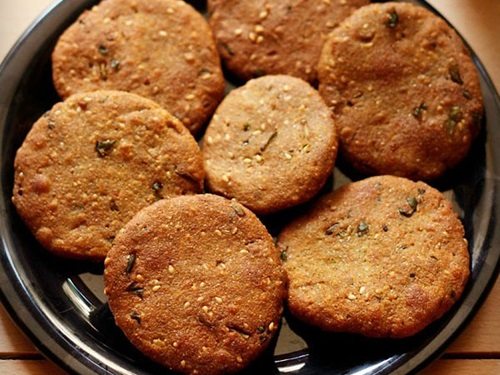 16. Mirchi vada recipe – stuffed chili fritters or chili cutlet. To make these Rajasthani mirchi vadas, you need large chilies, which are not spicy and are mild. I have used bhavnagari chilies. You can also use large green chilies which are used in making stuffed chili pickle. If you live outside India, then you can use jalapeno peppers.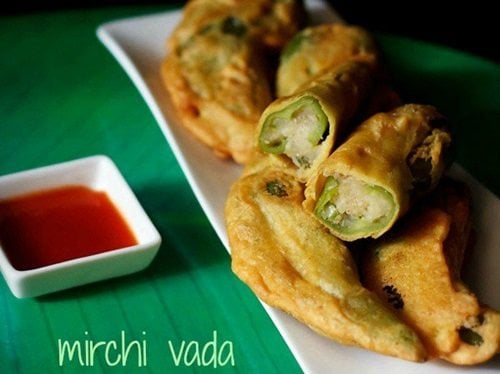 17. Ulli vada recipe – ulli vada are crisp and crunchy onion fritters. Basically these are onion pakodas and are popular as a street food snack in Kerala. For more tasty fritters recipes you can check this Collection of 35 pakora recipes.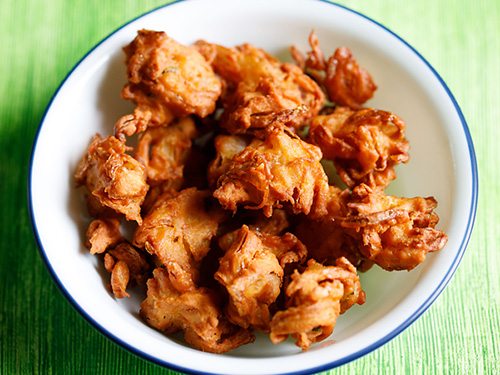 18. Cabbage vadas recipe – these cabbage vadas are made from ground lentils and finely chopped cabbage. The lentils added are urad dal (black gram) and chana dal (bengal gram). you can make the cabbage vadas with only urad dal or chana dal also. The chana dal makes these vadas crisp and the urad dal contributes to the soft texture.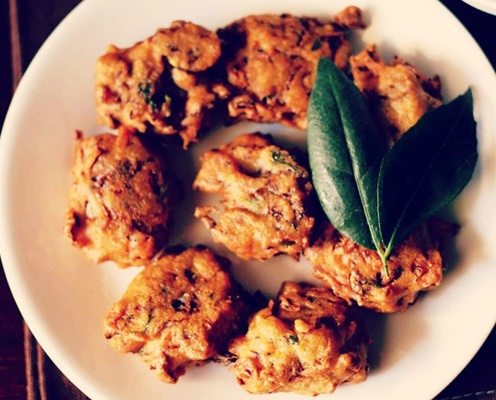 19. Ulundu vada recipe – this no onion no garlic medu vada is a special South Indian snack for lord ganesha as naivedyam or bhog during the Ganesh Chaturthi festival.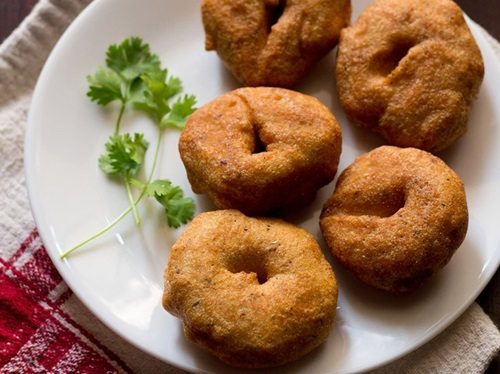 20. Sabudana vada recipe without potatoes – Navratri fasting recipe of fried crisp sabudana vada made without potatoes. this recipe can also be made into a jain sabudana vada recipe, if you skip ginger.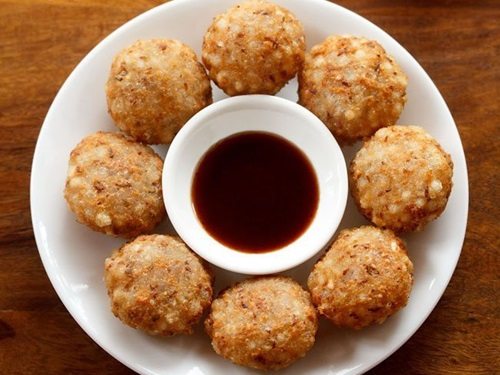 21. Thayir vadai recipe – thayir vada is the South Indian variation of dahi vada. It is very different in taste than the North Indian dahi vada. Mainly as sweet chutney and green chutney is not added. Thus the taste of thayir vadai is spiced and sour.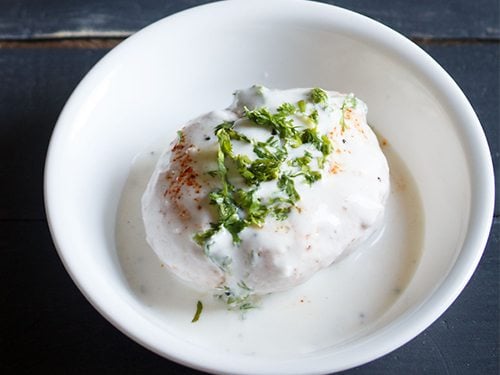 22. Vazhaipoo vada recipe – these are crisp and yet soft tasting vadas made with banana flower and chana dal. banana flower vada is a delicacy from south India. I have also shared a detailed post on Cleaning banana flower.
23. Aloo vada recipe – this is a delicious recipe of aloo vada which is a hit at my home. Aloo vada is a popular Indian street food, basically in western parts of India and south India.
24. Ponk vada recipe – crisp, tasty and spiced vadas made with fresh jowar grains. Fresh jowar grains are known as 'ponk' in Gujarati language and 'hurda' in marathi language. Jowar is called as sorghum in english language. these green grains are super healthy and there are many snacks that you can make with them like: