Collection of 11 vegetarian tikka recipes. tikka varieties are popular tandoori snacks from the North Indian cuisine. Tikka which means chunks or small pieces of the main food ingredient which are marinated and then grilled or roasted in a tandoor.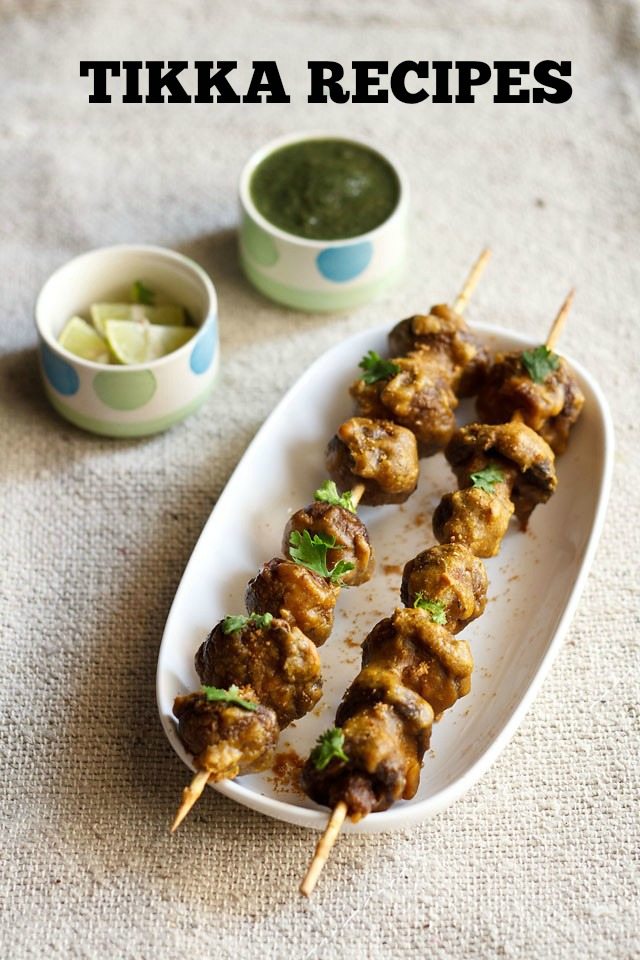 A tandoor is a cylindrical clay oven and used primarily in northern parts of India like Punjab and also used in restaurants. The heat in tandoor comes from burning charcoal or wood. Thus the food cooked in a tandoor has a smoky flavor in it.
Tandoor is used on a commercial scale and generally most homes do not have a tandoor. But one will have a pan or a tawa or even an oven. The tikka recipes shared here are made in oven. Some recipes are also made on tawa. so you can easily make any tikka recipe on tawa if you do not have an oven. Just remember to add some besan (gram flour) to the marination mixture so that the tikka pieces do not stick to the tawa or pan. if you have a barbeque, you can grill tikkas on it.
Usually a hung curd marinade is made and the paneer or veggies pieces are marinated in it for a couple of hours. While making the tikka marination, always use hung curd or a thick yogurt like greek yogurt. Hung curd can be easily made at home.
For a vegan option you can use cashew yogurt or almond yogurt for the marination. While making any paneer tikka recipe, you can use tofu or tempeh.
Many variations are possible in a basic tikka marination and you can always add your choice of herbs or spices. Making any tikka recipe is very easy. For parties or get togethers you can make the marination in large quantities and marinate overnight. The next day you can grill in an oven or on a barbeque. You can also check these similar recipes collections:
Collection of 11 tasty tikka recipes
1. Tawa Paneer tikka – easy and fool proof recipe of a delicious paneer tikka made on stove top or griddle or tawa. if you don't have a tava then you can also make this tikka recipe in a frying pan.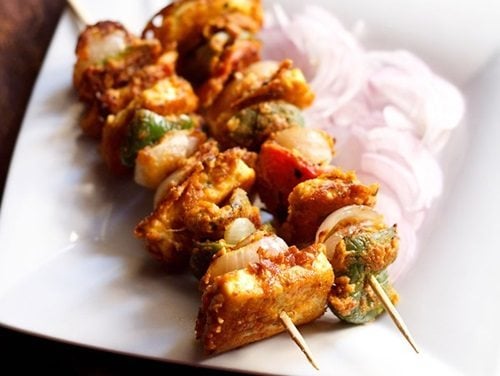 2. Tandoori paneer tikka made in oven – this popular and delicious tandoori snack can be easily made at home. this recipe is for paneer tikka made in oven. This same paneer tikka can be used to make the gravy dish Paneer tikka masala. you can serve paneer tikka with mint chutney.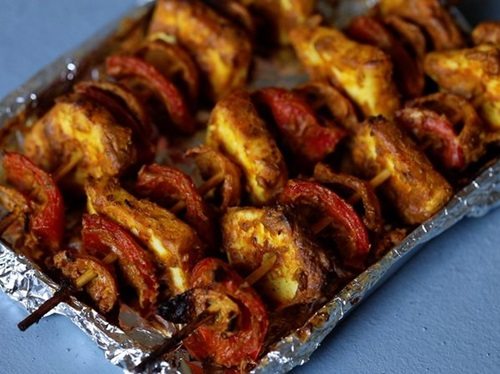 3. Achari paneer tikka – yet another variation of the popular paneer tikka flavored with pickling spices. if you enjoy biting into pickle and relishing the sour taste of lemon or mango then you will like this recipe.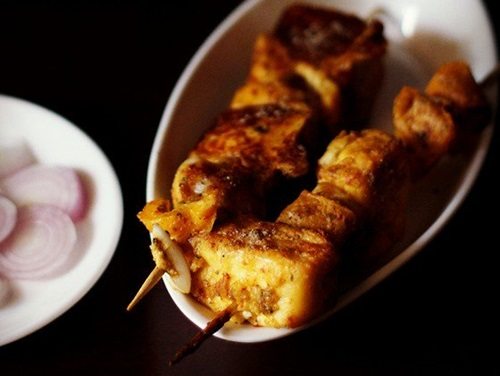 4. Mushroom tikka – this is a very easy recipe. You just need to marinate the mushrooms and then grill or bake the mushrooms in the oven. This same marination can be used with veggies like potatoes, aubergines, cauliflower and broccoli. You can even use tofu or paneer. few more mushroom snacks recipes on the blog are: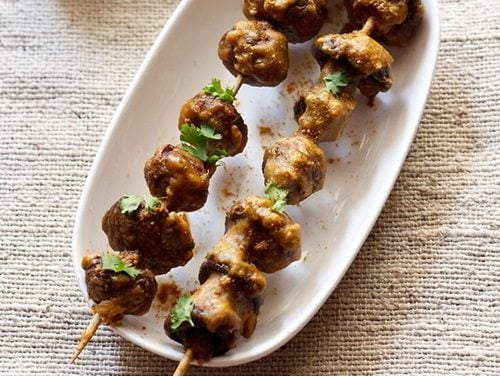 5. Aloo tikka – spiced & marinated potatoes which are either grilled or pan fried. The recipe posted here shares both the oven grilling as well pan frying methods for cooking the potatoes. this aloo tikka recipe uses curd for marination. For more delicious potato recipes you can check this Collection of 65 potato recipes.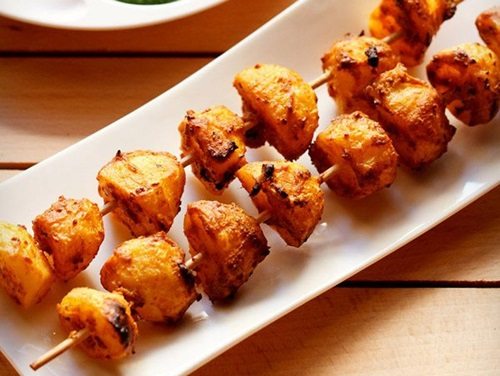 6. Instant paneer tikka (without curd) – this is a Quick recipe to make delicious paneer tikka at home. In this recipe, there is no time used up for marination. Just mix everything and then fry the tikka pieces individually or skewered in a tooth pic. The best part is you can shallow fry or pan fry the paneer tikkas. You can even fry the tikka on a tava or griddle.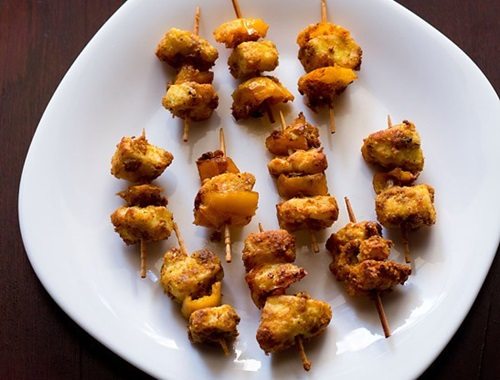 7. Hariyali paneer tikka on tawa or pan – tasty paneer hariyali tikka recipe made on a tawa or pan. This recipe is simple and easy and gives a really good paneer tikka. Since the paneer cubes are pan fried, they also become crispy.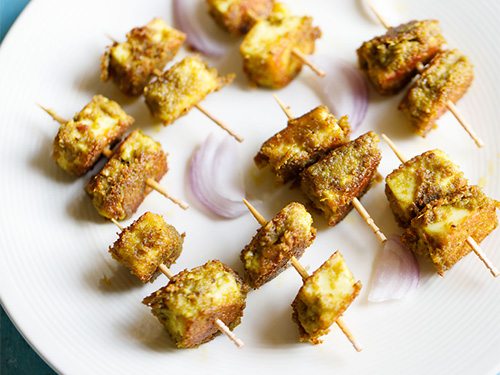 8. Amritsari paneer tikka – tasty starter snack of crisp shallow fried paneer cubes. the paneer cubes are marinated in a mixture of gram flour, spices, herbs and then fried. This tikka recipe comes from the city of golden temple – amritsar in Punjab.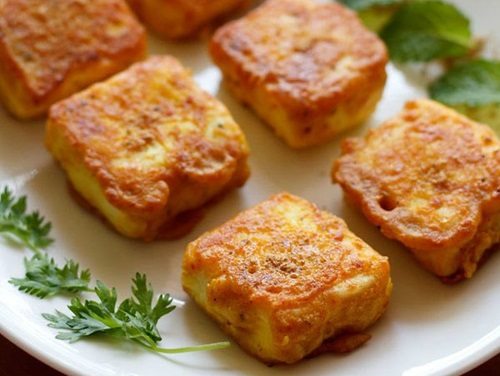 9. Gobi tikka – this tandoori gobi is an excellent snack or starter recipe. its a fool proof recipe. this gobi tikka recipe is a spicy version, so if making for kids or folks who do not like spicy food, just cut down half of the red chili powder and garam masala.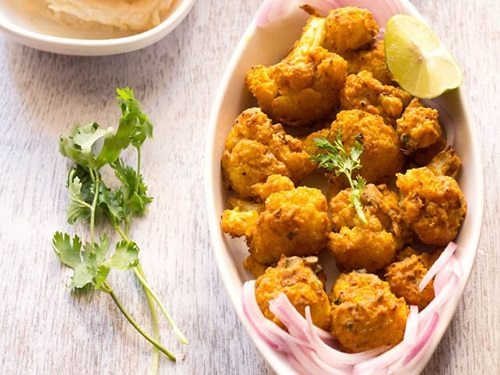 10. Malai paneer tikka – a popular and delicious variety of paneer tikka that is served in restaurants is malai paneer tikka. Malai tikka has mild and light flavors as compared to the regular paneer tikka.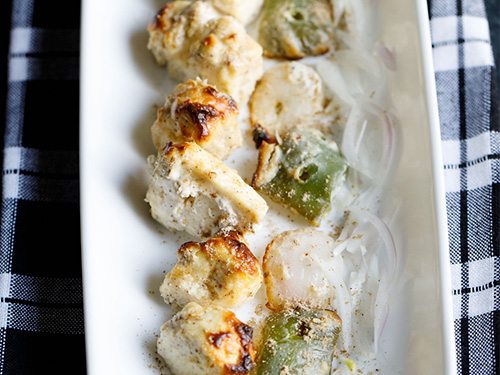 11. Hariyali paneer tikka recipe in oven – delicious paneer hariyali tikka recipe made in oven. The recipe I am sharing is a simple and easy recipe, but one which gives tasty paneer tikka.