Collection of 40 spicy and hot snacks recipes. during winters and monsoons many folks like to have spicy and hot food, which is warming to the palate and also tastes good. Some spices also help in keeping the body warm. If you are looking for recipes that help in cough and cold then do check these Rasam varieties. some rasam recipes like Pepper cumin rasam and Milagu rasam are excellent for cough and cold and can be had as an starter snack.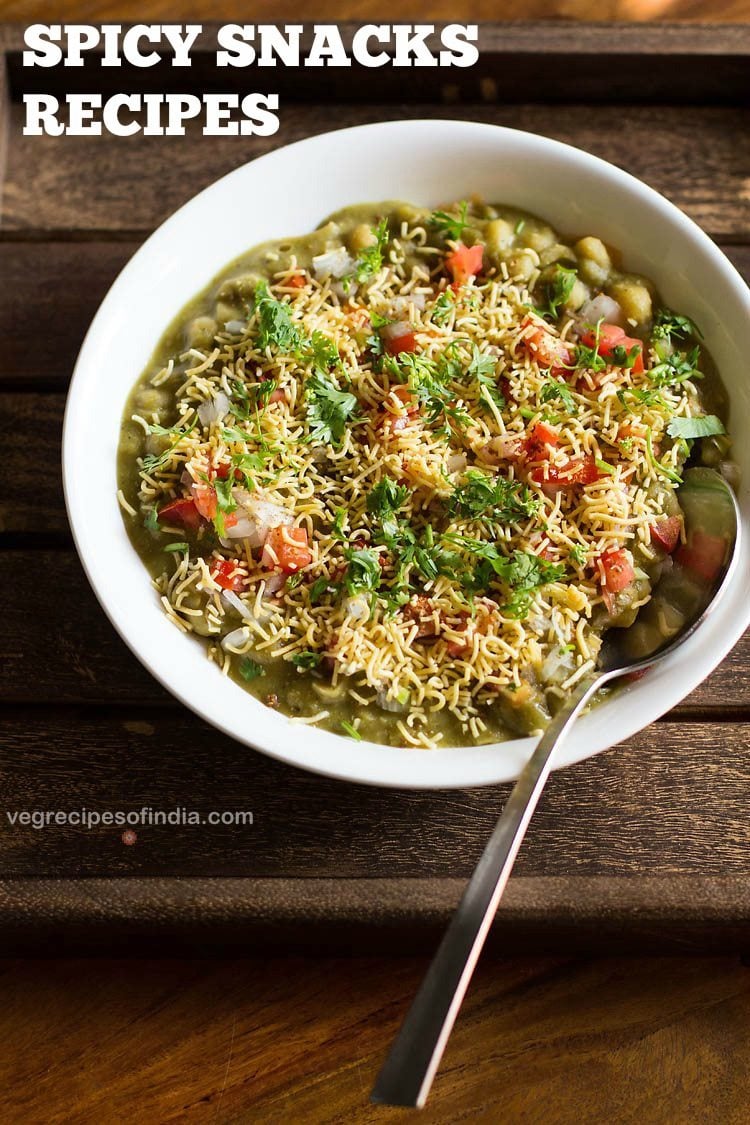 In this post I am sharing a collection of spicy snacks that are posted on the website. It also includes starter snacks as well as a few soups and spicy chutney recipes. some of the recipes listed can also be served as a main course like noodles.
40 spicy and hot snacks recipes:
1. Chilli paneer recipe – spicy and tasty Indo Chinese starter recipe of dry chili paneer. serve these dry chili paneer as starter snack or even roll them in chapatis and make a chili paneer wrap. this spicy paneer dish tastes best when served hot.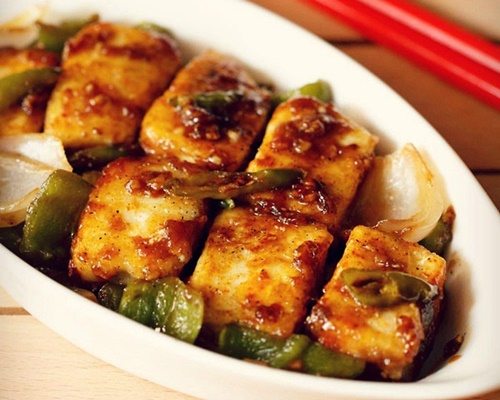 2. Pani puri recipe – a popular street food of India, where crisp fried dough balls are stuffed with potatoes, sprouts, spicy tangy water and sweet chutney. With so many burst of tastes and flavors in your mouth when you have pani puri, you just cannot have one :-). You can also check this Mumbai style pani puri recipe.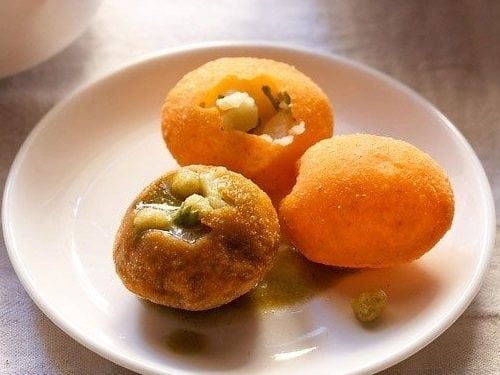 3. Chilli mushroom dry recipe – easy to prepare spicy and tasty Indian Chinese recipe of chilli mushrooms. this dry chilli mushroom recipe is pretty simple to make and goes well as starter snack or brunch.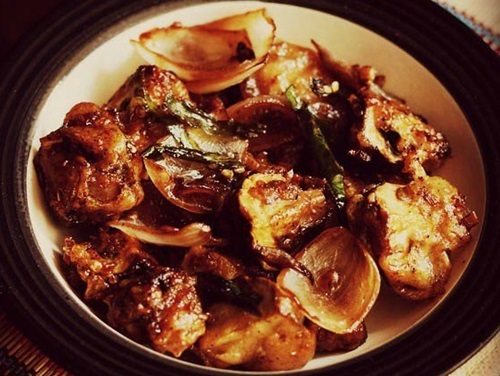 4. Masala puri recipe – masala puri chaat is a chatpata, spicy, tangy and tasty street food snack from bangalore. To make masala puri, you need to have the Golgappa or puri which are used in making Pani puri. a spicy gravy is made from dried white peas. The recipe bears semblance to ragda chaat, but the taste is totally different.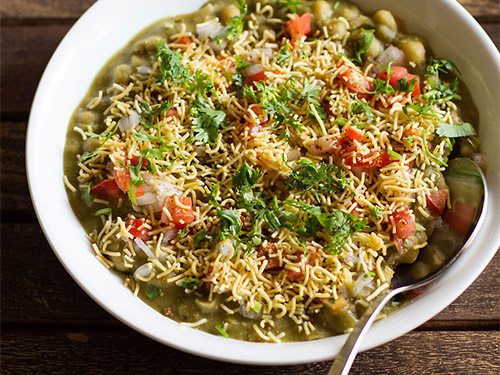 5. Vegetable hot and sour soup – spicy, sour and hot soup made with mixed vegetables. An Indo Chinese step by step recipe which can be easily doubled or tripled.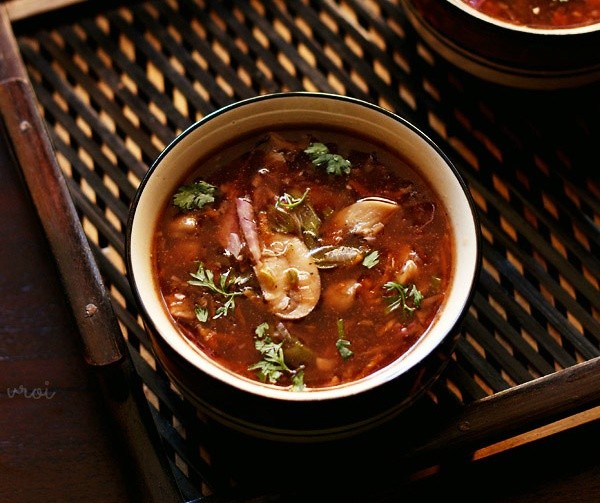 6. Chilli baby corn – crisp and spicy Indo Chinese recipe of chilli baby corn. The baby corn is pan fried for a lighter and healthier version. For extra crispness, you can shallow or deep fry the baby corn.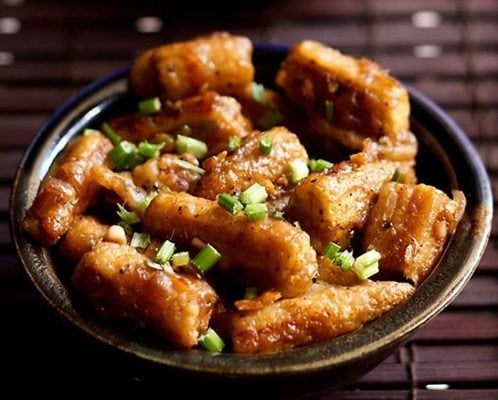 7. Veg manchow soup – spicy and hot soup made from mixed vegetables. An Indo Chinese step by step recipe. in the Indian Chinese restaurants, this soup is served with fried noodles. Just to give a restaurant like flavor, I also added fried noodles.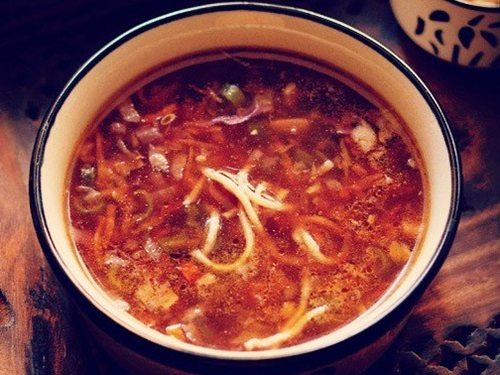 8. Chilli paneer recipe – one of the favorite dishes from Indo Chinese cuisine is chilli paneer. This chilli paneer recipe gives restaurant style taste and flavor. You can serve chilli paneer with Fried rice or Schezwan fried rice or Burnt garlic fried rice. it also goes well as a side dish with Jeera rice or Ghee rice or Pulao recipe.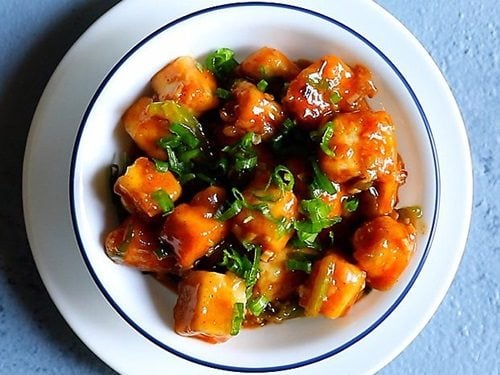 9. Schezwan dosa recipe – crispy and spicy schezwan dosa recipe. Schezwan dosa is one of the fusion street food offered by the street vendors in Mumbai. Its basically a fusion of the South Indian and Indo Chinese cuisine. this dosa variety is also known as schezwan sada dosa. few more schezwan recipes on blog are: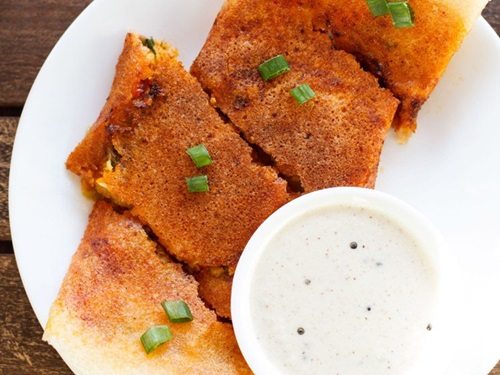 10. Dry paneer manchurian recipe – popular Indo Chinese snack of pan fried paneer cubes coated with a spicy, sweet and tangy sauce. few More manchurian recipes on the blog are: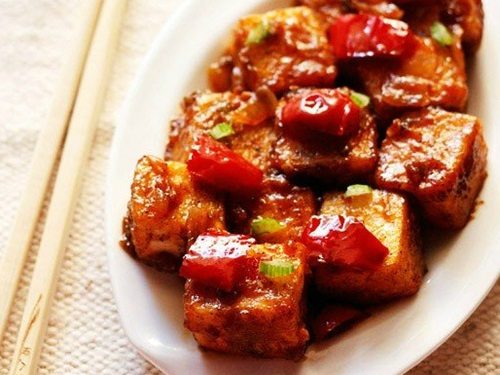 11. Vegetarian tom yum soup recipe – this delicious tom yum soup is a spicy and sour soup recipe from the Thai cuisine. I am sharing a vegetarian version of this soup made with mushrooms, carrots and french beans.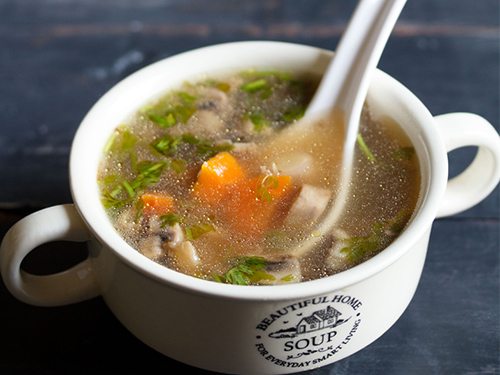 12. Pani puri recipe – In Mumbai, pani puri is made with basically two stuffings. one is ragda (white or yellow peas stuffing) and the other is a moong sprouts. Here I have shown pani puri made with moong sprouts. If you are interested in checking the ragda recipe, then you can see this post – Ragda recipe.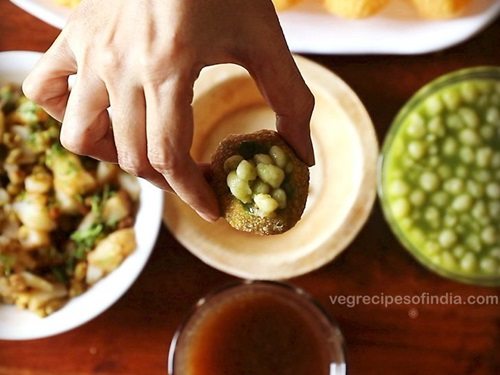 13. Corn chaat recipe – this spicy corn chaat is an easy snack which you can prepare quickly or whenever you are short of time. Even bachelors can make it as it does not require any cooking expertise.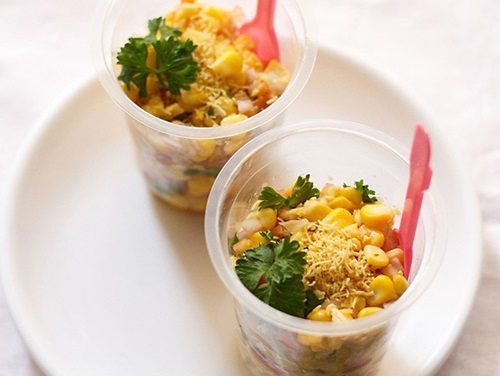 14. Schezwan masala dosa recipe – crispy, spicy and tasty schezwan masala dosa recipe. In Mumbai there are many variations of dosa that is offered by the vendors and schezwan dosa is one of them. these dosas are healthy as well as filling as lot of veggies are added. When you make them at home then you can add less butter or oil as added by the street food vendors. the taste of these dosas largely depends on the schezwan sauce you are using. Best to use Homemade schezwan sauce. or use a good quality and tasty sauce.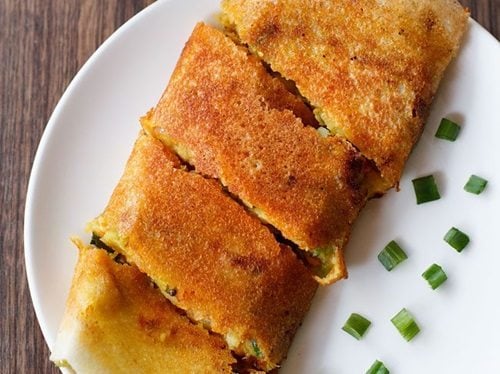 15. Corn salsa recipe – tasty, tangy and spicy salsa made with sweet corn. the spicy and sour elements like green chilies, red chili powder and lemon juice can be added more or less as per your choice.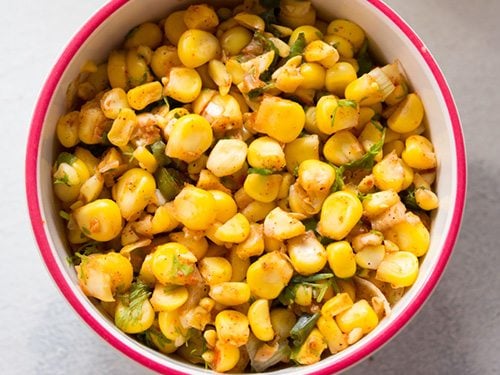 16. Paneer 65 recipe – quick and easy to make spicy paneer 65 recipe from Hyderabadi cuisine. in this recipe, I have kept everything easy and simple for a home cook. apart from paneer 65, you can also make Aloo 65 and Gobi 65,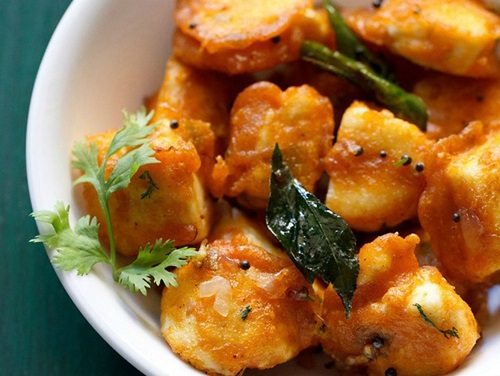 17. Schezwan noodles recipe – spicy and tasty stir fried vegetable noodles with Schezwan sauce. schezwan noodles recipe is quite similar to Veg hakka noodles recipe except the fact, that instead of soy sauce we use schezwan sauce in schezwan noodles.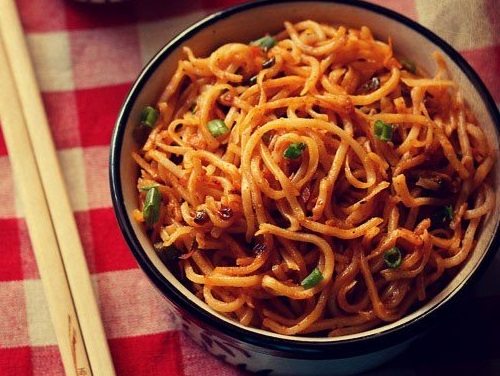 18. Spicy coconut chutney recipe – spicy coconut chutney that is served with Davangere benne dosa. this is a simple recipe of coconut chutney that is spicy and uses minimal ingredients.  you can also Serve this easy coconut chutney with Poha dosa, Set dosa and even Plain dosa or Uttapams.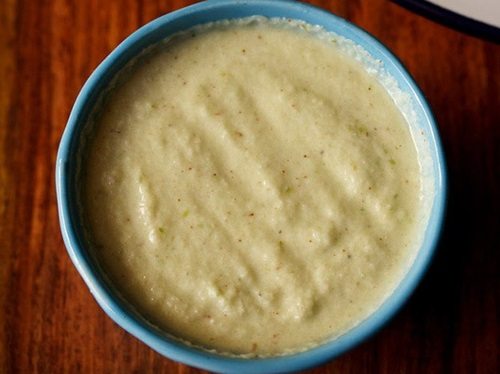 19. Aloo tikki chole – crisp & browned spiced potato patties served with a spicy North Indian chickpea curry along with a green chutney and sweet chutney with some tidbits.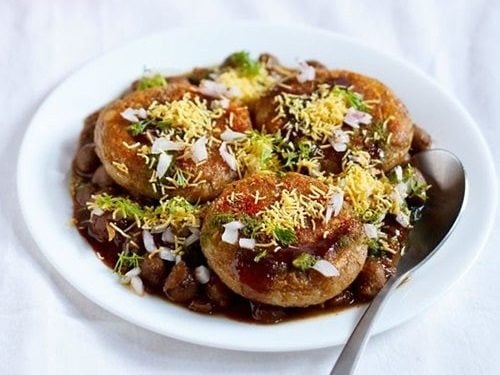 20. Kara chutney recipe – South Indian recipe of spicy tomato chutney. this chutney is spicy as red chilies are added. You can make it less spicy if you want, by adding less chilies or using chilies which are low in heat. You can serve kara chutney with Idli, Dosa or Uttapam. this chutney specifically also goes very well with Methi dosa.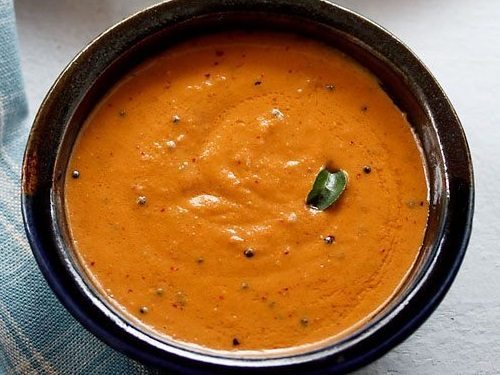 21. Tomato salsa recipe – tangy and spicy Mexican tomato salsa. tomato salsa is quick to prepare. You can serve it as an appetizer or condiment along with the main course. Or else you can serve it as a dip with some crackers or nachos.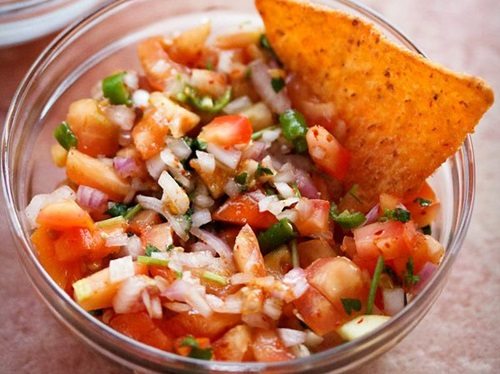 22. Red chili garlic chutney recipe – this is a spicy red chutney for chaat recipes and is Made with just three ingredients – dry red chilies, garlic and salt. This red chilli garlic chutney Is versatile as it can be added to spice up a lot of chaat snacks like – Sev puri, Bhel puri, Ragda patties, Dahi sev batata puri, Dahi papdi chaat, Dahi vada. you can also use a bit of this chutney in Wraps or as a side chutney with Pakoras or Vegetable momos.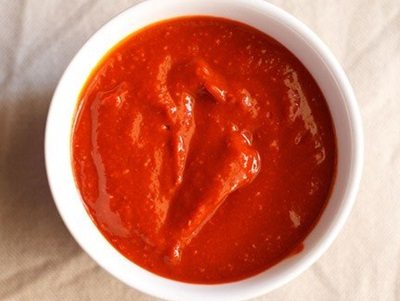 23. Bhel puri recipe – a crispy, soft, sweet, tangy, spicy mixture of many edibles like puffed rice, roasted peanuts, sweet chutney, green chutney, onions, tomatoes, sev etc. A snack that can be made in a jiffy if you have all the ingredients ready.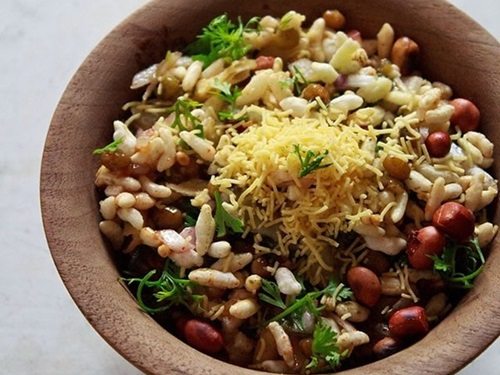 24. Sev puri recipe – a spicy, sweet and tangy street snack from Mumbai. its easy to assemble sev puris. Just that some of the ingredients need to be prepped up before you start assembling them.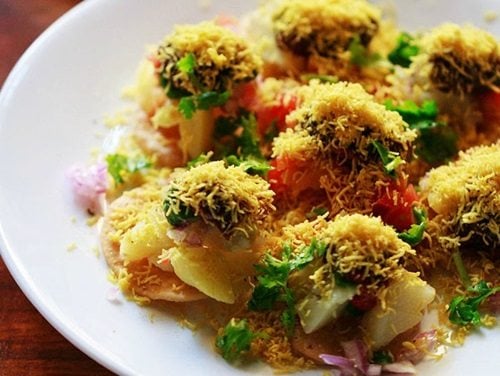 25. Dahi papdi chaat recipe – a popular chaat snack which is sweet, spicy and tangy. in this dahi papdi chaat, you will get to taste the sweetness of the curd, crispiness of papdi, soft melt in the mouth boiled potatoes and not to forget the Indian spices which adds their own zing, tang and spiciness in the dish.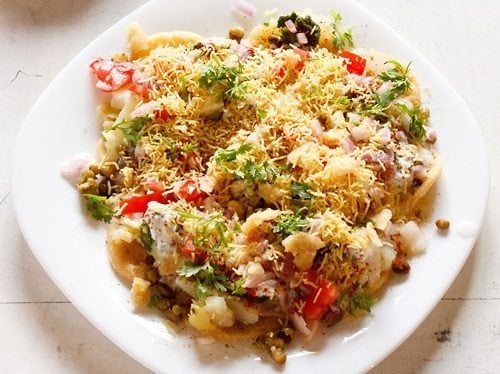 26. Vegetable hot and sour soup – spicy, sour and hot soup made with mixed vegetables. An Indo Chinese step by step recipe which can be easily doubled or tripled.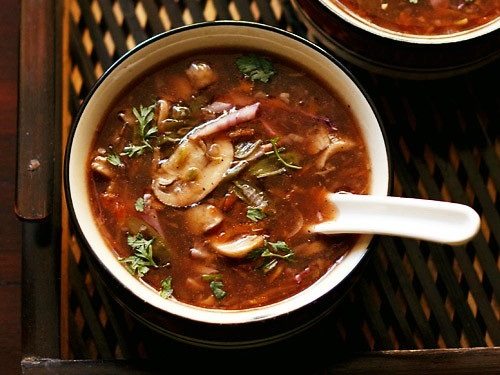 27. Aloo chana chaat recipe – spicy, tangy, sweet chaat recipe made with boiled potatoes and white chickpeas (safed chole or chana). the chana chaat recipe can also be made into a salad. Just add some grated carrots, blanched french beans, beetroots, zucchini to the chaat. Skip the papdi and sev, if serving as a salad.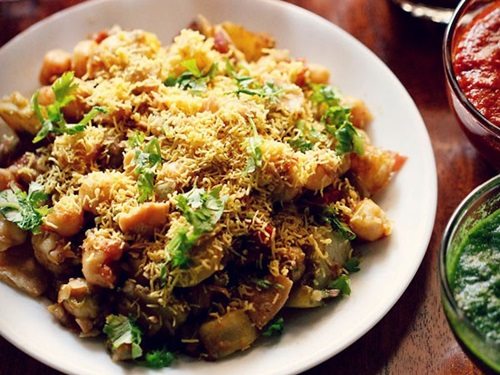 28. Peri peri potato wedges recipe – hot and spicy fried peri peri potato wedges. They are easy to make. Just remember to serve the potato wedges hot after they are done.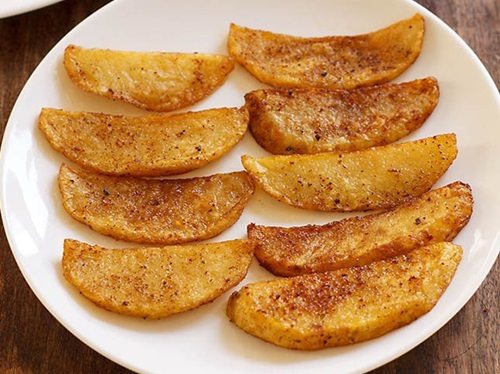 29. Jini dosa recipe – a yummy, crispy, cheesy dosa with spicy, sour, sweet taste along with the crunchiness of the veggies. Jini dosa is popular and delicious dosa variety from the Mumbai street food scene.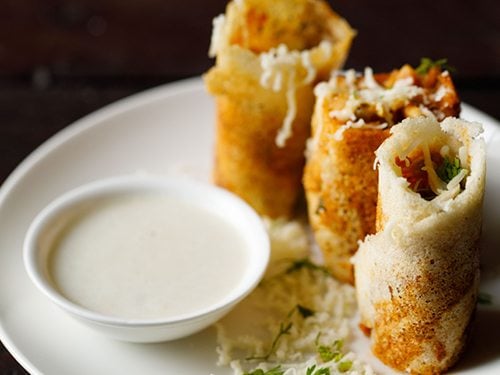 30. Kala chana chaat recipe – this black chickpeas chaat is spicy, tangy and can be made more spicy, if you add some more chilies to it. This also serves as an excellent starter and can be served both warm and chilled.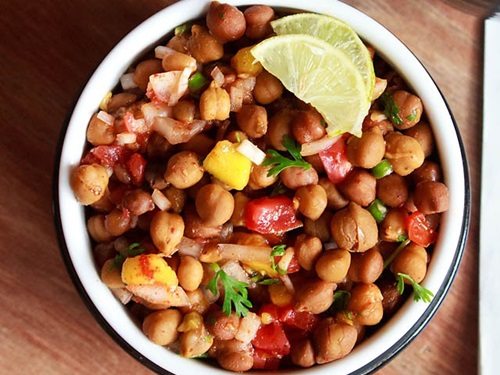 31. Chinese pakora recipe – Chinese pakoda are crisp and spiced fried vegetable fritters. Chinese pakora is one of the inventions from Mumbai city and is popular there. It is a well known Street food from Mumbai.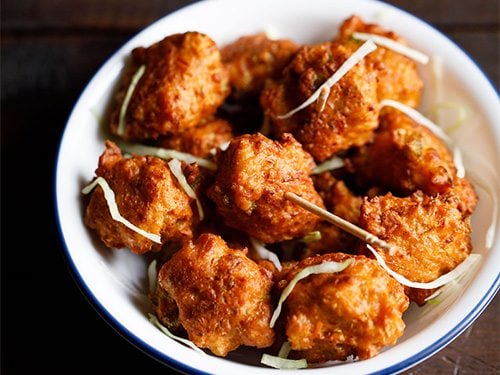 32. Samosa chaat recipe – lip smacking chaat recipe with Samosas, Chana masala, various chutneys and spices.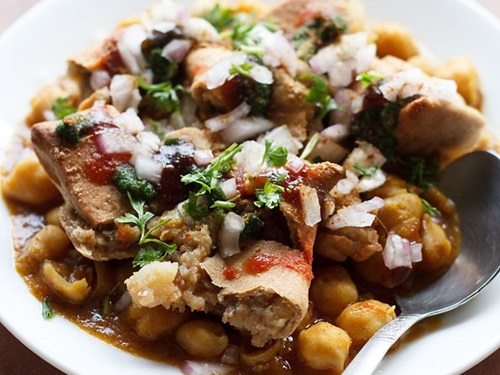 33. Mushroom manchurian recipe – spicy and tasty Indo Chinese recipe of dry mushroom manchurian. It goes very well with Bread, Veg fried rice, Burnt garlic fried rice and even Indian rotis accompanied with some Schezwan sauce or even red chili sauce.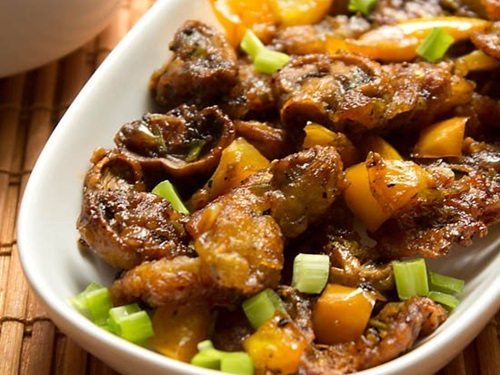 34. Palak chaat recipe – crisp fried palak pakora topped with spicy green chutney, tangy and Sweet tamarind dates chutney and onions, sev and spice mixes.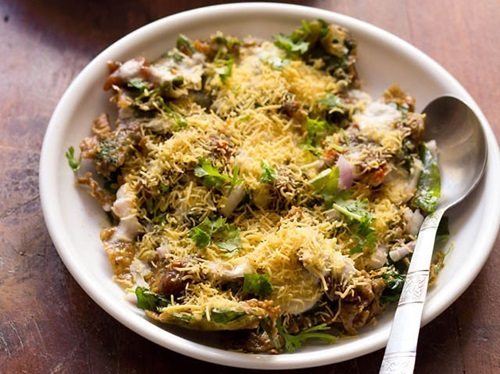 35. Peri peri sauce recipe – a hot and fiery piri piri sauce from the portuguese cuisine. The peri peri sauce is so yum and spicy that we have it with everything like vegetables, rice, salads, bread. It brings some zest and spice to the dish, especially if the dish is bland and not spicy. You can also serve it with snacks like French fries, Veg momos, Veg spring rolls, Aloo tikki etc.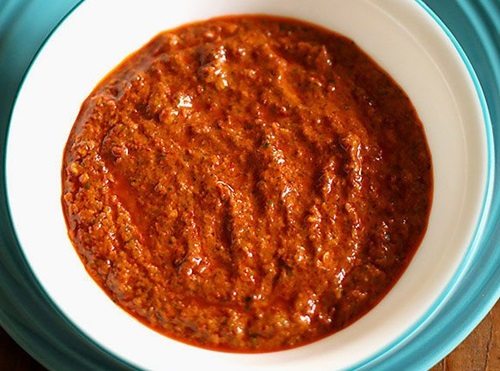 36. Chana dal bhel puri recipe – spicy and tangy Indian street food made from masala chana dal or spiced bengal gram.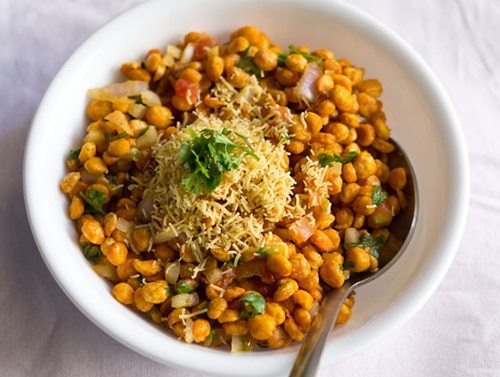 37. Mumbai style cheese chilli toast – tasty toast sandwiches made with cheese, green chilies, green chutney and spices+herbs. you can also check other variations like: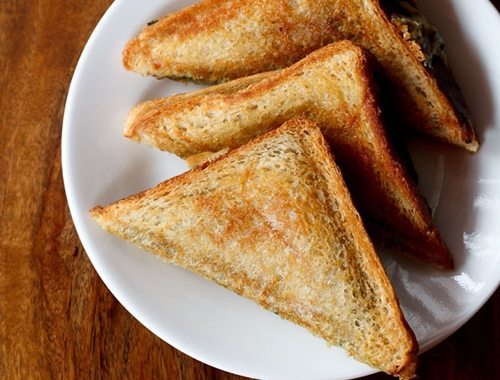 38. Schezwan sauce recipe – a fusion Indo Chinese recipe of a spicy and hot chili sauce. Schezwan sauce can be served as condiment with snacks like Potato wedges or Veg cutlet, French fries, Corn patties, Burgers, Spring rolls and Veg momos Dim sum). Even with the Indian pakoras, the sauce goes amazingly well.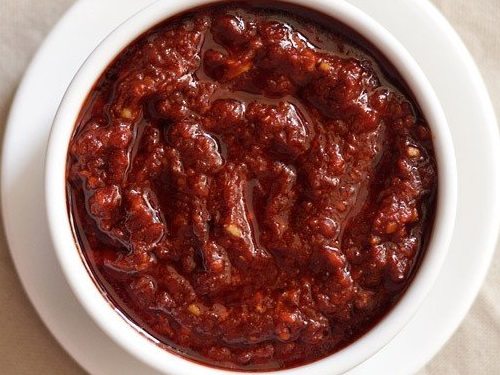 39. Sookha bhel puri recipe – there are a lot of textures in this crisp and crunchy snack. Along with fresh flavors and tastes. Sukha bhel puri is crisp, crunchy, tangy and spicy – chatpata 🙂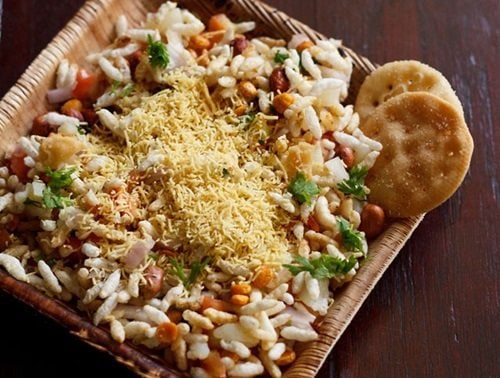 40. Schezwan chilli potatoes recipe – fried crisp potatoes in a spicy and hot schezwan chilli sauce. the schezwan chilli potatoes is spicy but also a bit tangy and sweet.