spaghetti olio e aglio is a traditional italian pasta dish. it means spaghetti with garlic and oil.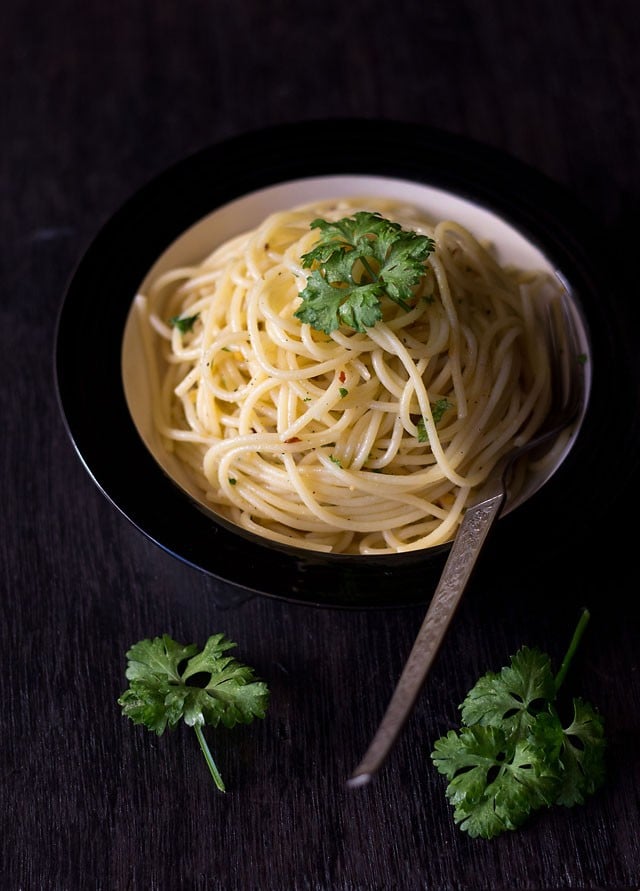 many readers often request me to post pasta recipes. honestly i only know how to cook pasta in indian style. i am familiar with italian cuisine but their variations of pasta recipes amaze me.
so i have decided to try one by one each italian pasta variation keeping the authenticity intact to some extent, but making it veganized and removing the cheese.
this i am doing for my readers who many times request for pasta dishes. not everyone is fond of pasta as a meal and my family is one of them. but sometimes on rare occasions, i prefer to have pasta because of the ease of preparing any dish with them.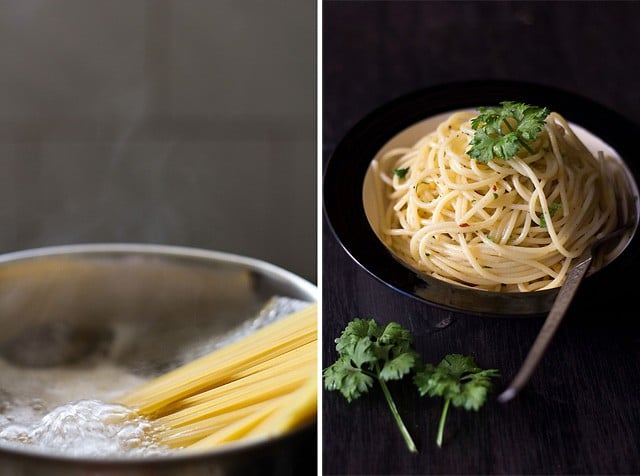 since this recipe does not ask for cheese, i made it. basically its spaghetti tossed in oil which has been flavored with garlic. minced or finely chopped garlic is sauted in oil and this garlic oil is added to the cooked spaghetti.
this a five ingredient recipe excluding the pasta and very easy to make. i have adapted this recipe from cookbook "good eating pasta" by parragon.
this recipe is very simple and a quick dish, especially if one is hungry. you can serve this pasta recipe with a side soup like roasted tomato soup or sweet corn soup or tomato carrot soup or tomato soup or a good vegetable salad.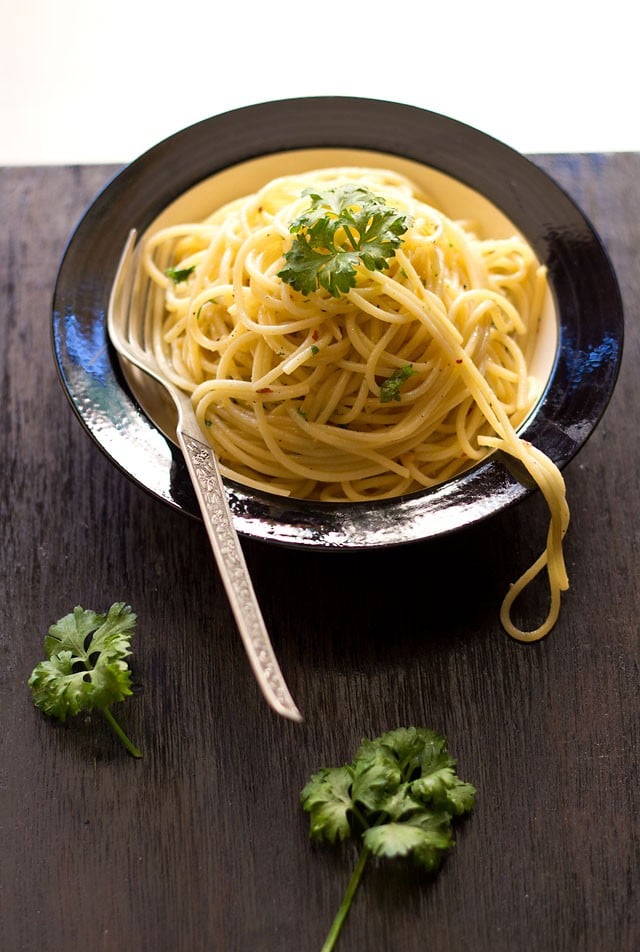 if you are looking for similar recipes then do check veg pizza – stepwise recipe, mushroom spaghetti bolognese, mushroom pasta, pasta in white sauce, mac and cheese and red sauce pasta recipe.
spaghetti olio e aglio recipe below: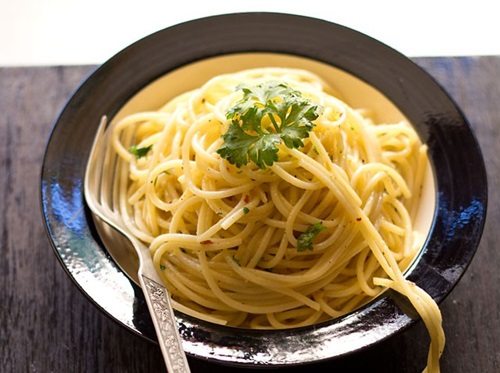 spaghetti olio e aglio recipe
spaghetti olio e aglio recipe - a traditional italian pasta dish. quick and easy pasta recipe.
ingredients (1 cup = 250 ml)
200 to 225

grams

spaghetti

1 or 1.5

tablespoon

parsley,

finely chopped

1

teaspoon

red chili flakes

3-4

garlic,

finely chopped or minced ( i have added an extra touch of garlic, but you can reduce to 1-2 garlic)

1

tablespoon

extra virgin olive oil

salt as required

black pepper as required
how to make recipe
boil about 3-4 cups of water with 1 tsp of salt.

add the spaghetti.

don't break the spaghetti like we do for noodles.

keep them whole and place in water.

once they start cooking, they will start settling down in the water.

stir occassionally and let the spaghetti cook in the water for 8-10 mins or till they become al dente.

they should be cooked but still have a bite.

drain and place them in a bowl.

cover the bowl, so that the spaghetti does not dry.

heat the olive oil in a small frying pan.

lightly brown the garlic with salt

add the garlic-oil mixture to the spaghetti.

add red chili flakes and parsley.

season with salt and black pepper.

mix well and serve the spaghetti olio e aglio immediately,