collection of 14 roti varieties – roti and rice are staple in india cuisine. while rice is largely consumed in south india, rotis form the staple food in north india. roti is the generic name given to flat breads made from various flours. generally even rotis made from whole wheat flour are called as rotis. the dough for a roti is usually unleavened.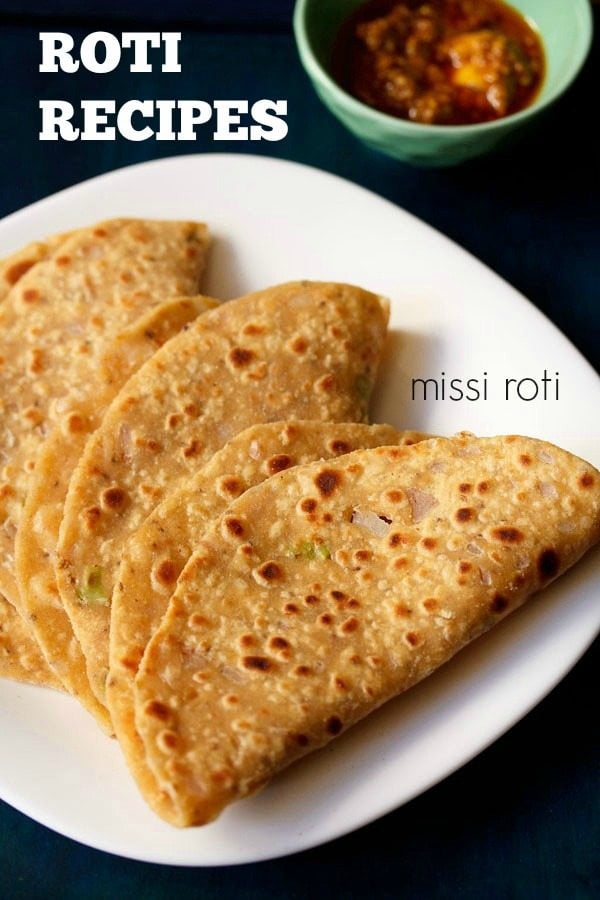 there are many varieties of rotis which are made with various flours and millets in india. each region has their own specialty. e.g. makki di roti is made in punjab, whereas jowar roti or bhakri or bajra roti is made in maharashtra and gujarat. akki roti and ragi roti is popular in karnataka.
most of the these roti recipes are healthy, nutritious and filling. in this post, i am sharing all roti varieties posted on the blog in once place. so that it is easier for you to search them. i will update this post as i add more roti recipes.
collection of 14 roti varieties
1. akki roti recipe – akki means rice and roti means flat bread. so basically these are flat breads made with rice flour and mix veggies. akki roti is one of the staple breakfast in karnataka. akki roti can be served with coconut chutney.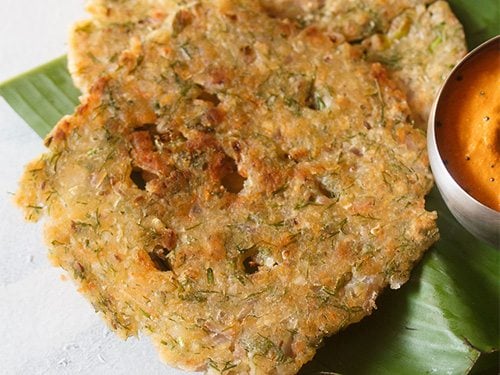 2. jowar roti recipe – jowar roti or jowar bhakri are flat breads made with sorghum flour. these rotis are also called as jolada rotti in karnataka. sorghum is a healthy millet which is good in minerals like calcium, potassium, phosphorous and iron. being rich in antioxidants, its good for the heart too and is diabetic friendly. jowar is also an excellent gluten free flour. the jowar rotis can be served with any veggie gravy dish. they also taste good with a dry chutney like peanut thecha.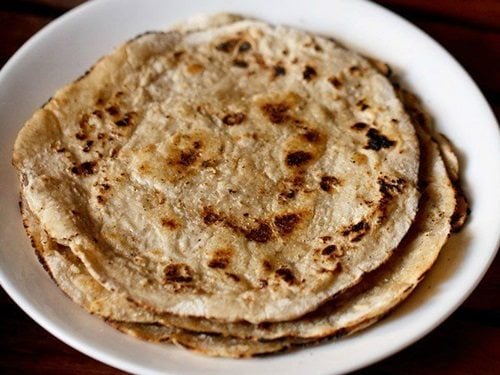 3. khasta roti recipe – the word 'khasta' means 'flaky and crisp'. so the texture of these flat breads are crisp and flaky. its not that they are crisp like papads. the crispness in the rotis is accompanied by softness too. also the flakiness is not like the flakiness in a kachori or samosa. but some flakiness is there. these khasta roti taste good when accompanied with a north indian gravy like dum aloo, kadai paneer, paneer lababdar. however they also goes well with lentils based dishes like rajma masala, dal makhani and dal tadka or dal fry.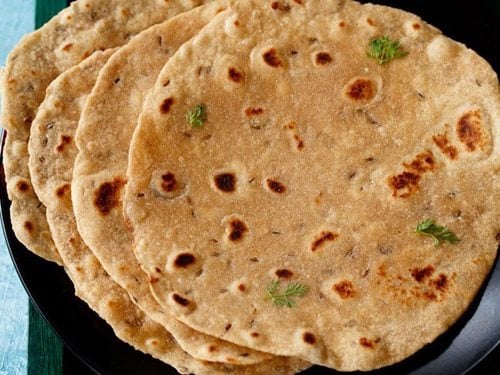 4. missi roti recipe – flat breads made with whole wheat flour (atta), gram flour and spices. missi roti is a north indian speciality and is often made in various homes in the north indian belt. i have also shared variation of missi roti made with fenugreek leaves – methi missi roti recipe. few more similar recipes you can make are: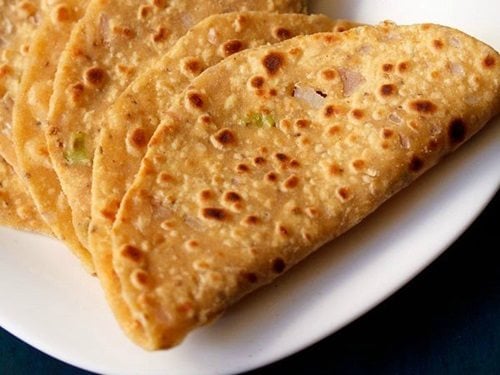 5. tandoori roti recipe – traditionally tandoori rotis are made in a tandoor (a pot shaped clay oven). at homes not all of us have tandoors. yet without a tandoor we can make a really good tandoori rotis on stove top or tawa. in this post, i have shared a no oven and no tandoor method of making tandoori rotis on stove top. tandoori rotis go very well with rich curry dishes like kadai mushroom, bhindi masala, dum aloo, paneer butter masala, palak paneer, veg kadai, mushroom masala, kadai paneer, dal bukhara, veg kofta  etc.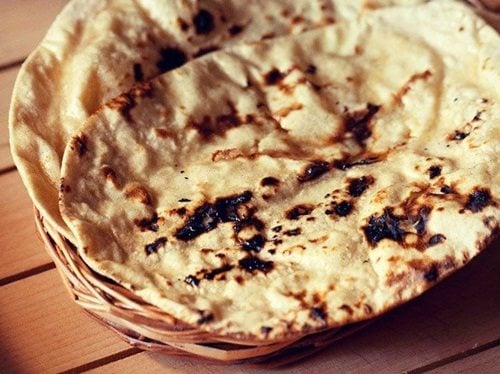 6. makki di roti recipe – these are very popular punjabi flatbreads. the combo of makki di roti with sarson ka saag topped with white butter is quite famous. although saag goes well with parathas too, but nothing can beat makki di roti. makki ki roti goes well with any saag, be it palak saag or bathua saag.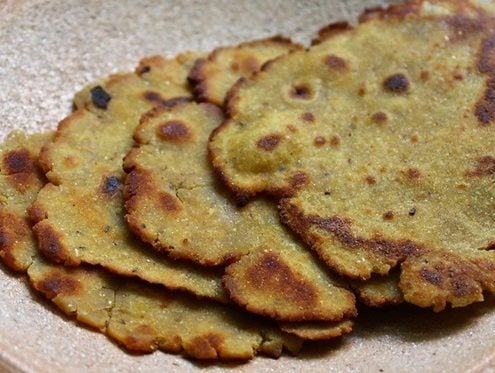 7. sabudana roti recipe – these sabudana rotis or thalipeeth is usually made for religious fasting or vrat. sabudana recipes are often made for religious fasting days. usually i make sabudana vada, sabudana kheer, sabudana tikki or sabudana khichdi during fasting. you can serve the sabudana rotis with any falahari chutney or raita.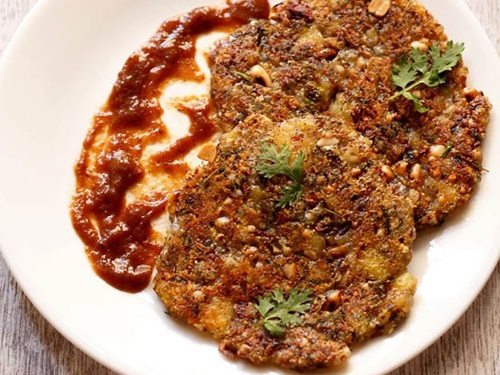 8. bajra roti recipe – these bajra roti or bajra bhakri are flat breads made from millet flour. they are very easy to make and make a good accompaniment to dal or any indian vegetable based curry dish like bharli vangi, veg kolhapuri and gutti vankaya kura.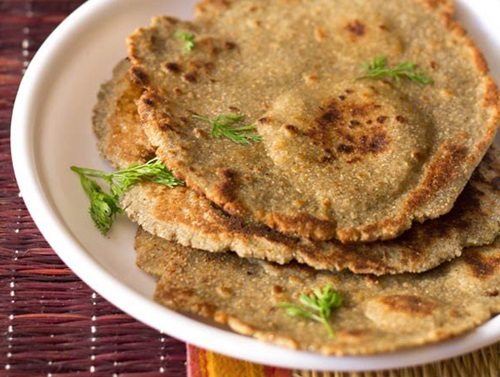 9. ragi roti recipe – one of the best and easiest way to use ragi is by making ragi chapatis or ragi rotis. these rustic and healthy ragi rotis are made with ragi aka finger millet flour and whole wheat flour.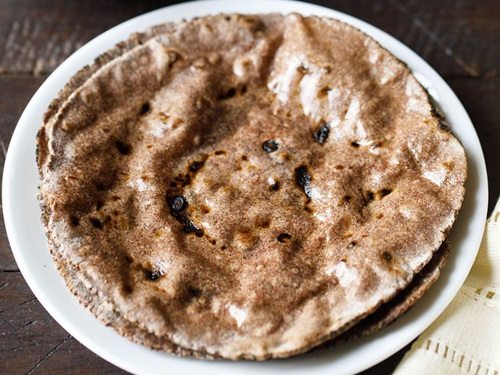 10. rumali roti recipe – roomali roti is one of the unleavened indian breads that is made traditionally in the awadhi, mughlai and hyderabadi cuisine. rumali rotis are thin soft rotis and can be folded like a handkerchief. hence the name rumali or roomali roti. the word 'rumal' means handkerchief in hindi language.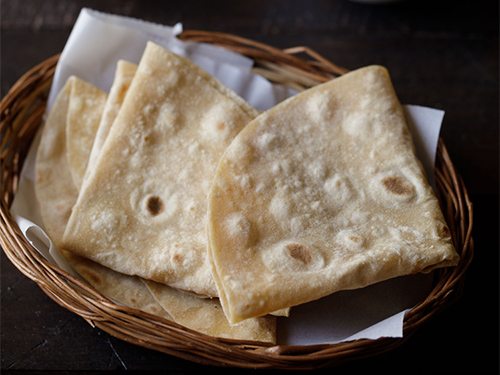 11. kuttu ki roti recipe – gluten free flat breads made with buckwheat flour and mashed potatoes. these healthy flat breads are usually made during the navratri fasting period in india. you can serve kuttu ki roti with other vrat recipes like dahi aloo, arbi masala. dahi arbi, vrat wale aloo, vrat ki kadhi or kaddu ki sabzi.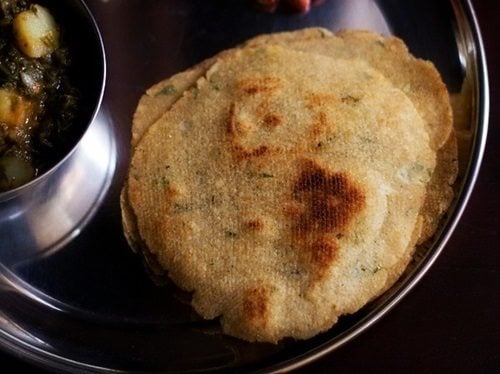 12. roti or phulka recipe – simple, easy to prepare and everyday roti which is made in most indian homes. here the roti is made from whole wheat flour (atta). phulka is a hindi word, which means to puff. these whole wheat flour rotis gets puffed up when cooked on fire or on tawa. they taste best when served hot. you can serve these rotis with dals like chana dal, masoor dal, dhaba dal or a veggie dish like aloo gobi, vegetable kadai, aloo matar, bhindi masala, lauki kofta etc.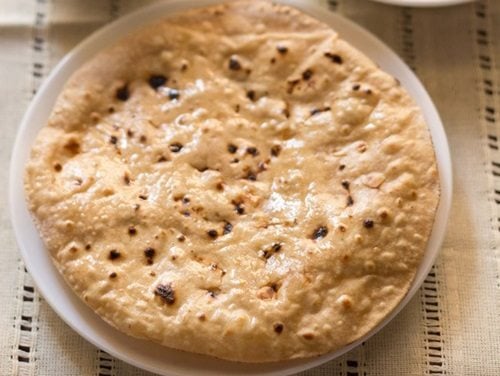 13. gur ki roti recipe – gur ki roti also known as jaggery roti or meethi roti is an easy to prepare tasty roti variety. basically these are small and slightly thick flat breads made with jaggery and whole wheat flour (atta). gud ki roti is made in punjabi homes.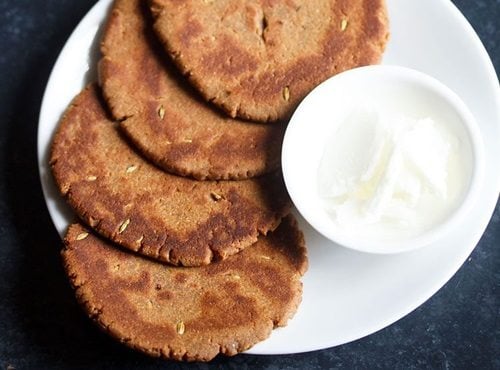 14. instant thalipeeth recipe – thalipeeth is a spiced flat bread made from multigrain flour. thalipeeth makes for a healthy, tasty and nutritious breakfast or snack.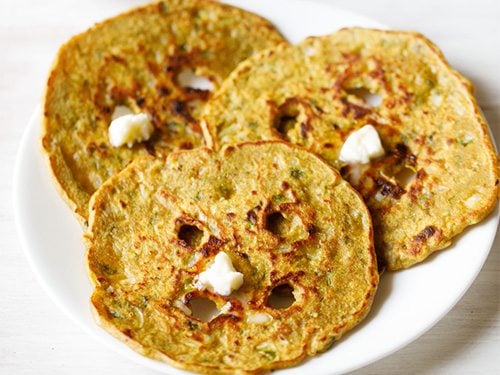 similar popular flat bread recipes:
14. thepla recipe – methi thepla are delicious flat breads made from fresh fenugreek leaves, whole wheat flour and gram flour (besan). they can be munched anytime of the day. methi thepla are light as well as healthy. a good snack for children who don't like greens, especially fenugreek.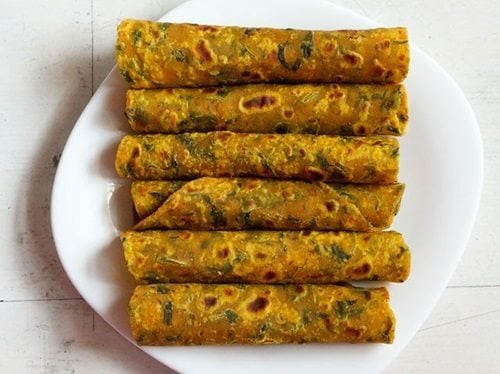 15. lauki thepla recipe – a nutritious thepla made with lauki or bottle gourd. making the theplas is easy and makes for a healthy breakfast or brunch. they remain soft and so go well in tiffin boxes or as picnic food.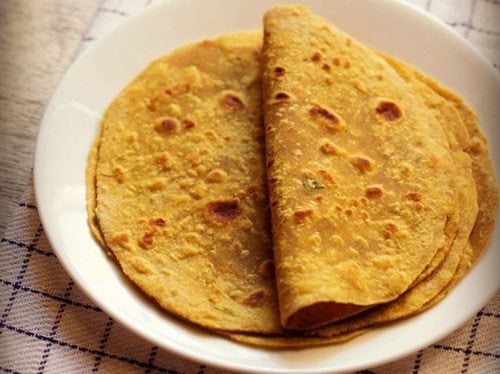 16. mooli thepla recipe – mooli theplas are flat breads made with whole wheat flour, white radish (mooli) and spices.