Collection of 25 Best Potato curry recipes from all over India. Potato is a versatile tuber and can be used in many recipes. Wherein some Indian recipes are exclusively made only with potatoes, there are some recipes where potatoes are used in combination with other vegetables like green peas, cauliflower, spinach etc. In this collection I have shared both such types of potato gravy recipes.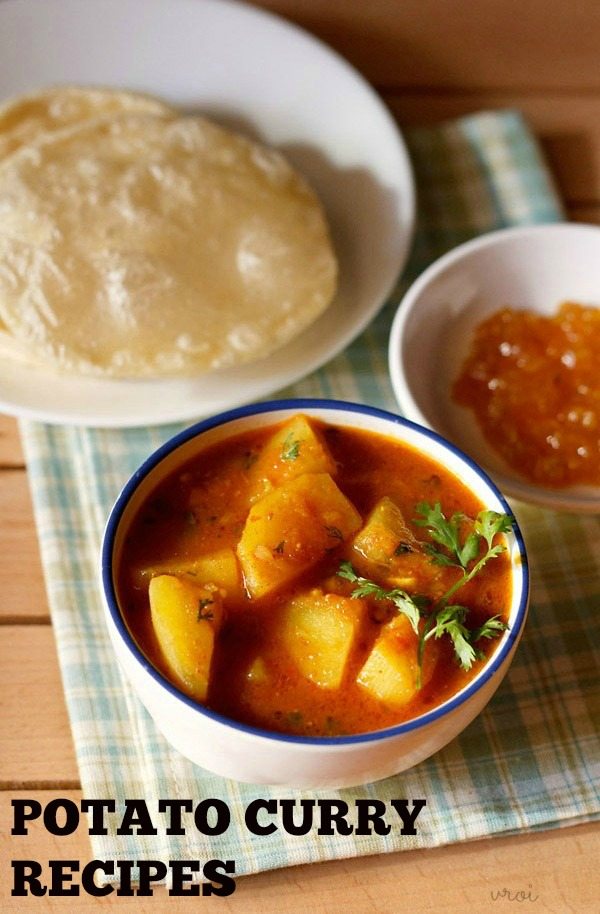 Potato is a favorite with most kids and even grown ups. There are myriad number of recipes that can be made with potatoes ranging from a simple stir fry to a complex gravy or curry recipe. This collection shares only the gravy or curry recipes.
Most of these potato gravy recipes can be easily served with Indian breads like roti, naan, tandoori roti, roomali roti, butter naan, poori and luchi. You can even serve with steamed rice, ghee rice or jeera rice.
Collection of 25 Indian potato curry recipes
1. Dum aloo – this easy and delicious dum aloo recipe uses a mix of onions, cashews, curd along with spices. there are North Indian flavors in this dum aloo and tastes damn good with phulka, rotis, paratha or naan.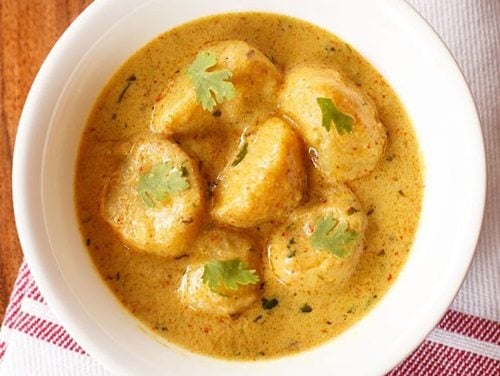 2. Aloo matar paneer – this aloo matar paneer recipe is similar to the way I make Matar paneer. in the recipe I have used cream. You can also use malai. Though you can easily skip adding cream or malai.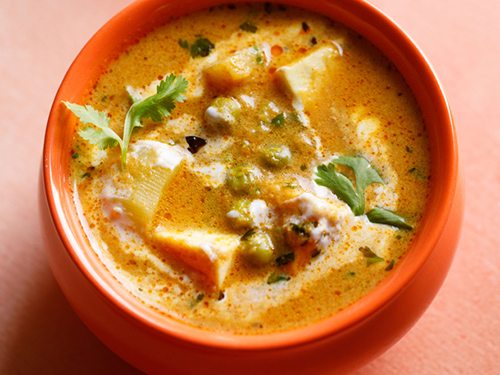 3. Dhaba style aloo gobi gravy – there are many ways of making aloo gobi. This delicious version is the way they make aloo gobi in Punjabi dhabas. the classic aloo gobi in an onion and tomato based sauce simmered with spices.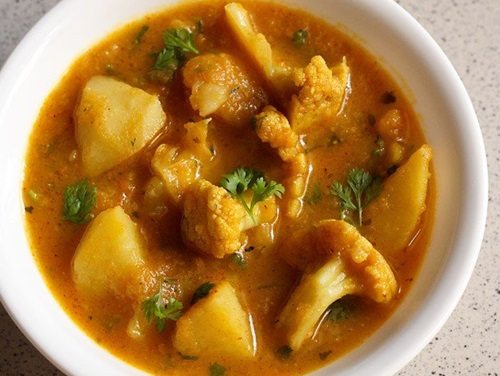 4. Aloo matar – a simple and home style recipe of peas and potatoes curry.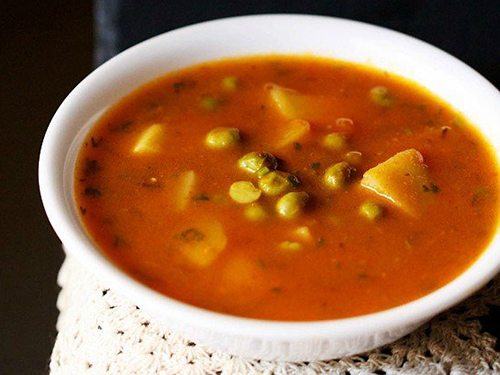 5. Mathura ke dubki wale aloo – a thin spiced and tasty curry made with potatoes and famous in mathura – one of the holy cities in the northern part of India, in Uttar Pradesh. This recipe is very easy to make and you just need some spices and potatoes. The addition of the spices gives a lot of flavor and taste to the gravy. No onions, garlic or tomatoes are added in this recipe.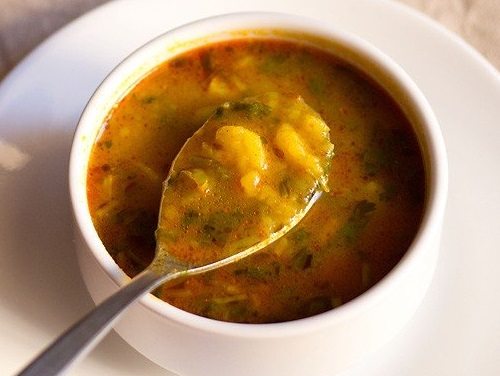 6. Kashmiri dum aloo – this dum aloo has spices like Kashmiri red chili powder, ginger powder, fennel powder which are aromatic and combine to give a lovely warm flavor to the whole dish.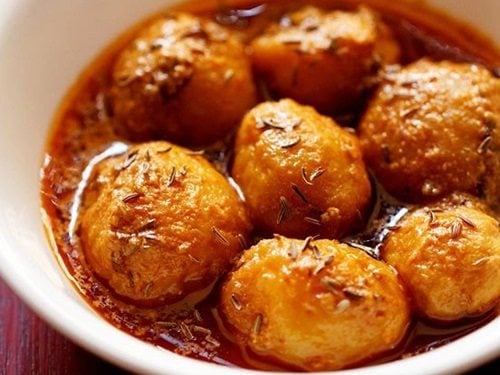 7. Dahi aloo gravy recipe – easy to prepare delicious Punjabi recipe of potatoes simmered in curd sauce. the recipe is good and tastes similar to a kadhi.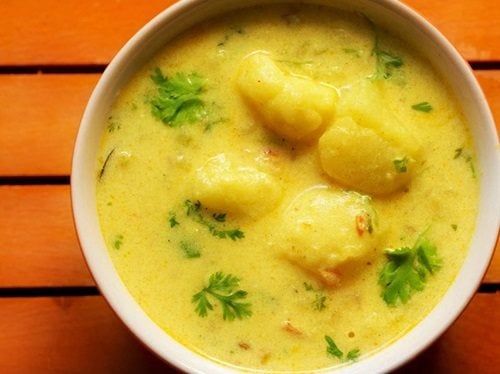 8. Aloo rasedar gravy – one easy potato curry recipe which is made with tomatoes, ginger, spices and of course potatoes. The recipe is also no onion no garlic. You just need to boil or steam the potatoes. Once the potatoes are done, making the curry is very easy.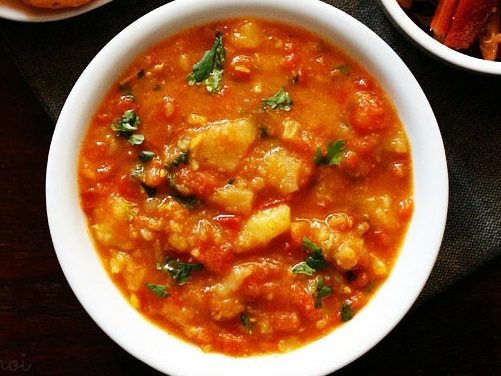 9. Aloo paneer – tasty and easy to prepare Punjabi aloo paneer masala with a creamy and tangy onion-tomato based gravy. you can serve this aloo paneer curry with rotis or parathas or pudina paratha or ajwain paratha and even with jeera rice or matar pulao.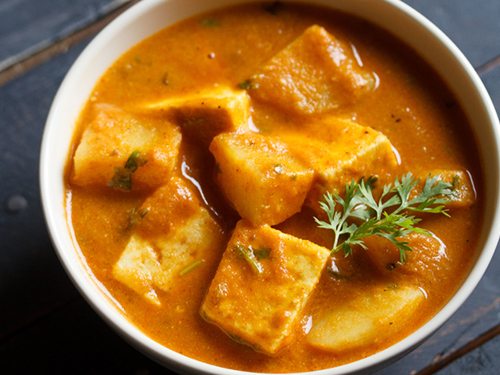 10. Potato curry recipe – a simple homely curry with potatoes. at home this curry is called a 'dehati' curry as the taste of the curry is similar to the simple food made in Indian villages.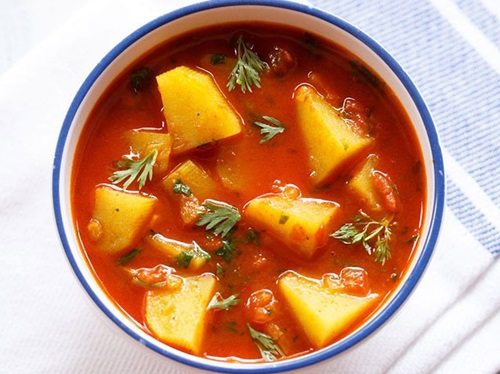 11. Aloo poori – traditional Punjabi style spiced potato curry served with pooris. It is one of the popular breakfast dish from north India. In most Punjabi homes the sunday breakfast is either aloo poori or bread pakora or different varieties of parathas.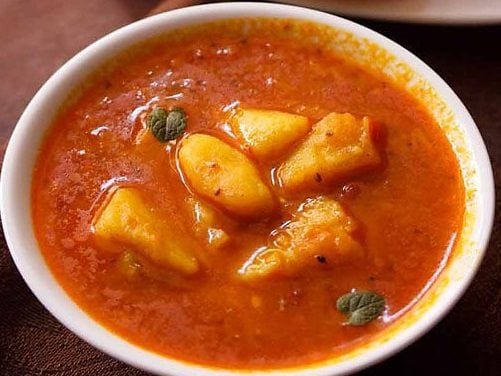 12. Punjabi style dum aloo gravy – this dum aloo has a tang from tangy tomatoes and sweet hint from onions and cashews and in combination with the usual Indian spices, what you get is a creamy and delicately spiced and flavored dum aloo.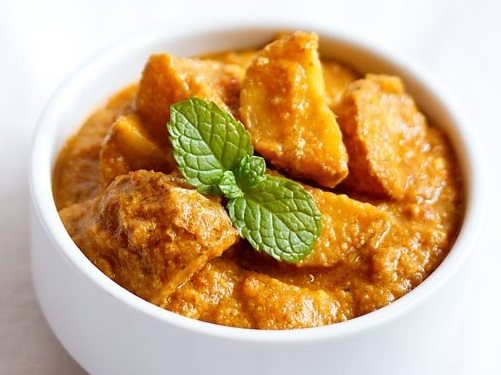 13. Potato stew – the recipe of this potato stew is so easy to prepare and yet tastes so good. The flavors of the spices and curry leaves blend well with the creaminess and sweetness of coconut milk. the recipe is similar to the veg stew. I prepare potato stew to go with appams or ghee rice.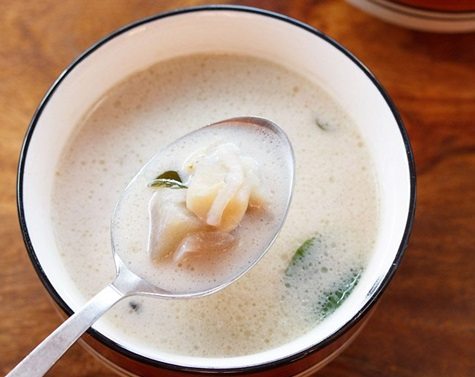 14. Bengali dum aloor – lightly spiced and slightly sweet potato curry made with onions, tomatoes and spices. The combo of dum aloor with luchi is too good. You can also serve them with Bengali matar kachori or radhaballavi or poori.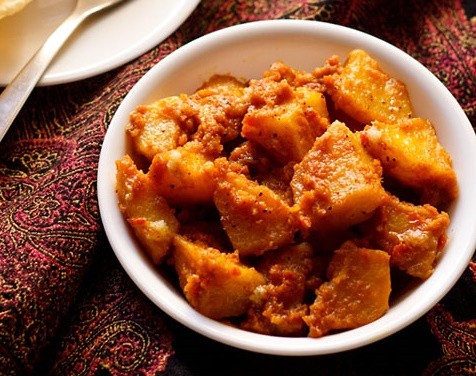 15. Potato green peas kurma – a South Indian style delicious potato peas korma made with coconut, poppy seeds, cashews and red chilies. few more korma recipes on the blog which you may like are: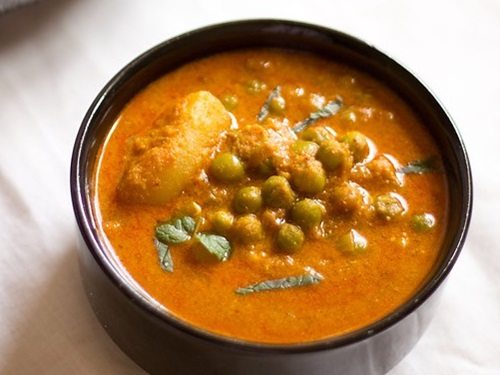 16. Aloo palak – potatoes in a smooth spinach sauce. this delicious potato spinach gravy recipe is similar to the way I Make palak paneer. the potatoes are boiled first and then added towards the end. The dish pairs well with rotis, phulkas or naan.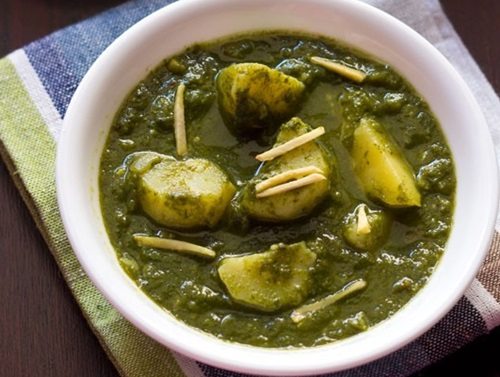 17. Aloo matar gobi – lightly spiced delicious curry made with cauliflower, peas and potatoes. this dish is truly a delight to have with some rotis or naan or even steamed rice.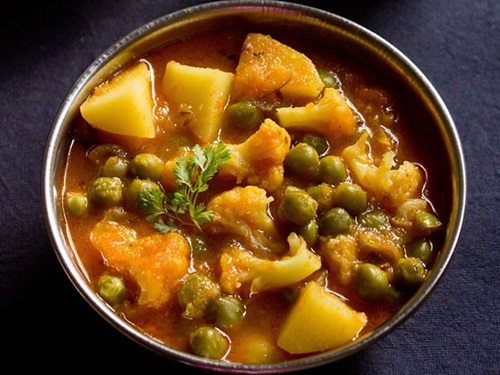 18. Potato sagu – a lightly spiced potato curry from the Karnataka cuisine. It is usually served with pooris, chapati, dosa or rava idli. making this potato curry does not take much time. i usually serve potato sagu with pooris or set dosa or neer dose and sometimes even with plain dosa.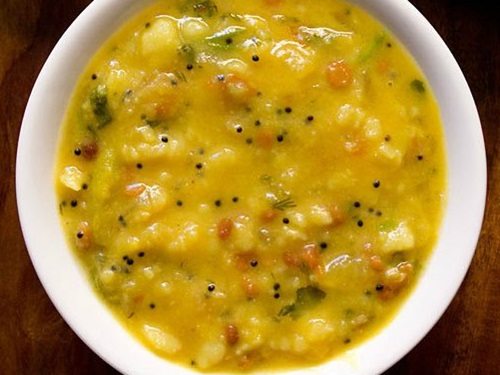 19. Potato kofta – potato cheese patties or koftas in a creamy, rich makhani style gravy. for the koftas I keep a simple stuffing and use minimal spices. Here the gravy is not a simple homely one, but slightly rich and restaurant style. It tastes more like a Makhani gravy.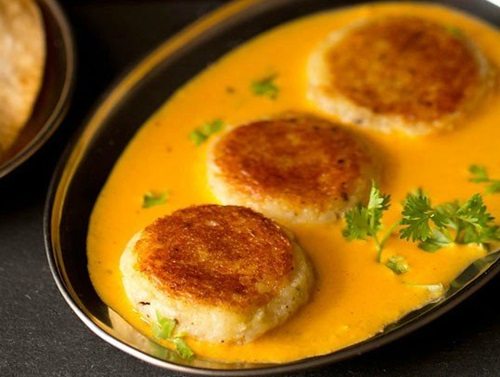 20. Aloo jhol – easy to prepare spicy thin potato curry from the Uttar Pradesh cuisine. It can be served with pooris, chapatis or steamed rice. jhol means a thin gravy or 'tari' as we call in hindi.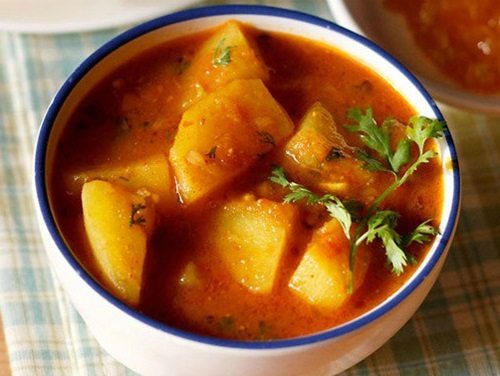 21. Potato kurma – a really good recipe of hotel style potato korma. you can also use the same recipe to make korma with paneer, mixed veggies or tofu.
22. Banarasi dum aloo – no onion no garlic recipe from the Uttar Pradesh cuisine of baby potatoes in a tomato based curry. This dum aloo recipe has a base of tomato, ginger and spices. Some yogurt & cream is also added. Baby potatoes work best, but you can also add regular potatoes.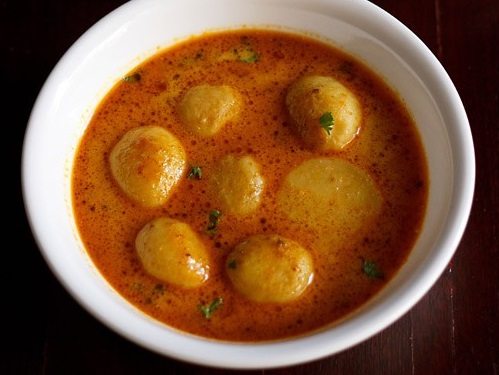 23. Aloo chole – this delicious aloo chana masala recipe is a Punjabi dish made with potatoes and white chickpeas. It is usually had for breakfast and is served with hot pooris.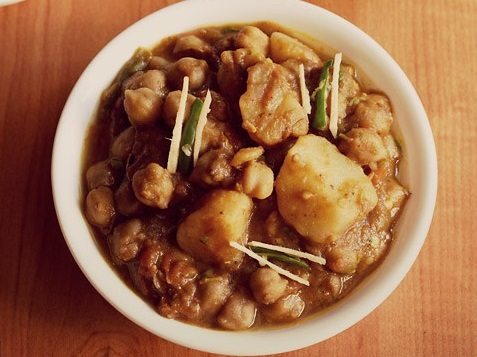 24. Potato masala – delicious hotel style South Indian potato gravy or sabji for pooris. This spiced potato dish also goes very well with dosa or chapatis.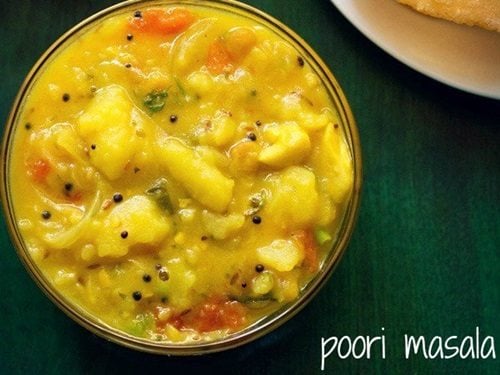 25. Flower batata rassa – a tasty coconut based curry made with cauliflower and potatoes from the Maharashtrian cuisine. This is such a delicious curry that not only it tastes good with chapatis or pooris, but also equally tastes good with steamed rice.