This detailed post shares Navratri fast rules, Navratri pooja vidhi (procedure or guidelines), Navratri kanya poojan, food ingredients allowed for Navratri vrat, Navratri recipes and how Navratri vrat vidhi is observed in our place.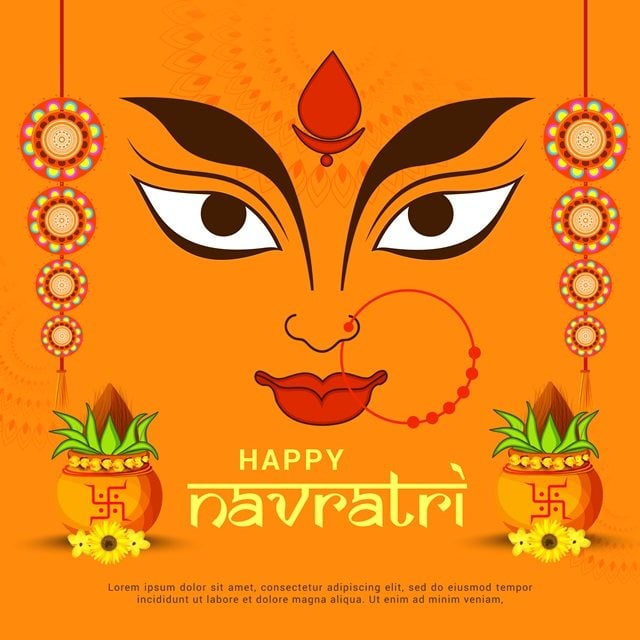 This year Chaitra Navratri begins on 22 March and ends on 30 March 2023. Also the Sharad Navratri begins on 15 October and ends on 23 October 2023.
Before I begin with the Navratri fasting rules and guidelines, I would like to thank you for reading this post. I also hope you have a devoted, fruitful Navratri festival and get blessings from the Goddess.
Devi Maa came in my life many years back. My past life spiritual practices including this life's austerities (tapasya) and penance and my good karmas, helped me to get Her blessings.
I have so much to say, but I cannot write everything in this post (a book will be needed). I only have tears in my eyes when I remember Her. I have no words to describe Maa.
No one can ever understand Maa and Her leela. Maa is compassion, period. She has helped me during many difficult circumstances in my life.
Though I worship Maa everyday, I always look forward to the Navratri festival every year. It is easy to invoke and connect with Her as Maa is very active during these nine nights.
You just need to call Her with an innocence of a child and keep calling and pestering her, till she listens to your prayers. Innocence and a child-like quality is very important.
You should not have any deceit or cunningness in your mind or heart. True and sincere devotion is needed.
Pray for the well being of yourself, your family, your friends and everyone. Do not pray or do any sadhana (spiritual practice) to harm others as this creates negative karma which will eventually bounce upon you.
If you are prayers are sincere, earnest, positive and with a deep longing, they will be answered.
What is Navratri?
Navratri literally means nine nights and during this period, 9 forms of the Mother Goddess or Shakti or Devi are worshiped throughout India.
Out of 4 major Navratri happening in a year, only two Navratri are celebrated. The first 'Chaitra Navratri' celebration is when summer begins (March-April) and the second 'Sharad Navratri' is when winter begins (Oct-Nov).
The other two Navratri are known as Gupt Navratri. The Hindi language word 'gupt' means "secret" and people into tantra practice used to follow their spiritual practices related to shakti sadhana in this two gupt navratri.
Nowadays many people keep fast and do religious pooja and sadhana during gupt navratri also. Gupt navratri was not so popular with common people before but it is getting popular now. These are also spiritually charged days to worship and remember the goddess as she is invoked by millions of devotees.
In North and Western India, many people keep fast during Navratri. As it is a very good time to make progress in your spiritual practice or to invoke the energy of the Mother Goddess or purify your body-mind.
Navratri fasting rules vary little from community to community and region to region. The same fasting rules apply for fasts during the Ekadashi, Janmashtami and Mahashivratri fasts.
You can check this post which shares 104 Navratri Recipes that covers North Indian as well as South Indian Navratri festival recipes. You can also browse the complete collection of Vrat Recipes here.
Food allowed for Navratri Vrat or Fast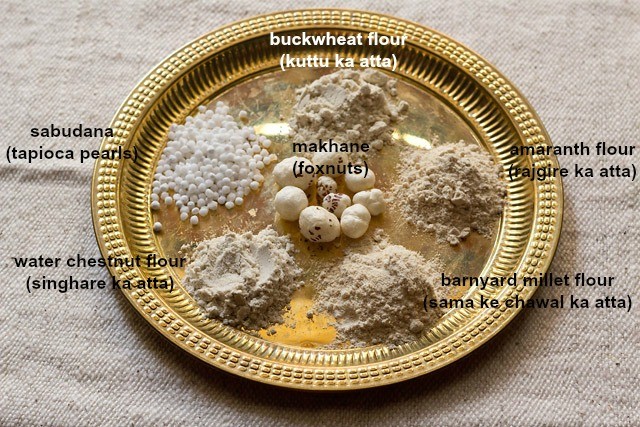 Flours and grains allowed
Singhare ka atta (water chestnut flour) – You can make Singhare ki poori, paratha, pakoras, halwa.
Rajgira ka atta (amaranth flour) and rajgira (amaranth) – You can make Poori, Vrat ka halwa, Vrat ki kadhi, Paratha and thalipeeth. Roasted rajgira can be had mixed with fruits, porridge and even ladoo. From amaranth grains you can also make Rajgira kheer.
Sama ke chawal ka atta (barnyard millet flour) – It can be used to make Vrat ke uttapam, Vrat ki Idli, dosa, poori.
Vrat ke chawal (barnyard millet) – You can make Pulao, Khichdi, Kheer, dalia, Idli, dosa, upma or just plain steamed.
Arrowroot flour or paniphal flour – Used as a thickener and binding agent.
Spices and herbs allowed
Cumin or cumin powder ( jeera or jeera powder )– You can add them to your curry or veggie dishes or make Jeera Aloo.
Black pepper powder
Rock salt (sendha namak) – Instead of regular salt add rock salt in any dish you prepare while keeping navratri vrat.
Spices like green cardamom (choti elaichi), cloves (laung), black peppercorns (saboot kali mirch), cinnamon (dalchini) and nutmeg (jaiphal)
Dry pomegranate seeds (anardana) – You can make chutney or raita or use it as a souring agent.
Ginger – both fresh root as well as dry, including dry ginger powder
Green chilli or hari mirch
Lemons or lime
Ajwain or carom seeds
*coriander (dhania) and mint leaves (pudina) and curry leaves (kadi patta) – some folks include and some don't. So check with your family elders before using them.
*dry mango powder (amchur powder), chaat masala, red chili powder – some folks include and some don't
*black salt (kala namak) – some folks include and some don't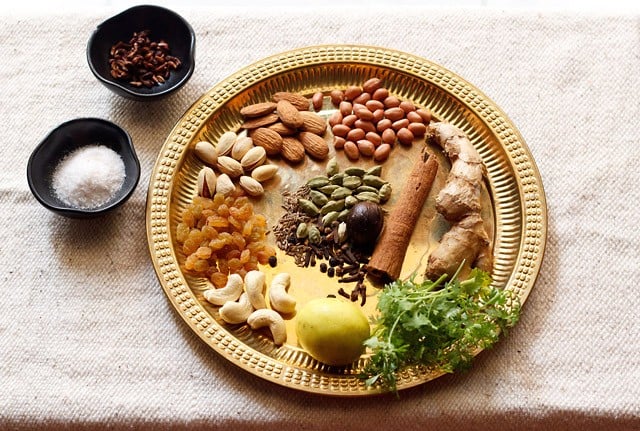 Vegetables Allowed in Navratri Fast
Potatoes – You can make Vrat ke aloo, Dahi aloo, Jeera aloo, Aloo tamatar ki sabzi, Vrat ke aloo palak or you can make snacks like Aloo tuk, Farali pattice, easy Vrat ki Aloo chaat. You can also make halwa or add them to raita.
Pumpkin – You can make Kaddu ki sabzi, Halwa, Khatta meetha kaddu sabzi or Pakoras.
Sweet potato – You can make Shakarkandi halwa, Tikki or chaat.
Colocasia (arbi or kachalu) – You can make many dishes from arbi like Sukhi arbi, Dahi arbi, Arbi tikki, Arbi cutlet.
Yam (suran or jimkand or regular yam or purple yam) – You can make Suran chips, suran ki sabzi.
Plantain or Unripe Banana – You can make sabzi, banana fries and Banana chips.
Unripe or semi ripe papaya – You can make Papaya halwa and salad from raw papaya.
*Tomatoes – Generally tomatoes are added to curries or sabzi. Tomato sauce and chutney is also made. But some people don't use tomatoes too.
*Veggies – Some folks also use spinach (palak), bottle gourd (lauki), cucumber (kheera) and carrots (gajar). Kindly check with your family elders or priest to confirm whether in your family these veggies are used during navratri fast or not?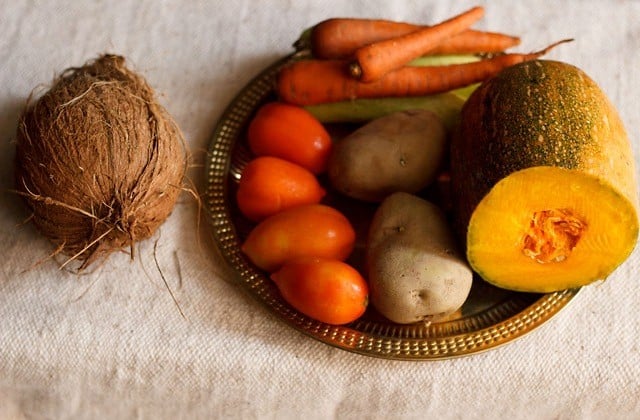 Other food or ingredients allowed
Sabudana (sago or tapioca pearls) – sabudana is favorite during fasting. You can make Sabudana khichdi, Sabudana vada, Thalipeeth, Pakora, Ladoo, Tikki, Bhel and Kheer.
Makhana or phool makhana – You can make Makhana kheer, Roasted makhana, Aloo makhana, rotis or a simple makhana sabzi.
All nuts & dry fruits – You can make Dry fruits milkshake or Dry fruits ladoo or Badam pista barfi or add them to halwas or other dishes.
All fruits – Make Fruit chaat, fruit salad, Fruit raita, mix Fruit lassi or fruit juices like Musk melon juice, Jackfruit shake, Pineapple juice, Apple milkshake, Guava juice or have them raw.
All milk products like paneer, Curd, white butter, cream, ghee, Khoya, malai, condensed milk. But some people make Paneer at home (use lemon juice or curd for curdling the milk) and don't use the paneer brought from market. With homemade paneer you can make Kalakand, Paneer kheer, Aloo paneer kofta and Paneer Barfi.
Sugar, honey, or jaggery
Tamarind (imli), kokum, lemon juice, yogurt – these can be used as souring agents.
Coconut and coconut milk – You can use coconut in your dishes, make Coconut ladoo, Coconut barfi or use Coconut milk in Milkshakes.
Melon seeds (magaz), cucumber, peanuts, groundnut oil
Tea is allowed.
Foods to be avoided during Navratri
Onion and garlic are strictly avoided. If you find any recipe on my blog or any other food blog or youtube chaneel that has onion and garlic then skip adding them. Usually ginger is added is most vrat recipes.
No lentils and legumes
Common salt is not used and instead rock salt or sendha namak also called as upvaas ka namak is used.
Spices like turmeric (haldi), asafoetida (hing), mustard (sarson or rai), fenugreek seeds (methi dana), garam masala and dhania powder (coriander powder) are not allowed.
Alcohol, non-vegetarian food, eggs and smoking is strictly NO during this holy period.
Coffee is not allowed. Homemade ice cream can be consumed. But avoid buying from outside as they might have lot of preservatives.
Corn, corn starch, corn flour, oats, flaxseeds, chia seeds not allowed.
Fats like peanut oil or groundnut oil and ghee can be used for frying purpose. Don't use any oil made from seeds like sunflower oil.
Flours and grains not allowed in Navratri
Rice and rice flour
Wheat flour or atta
Maida (all-purpose flour)
Sooji (rava or semolina)
Besan (chickpea flour or gram flour)
Note:
1. If you want to make roti, poori or paratha for fasting then use above mentioned fasting flours like singhare ka atta, kuttu ka atta and rajgira ka atta. For making rice based dishes, kindly use sama ke chawal.
2. You can browse the complete collection of 160 Vrat Recipes here. You can also check these collections of 11 Sabudana Recipes.
Navratri Vrat Vidhi (Procedure or Guidelines)
How Navratri vrat pooja is observed at my in laws place? It may be followed in slightly different way in your family. So you can use it as a reference.
Cleaning house and home temple: To start with if possible, clean the house as you are inviting the Goddess Mother in your house. You can specially clean your house temple and sprinkle Ganga water in it.
Avoiding onions and garlic: My mother-in-law does not use any onion and garlic in any recipe, no matter other people are keeping fast or not. So try to use all the onions and garlic before the fast is starting.
Fasting: Many devotees keep fast on all nine days. My mother-in-law has kept fast on all nine days through out her life. But now because of old age and falling health, she keep fast on one day. If somehow, its not possible for you to keep fast on all nine days then you can try that on each day one person of your family is keeping fast in the house.
Fasting for last two days: Some people keep fast on the first and last day (my mother-in-law used to do this for last few years). This year one brahmin lady told her that it is better to keep fast on last 2 days. As after the first day fast you have started eating again and then you are keeping fast on the last day. According to this brahmin lady, it is better to keep fast on last 2 days than on keeping fast on first and last day of Navratri.
Potting Barley seeds: Many people grow 'Khetri' or Barley seeds during this period. For this they collect, clean mud from an auspicious or clean place. This mud is put in a earthen pot.

Clean and wash the barley to remove any insects or impurities and soak them in water for 15 to 30 minutes and then put these barley or 'jau' on the top of mud.

Make a thin layer of mud on top of barley, so as to cover it. Don't put too much mud otherwise barley will not grow and put just enough water to soak the barley. One red color string (mauli) of mata rani is tied to khetri pot.
Khetri color: The progress of 'khetri' or barley is observed very keenly by the devotee and it is believed that the longer they grow in height, the better it is for your family's fortune and well being. It is also related to the blessings or happiness of the Goddess on you.

Few people believe that instead of observing the height of khetri, we should look at the color of khetri. Yellow color khetri is not good whereas green color khetri is considered good.

On the last day of Navratri, the khetri is immersed in moving water body like river or even a pond. If there is no water body nearby to your house then you can put the khetri under pipal tree in a temple.
Navratri Pooja and Items
Mata rani ka shingar (cosmetics) – My mother-in-law keep them in the house temple and whenever (any day of Navratri) she go to a city temple devoted to goddess then she offer these shingar item in the temple. The shingar items include red bangles, red chunri, red lipstick, bindi, mehendi, kajal, nail polish, anklets, mirror and sindhur.
Akhand diya: One diya or lamp is burned through out the nine days and care must be taken that there is enough ghee or oil in the diya all the time. It is Akhand jyoti (burning non-stop all the time for nine days). This akhand jyoti will destroy all the negativity in your house.

Ensure that the lamp/diya keeps on burning non stop. It should not extinguish in between. If it does then it won't be considered Akhand. Great importance is paid to make sure that the diya has enough ghee and wick all the time.
Chunri: Along with this one red color chunri or cloth and one mature coconut is kept in the house temple. The thin edge of coconut should be towards the temple.
Kalash: One kalash (earthen or copper pot) is filled with water, 5 betel nuts or suparis, sugar, rice and a clean five rupees coin and is kept with all these pooja items. In the kalash, red color string of mata rani is tied and this kalash water is sprinkled in your house after the kanjak pooja on 8th or 9th day. You can also drink this water. This water is considered as charanamrit and is holy.
Pooja: After taking bath in the morning, aarti is done for Devi Maa and bhog is given to Maa in the form of dry fruits and nuts (5 types), milk, bananas, mishri or other fruits. You can also offer fresh flowers. After doing the aarti or pooja only, my mother-in-law takes the food.

The same aarti is done in evening time (sandhya kaal) too. Burning incense, dhoop etc is part of morning and evening pooja. Please refrain from tasting the food ingredients for bhog, while assembling or preparing the bhog.
Navratri Bhog or Prasad Suggestions
The below info is about bhog or prashad on each day and my mother-in-law follows this.
1st day of Navratri (devoted to Shailaputri Maa) – Desi ghee (made from cow's milk) is the bhog. It will bring good health in your life and will keep the diseases away. In pooja or rituals only cow ghee is used as it is satvic. Don't use ghee made of buffalo milk as it is tamasic.
2nd day of Navratri (devoted to Bharmacharini Maa) – sugar and fruits are offered as bhog. It will increase the longevity of your family members
3rd day of Navratri (devoted to Chandraghanta Maa) – milk (doodk ka bhog) or you can offer sweets or kheer. It will bring relief from pain and misery. After offering milk to ma it can be donated to brahmins.
4th day of Navratri (devoted to Kushmanda Maa) – Malpua or Puda (skip adding fennel seeds or saunf). After giving this bhog to Mata, the puda or pua can be keep below the pipal tree. It increases the intellect and power of discrimination and decision making ability.
5th day of Navratri (devoted to Skandamata) – banana or kela ka bhog. It keeps you physical healthy.
6th day of Navratri (devoted to Katyayani Maa) – honey ka bhog. You can also make donation to a pandit on this day. This increases health and beauty.
7th day of Navratri (devoted to Kaalratri Maa)– jaggery or gur ka bhog. It removes all sorrows and evil from your life. Protects you from sudden calamity.
8th day of Navratri (devoted to Maha Gauri Maa) – mature coconut as bhog. Removes sorrow from your life and give you success. Childless couple are blessed with child.
9th day of Navratri (devoted to Siddhidatri Maa) – til ka bhog (sesame seeds). She is the Goddess of all siddhis.
Note – Back home, this bhog is later on offered to nearby Devi Maa temple or given to any small girl (kanjak) or offered to any brahmin who conducts pooja service at your home. Last option is to eat the bhog with devotion. Also ensure that these food items offered as bhog are fresh.
Chanting, Mantras and Bhav
Try to keep your body and mind clean. Keep your thoughts focused on Maa or the Goddess while doing your household work. You can do some special pooja or havan in your house.
You can chant 'Jai Mata Di' or read Durga Saptashati or Sri Lalita Sahasranama. You can also read Srimad Devi Bhagwatam, Devi Mahatmyam or Kunjika Stotram.
You can also chant the Nivaran mantra "Aaim hreem kleem chamundayai vichche" – 108 times or as many more times as you want. You can also chant 1 mala in the morning and one mala in the evening. Celibacy is strictly observed on all nine days of Navratri.
You can also visit Devi temples during these days or can play devotional songs or mata ke bhajan in your house to help your mind to stay connected with Maa.
Fasting Food – There is no fix rule and it varies from community to community. Some people eat only one flour based diet in a day and rest of the day they take milk, tea, fruits etc.
Those who can not go for such strict diet take 2 flour based meals. In my place, we also buy 'seel ki patti or laddu' – made from popped amaranth seeds, from the grocery stores and have it during the fasting.
Normally, there is always relaxation for old or sick people, even for nursing mothers or for those who can not follow rigorous fasting rules. But non-veg food, eggs and alcohol should not be allowed in the house till Navratri is over. No matter you are keeping Navratri fast or not. Also avoid using onions and garlic in your food.
Navratri Kanjak Pooja (Kanya Poojan)
Many families also do kanya puja on 8th or 9th day. My parents get up early in the morning, take bath and wear fresh clothes to start the pooja preparation. In the kanya puja, nine girls who have not reached the puberty stage are worshiped.
For the devotee these nine girls represent nine forms of Goddess Durga. The young girls who sit for kanya pooja take bath in the morning and wear new clothes.
I have seen this kanjak puja many times. First the feet of the girls are washed with water by the family elders. One mauli (red color string) is tied on their hands and tilak is put on the forehead.
Then they are worshiped and blessings are taken from them. After the customary Navratri kanya pooja, small girls are offered prasadam which is usually Puri, Dry Black Chana and Halwa.
The coconut which is kept in the house temple is also broken during this occasion and is part of the prasad. Some families also worship one small boy in the form of Bhairav but most families only worship the girls. Many people insist that only girls should sit for kanjak pooja.
Minimum two girls should sit for kanjak pooja. No restriction on doing pooja with more than 2 girls but minimum two girls, older than one year of age is a must. If in your locality, nine girls can sit for kanjak pooja then very good. You can worship them as nine forms of the Goddess.
Along with the prasadam and eatables (in one plate puri, dry black chickpeas and sooji halwa is given), gifts, fruits and money is given to the girls (nowadays many people give gifts items like chocolate, frooti, biscuits etc). Fruits are a must to be given.
Make sure that the girls eat part of poori, chana and halwa before going to another house for pooja. They won't be able to eat much as they have to visit other homes also who are doing kanjak pooja. So just one bite is also enough and takes blessings from them which they will give by gently patting on your head.
With the tilak on head and so much attention, love, and devotion received, these small girls really look divine and they are really sought after on kanjak pooja day. Raksha Bandhan and kanjak pooja are two big days for small girls !!!
Note: If you have followed the rituals correctly during nine days and the worship of nine girls is done with real devotion then Goddess will be there inside the girls when you are worshiping them. It is all up to your devotion and faith in Maa. If you can call Maa with real devotion then she will come for sure.
Secondly, if you stay outside India and you can not arrange two girls for kanjak pooja or there is no devi ma temple near by. Then you can follow this procedure on the last day pooja – in your house prepare poori, halwa and dry kala chana as prasad.
Make as many plates of prasad (poori, halwa, kala chan) as there are members in your house (you can include your son or daughter who might be staying else where).
Offer these prasad plates to devi ma and after some time once you feel that maa has taken the prasad then eat it immediately with devotion. Prasad should always be eaten first before eating any other food and have it as soon as possible.
When Navratri fast is broken
On the day, kanjak pooja is done, the Navratri fast is broken in my house. Some people do kanjak pooja on 8th day (Ashtami) and some do it on 9th day (Navami) and few people do it on Dussehra (10th). Mostly it is done on 8th or 9th day.
The day kanjak pooja is done, on that day in our house we do the immersion of khetri along with red cloth (chunri) in moving water (e.g. River) or it can be kept under pippal tree in a temple.
Normally, in our house pooja is completed early morning itself. If you also want to do kanjak pooja on 9th then keep fast on 8th (ashtami) as many people keep fast on 1st and last day of Navratri and some people suggest to keep fast on last 2 days if you only want to fast for 2 days.
Please don't take this above navrati vrat procedure or guidelines as a thumb rule. I am just sharing the procedure which is observed at my in law's place and it is just for your reference and help. Navratri vrat rules are flexible and vary from family to family. I have also seen, some families who have started growing khetri in their home seeing my mother-in-law doing it.
Most important thing in religious fast or acts is your devotion and purity of heart. If somehow you miss any rule or make a mistake, don't worry. Mother goddess is always kind to her children and is forgiving.
Just make sure that your heart is clean or without malice for anyone and your energies are devoted to righteous actions. Instead of regretting the mistake which happened unknowingly, try to remember maa all the time. Keep your thoughts on maa and don't waste in mundane matters.
Disclaimer: The above compiled list and info are based upon the food ingredients that we include for Navratri fasting in our family and inputs from friends. If in doubt, then please consult your family elders.
If you find this post helpful, then do share it with your friends and family members.
Jai Mata Di
This Navratri Vrat Rules post from the archives (September 2013) has been republished and updated on February 2023.