collection of 9 modak recipes for ganesh chaturthi festival. this post shares 9 types of modak varieties that can be made during ganesh chaturthi festival. this year ganesh chaturthi is starting on 13th september 2018 and as usual will last for 10 days.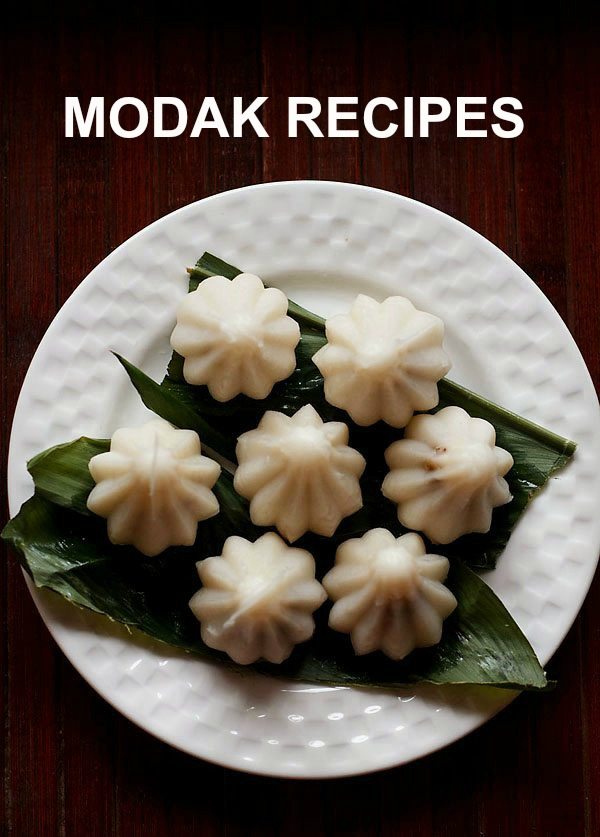 there are many variations of modak recipes. steamed modak or ukadiche modak is lord ganesha's favorite sweet and is made traditionally all over maharashtra and goa. in the south india, ukadiche modak is called as kozhukattai and is made with a few variations.
to the unacquainted, modaks are sweet dumplings generally made with rice flour and stuffed with coconut – jaggery filling. the filling can vary as there are many varieties of modak.
preparing modaks the traditional way does take time, so either you can involve a help or prepare when all your remaining household work is over. if you plan to offer these modaks as a naivedyam to lord ganesha, then don't taste them while preparing. prepare with fresh ingredients and with a devotional state of mind, heart and being.
also making ukadiche modaks is a little difficult, so you got to make them to master the art. preferably use moulds for giving shape to the modaks. the modak moulds are easily available in india. you can even buy them online.
in this collection i have shared not only the traditional modak recipes but also quick versions of modaks made from khoya or mawa. you might also like these 2 collections covering:
collection of 9 modak recipes for ganesh chaturthi festival