Mango kulfi Recipe with step by step photos. Mango kulfi is an Indian frozen dense dessert made from milk and mango puree.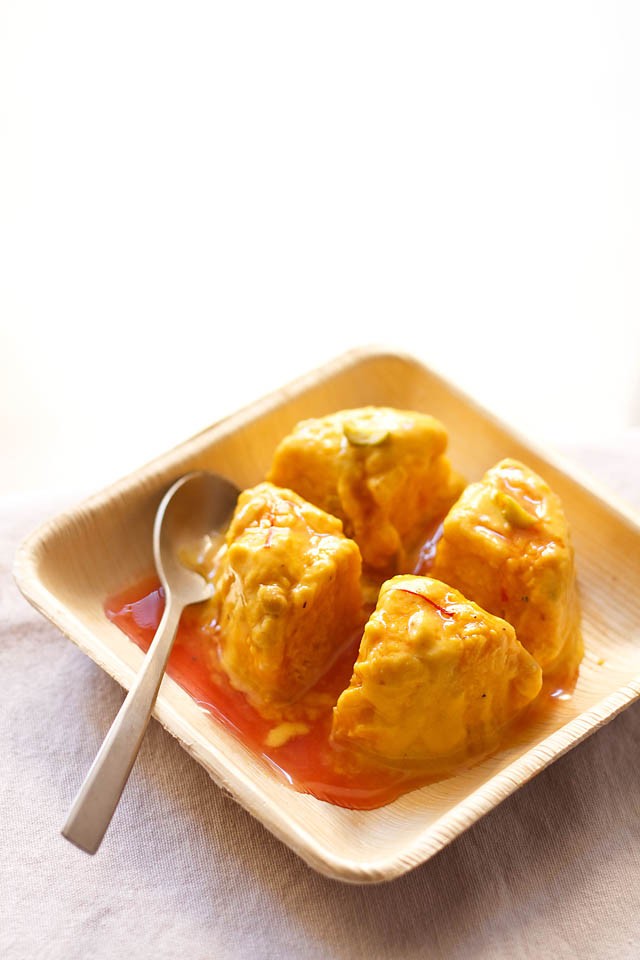 Summers and kulfi go together for us. So whenever the Indian summers arrive kulfi also starts beckoning. Its just like summers are best to make pickles and papads. In a similar way kulfis are best in the summer. Though you can still have them in the Indian winters.
Now coming from Mumbai, I have had kulfi in many places. I liked the ones that were served at Chowpatty beach topped with falooda vermicelli and some rose syrup. Truly yum.
Also there would be Kulfi vendors who would carry a large earthen pot on their heads. Inside the pot would be some ice and kulfi moulds filled with frozen kulfi. They would serve us the kulfi on large leaves. A nice eco-friendly plate instead of the plastic plates that are used nowadays. I don't know if these kulfi vendors still exist.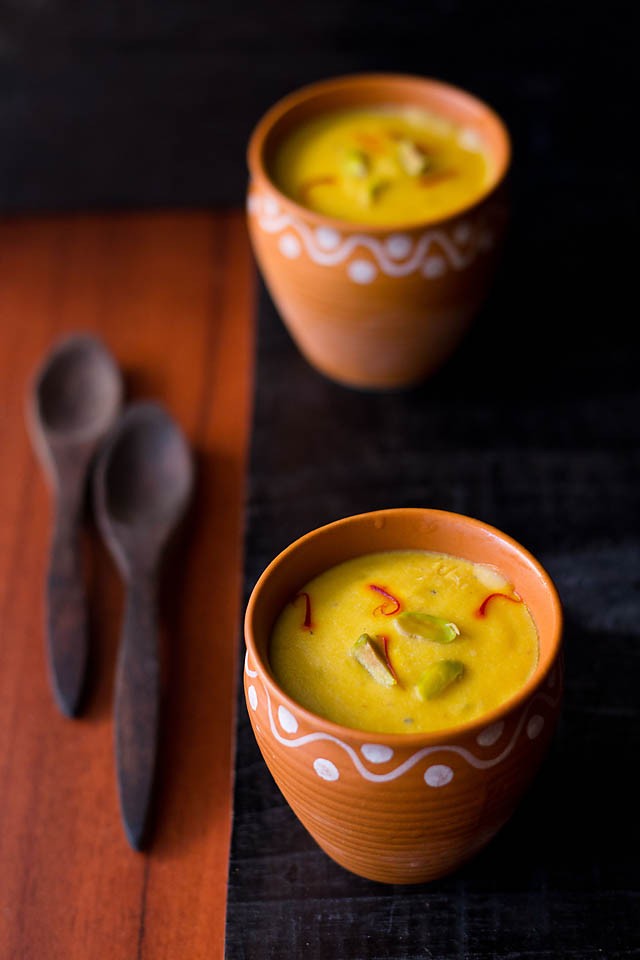 What kulfi is and what it isn't
Kulfi is a frozen milk based Indian dessert. There are many ways of making kulfi from using regular milk to condensed milk and some evaporated milk/Khoya or cream are also added. I have shared the recipe to make Kulfi with khoya.
I have also made kulfi the traditional way with Rabri. cooking the milk slowly, till it evaporates and becomes thick and then making kulfi from this rabri. A long and tedious process and continuous stirring will give your hands a good exercise, but worth it. I have also posted Malai kulfi made without condensed milk or mawa (khoya).
I won't call kulfi an Indian ice cream. I still don't know why kulfi is called as Indian ice cream. Ice cream is ice cream and kulfi is kulfi. I don't see any similarities between the two of them, both texture and taste wise. kulfi is dense and ice cream is soft. You can bite into a kulfi, but ice cream just melts in your mouth. Kulfi takes a long time to melt, unlike ice cream.
On mangoes:
Mangoes have arrived early this year and they are pretty expensive. Yet if you love mangoes, you have to empty your pockets a bit to buy them 😉 the mangoes puree used in this recipe is from alphonso mangoes. Kesar mangoes would also be good.
I have also shared a No cook mango kulfi with milkmaid which is a quick, easy and a cheat's version of making mango kulfi as no second time whipping required in the recipe.
Thickening agent:
In this recipe, to thicken the kulfi, I have used rice flour instead of cornflour. Whenever I use cornflour, I find it a bit pasty in kulfi. Rice flour gives a creamy texture. However, you can still use corn starch if you don't have rice flour.
On milk:
This recipe of mango kulfi is made with almond milk. The same recipe can also be used to make kulfi with dairy milk. When making kulfi use whole milk and not low fat or skimmed milk.
The fat content in the milk helps the kulfi to be creamy and rich. If possible use organic milk. in the recipe details, I have given substitutions for using both vegan and dairy ingredients.
How to make mango kulfi
1: Take the almond milk (or dairy milk) and saffron in a pan. Heat on a low flame. Just let the almond milk come to a gentle heat. Don't simmer or boil. If using dairy milk then simmer on a low flame for at least 15 to 18 minutes till the milk reduces and thickens.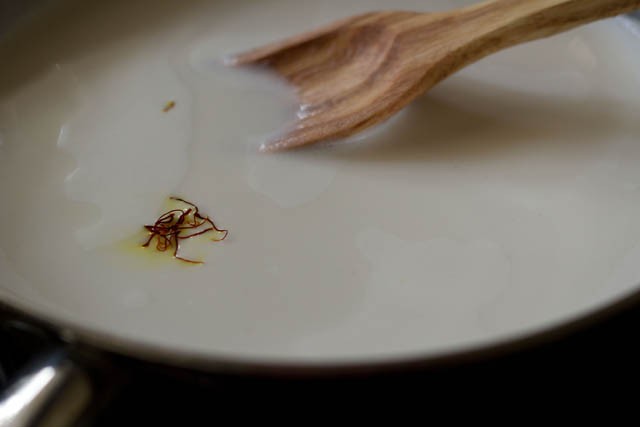 2: Add sugar. Stir and let the sugar dissolve.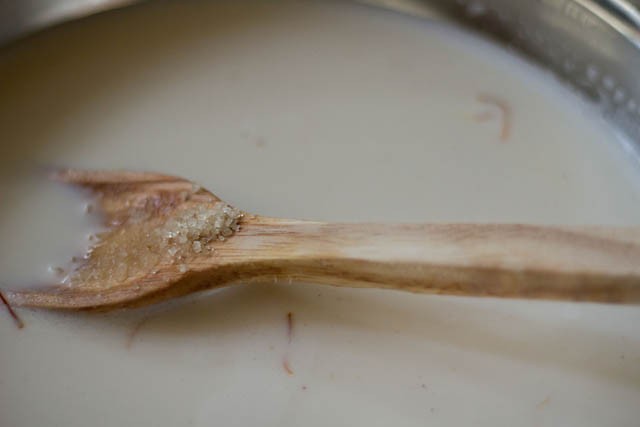 3: Mix the rice flour with milk to a smooth paste.
4: Once the sugar has dissolved, add the rice flour paste to the pan. Keep on stirring as the lumps will form if you don't keep on stirring. Also add the cardamom powder.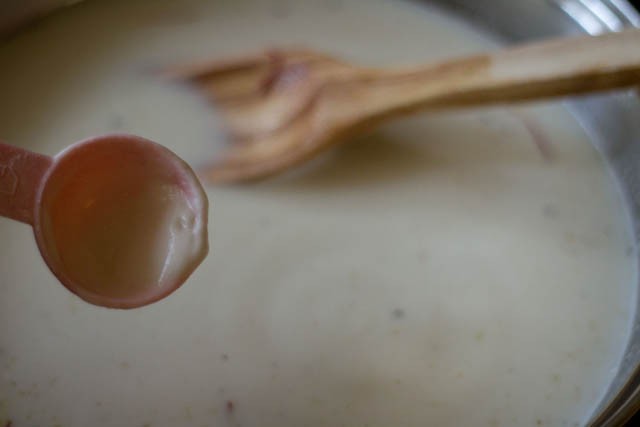 5: Cook on a low flame. Keep on stirring regularly. Cook till the mixture thickens. The mixture has to be thick. If the consistency is even slightly thin, then there would be ice crystals in the kulfi.
6: To have a creamy and smooth texture, the mixture needs to be thick. You can see the consistency in the pic below.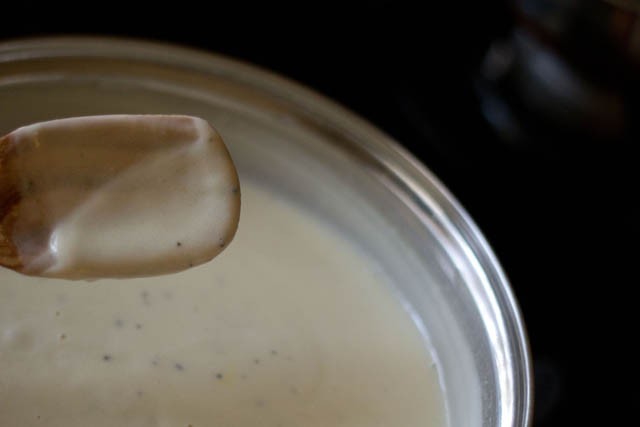 7: Switch off the flame and add almond paste or almond powder/meal or khoya/evaporated milk to the kulfi mixture. Stir well. Let this kulfi mixture cool completely.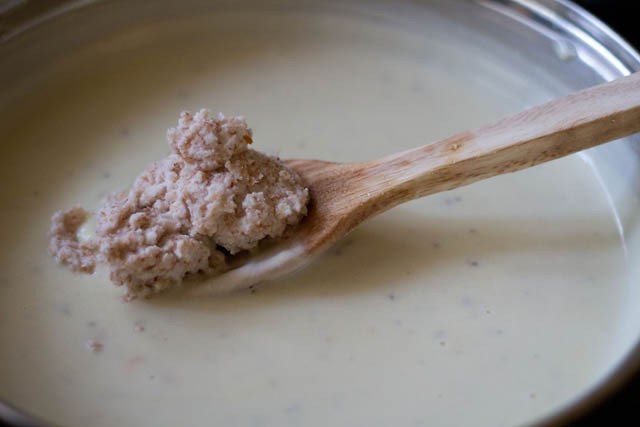 8: Once cooled, add the mango puree and sliced pistachio.
9: Stir and mix well.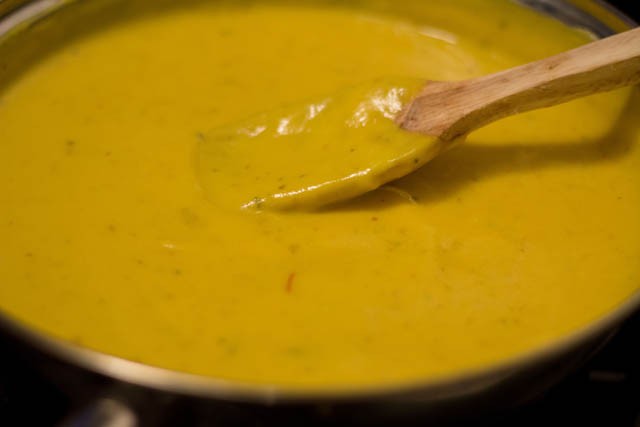 10: Pour the mango kulfi mixture in kulfi moulds or matkas/kulhads or cups. Cover and freeze for 9-10 hours. I used two kulhads and two ramekins, so that I can unmold the kulfi from them.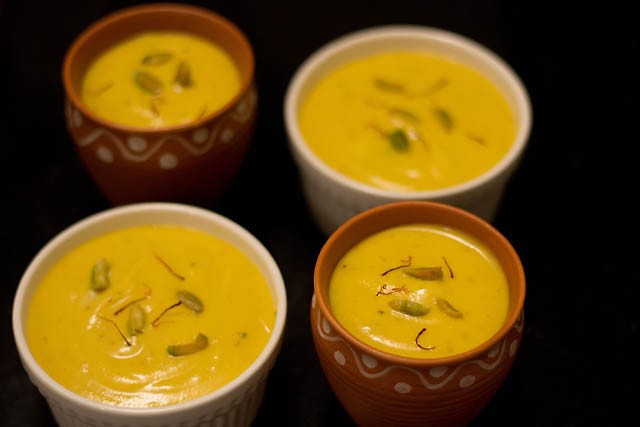 11: Once the mango kulfi is set, unmold them. Just rub the mould or matkas (small earthern pots) between your palms or dip in some warm water and quickly remove. Unmold carefully. Slice them and Serve Mango kulfi garnished with some cardamom powder, saffron, sliced pistachios, rose petals and rose syrup.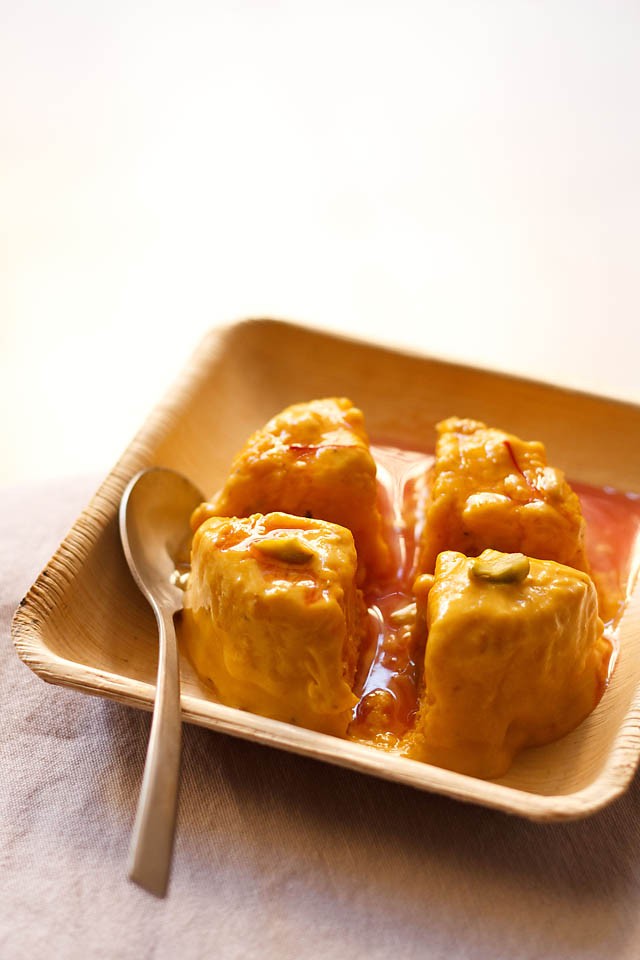 More tasty recipes
If you made this recipe, please be sure to rate it in the recipe card below. Sign Up for my email newsletter or you can follow me on Instagram, Facebook, Youtube, Pinterest or Twitter for more vegetarian inspirations.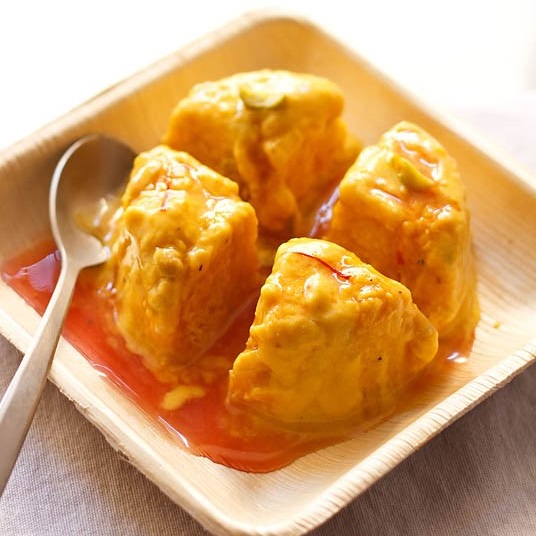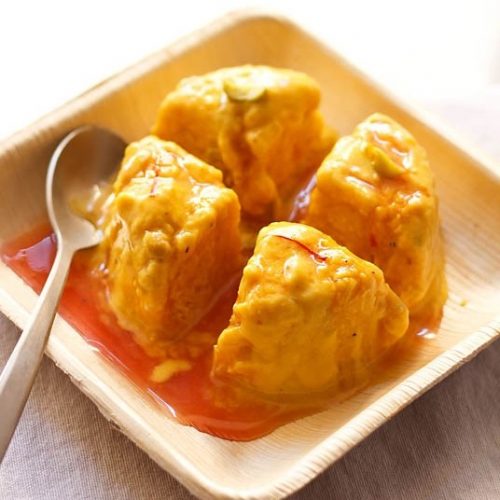 Mango Kulfi
Mango kulfi is an Indian frozen dense dessert made from milk and mango puree.
---
---
Ingredients
2.5

cups

milk

or almond milk

2.5

cups

mango puree

- approx 3 to 4 large sized alphonso mangoes can be used

¼ or ½

cup

sugar

- depends on the sweetness of the mangoes. so adjust accordingly.

4 to 5

green cardamom crushed

or ¼ teaspoon cardamom powder

1

pinch

of saffron

12 to 15

unsalted pistachois

- blanched or soaked, peeled and sliced. keep some for garnishing

2 to 3

tablespoon

almond paste (almond meal)

or khoya (mawa or dried evaporated milk solids) - optional

2.5 or 3

tablespoon

rice flour

or 2 tablespoon corn flour dissolved in 3 tablespoon regular milk or almond milk
Instructions
Take saffron and almond milk in a pan.

Heat on a low flame. just let the almond milk come to a gentle heat. don't boil the almond milk.

If using dairy milk

then simmer on a low flame for about 15 to 18 mins.

Add sugar. Stir till the sugar has dissolved.

Dissolve the rice flour in 3 tbsp milk.

Add this rice flour paste to the milk. Keep on stirring so that no lumps are formed.

Cook on a low flame. Stir in between.

Continue to cook till the mixture thickens. Switch off the flame.

Add the almond paste/powder/meal or khoya/evaporated milk. Stir and let the mixture cool.

Add the mango puree, chopped pistachio slices and mix well.

Pour mango kulfi into serving bowls or kulfi moulds. Freeze for 8-10 hours.

Serve mango kulfi cold and sliced with topped with saffron, sliced pistachios, cardamom powder or falooda along with rose syrup.
Like our videos? Then do follow and subscribe to us on youtube to get the latest Recipe Video updates.
Tried this recipe?
If you have made the recipe and liked it then do share the recipe link on facebook, twitter & pinterest. For instagram mention @dassanasvegrecipes and tag #dassanasvegrecipes!
All our content & photos are copyright protected. Please do not copy. As a blogger, if you you want to adapt this recipe or make a youtube video, then please write the recipe in your own words and give a clickable link back to the recipe on this url.