This Kathal biryani or Jackfruit biryani recipe is a mildly spiced dum cooked biryani made with raw unripe jackfruit, basmati rice, yogurt and lots of spices and herbs. Jackfruit is also called as kathal in Hindi language. This is a gluten-free dish and makes for a comforting, healthy and satisfying vegetarian biryani variant.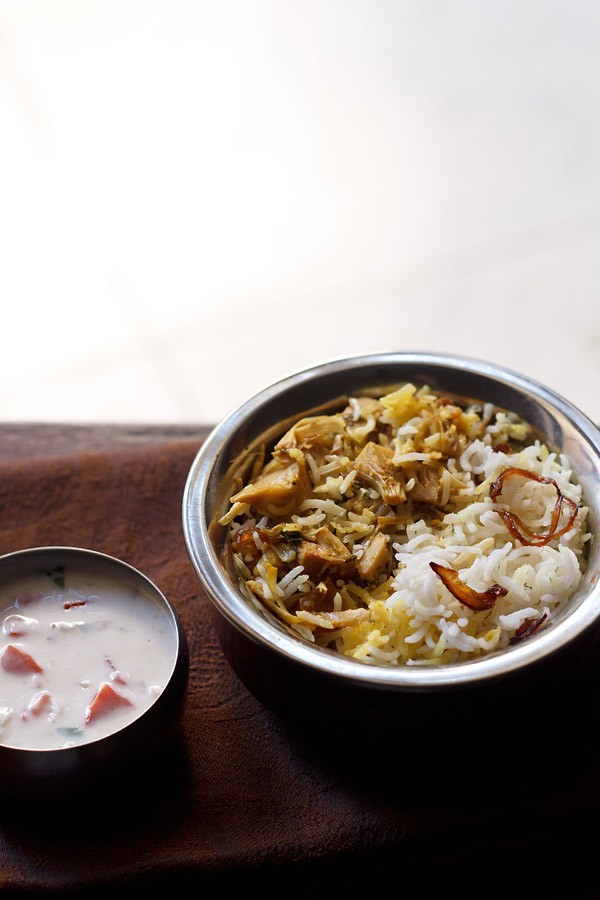 Unripe jackfruit is also called as vegetarian meat. Raw unripe jackfruit when cooked has a soft meaty texture and thats why this biryani though not popular worldwide is quite a delicacy in India.
Usually the jackfruit pieces are either fried, sauteed or steamed. I did not want to do any prepping of the jackfruit as making biryani itself is time-consuming. So I cooked the jackfruit directly in the pot along with the yogurt and spices. Made the rice and then just had to assemble the layers as we do normally in layered dum cooked biryanis.
Even chopping the jackfruit takes time. When chopping the jackfruit, please apply oil on your palms, knife and the cutting board. The sticky substance refuses to go away from your palms and equipment.
Cutting jackfruit is not easy. So try to get a jackfruit cut from the vegetable vendor. You can also make the biryani with frozen jackfruit or canned jackfruit. Do follow the instructions on the pack or cans for prepping jackfruit.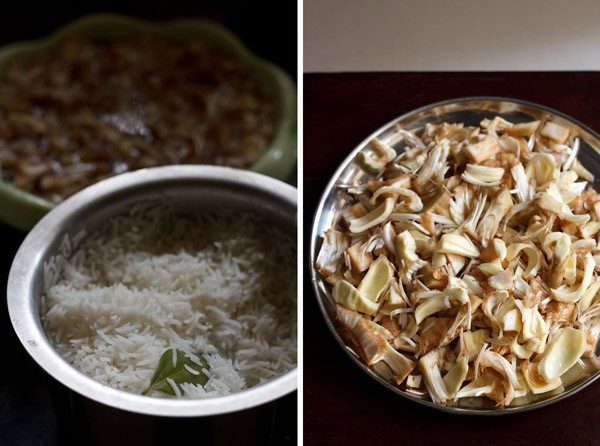 By size, I guess the jackfruit must be one of the biggest fruit native to India. So most people buy some portion of it, because its not possible to use the large jackfruit for cooking in micro families. Peeling jackfruit skin is another issue so you can ask the vegetable vendor to peel it for you.
I got 500 grams of jackfruit from the vegetable vendor. He peeled so much of the skin, that out of 500 gms, only 300 gms was left. I chopped the jackfruit and kept the seeds aside. If the seeds are tender, you can add them to the biryani. You can also make stir fries or add them to sambar or leafy vegetables stir fries.
Usually ripe jackfruit is consumed as it is. Jackfruit leather is also made with ripe jackfruit. With raw jackfruit, there are many recipes that are made. Apart from adding them in biryani or Kathal pulao or they are also added in curries, both dry or with a gravy. I have shared a delicious version of Kathal ki sabji.
Even papads and pickles are made from them. They are also deep fried as chips. Jackfruit chips are popular in the southern belt of India. I remember my dad, always getting banana, tapioca and jackfruit chips from Kerala.
More on Jackfruit Biryani
This recipe of kathal ki biryani is like the way my mom makes biryani. I cut down on a few steps to make it easy for me. There will be some prep work like the ones I have mentioned above.
Once you assemble the layers, then you can dum cook the biryani on stovetop or in an oven (mentioned both ways in the recipe card details below).
If using an oven, then make the gravy directly in an ovenproof casserole or dutch oven. Once the jackfruit is cooked and tender, layer all the rice on the gravy. Keep it in a preheated oven and you are done.
Always check the biryani after it is cooked. There should be no gravy or liquids in the biryani. If you see any liquids this means that the biryani has to be cooked for some more time.
It is best to use aged basmati rice to get best texture, flavor and aroma while making any variety of biryani.
You can also use parboiled basmati rice which is also called as sella basmati rice. But this rice needs to be soaked for 1 to 2 hours before cooking. Some restaurants use sell basmati rice in their biryanis.
This kathal biryani is a delightful dish. For best taste and flavor have it hot or warm with a side of raita or yogurt. You can also pair it with Mirchi ka salan or Bagara baingan for a filling and hearty vegetarian biryani feast.
The leftover keep well for about 1 to 2 days in the refrigerator. You can reheat the jackfruit biryani by lightly sauteing it in a frying pan or steam for a few minutes in a stovetop pressure cooker or the Instant pot.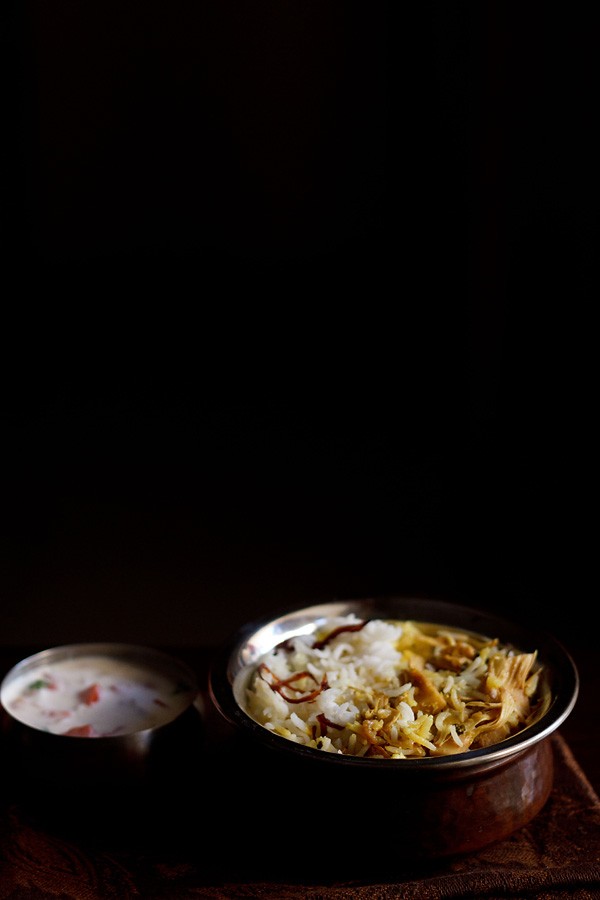 More Tasty Biryani Varieties
Please be sure to rate the recipe in the recipe card or leave a comment below if you have made it. For more vegetarian inspirations, Sign Up for my emails or follow me on Instagram, Youtube, Facebook, Pinterest or Twitter.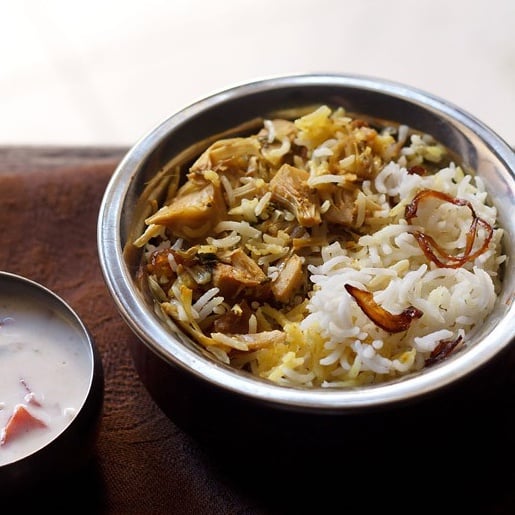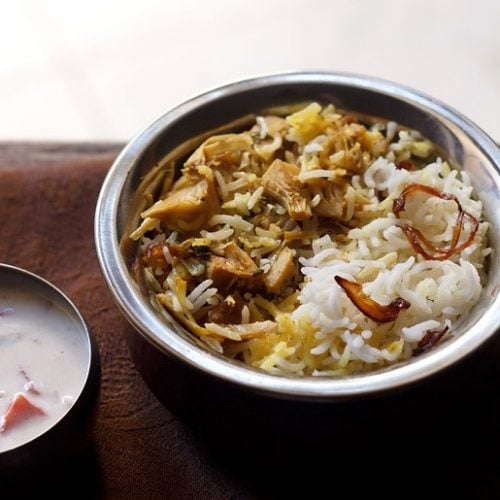 Kathal Biryani | Jackfruit Biryani
This raw unripe jackfruit biryani is a mildly spiced and subtly flavored meaty vegetarian biryani made with jakcfruit or kathal, basmati rice, yogurt, herbs andd spices .
Total Time
1

hour
15

minutes
for the rice
1.5

cups

basmati rice

4

cups

water for cooking the rice

water for soaking the rice

one single strand of mace

2

green cardamoms

1

inch

cinnamon

2 to 3

cloves

1

tejpatta

(indian bay leaf)

salt as required
for jackfruit biryani gravy
300 to 350

grams

raw unripe jackfruit

or about 3 cup chopped jackfruit (kathal)

1

cup

full fat curd

(yogurt)

½

teaspoon

turmeric

½

teaspoon

red chili powder

a single strand of mace

a small piece of stone flower

(patthar ke phool or dagad phool or kalpasi)

3

green cardamoms

1

inch

cinnamon

3

cloves

1

teaspoon

shah jeera

(caraway seeds)

2

medium to large onions,

thinly sliced

1

medium tomato,

chopped

1.5

tablespoon

chopped coriander leaves

1.5

tablespoon

chopped mint leaves

3

tablespoon

Ghee

1

inch

ginger + 3 to 4 garlic cloves +1 green chili

– crushed to a paste in mortar pestle or in a small grinder or magic bullet.

1.5 to 2

cups

water

salt as required
for layering jackfruit biryani
1

teaspoon

Ghee

3

tablespoon

milk

2

pinch of saffron

1

teaspoon

kewra water

(pandan) or rose water
Instructions
preparing rice
First rinse the rice till the water runs clear of the starch.

Then soak the rice in enough water for 30 mins.

Boil 4 cups of water in a pan or pot.

Drain the rice and then add it to the boiling water.

Add all the whole spices – mace, cardamoms, cinnamon, cloves and tejpatta.

Season with salt and cook the rice till the grains are 3/4th cooked. Drain and keep the rice aside.

Once the all the steam has gone from the rice, cover the rice.
chopping jackfruit
Now apply oil on your palms, knife and chopping board.

Chop the jackfruit and remove the seeds.

Whilst chopping, keep on adding the chopped jackfruit in a pan or a large bowl of water so that they don't darken.

If using chopped jackfruit already brought from outside, then rinse them in water.

The seeds can be added to vegetable dishes or in sambar or stir fries.
preparing jackfruit gravy for biryani
Heat ghee in a dutch oven or a pot.

Add all the whole spices – mace, stone flower, cinnamon, cloves, caraway seeds, cardamoms. Saute for some seconds till fragrant.

Add the sliced onions and fry them till they begun to get caramelized or golden.

When the onions begin to get golden, remove half of the onions and drain them on paper towels.

Add ginger, garlic and green chili paste. Saute for a few seconds till the raw aroma goes away.

Then add the tomatoes, mint leaves and coriander leaves. Saute for 1 to 2 mins.

Add both the spice powders – red chili powder and turmeric powder

Add the chopped jackfruit. Stir and saute for 7 to 8 mins. Then add the beaten yogurt.

Stir and add water. Add salt and cover the pot with its lid.

Simmer the gravy till the jackfruit is cooked and tender.

If the water dries up while cooking, then you can add some water.

Also soak saffron in warm milk and keep aside.
assembling the kathal biryani
In the same dutch oven or pot, on top of the jackfruit gravy, add half of the fried onions.

Spread a second layer of rice. Add all the rice in this layer.

If you want you can make 4 layers. Then you will have to make these layers in another pan or pot.

Sprinkle the saffron flavored milk along with the saffron threads, rose water or kewra water on the rice. Also dot with ghee.
cooking kathal ki biryani
If dum cooking on stove top – heat a tava or griddle. When the tava becomes hot, lower the flame. Place a moist kitchen napkin or towel on the pot covering it. Then place the lid tightly. The moist napkin or towel should not touch the biryani. Keep the pot on the tava and dum cook for 25 to 30 mins on a low flame.

If baking in oven – cover the lid of the dutch oven tightly. Preheat the oven to 180 degrees c. Place the dutch oven in the oven and bake for 20 to 25 mins.

Once done, allow the jackfruit biryani to stand for 7 to 8 minutes. Later serve the kathal biryani hot or warm with raita or yogurt, pickle and papad.

You can also serve it with bagara baingan or biryani salan.
Notes
The recipe works well with fresh unripe jackfruit or frozen jackfruit.
For best taste, texture and aroma use aged basmati rice.
This Kathal Biryani Post from the blog archives, first published in June 2014 has been republished and updated on December 2022.