easy cumin rice recipe with video and step by step photos. cumin rice is an aromatic rice dish which is lightly spiced with whole garam masala and has the earthy flavors of cumin. cumin is also known as jeera in hindi language. thats how this rice dish gets its name.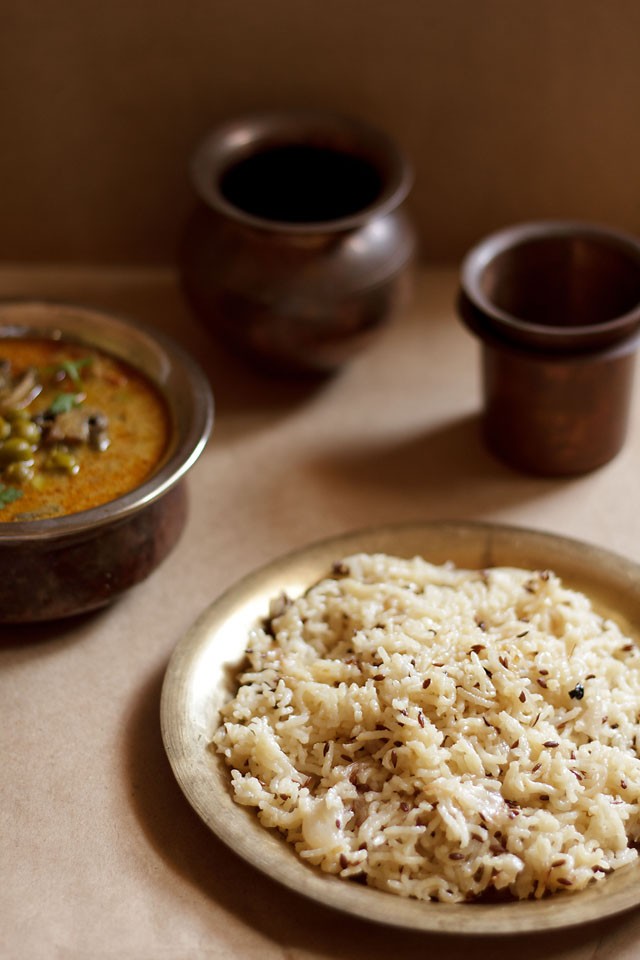 i wonder why i did not post the simple & humble jeera rice recipe till now. whenever i make dal tadka or dal fry or dal makhani, then i make cumin rice to go along with them. at times, when i want to add some more perk in the lunch menu, then i make cumin rice.
there are 2 methods of preparing cumin rice
one is to temper the spices and cumin, which is then added to cooked rice. this technique is mostly used in restaurants. i have posted this method in this restaurant style jeera rice recipe. this method is also useful if you have some leftover cooked rice. if using leftover cooked rice then alter the ingredients accordingly depending upon the quantity of rice.
the second method which is shared here in this post is where the whole spices are fried first and then the raw rice is cooked along with the spices. this method is similar to the way a pulao is made.
i prefer the second method of making cumin rice as the rice imbibes the flavor of jeera (cumin) and the whole garam masala really well.
this jeera rice tastes very much similar to the jeera rice we get in the punjabi dhabas minus the reddish orange and yellow color. if you want some color, then add saffron or turmeric. better to use natural coloring ingredients than artificial coloring agents.
few tips for preparing easy jeera rice
you can also make the cumin rice in the pressure cooker. then add 1.75 to 2 cups water. the amount of water requires depend upon the size of pressure cooker and the quality of rice grains.
as a variation some onions can also be added while making the jeera rice.
if using onions, then slice them. brown/caramelize the onions first before adding the rice to them. cumin rice gets a nice light brown color due to the browning of the onions.
to add some color, add a pinch of turmeric or a pinch of saffron to the rice.
this cumin rice recipe can be doubled or tripled.
one spice which i never miss adding in cumin rice is mace (javitri). mace gives a unique flavor and fragrance to the jeera rice. so make sure to add this spice. since mace can become quite strong in any dish, add very less quantities. just one or two strands are enough for one cup of raw rice.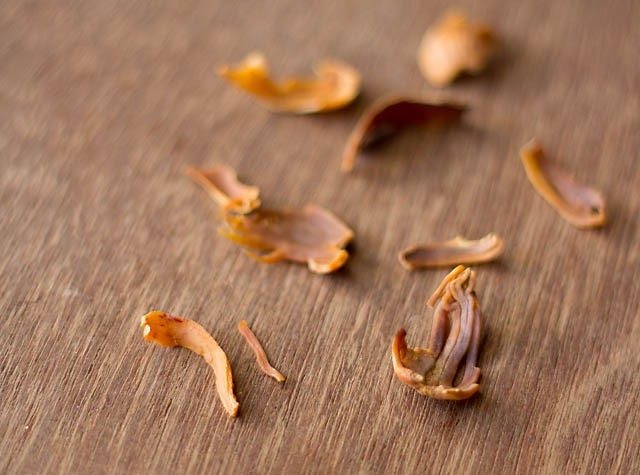 cumin rice goes very well with some north indian curries like: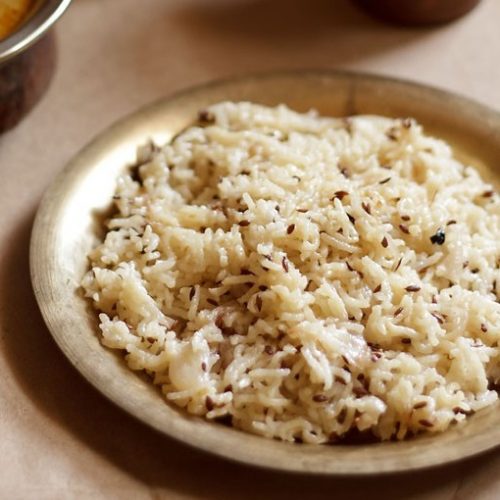 cumin rice recipe
easy jeera rice recipe - a simple and aromatic jeera pulao flavored with cumin and whole spices.
rough calories per serving
430
kcal
ingredients (1 cup = 250 ml)
1.5

cups

basmati rice

2

teaspoons

cumin seeds

(jeera)

1

inch

cinnamon

(dalchini)

1

black cardamom

(badi elaichi)

2

green cardamom

(choti elaichi)

1

tej patta

(indian bay leaf)

2 to 3

cloves

(laung or lavang)

5 to 6

whole black peppercorns

(sabut kali mirch)

1 or 2

threads of mace

(javitri)

1 to 2

star anise

(badian or chakriphool) - optional

3

cups

water

2

tablespoons

oil

or ghee

some coriander leaves for garnishing

(optional)

salt as required
how to make cumin rice recipe
preparation for cumin rice
soak the basmati rice in water for 30 minutes.

drain the rice and keep aside.
making cumin rice
heat a pan. add oil or ghee.

on a low or medium flame when the oil becomes hot, add the cumin and all the whole spices mentioned above.

let the cumin get browned and the spices crackle.

add the soaked rice. stir and saute for 1 to 2 minutes.

add salt and water. cover and cook, till the rice grains are cooked.

the rice should get cooked but not become mushy or pasty.

keep checking in between whilst the rice is cooking.

when the cumin rice is done, fluff the rice and serve cumin rice hot.

garnish cumin rice with some coriander leaves before serving.
how to prepare cumin rice (easy one pot method)
1. rinse 1.5 cups basmati rice, 3 to 4 times in water or till the water runs clear of starch.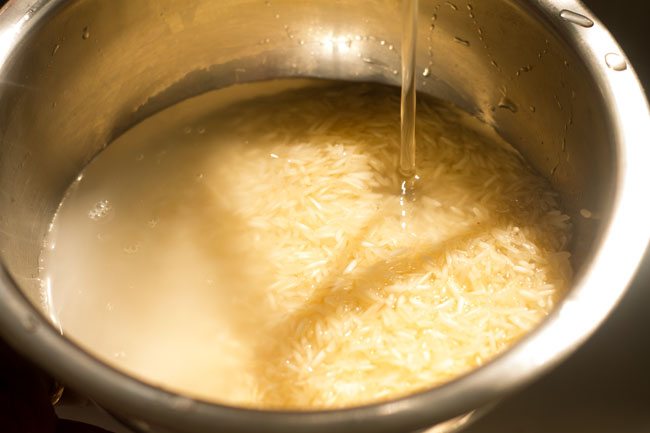 2. then soak the basmati rice in water for 30 minutes.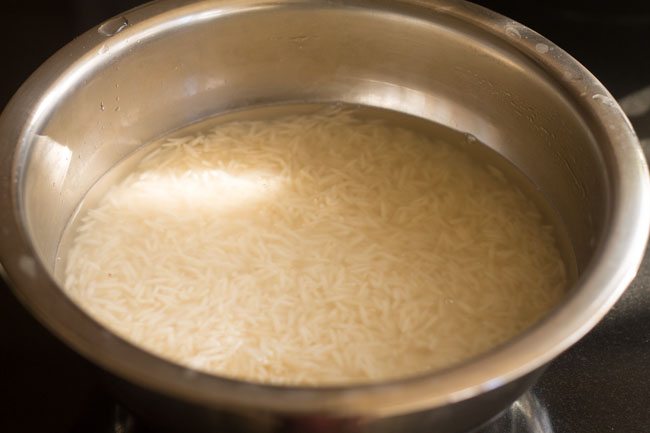 3. later drain the rice of all the water and keep aside.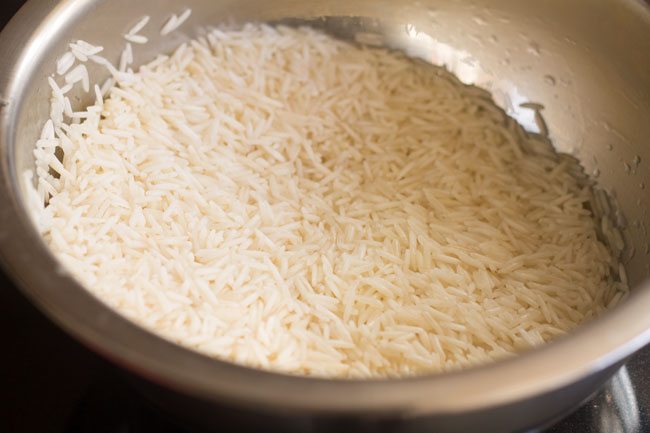 4. heat a pan. add 2 tablespoons ghee or oil.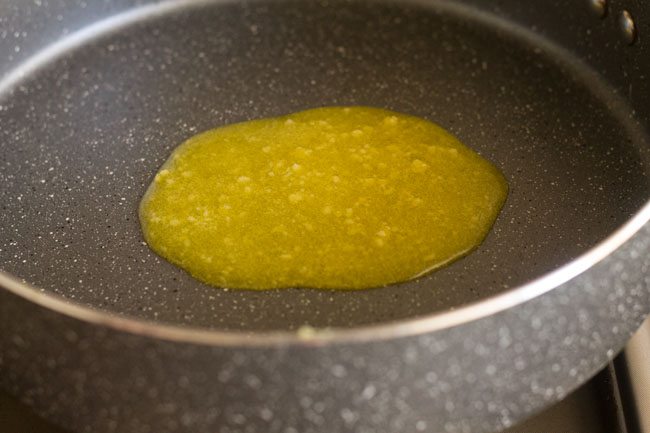 5. let the ghee or oil become hot on a low to medium flame.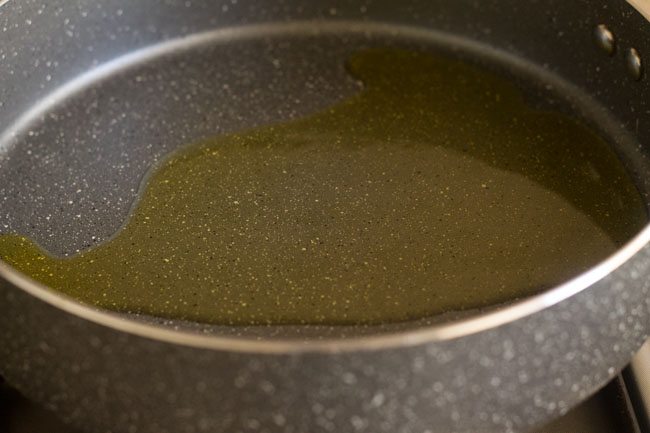 6. add 2 teaspoons jeera (cumin seeds).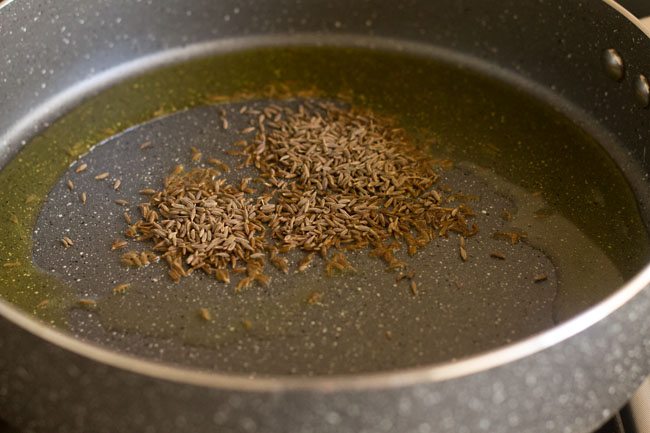 7. add all the whole spices – 1 inch cinnamon, 1 black cardamom, 2 green cardamoms, 1 tej patta, 1 to 2 star anise, 2 to 3 cloves, 5 to 6 black peppers and 1 to 2 single strands of mace.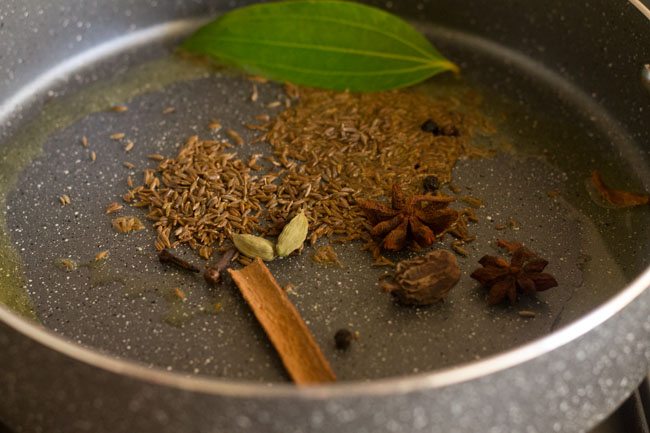 8. let the cumin sizzle and get browned and the spices crackle.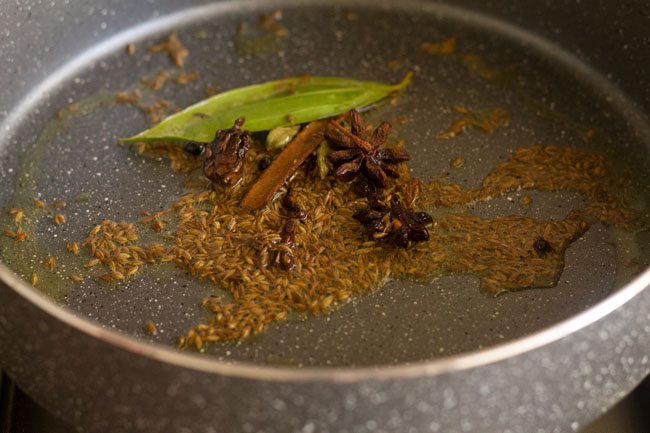 9. then add the soaked rice.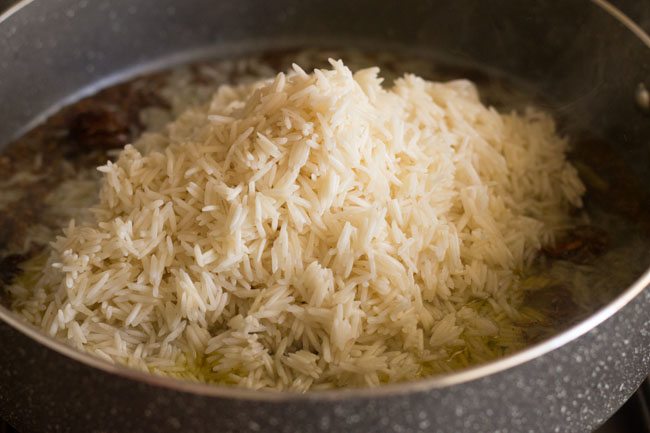 10. stir and saute for 1 to 2 minutes, so that the ghee or oil coats the oil.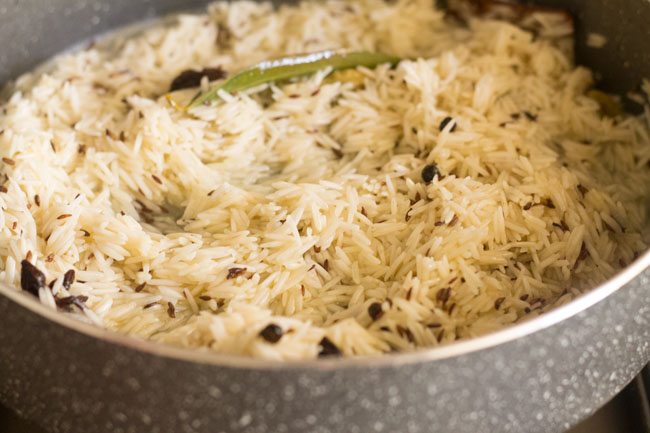 11. add 3 cups of water or as required depending on the quality of rice.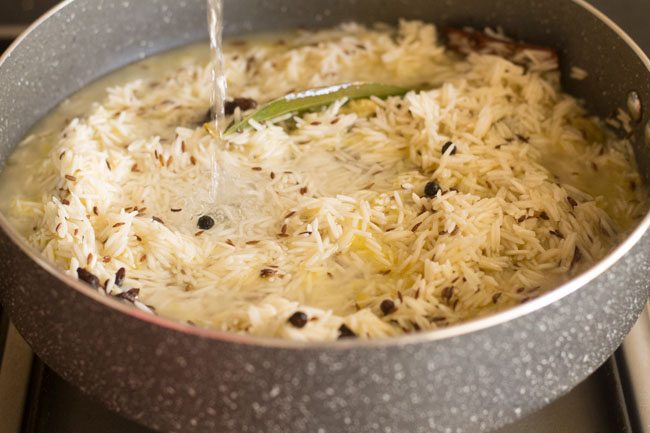 12. sprinkle salt as required and stir very well. check the taste of the water and it should taste a bit salty.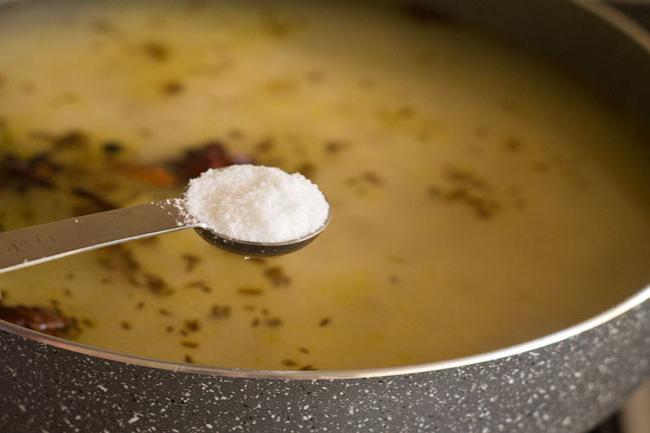 13. cover the pan with a lid. on a low flame simmer till the rice grains are tender and cooked well.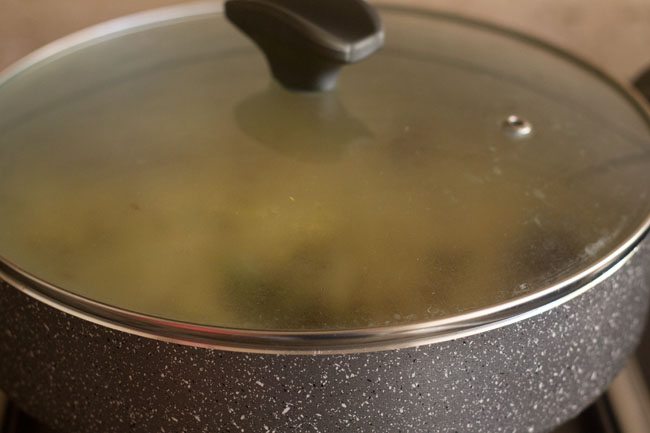 14. do check a couple of times when the rice is cooking. if all the water has been absorbed and the rice grains are not cooked, then add some more hot water.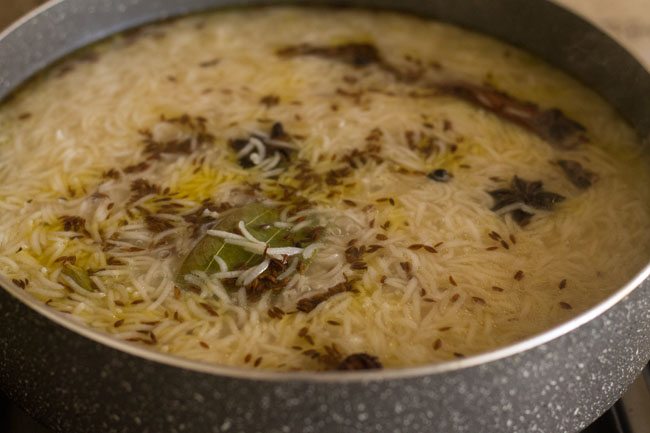 15. the rice should get cooked but not mushy or pasty.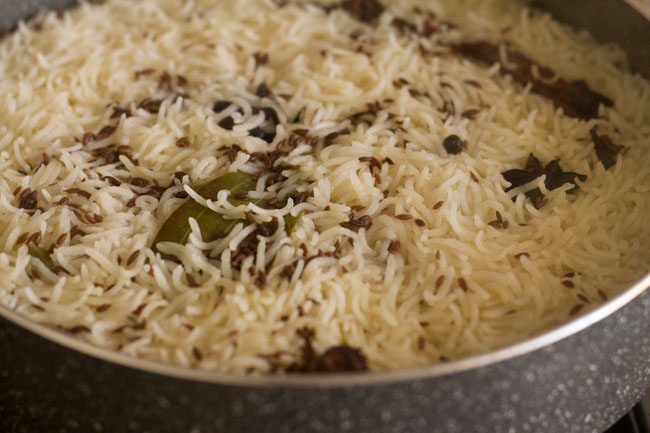 16. when the jeera rice is done, gently fluff the rice with a fork.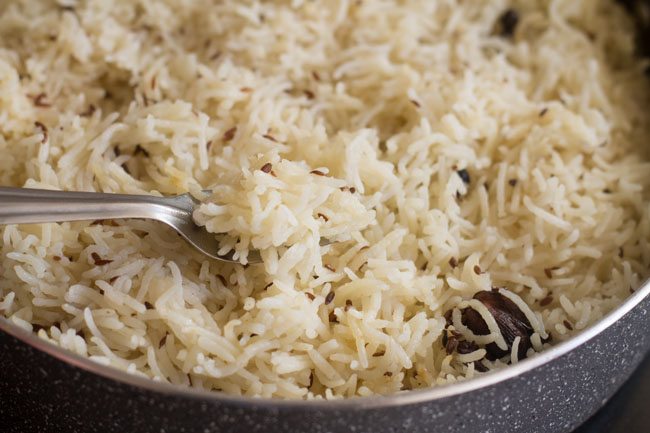 17. add some coriander leaves.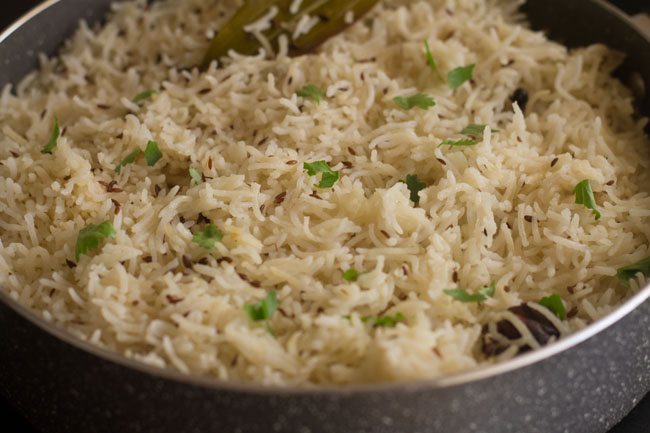 serve cumin rice with dal or any gravy based dish. we had cumin rice with mushroom peas curry. you can serve it with any curry dish like dum aloo, rajma recipe, paneer masala or paneer tikka masala.