making india tea or chai in microwave is very easy. in today's hectic lifestyle, sometimes we all want to have quick solution to everything which includes quick meals and recipes. sometimes I also make quick recipes and quick beverages like this tea made in the microwave.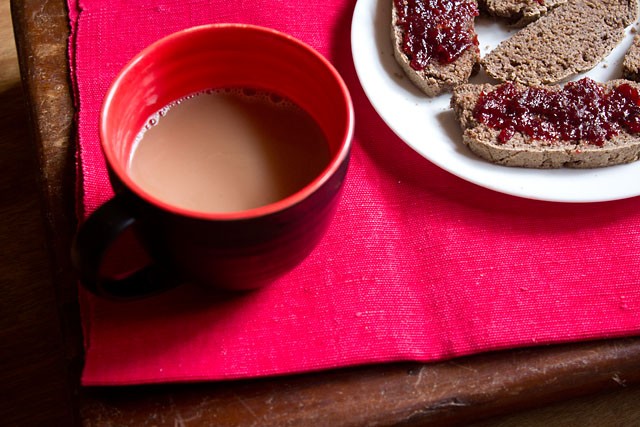 to make indian tea in microwave
1. take water and milk in 2:1 proportion in a microwave safe mug.
2. then add ½ tsp of sugar.
3. on full microwave power heat the milk for 1 minute.
4. now remove stir the sugar with a spoon. add 1 or 2 tea bags.
5. now again microwave it for 1 minute.
6. remove and let it rest for a few minutes.
your tea is ready. this is a quick method to make tea in microwave and tastes good too. serve the tea hot plain or with some indian snacks like pakoras, samosa, tikki, sandwiches, cutlet or with nankhatai or biscuits.
tips for making a good cup of tea in the microwave

:

1: it is advisable to use tea bags rather than tea leaves.
2: if you like your tea to more milky, reverse the proportion of water and milk to 1:2
3: two or three tea bags will make the tea strong. If you want it light, use 1 tea bag.
4: to give it a typical indian masala flavour, you can add one of the following items:
cardamom powder
cinnamon powder
grated nutmeg
black pepper powder
indian chai masala powder– a mixture of powdered spices only used while making tea. It gives a strong spiced flavor to the tea.
note:
1. if you are not making tea in microwave then it is a good practice to add herbs and spices like ginger, mint, tulsi, lemon grass, cardamom, cinnamon etc to the tea as they detoxify the body.
2. if you want to have the best flavor of tea then better to make the tea on stove top. making tea in microwave is good when we are working in office or when we like to have a quick tea.
few more similar recipes for you!