How to make cashew yogurt or Vegan yogurt recipe with stepwise photos – many of you had requested to post this vegan cashew yogurt recipe. I even had got a few emails asking how to make cashew curd. As the name suggests, cashew curd or cashew yogurt is made from cashews…. Its a very good alternative for Dairy yogurt if one is a vegan or has lactose allergy.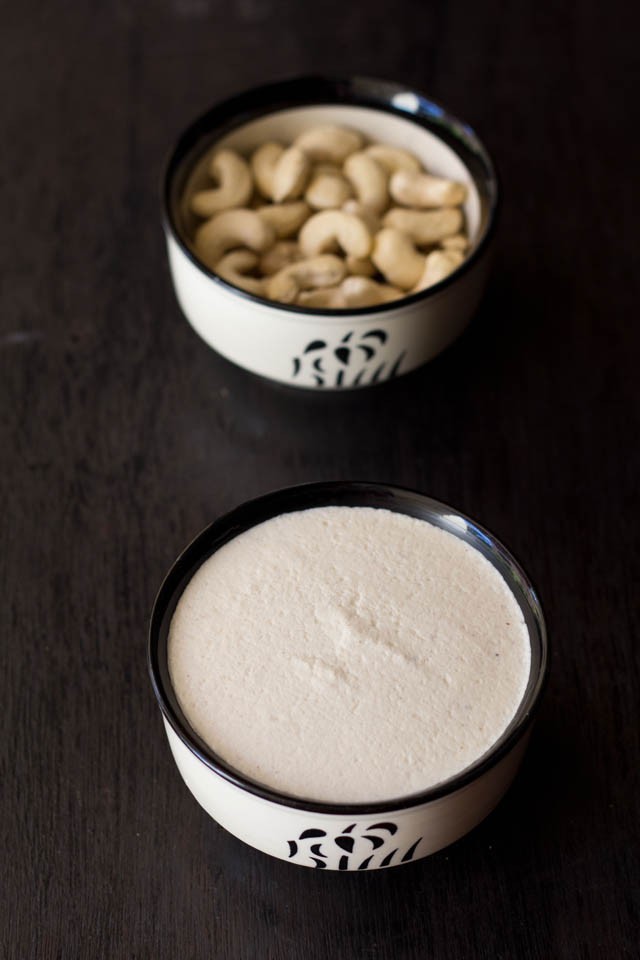 The process of making the cashew yogurt is exactly the same as we would make yogurt with milk. Cashew milk is used to make the yogurt. I have even made yogurt with soy milk, but I did not like the taste & flavor. The taste of cashew yogurt is much better and we like it. Even people whom I have served any curry or raita made with cashew yogurt, could not make out. i have given a step by step pictorial for making the cashew curd. All you need are some cashews and the yogurt starter/culture.
A few starters to make cashew yogurt
1. As a starter you can use milk yogurt culture. Then, when the cashew curd is set, you take a few teaspoons of the curd from there and freeze it. Later use this culture when making a fresh batch of cashew curd. Generally when making cashew yogurt, you need to add extra culture than what is required to make milk yogurt. Generally 2 or 3 tsp of the culture can be added to a milk made from 1 cup cashews.
2. You can also curdle some warm soy milk with vinegar or lemon juice and then use this a culture. I have never tried this way. Here make sure to use soy milk made from non GMO and organic soy beans.
3. There is a third way, where the crown/stems of chilies are kept on the cashew milk. I tried making cashew curd this way, but at all the three times the curd got spoiled.
4: if you can manage to get the probiotic bacteria culture in stores, you can try them too. In India we don't get ready starters or cultures easily.
Temperature is important in the setting of yogurt
In the Indian winters, you can keep the yogurt overnight.
But please don't keep the yogurt overnight in the Indian hot summers. Just 4-5 hours of fermentation is enough. If kept for long, the yogurt looks like a fermented idli batter, becomes stringy and smells yeasty.
If you stay in a colder climates, then just keep the yogurt in a warm place overnight.
Texture, flavor and taste
Cashew curd is creamy. The texture is not at all like milk yogurt. The yogurt has a pouring consistency unlike milk yogurt which is thick and well set.
It has a naturally sweet taste due to cashews. So there is a sweet and very faint sourness in the yogurt. Its not sour like milk yogurt. since the yogurt is not sour, you will have to add some lemon juice to make it sour.
Cashew yogurt can be used in any dish that calls for dairy yogurt. Its healthy and rich in good fats.
Uses of cashew yogurt
So for all the yogurt requirements in a recipe, I use cashew yogurt. I make raitas, add it to curries, pulaos and biryanis. So you can use this vegan yogurt in any recipe that calls for yogurt and you want to make it in a vegan way.
I even add cashew curd to the chaats I make at home. I don't miss the taste and flavor of the yogurt.
 recently I even made naan, kulcha and bhatura with cashew yogurt.
This cashew yogurt, I added to vegetable biryani and vegetable raita.
You can even top your breakfast fruit and cereals with cashew yogurt.
I still have to try making peanut and coconut yogurt and see how they blend and substitute well in Indian dishes. For now its cashew curd…..
Please note that when we make curd in India, we don't add salt or sugar or any flavorings. if you like then you can add some sugar or salt or vanilla when setting the yogurt.
How to make cashew yogurt or vegan yogurt
1. Soak one cup of whole cashews in water for 1-2 hours. If you want to buy cashews for making yoghurt then it is better if you purchase broken cashews. If using broken cashews, then you can soak them for 30-40 mins. Drain the cashews and then add these in a blender.

3. Add water and blend the cashews till smooth.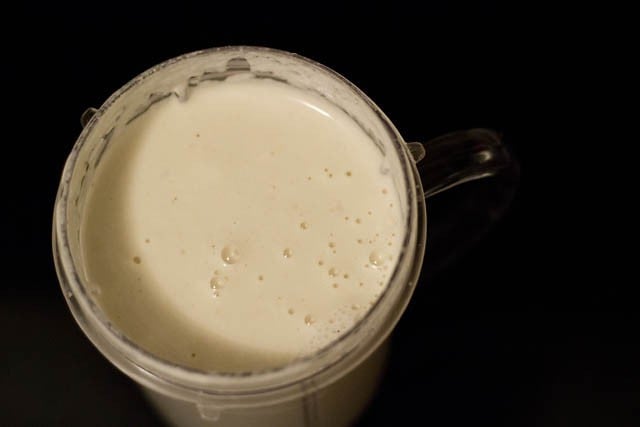 4. Add this cashew milk in a bowl or pan. Just warm the cashew milk. You can microwave for 20-25 seconds or warm the pan on your stove. When the mixture is still warm, add the culture.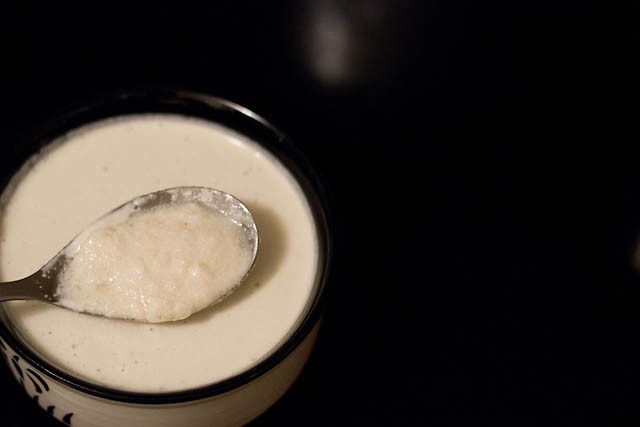 5. Stir and mix the culture very well and uniformly. Cover and keep in a warm place for the curd to set.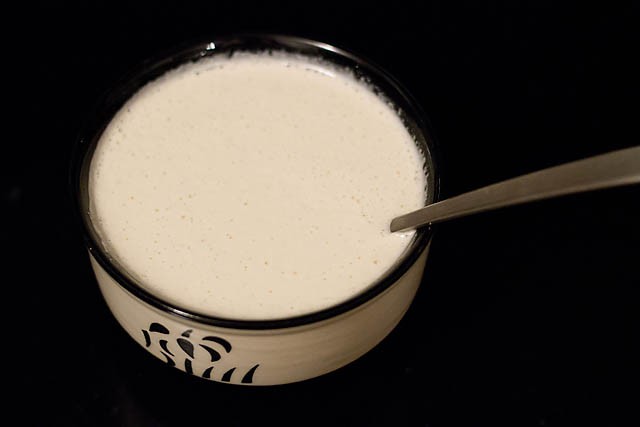 6. The cashew yogurt well set on the next day. You will see tiny bubbles in the yogurt and a faint sour aroma. The taste will also be sweetish and lightly sour. If you want a thin runny yogurt, then just increase the proportion of water in the cashew milk.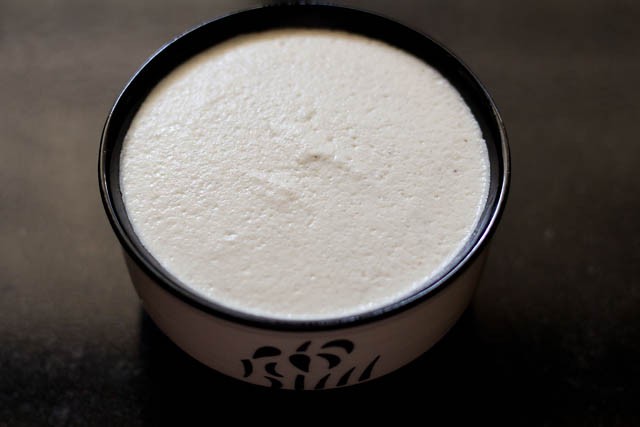 7: You can have the cashew curd plain if you like or even add to your fruit-muesli or fruit-cereal breakfast topped with some nuts and roasted seeds. Since at home we usually have Indian breakfasts, the cashew yogurt goes in making Indian curries, in naans, biryanis, raitas, lassis and smoothies.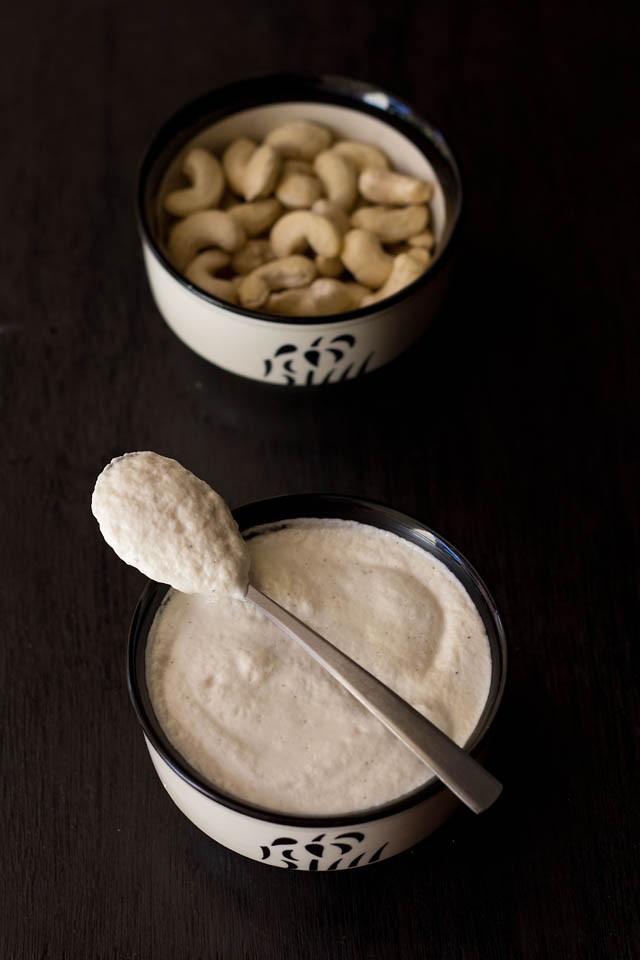 Few more how to recipes!
Please be sure to rate the recipe in the recipe card or leave a comment below if you have made it. For more vegetarian inspirations, Sign Up for my emails or follow me on Instagram, Youtube, Facebook, Pinterest or Twitter.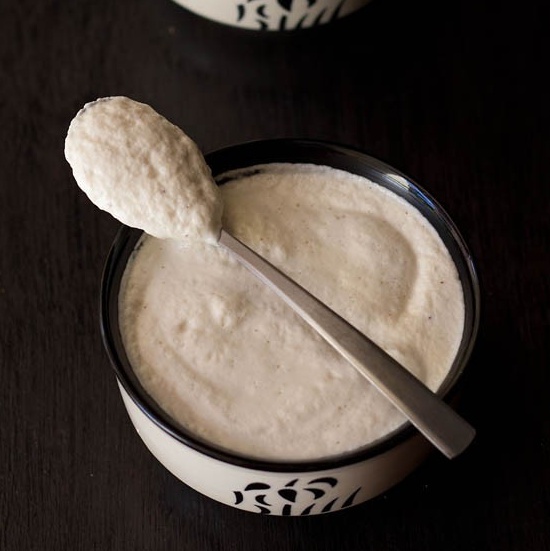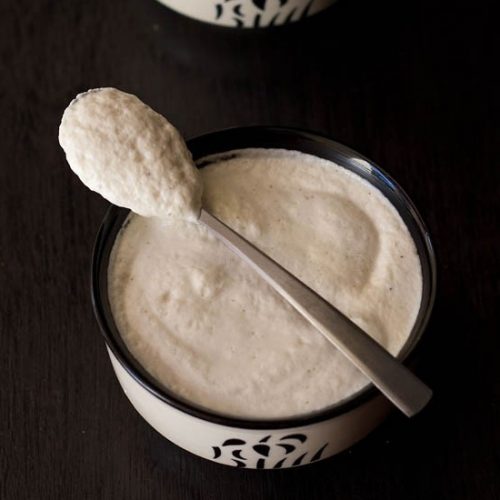 Cashew Yogurt Recipe | Vegan Yogurt Recipe
This Vegan Yogurt or curd is made with cashewnuts.
1

cup

cashewnuts

(kaju)

¾ to 1

cup

water

2 to 3

teaspoon

culture

or starter
Instructions
Soak cashewnuts in enough water for 1 or 2 hours.

Drain and blend the cashewnuts with water till smooth.

Add the culture and stir well.

Cover and keep in a warm place overnight or for 4 to 5 hours.

Once the Cashew Yogurt or curd is set, keep in the refrigerator.

This Vegan Yogurt or Cashew Yogurt stays good for 3 days.
Nutrition Info
(Approximate values)
Nutrition Facts
Cashew Yogurt Recipe | Vegan Yogurt Recipe
Amount Per Serving
Calories 720
Calories from Fat 513
% Daily Value*
Fat 57g88%
Sodium 26mg1%
Potassium 851mg24%
Carbohydrates 40g13%
Protein 24g48%
Vitamin B1 (Thiamine) 1mg67%
Vitamin B2 (Riboflavin) 1mg59%
Vitamin B3 (Niacin) 1mg5%
Vitamin B6 1mg50%
Vitamin C 2mg2%
Vitamin D 1µg7%
Vitamin E 1mg7%
Vitamin K 44µg42%
Calcium 66mg7%
Vitamin B9 (Folate) 32µg8%
Iron 9mg50%
Magnesium 378mg95%
Phosphorus 765mg77%
Zinc 7mg47%
* Percent Daily Values are based on a 2000 calorie diet.