Apple gujiya recipe with step by step photos – my first recipe for the season of colors and spring and for the month of march too.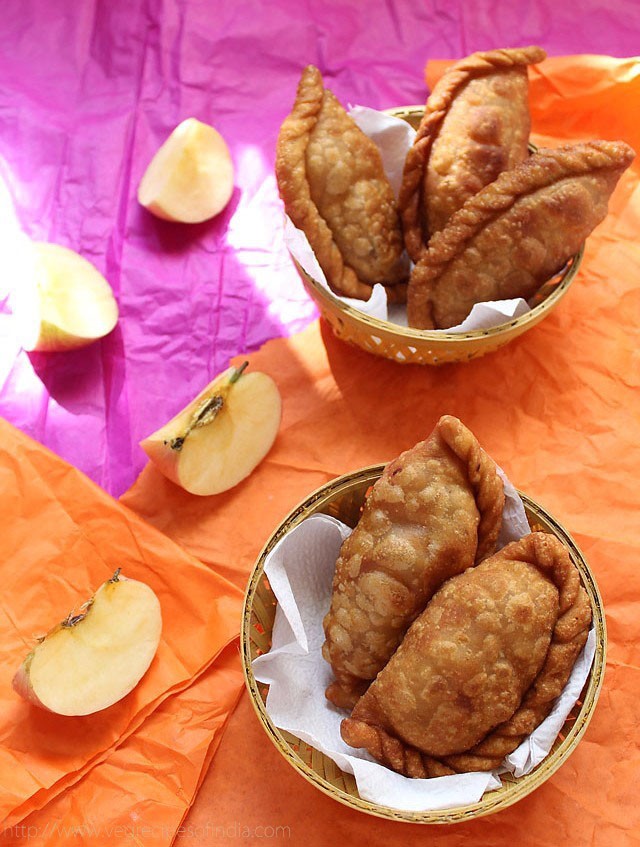 March reminds me that my blog has completed 3 years last month. Yes… Last month. I did not even know, as I am a person who fails to remember anniversaries, birthdays dates etc. I have a not so good memory for dates and names.
The festival of colors – Holi…. Coming soon. We usually make a lot of sweets on Holi and Gujiya is the most important of them.
I remember when we were staying in Delhi, just a week before Holi, the miThai/sweets shops would be overflowing with so many sweets and so many different type of Gujiya. the Gujiyas would make an appearance during Holi in the miThai shops.
The gujiyas always reminded me of the Goan nevris or Maharashtrian Karanjis…  i know the stuffing is different and thats what makes the difference. The Goan Nevris are stuffed with coconut and jaggery or sugar. Whereas the Gujiya is stuffed with khoya/mava – evaporated milk and dry fruits. They also bear a resemblance to the Mexican empanadas. Again its the stuffing which is different here. Khoya is used to make many Indian recipes like Gulab jamun, kulfi, Kala jamun, Barfi, Milk peda.
Basically gujiya is a deep fried pastry with a sweet filling of evaporated milk and dry fruits. It is a melt in the mouth sweet dish and you will keep on asking more and more.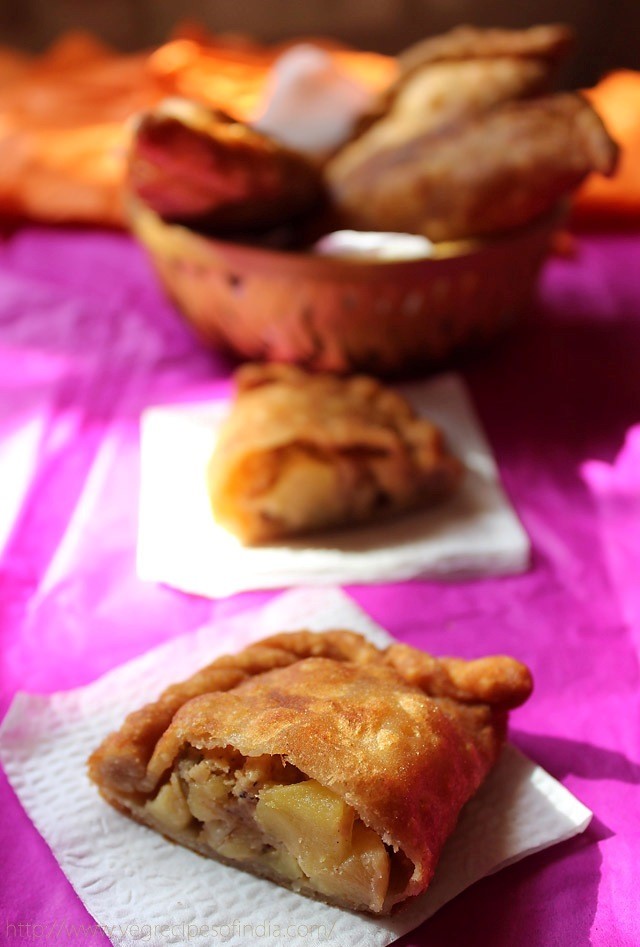 These apple Gujiyas are made with whole wheat flour, hence they appear brown unlike the gujiyas made with all purpose flour/maida. Whenever I deep fry any sweet or snack, I always make it a little more brown as thats how I like it….  and for some strange reason it gives me a consolation that it has been cooked well and is not undercooked.
I hate to see deep fried snacks like samosas, pakoras, kachoris, pooris undercooked and raw and with a lot of oil on their surfaces.
I have added some chopped apples to the khoya stuffing, but it is not essential. You can make the gujiya with just the khoya and the dry fruits. i have mentioned below the quantity of ingredients if just making the stuffing with khoya. Also don't add the cinnamon powder if you are just going to make the filling with evaporated milk.
Since I have added apples, I have also added cinnamon as they are a wonderful combination. Instead of apples, you can also use pears, pineapple, peaches, figs or mangoes.
The gujiyas are also soaked in one thread sugar syrup and then kept to cool. I have not done this step as I am scared of so much sugar 😉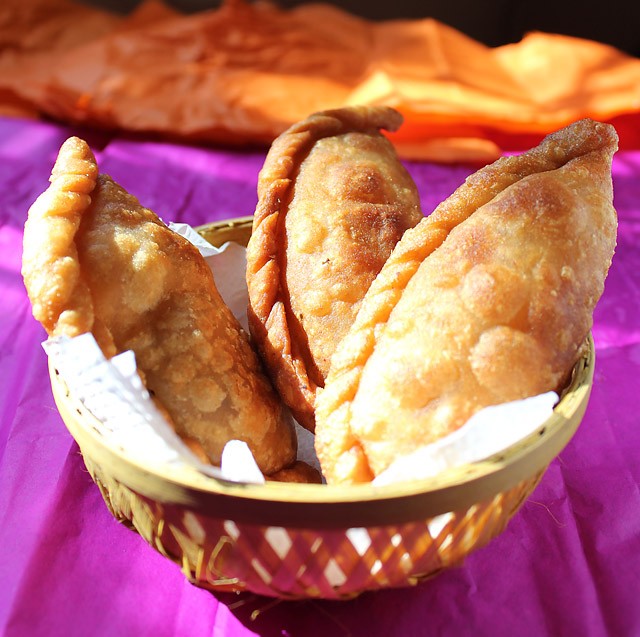 If you made this recipe, please be sure to rate it in the recipe card below. Sign Up for my email newsletter or you can follow me on Instagram, Facebook, Youtube, Pinterest or Twitter for more vegetarian inspirations.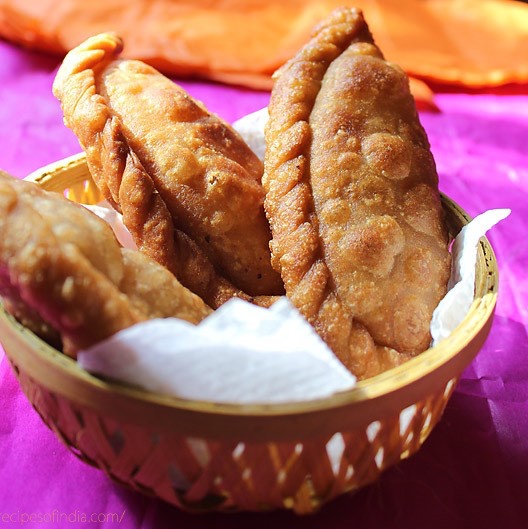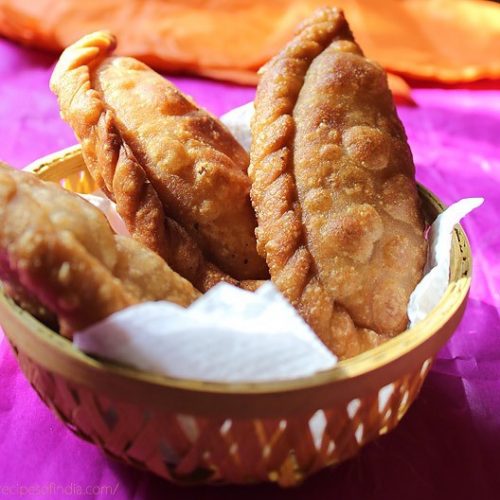 Apple Gujiya
Apple gujiya is a deep-fried pastry with a sweet filling of evaporated milk and dry fruits.
---
---
Ingredients
for the outer pastry
2

cups

whole wheat flour

⅓

cup

melted ghee

or butter

⅓

cup

cold water

salt
for the apple-khoya filling
1

cup

crumbled khoya

(mava or dried evaporated milk solids)

3 to 4

medium sized apples

- peeled, cored and chopped

½

teaspoon

cinnamon powder

½

teaspoon

cardamom powder

or crushed cardamom

2 to 3

tablespoon

chopped nuts

- almonds, pistachios, cashew

2 to 3

tablespoon

sugar

oil for deep frying
only khoya-dry fruits filling
1.5

cup

khoya

(mava or dried evaporated milk solids)

1

teaspoon

cardamom powder

1

cup

ground sugar

2 to 3

tablespoon

chopped nuts

- almonds, pistachios, cashew
Instructions
Preparing the pastry
In a large bowl seive the flour and salt together.

Add the melted ghee or butter.

Rub the ghee in the flour with your fingertips till the mixture resembles bread crumbs or coarse meal.

Add cold water gradually and knead the flour into a smooth dough.

Cover and keep aside for 30 minutes
Preparing the sweet stuffing
Heat a pan and add the apples along with sugar.

Stir on a low flame for 10-12 minutes.

Add the spice powders and mix well.

After 4-5 minutes, add the khoya and stir the mixture.

The khoya would begin to melt. Continue stirring.

Add the chopped dry fruits and mix it with the mixture.

When all the khoya has melted, switch off the fire.

Keep this mixture aside till it cools.
Preparing apple gujiya
Make medium sized balls of the dough.

Roll in to a round/puri, neither thick nor thin.

Put a few tbsps of the apple-khoya filling on one side.

Apply water on one of the outer edges.

Cover and press the edges together.

Cut out the excess dough from the edges with a knife or pastry cutter.

Pleat the gujiya neatly from top to end.

Make all the gujiyas this way and keep them on a thali or plate. Cover them.

Heat oil for deep frying.

Deep fry in moderately hot oil till they are golden browned from all sides.

Drain them on kitchen paper napkins to remove excess oil.

Serve apple gujiya hot or warm.
Notes
1. While kneading the dough, if the dough feels dry then add some more water.
2. If the dough feels sticky, add some extra flour.
3. Leftover filling can be just eaten directly 🙂 ..... And left over dough can be made into papdis or crisp puris.
4. You can make the gujiya with just the khoya and the dry fruits.
Nutrition Info
Approximate values
Nutrition Facts
Apple Gujiya
Amount Per Serving (3 g)
Calories 0
* Percent Daily Values are based on a 2000 calorie diet.
Like our videos? Then do follow and subscribe to us on youtube to get the latest Recipe Video updates.
Tried this recipe?
If you have made the recipe and liked it then do share the recipe link on facebook, twitter & pinterest. For instagram mention @dassanasvegrecipes and tag #dassanasvegrecipes!
All our content & photos are copyright protected. Please do not copy. As a blogger, if you you want to adapt this recipe or make a youtube video, then please write the recipe in your own words and give a clickable link back to the recipe on this url.
Like this Recipe?
Pin it Now to Remember it Later
How to make apple gujiya
1: in a large bowl, seive the whole wheat flour with salt. Add the melted ghee or butter and rub it with your finger tips until the mixture starts to look like breadcrumbs or coarse meal.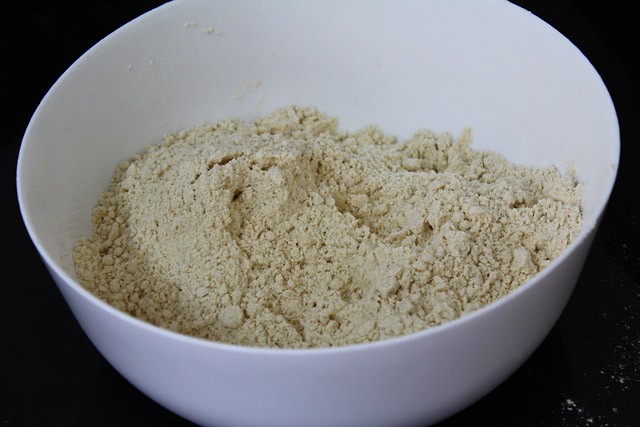 2: add the cold water gradually…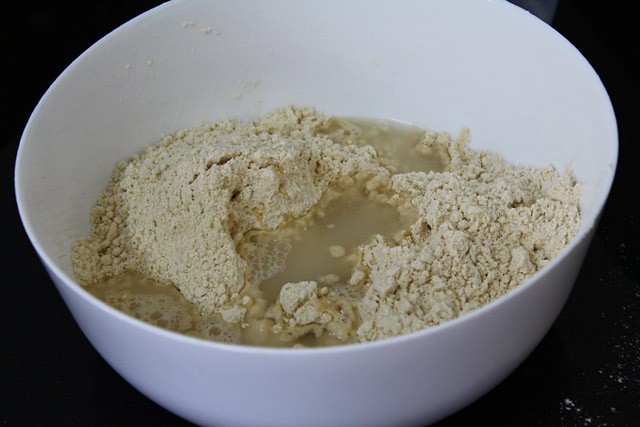 3: and knead gently into a dough. You can also use curd instead of water to knead the dough.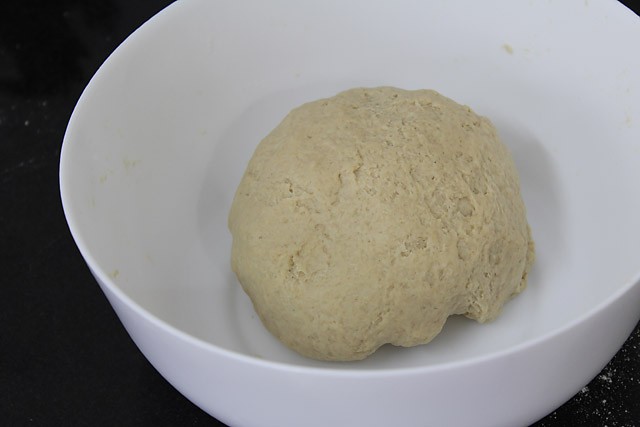 4: cover the dough with a damp cloth and keep it aside for 30 minutes.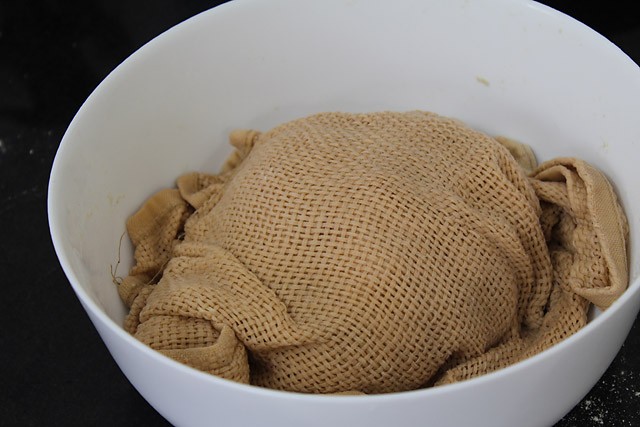 5: in the meantime prepare your filling. Peel, core and chop the apples. In a saucepan or kadai/wok, stir fry the apples with sugar on a low or medium flame. If the apples are very sweet then no need to add any sugar.
6: add the cardamom powder and cinnamon powder to the apples after 10-12 minutes.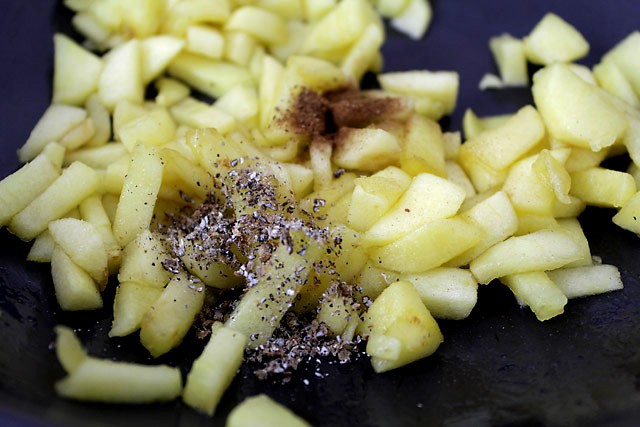 7: mix the spice powders with the apples.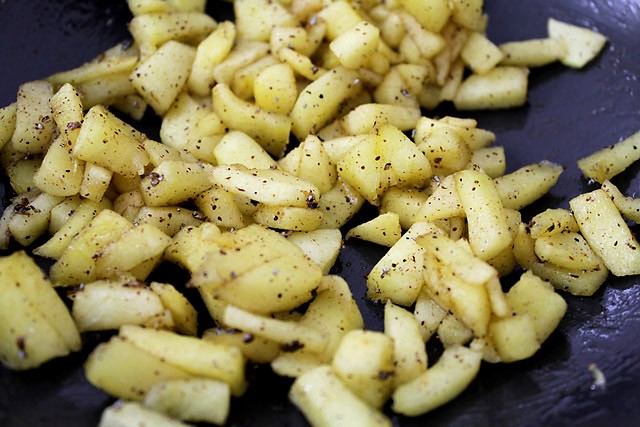 8: after 4-5 minutes, add the crumbled khoya/mava/evaporated milk.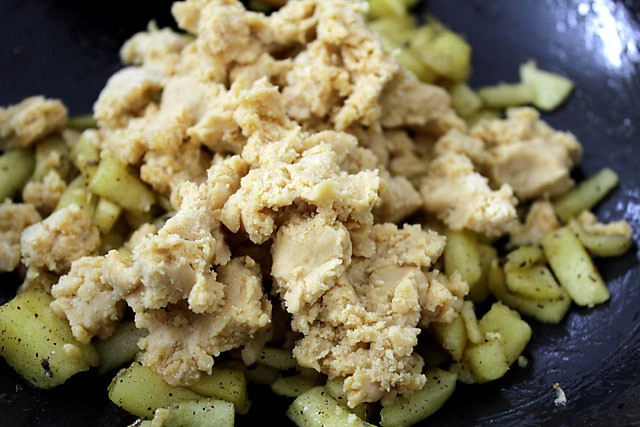 9: the khoya will soon begin to melt. Keeping on stirring.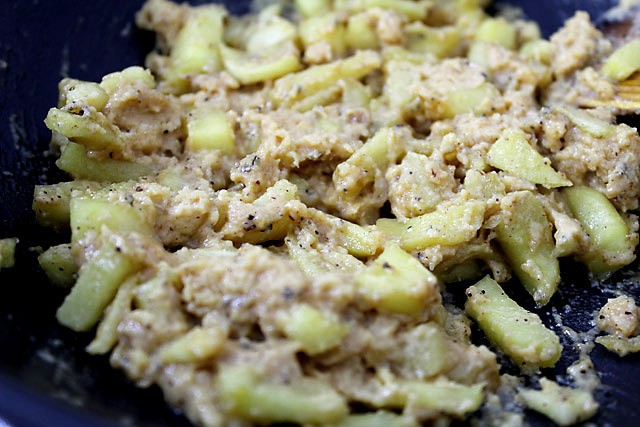 10: add chopped almonds, cashews and pistachois and mix well.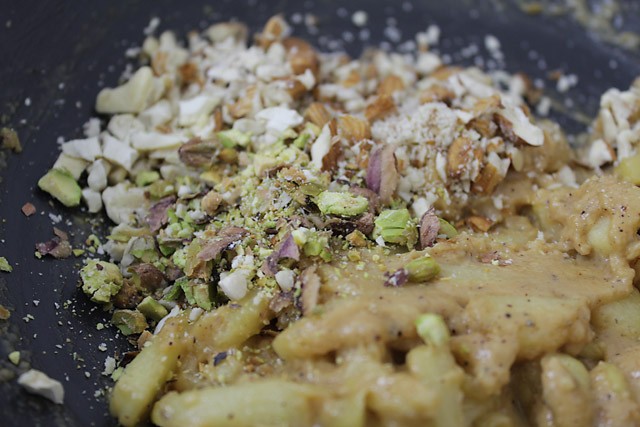 11: when all the khoya melts, switch of the fire and let the mixture cool. You can taste the mixture now…. But don't finish it off…. Its yummy… Keep some for making the gujiyas 🙂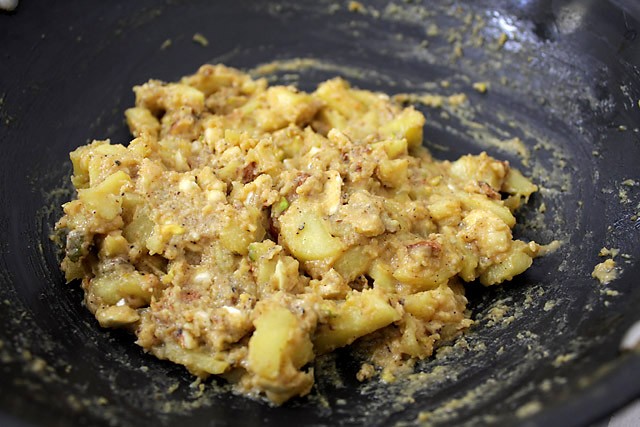 Making apple gujiya
12: knead the dough again and form medium sized balls. roll the ball into a puri, neither too thick nor too thin.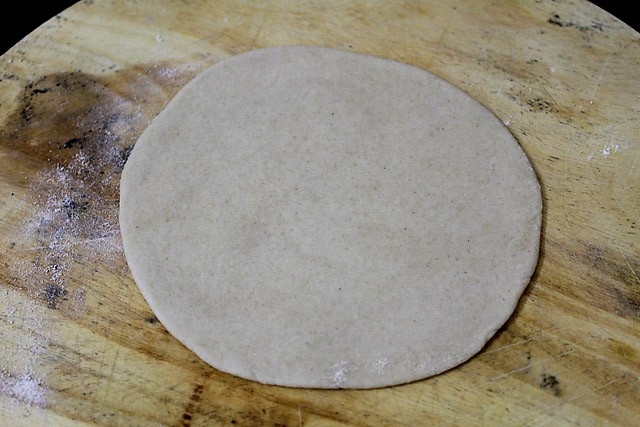 13: place a few tablespoons of the filling on the half of the circle.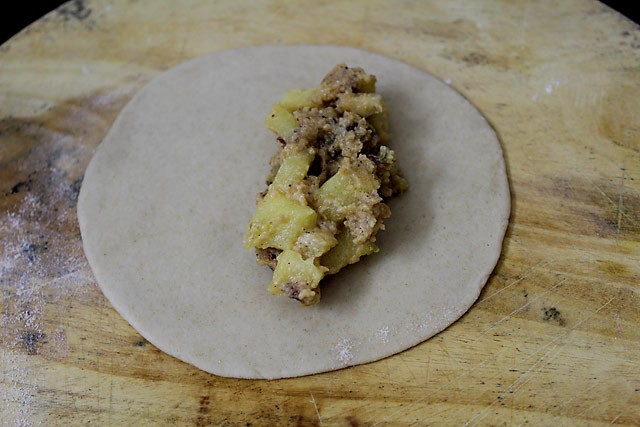 14: brush the circle with water on one of the edges where the two edges will meet. Cover the other half and cut out the extra dough from the other sides.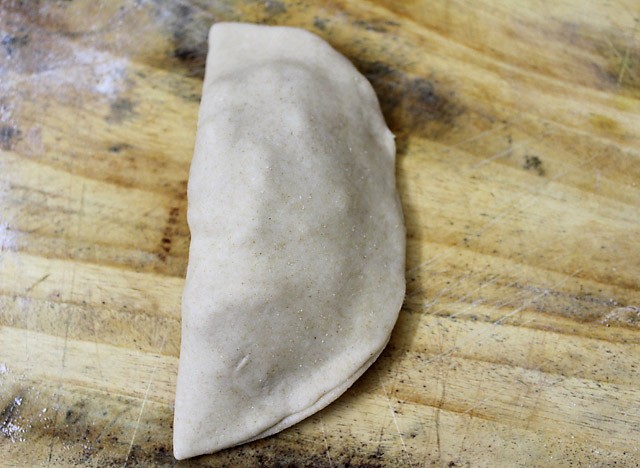 15: press the edges and now pleat the gujiya along the edges. This is a skill and even I am not good at it. Check that, there are no gaps to avoid the filling from pouring out during frying. You can also press the edges with a fork.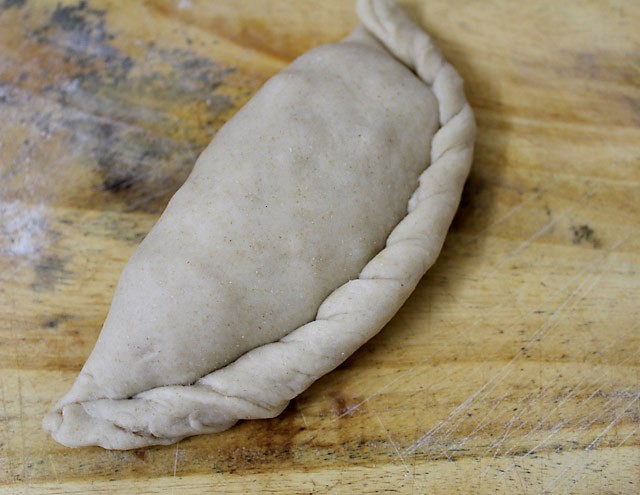 16: prepare all the gujiyas in this manner. Cover them so that the dough does not dry out.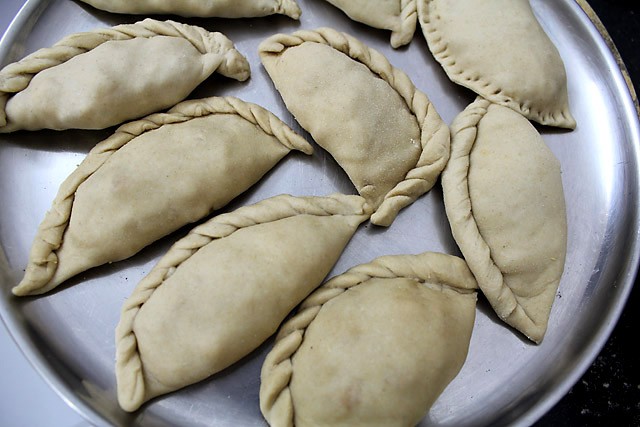 17: in a kadai or fryer, heat oil. The gujiyas are deep fried sweets…. I have never baked these. I prefer them fried instead of baked 🙂 add the gujiya in the moderately hot oil.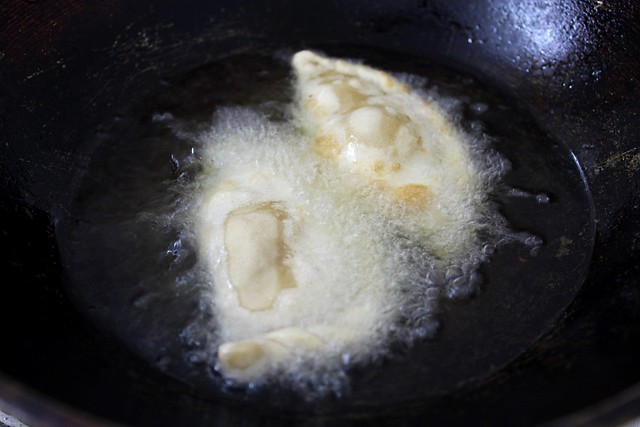 18: fry till they become golden brown on both sides.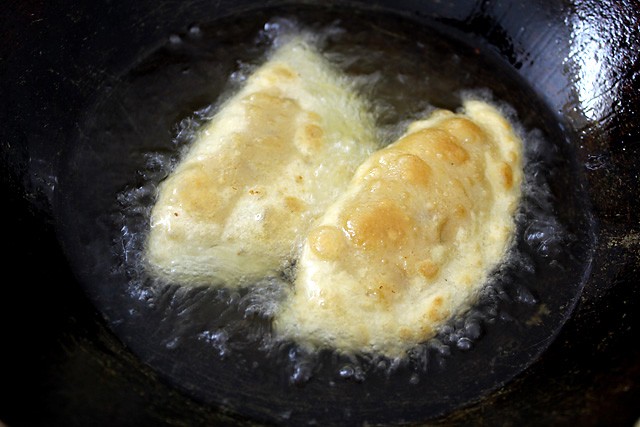 19: remove the fried apple gujiya and drain on kitchen paper napkins to remove excess oil.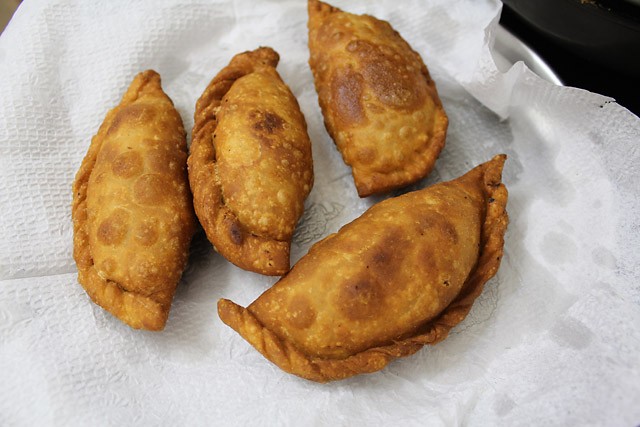 20: Serve apple gujiya hot or warm. Once cooled, you can store apple gujiya in an air-tight container and munch whenever you want.