Collection of 10 delicious figs recipes. we love figs, both fresh and dried figs. I generally try to include figs in our smoothie or milkshakes or in recipes which requires the addition of dry fruits.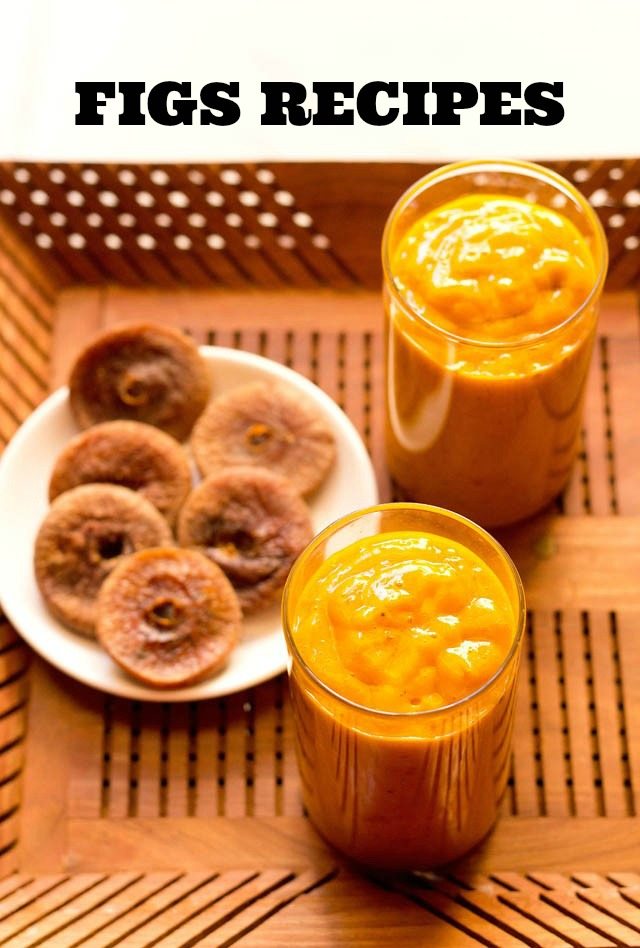 While fresh figs can be blended easily or added directly to any recipe, for dried figs, some prep work is required. Whenever you want to use dried figs in any recipe then depending on its quality, its best to soak the figs in hot water for 30 minutes. You can also soak them in water for 2 to 3 hours. As then the dried figs are easier to chop or blend. However if you have dried figs which are soft, then no need to soak them. If the dried figs are chewy and hard, then do soak them.
Figs are a good source of fibre, vitamins and several essential minerals. In this recipe collection I have included recipes from both fresh figs as well as dried figs.
Collection of 10 delicious figs recipes
1. Fig jam recipe – the whole jam is made with fresh figs and powdered jaggery. In the absence of jaggery, you can use sugar though. This delicious jam is made without any artificial preservatives or additives. I have not even added pectin to the jam.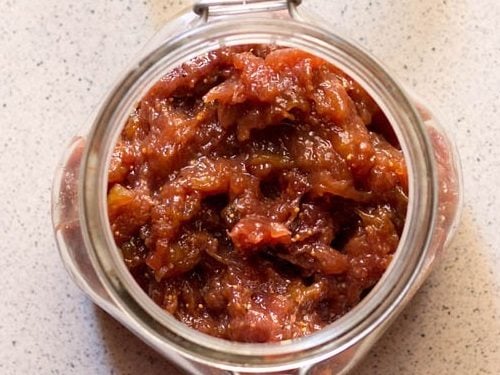 2. Figs smoothie recipe – this delicious figs smoothie is made with fresh figs, banana and coconut milk. in this smoothie recipe, I have not added any sweetener, but feel free to add a sweetener of your choice in the smoothie.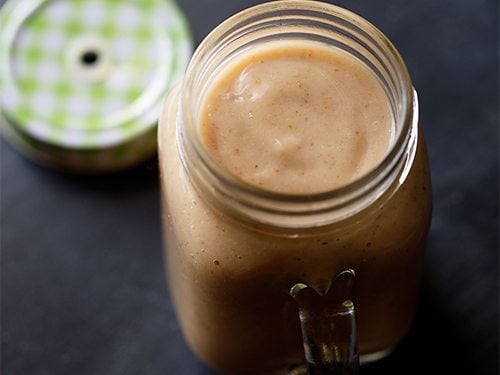 3. Anjeeri matar recipe – a delicious gravy recipe made with dried figs, green peas and yogurt. you will taste the rich sweetness of the figs and the tang from the yogurt in the gravy, with the spice hit by the green chilies (which can be adjusted to taste), in a background of a slight hint of the other spices.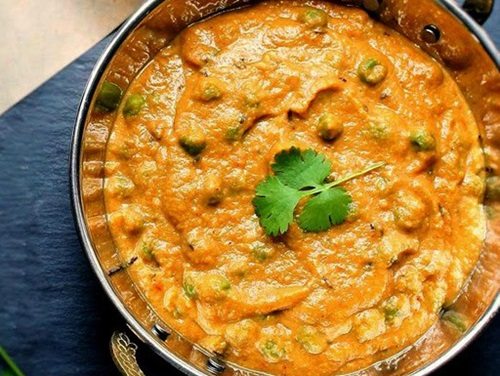 4. Dry fruits ladoo recipe – an easy and quick recipe for making healthy and delicious dry fruits ladoos. This recipe is a no ghee/oil, no sugar and a vegan recipe. i have used dates, dried figs, almonds, raisins, desiccated coconut to make these ladoos. However you can skip adding desiccated coconut if you don't like the coconut aroma.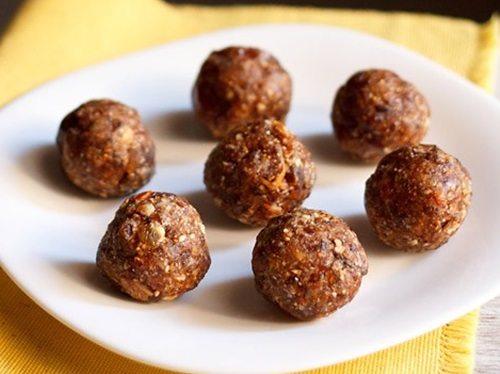 5. Figs milkshake recipe – a healthy and tasty beverage made with fresh figs and milk. this recipe uses fresh figs. Though even dry figs can be added. Milkshakes are the easiest and quickest drinks that can be made with fresh fruits or dry fruits. They not only refreshes you but also give you a quick boast of energy.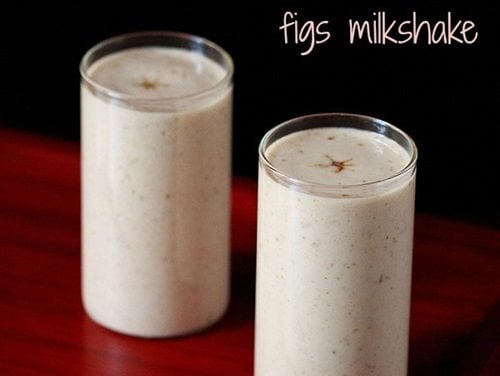 6. Dry fruits barfi recipe – a simple, easy and tasty recipe to make dry fruits barfi. This barfi is warming in nature and hence good for cold seasons. I have not added any sugar in the recipe. The sweetness comes from dates, dried figs and raisins. There is absolutely no need to add any sugar in this recipe. This is a guilt free sweet that you can enjoy any time of the day.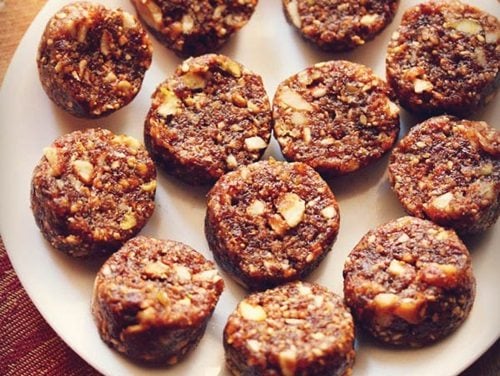 7. Mango banana fig smoothie recipe – this is a sweet and crunchy smoothie with flavors of dried figs, mangoes and bananas. there is no sugar used in this smoothie. This is a heavy and filling smoothie recipe.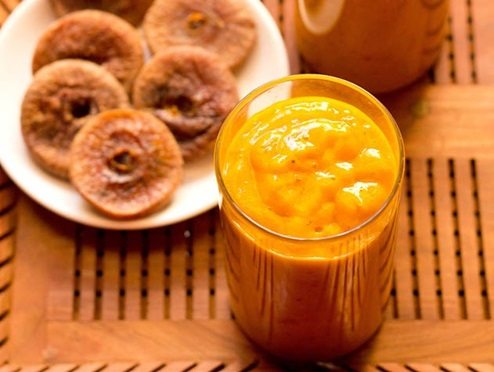 8. Dry fruits milkshake recipe – this milkshake is a healthy beverage as well a great energy supplement for anyone who wants a quick boost of energy. this dry fruits milkshake is very rich in iron and calcium. Good for occasions when you are low in energy levels and quickly wants to super charge your energy levels.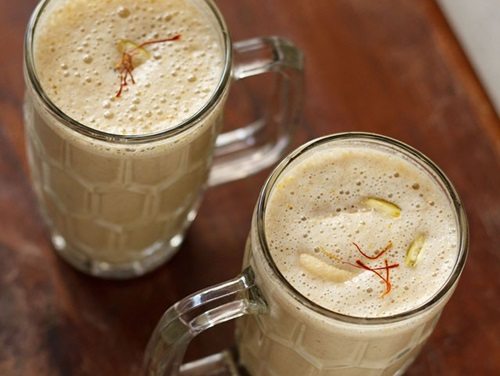 9. Kaju anjeer milkshake recipe – a creamy milkshake made with cashews and dried figs. this kaju anjeer milkshake is a heavy milkshake, so you can even have it as a breakfast or when you skip meals. before preparing, you need to soak the figs and cashews in water for a couple of hours, as then the figs are easier to blend or grind.
10. Amaranth yogurt honeyed parfait – healthy and nutritious parfait made with popped amaranth, yogurt, honey, fruits & dry fruits. parfaits are layers of yogurt or cream or ice cream, granola, fruits and dry fruits drizzled with or without a sweetener. This parfait can be served as a breakfast or can be had between meals or can be served as dessert after meals.