This beautiful heart shaped Strawberry Cake recipe is a wonderful dessert perfect for special occasions and birthdays! It is egg free and features a creamy sponge sandwiched with macerated strawberries and whipped cream. Frost this delicious cake with whipped cream and serve immediately.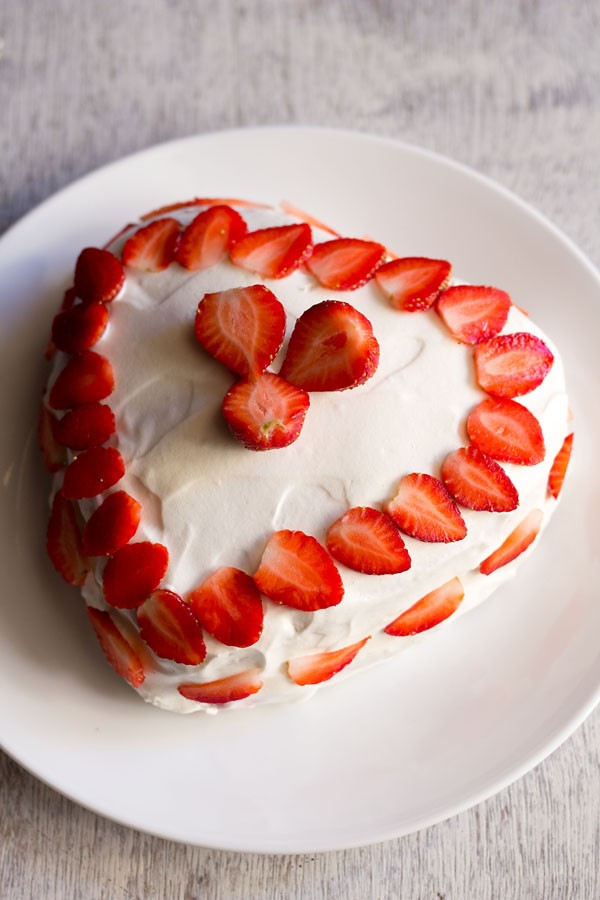 About This Strawberry Cake Recipe
This rich creamy cake is just what you need for special occasions like birthdays and anniversaries. I made the sponge using my Eggless Vanilla Cake recipe but you can use any sponge cake or vanilla cake as a base.
Fill the cake with strawberry cream icing and top it with whipped cream frosting. Fresh strawberries work best for this recipe as they add the best flavor but if you do not have fresh strawberries to make this cake you can use canned strawberries instead.
I used whipping cream to make the icing for this delicious strawberry cake recipe. The whipping cream worked really well and created firm stiff peaks which is what we are looking for when making icing.
Make sure you combine the whipping cream with icing sugar before whisking to add sweetness to the frosting.
When it comes to decorating this cake perfection is not important. The most important thing is the flavor so I used a regular spatula to add the icing, left the risen dome on top of the cake and it still made for a gorgeous centerpiece during our celebration.
I was actually quite surprised when I made this strawberry cake because my family loved it. We really enjoyed the cream icing. If you love frosted cakes, then do check these recipes for Chocolate Cake, Black Forest Cake and Pineapple Cake.
How to Make Strawberry Cake
To make the cake use your favorite sponge or a simple vanilla cake. If you would like to make your own, then check my Vanilla Cake Recipe which has a soft and tender crumb. Bake this cake and let it cool completely at room temperature before you begin with the frosting.
1. First mix 3 to 4 tablespoons of raw sugar or white sugar with 175 to 200 grams of chopped strawberries (reserve 5 to 6 strawberries for decorating the cake from top). Cover the bowl and set aside this mixture for 30 to 40 minutes in the fridge.
During this time the maceration process will take place and the juices from the strawberries will be released.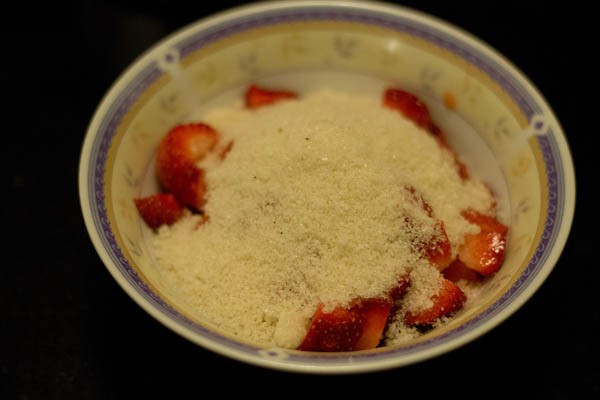 2. Beat 1 cup whipping cream or heavy cream with 4 to 5 tablespoons icing sugar or confectioner's sugar and ½ teaspoon vanilla extract using a hand held electric beater or a stand mixer with a wire whip attachment.
If you are using a stand mixer beat the mixture at the medium-high to high speed until you get stiff peaks.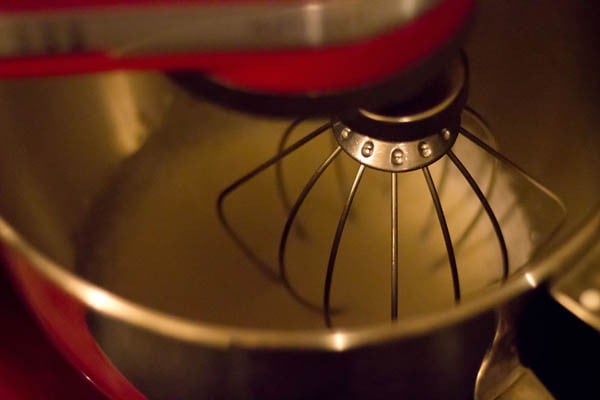 3. Don't overbeat the cream as you don't want it to have a butter like texture. Stop mixing once the stiff peaks appear.
4. Next, slice the sponge or vanilla cake into half using a serrated knife.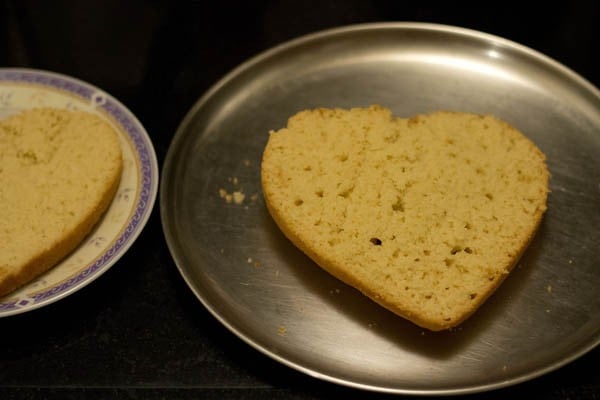 5. Brush the strawberry juice from the macerated strawberries onto the sliced cake. Be careful not to add too much of the juice as the cake may become soggy.
Then add an even layer of the macerated strawberries on top and feel free to slurp on any extra juice!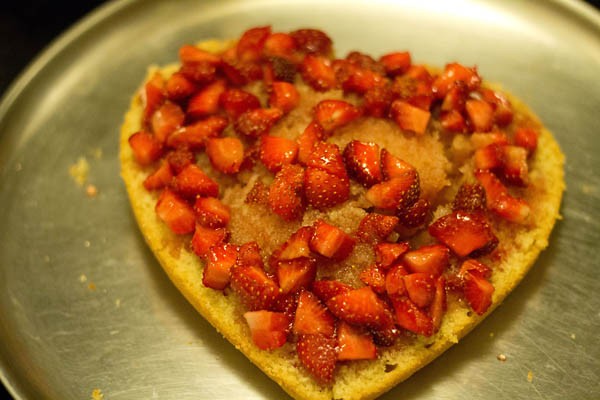 6. Spread some of the whipped cream on top of the strawberry filling evenly.
7. Then, place the other half of the cake on top of the cream to make a sandwich.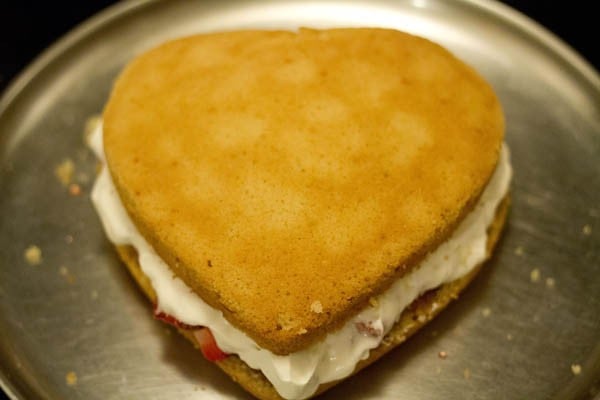 8. Use a palette knife or flat spatula to evenly ice the cake with the remaining whipped cream. Cover the cake with a large dome shaped bowl and leave in the fridge for 2 to 3 hours to allow the cream frosting to set.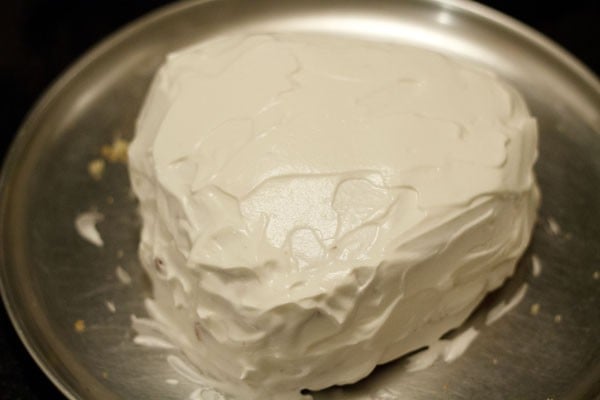 9. Slice the reserved strawberries and use them to decorate the cake before serving. Make sure that these strawberries are sweet. If they are sour, then I suggest not to layer them on top of the cake.
In this scenario, opt to sprinkle some grated chocolate or chocolate shavings on the top of the cake.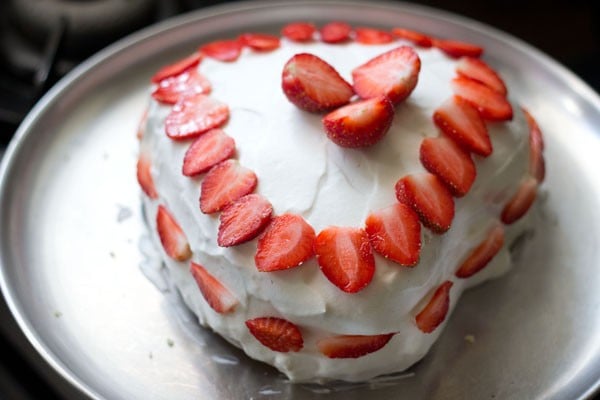 10. Serve the eggless strawberry cake immediately or refrigerate and serve it a few hours later. Its best to finish this strawberry cream cake in a day or two.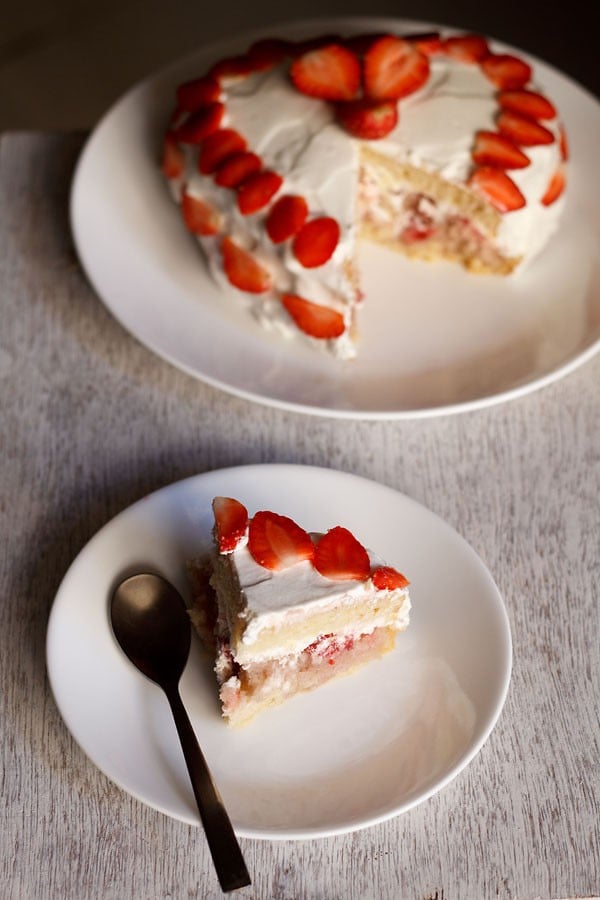 Expert Tips
Strawberries: There are a few options when it comes to how you prepare the strawberry filling. You can cook the chopped strawberries with sugar instead of macerating them and you can adjust the quantity of sugar depending on your preference. When selecting strawberries I go for bright red, ripe, unbruised strawberries with glossy skin for the best flavor.
Sponge: When preparing the sponge do not over-mix the batter as this will result in a tough cake. For this strawberry cake recipe I used my Eggless Vanilla Cake but you can use any sponge cake of your choice.
Decoration: As this is a homemade cake you don't have to be super neat when it comes to decorating. Simply cover the cake in whipped cream using whatever you have on hand and use thinly sliced strawberries or chocolate shavings to decorate the outside of the cake.
Shape: This cake does not have to be in the shape of a heart. You can serve it in a circular or square shape instead.
Make ahead: You can make the entire frosted cake a day before, cover it and refrigerate it to prevent the strawberries from drying out. Alternatively, you can prepare the cake, ice it with whipped cream and add the sliced strawberries once you are ready to serve it.
FAQs
Can I whip the cream in mixie or grinder jar?
Yes, you can. Use a mixer or blender with a whipper blade to whip the cream on a low to medium speed.
Why am I not getting stiff peaks?
There are a few reasons why you might not be getting stiff peaks. Make sure the cream is chilled before beating and refrigerate the mixing bowl for 30 to 40 minutes. This will help the stiff peaks to form quickly.

Another thing you can do is make sure that the cream is being whipped for a long enough time and regulate between a high to medium-high speed. On average it takes about 5 to 8 minutes to whip cream depending on its quality and fat percentage.
Can I use ready made whipped cream like Cool whip?
Yes, you can certainly use ready made whipped cream in this recipe.
How long will whipped cream hold its shape?
Whipped cream will hold its shape for a few hours depending on the weather so it is best to serve this cake immediately or on the same day that it is made.
Please be sure to rate the recipe in the recipe card or leave a comment below if you have made it. For more vegetarian inspirations, Sign Up for my emails or follow me on Instagram, Youtube, Facebook, Pinterest or Twitter.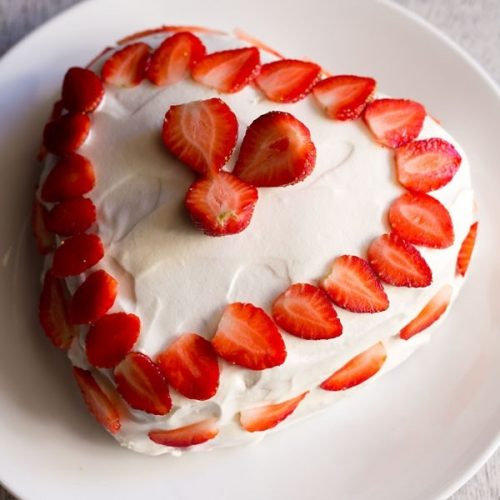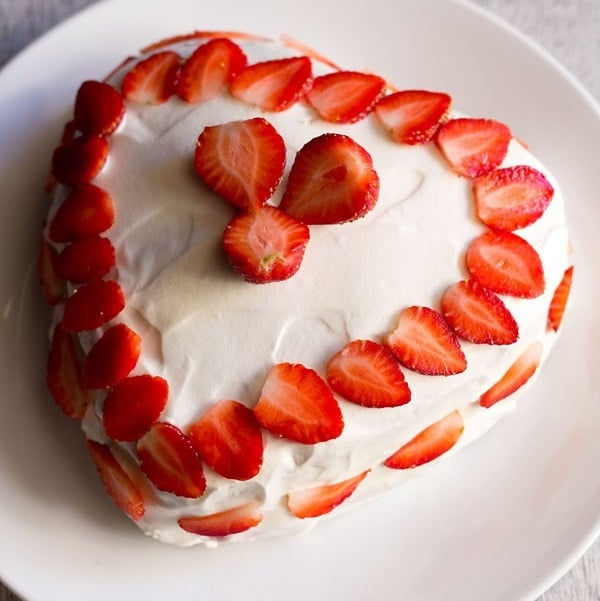 Strawberry Cake Recipe
This Strawberry cake is an eggless version of a gateau sandwiched with macerated strawberries, whipped cream and finally frosted with whipped cream.
Total Time
1

hour
30

minutes
For the vanilla cake
1.5

cups

all-purpose flour

– 180 grams, can use pastry flour

1

teaspoon

baking powder

1

pinch

salt

½

cup

melted butter

or neutral oil

½

cup

water

¾

cup

raw sugar

or white sugar – 150 grams, add as required * check notes

¼

cup

Curd

(yogurt) – 62 grams

1

tablespoon

apple cider vinegar

or white vinegar or lemon juice

½

teaspoon

baking soda

1

teaspoon

vanilla extract

or vanilla powder or half of a vanilla bean – scraped
For the strawberry cream frosting
1

cup

whipping cream

or heavy cream – use cream which has at least 35% fat and above

4 to 5

tablespoon

icing sugar

or confectioners sugar, add as required

½

teaspoon

vanilla extract

175 to 200

grams

fresh strawberries

3 to 4

tablespoon

raw sugar

or white sugar, add as required
Instructions
Preparing the cake
Sift the all purpose flour, baking powder and a pinch of salt in a mixing bowl or pan.

Preheat your oven to 180 degrees Celsius/356 degrees Fahrenheit for 15 minutes.

Grease a 7 to 8 inches pan (square, round or heart-shaped) with softened butter or oil. You can also line the pan with parchment paper and then grease the parchment with oil or butter.

In a small frying pan or bowl take a bit more than ½ cup of butter. Melt the butter on a stove-top on low heat taking care not to burn it. Simply melt the butter. No need to heat it.

Measure the melted butter in a steel or glass measuring cup. You need to get about ½ cup of melted butter.

Whip or beat the curd (yogurt) in a medium sized mixing bowl until smooth.

Add water, sugar, apple cider vinegar and vanilla extract to the beaten yogurt.

Briskly whisk using a wired whisk until all of the sugar is dissolved and you get an even mixture.

Sprinkle baking soda on this liquid mixture. Mix thoroughly and evenly.

To the sifted flour, add liquid mixture and the melted butter.

Be quick enough to mix and make a lump free batter. Don't over do the mixing.

Pour the batter into the greased or lined baking pan.

Shake and tap the sides of the pan on the countertop so that air bubbles are released.

Place the pan in the preheated oven in the center rack.

Keep the heating in both the bottom and top elements of the oven on.

Bake at 180 degrees Celsius/356 degrees Fahrenheit for 30 to 35 minutes or more till a tooth pick inserted in the cake comes out clean.

If the cake browns too quickly on the top, then cover the top part with an aluminium foil or parchment paper.

Once well baked, place the cake pan on a wired rack for the cake to cool at room temperature.

Before frosting ensure that the cake is cooled completely.
Preparing the strawberry frosting
Rinse the strawberries well and then dry them with a clean kitchen napkin.

Reserve about 5 to 6 small to medium strawberries for the decoration and keep them in the fridge.

Hull and chop the rest of the strawberries.

Take the chopped strawberries and sugar in a bowl.

The proportion of sugar here depends on the sweetness of the strawberries.

Mix the sugar with the strawberries and set aside for at least 30 to 40 mins to macerate in the fridge. You can also keep them overnight. Keep the bowl covered in the fridge.

In a stand mixer fitted with the wired whip attachment, whip the cream and icing sugar along with vanilla extract, at medium-high to high speed until you get stiff peaks in the cream.

Taste the cream and add more sugar if needed.

You can also use a hand held electric beater to whip the cream.

The cream should have stiff peaks – meaning on turning the bowl the whipped cream should not fall down.
Making strawberry cake
Slice the cake with a serrated knife from the center carefully into two equal halves.

Brush the syrup from the chilled macerated strawberries lightly on one half of the cake. Do not add too much as it will make the cake soggy.

Spread the chopped strawberries evenly on the cake.

Spread a layer of the whipped cream evenly on the cake.

Keep the other cake slice over.

Now spread the remaining whipped cream all over the cake with a palette knife or spatula evenly.

Cover cake with a dome shaped or round bowl. Keep the cake in the refrigerator for 2 to 3 hours so that the whipping cream icing sets.

Slice the strawberries which we had chilled for decorating the cake and set them aside. Make sure these strawberries are not sweet and not sour. Optionally you can also sprinkle some chocolate shavings or grated chocolate on the whipped cream.

Remove the cake and decorate the cake with the fresh strawberry slices.

Serve the strawberry cream cake immediately.

Or you can keep it covered in the fridge and then serve later.

It is advisable to finish this strawberry cream cake in a day or two.
Notes
You can even cook the chopped strawberries with sugar instead of macerating them. The quantity of sugar can be adjusted depending on the sweetness of the strawberries.
Nutrition Info (Approximate Values)
Nutrition Facts
Strawberry Cake Recipe
Amount Per Serving
Calories 264
Calories from Fat 126
% Daily Value*
Fat 14g22%
Cholesterol 44mg15%
Sodium 127mg6%
Potassium 102mg3%
Carbohydrates 32g11%
Protein 2g4%
Vitamin A 488IU10%
Vitamin B1 (Thiamine) 1mg67%
Vitamin B2 (Riboflavin) 1mg59%
Vitamin B3 (Niacin) 1mg5%
Vitamin B6 1mg50%
Vitamin B12 1µg17%
Vitamin C 9mg11%
Vitamin D 1µg7%
Vitamin E 1mg7%
Vitamin K 2µg2%
Calcium 41mg4%
Vitamin B9 (Folate) 33µg8%
Iron 1mg6%
Magnesium 8mg2%
Phosphorus 61mg6%
Zinc 1mg7%
* Percent Daily Values are based on a 2000 calorie diet.
This strawberry cake recipe from the blog archives first published in December 2013 has been republished and updated on 8 January 2022.